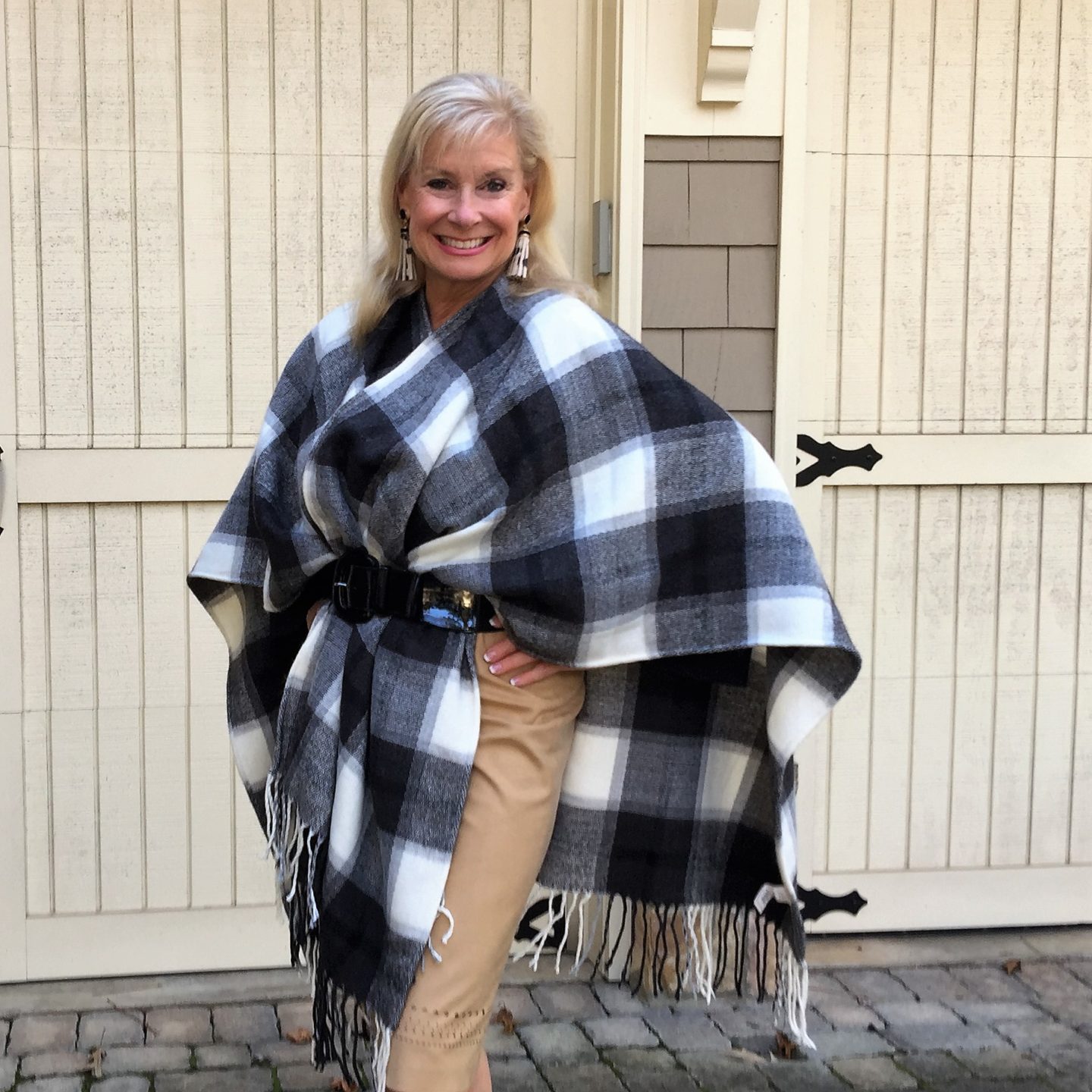 The cold weather has announced the holiday season in Atlanta and I immediately went into warmer fashion mode. Can you believe in one month it will be Christmas? Where has time flown? 
I was gifted this lovely black buffalo plaid poncho from Soft Surroundings and thought it would be fun to share with you how adding just one new piece to your already beloved wardrobe can update your look. I have clothes that are over 5 years old but because they are classics, they stay in my wardrobe for years as long as I don't put on any weight.  This camel faux suede skirt is over 5 years old but it is a classic and one of my favorite skirts. The shoes are also 5 years old but they are a classic shoe too. I could have worn my over the knee boots with this outfit too.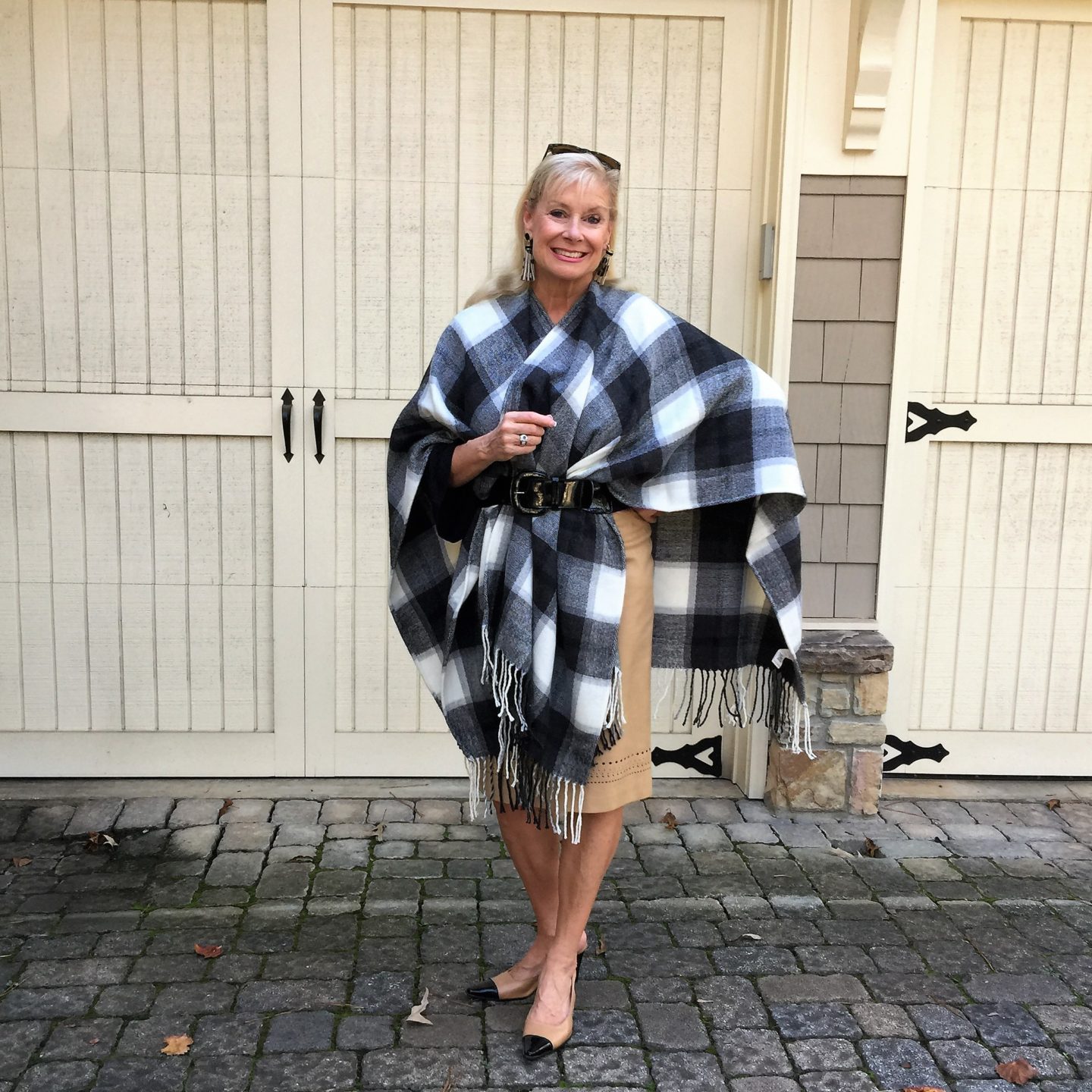 Belt it for work.To change up my work wardrobe I decided to belt the poncho over my faux suede camel skirt.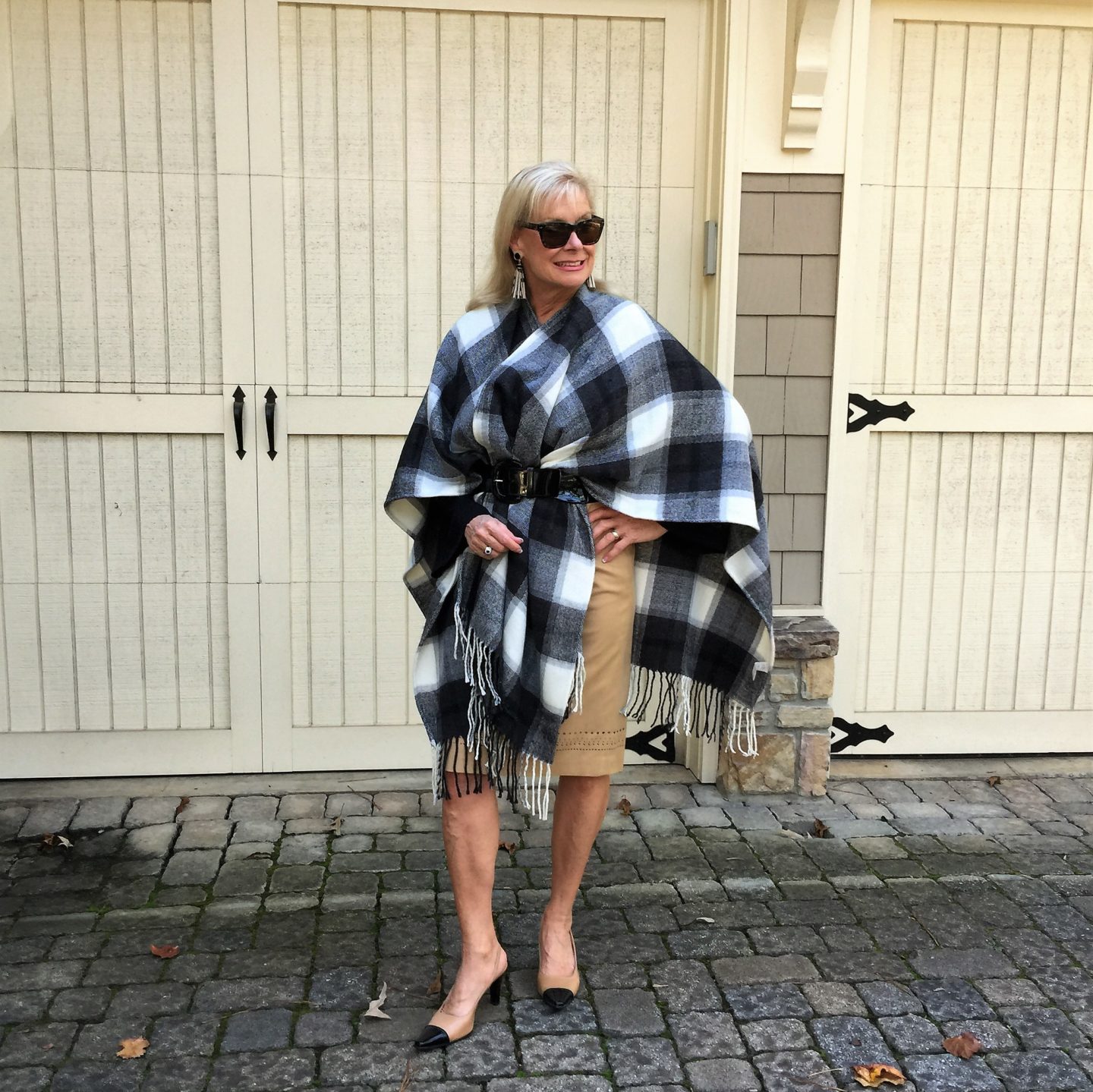 2. Wear it like a tunic for lunch with your friends.
I put safety pins underneath down the side of the poncho and wore it like a tunic over leggings and my over the knee boots. If you beautiful brooches or decorative pins, you can use them too. The red tote adds a splash of color to my outfit, and the black hat is another option.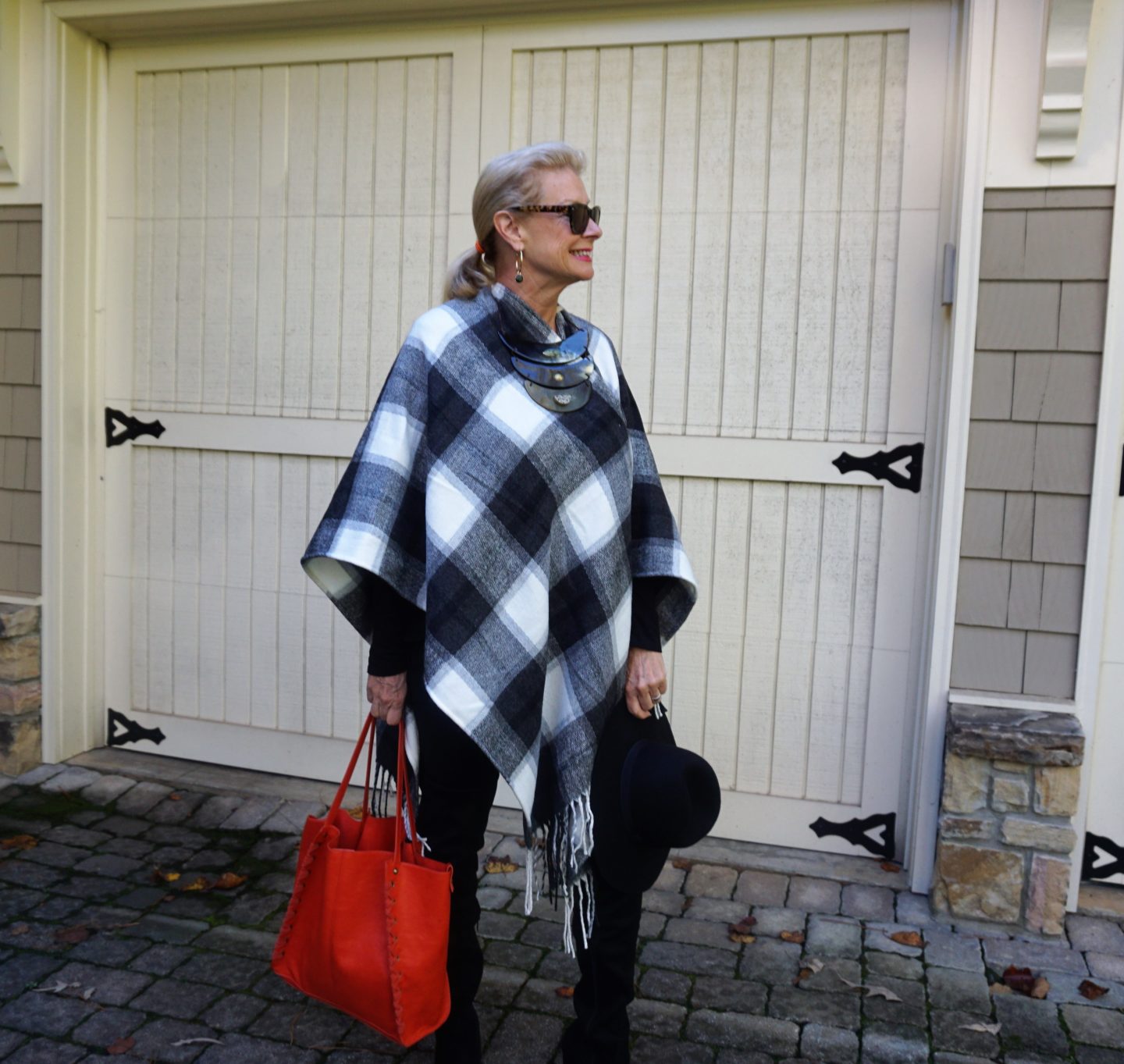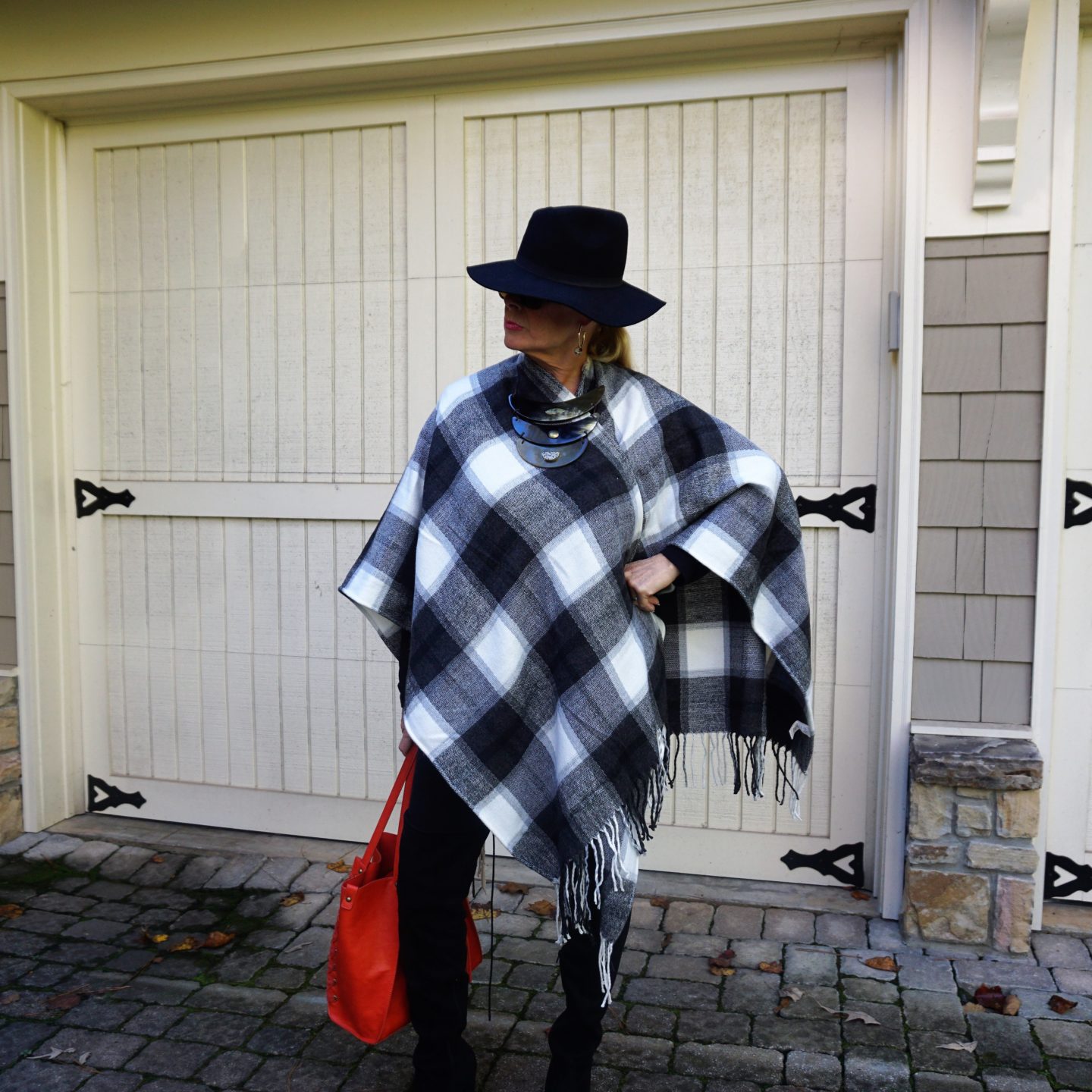 3. Redo your Date Night Style.
I wore this exact same pair of black faux leather pants, top, and jewelry  last year for a date night post with a different wrap but it also looks great with this poncho too.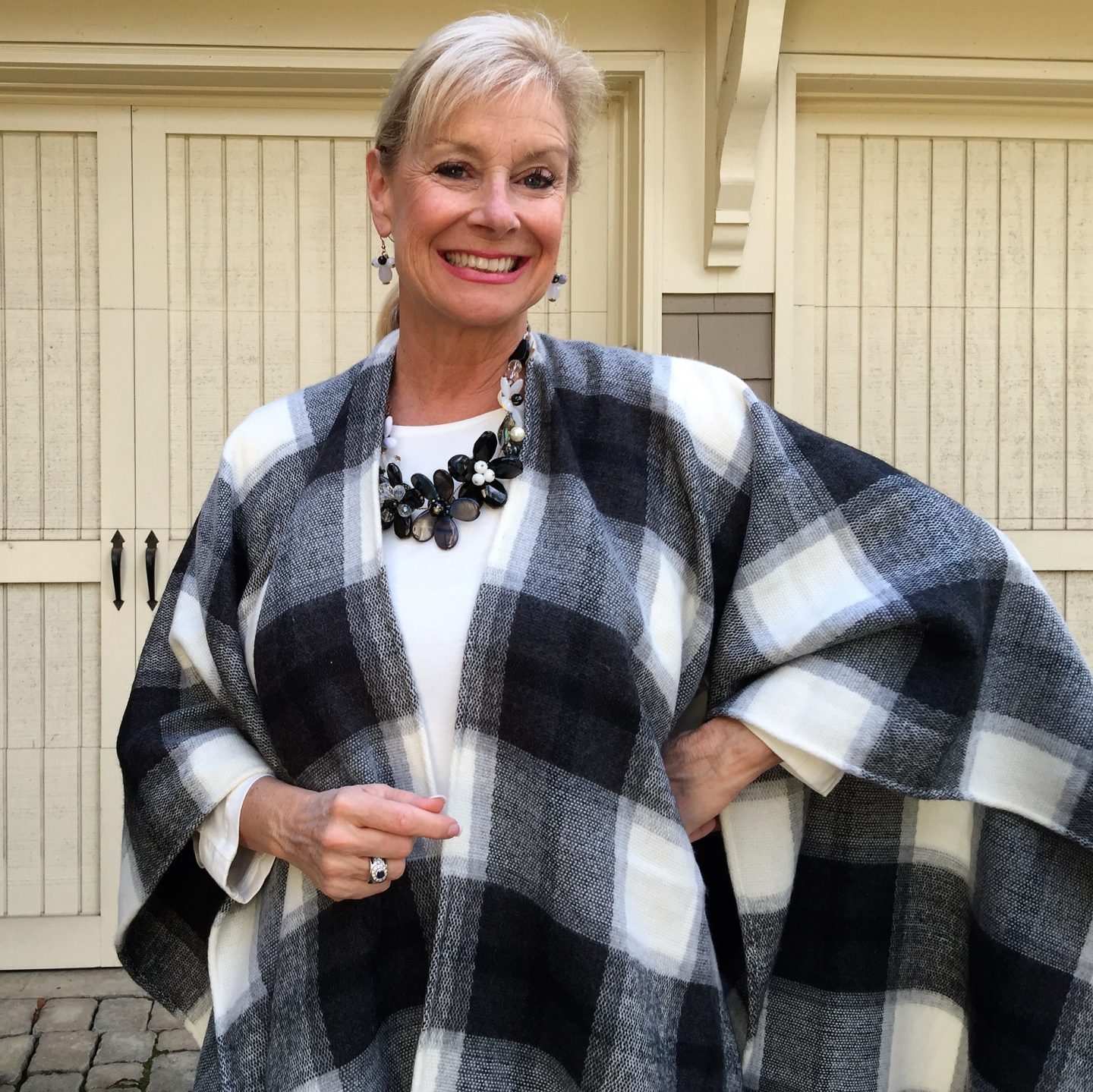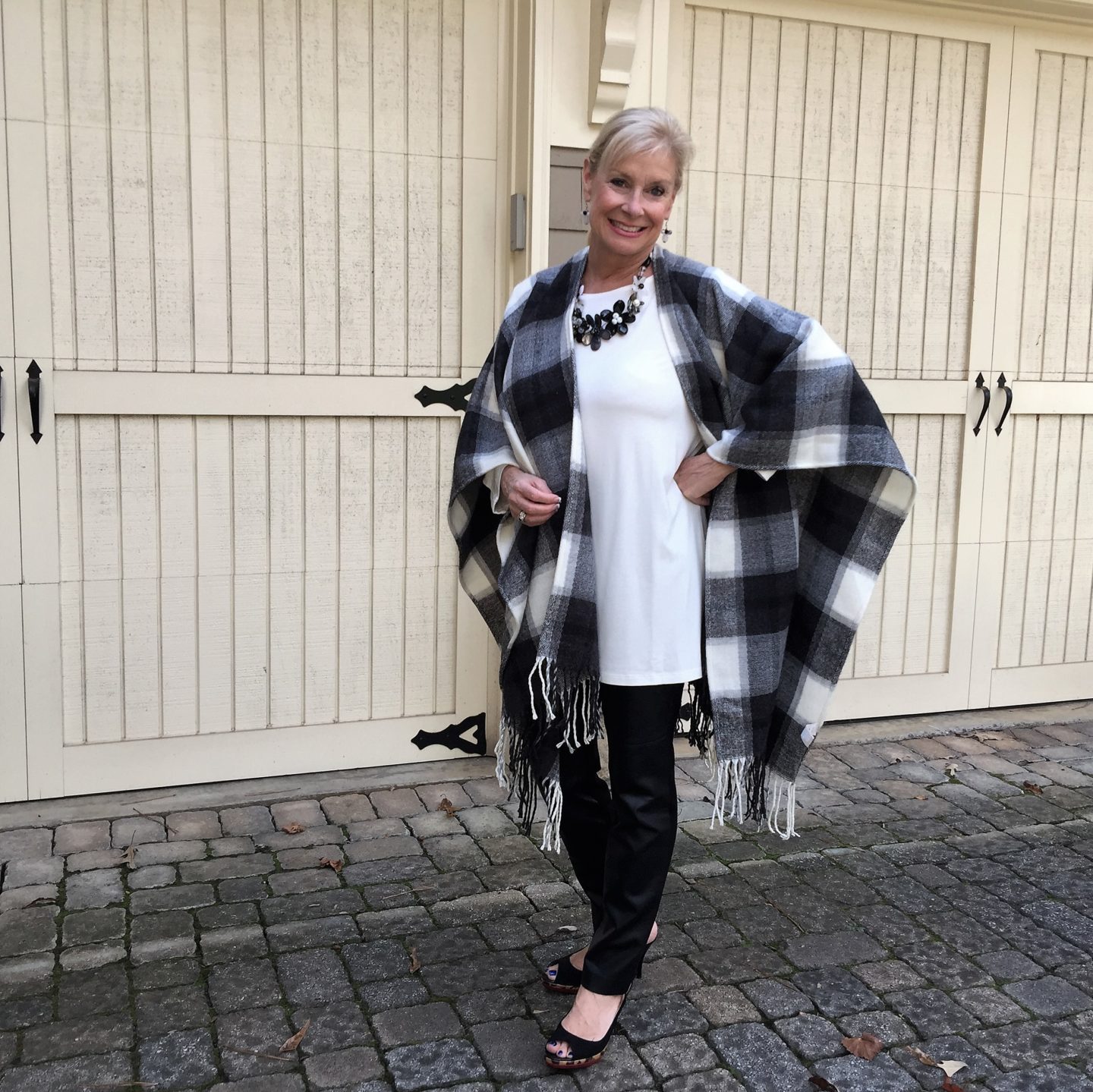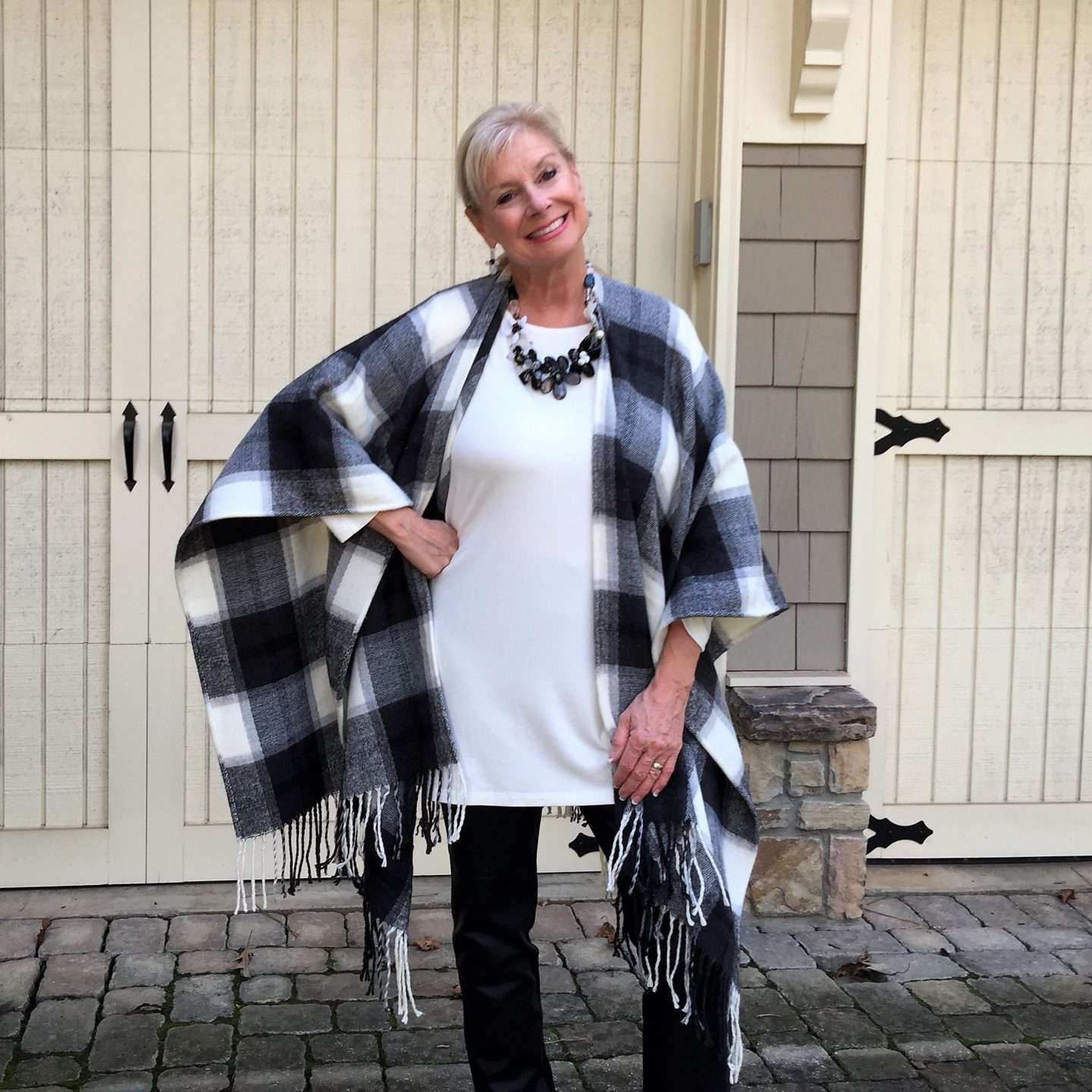 4. Rethink your Holiday Style.
Last year I wore this black top and red leather skirt with my cashmere cheetah print scarf during the month of December but this year I will be wearing the same outfit along with the poncho and my over the knee boots. I love wearing this mink head wrap and my rabbit fur black leather gloves in the winter.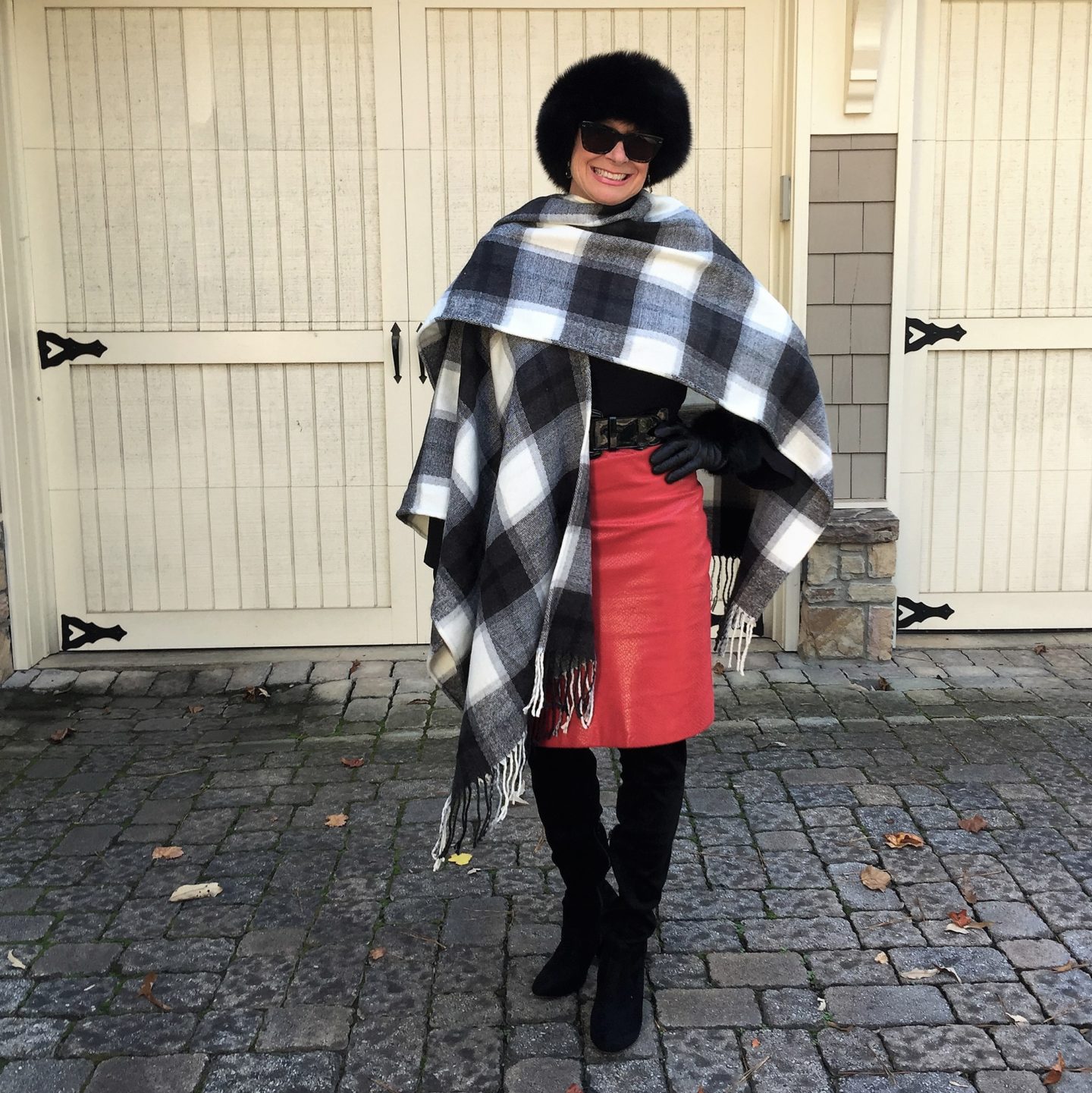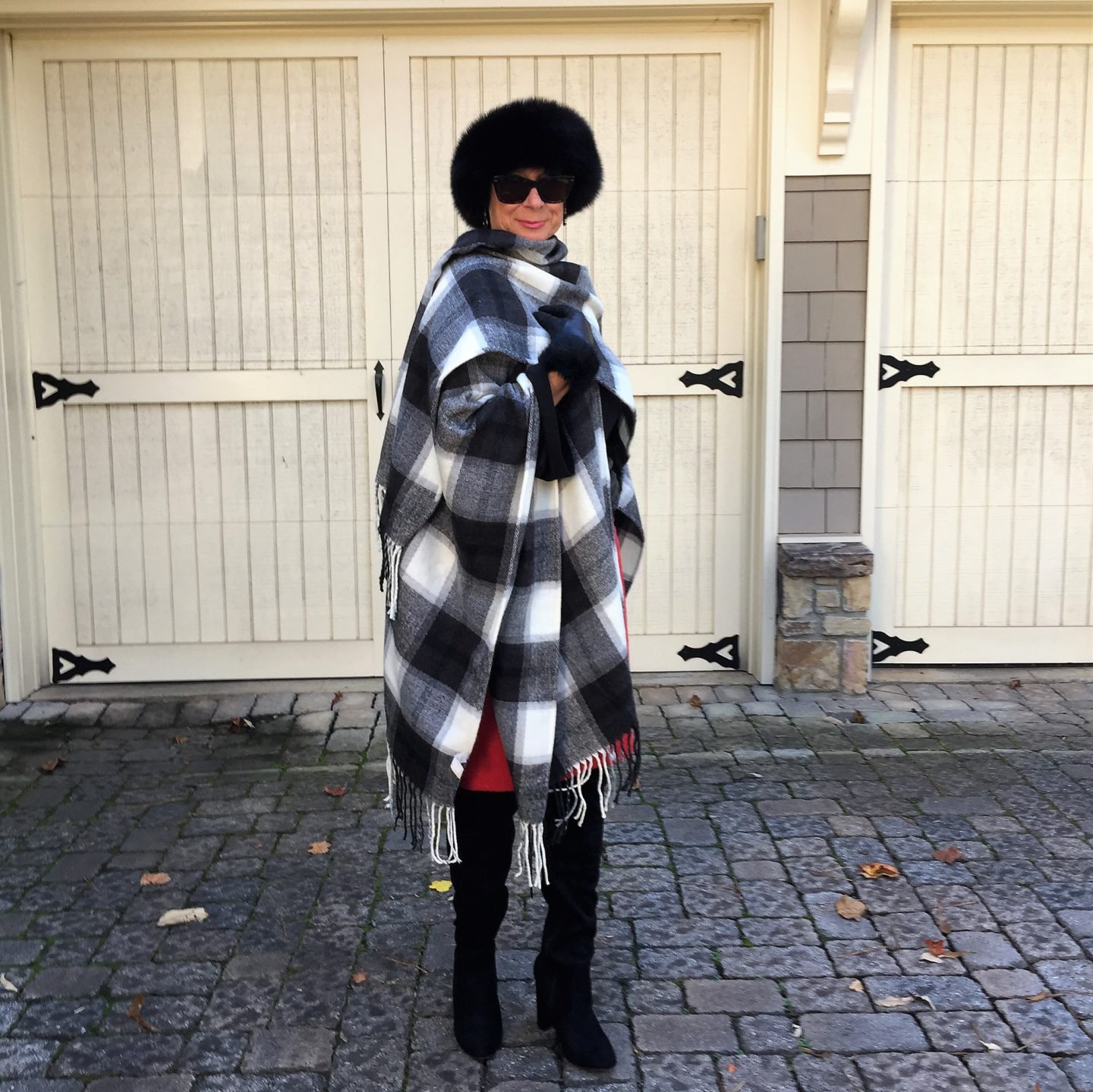 5. Recharge your Shopping style.
My classic long black shirt (with collar turned up of course) with an off white tank  is an easy style for shopping. I love my cheetah shoes that I've worn before from Soft Surroundings  and my off white skinny jeans from last year to complete this simple look with the buffalo plaid poncho.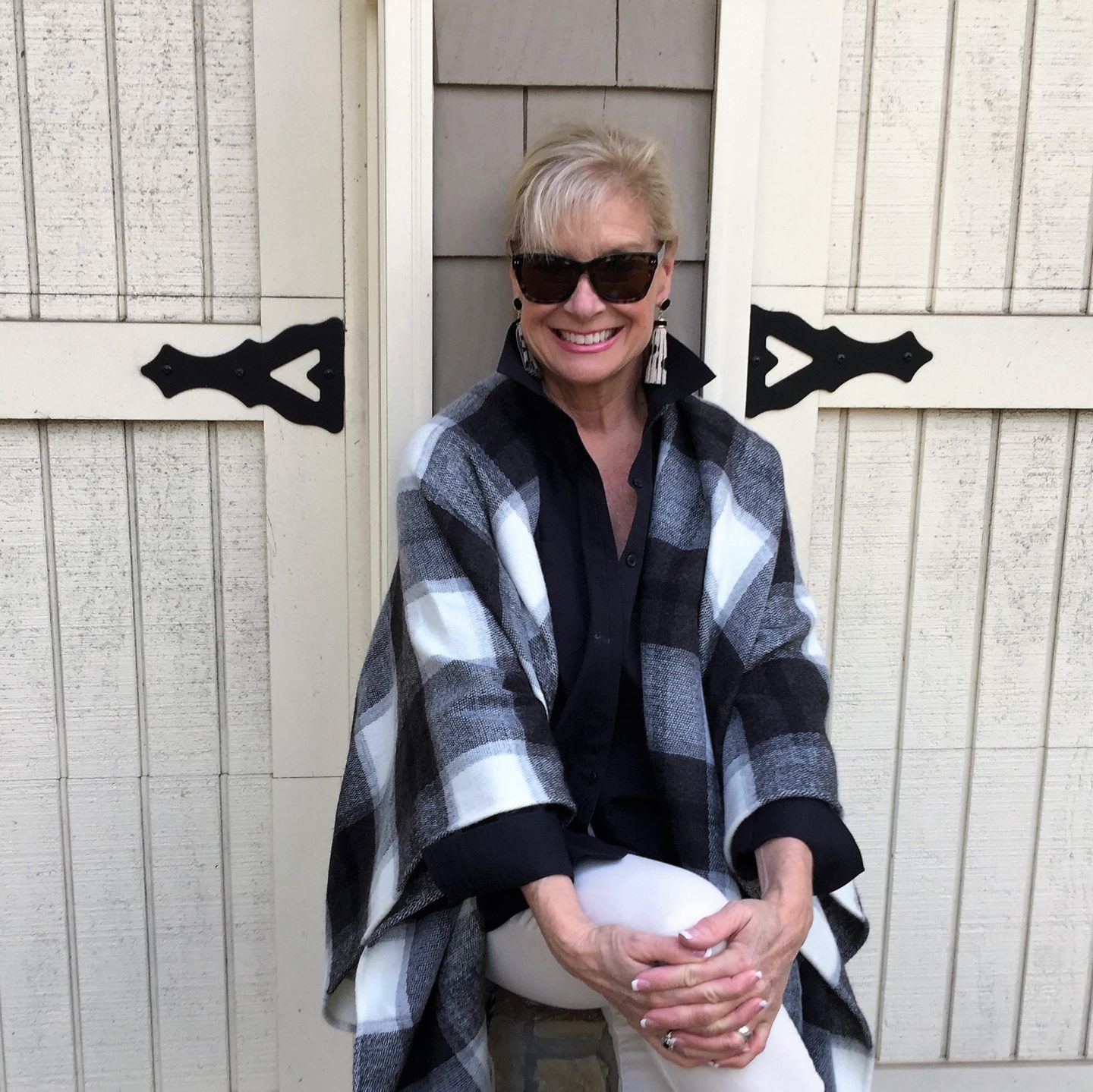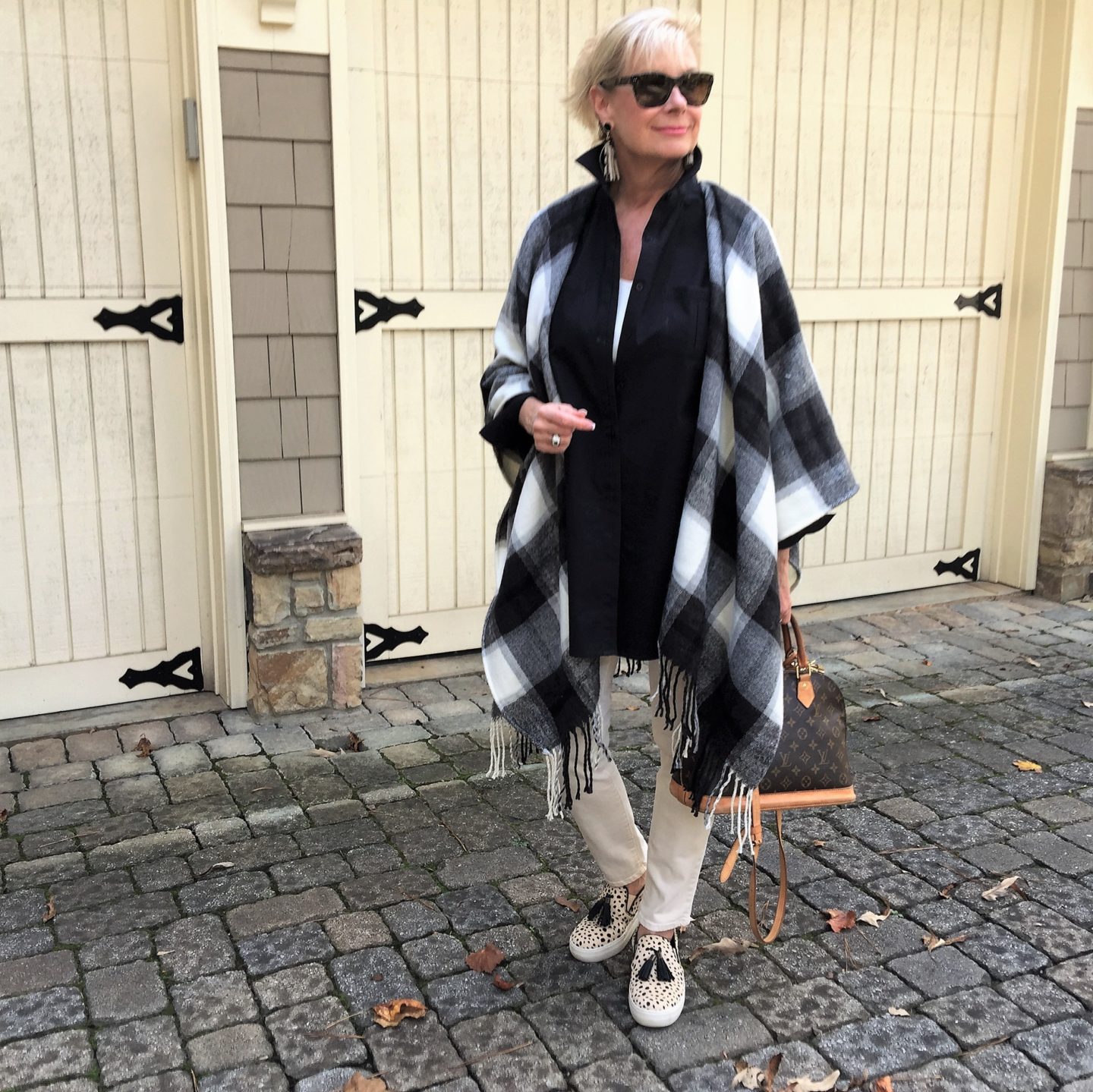 Are you ready for holiday shopping or are you like me, I shop online. I will wait to see what Cyber Monday sales seem interesting. My adult children have their Christmas lists fulfilled by sending me links to items and the sizes.
I love shopping online but I use a special credit card that has a small cash amount on it. My credit card was hacked 5 years ago during the Christmas season and I can't begin to tell you the nightmare of waking up and seeing over $10,000.00 of credit card charges on my account made by someone who stole my identity. I was in tears and felt so violated. Now I am smarter by using a small credit card that I can reload daily. Such a sad world when people would prefer to steal your identity and steal. They say this time of year is when hackers are looking to steal your identity or use your credit card online. Make sure the website you're  shopping on is secure!!!!
Thank you to Soft Surroundings for collaborating with me on this post. My opinions are my own.
You should check out their sales during Black Friday and Cyber Monday!
Shop My Look
Thank you for stopping by today!
Have you started your Christmas shopping yet?
I hope you're living your best life now and that age is just a number to you too! I would love to hear from you!
Follow me on Instagram, Twitter, FaceBook, Houzz,LinkedIn, and Pinterest too!
Hugs!

This post contains affiliate links which I may earn a small income from.