Do you remember where John Kennedy Jr. and Caroline Bessette were married?
Answer: Cumberland Island off the Georgia coast. A national treasure, Cumberland Island is the most accessible of Georgia's "wild" barrier islands, and offers an unforgettable adventure for anyone who makes the journey. 
If you have the time to spend 3 days on a national treasure full of historic ruins, wild horses, deserted beaches, and  stay at the Greyfield Inn, (a wonderful top tier bed and breakfast inn), then add it to your bucket list
History:
Our visit:
The white, Colonial-style home with a wide, covered veranda was built in 1901 as a vacation retreat for Margaret Ricketson, the daughter of Lucy and Thomas Carnegie. In the '60s, Margaret's daughter, Lucy Ferguson, turned it into an inn.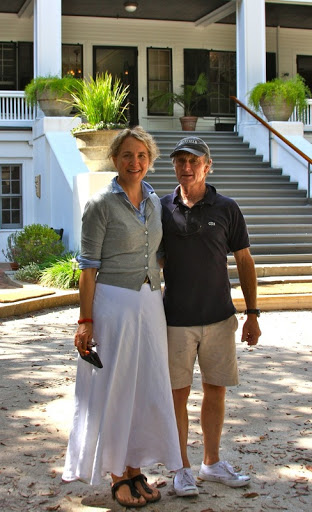 Mitty and Mary Ferguson
I should mention that there isn't internet or televisions  to entertain you. Old fashion reading is recommended as well as good conversations with the people you meet at the inn. The food is exceptional and you dress up for dinner.
Wild horses are everywhere on the island and many spend time close to the inn.
Robin is reading the map on the beach. Not a human in site to give her directions….
These birds are called Oyster Catchers and were Robin's beach companions.
You many not see humans, but horses will join you on the beach.
We rode bikes to the ruins which was an easy 2 mile trip from the inn.
The Dungeness ruins today.
The Dungeness ruins and the horses.
This horse skeleton hangs by Gogo Ferguson's home and jewelry shop by Greyfield Inn.
Biking on the Live Oak lined trails of Cumberland Island