I had the most amazing lunch date in Hilton Head with my new friend, Jan Correll of Silver is the New Blonde,who is also a part of the Fierce 50 Revolution . We both have second homes in Hilton Head and I was delighted that she was going to be in Hilton Head when I was there.
The wonderful part of being a 50ish blogger is following other women who inspire me with their fashion style and how they embrace their life after 50.
I really enjoy this new movement of over 50 bloggers sharing themselves so openly on social platforms and I'm learning so much.
Jan is a busy professional,wife, mother, grandmother, and a blogger who believes in many of the same things I do. I was so impressed with her candor of what it means for her to be a 50ish woman living authentically without cosmetic procedures and letting her hair be it's true color. She is truly a wonderful person and I hope you follow her blog and her social media.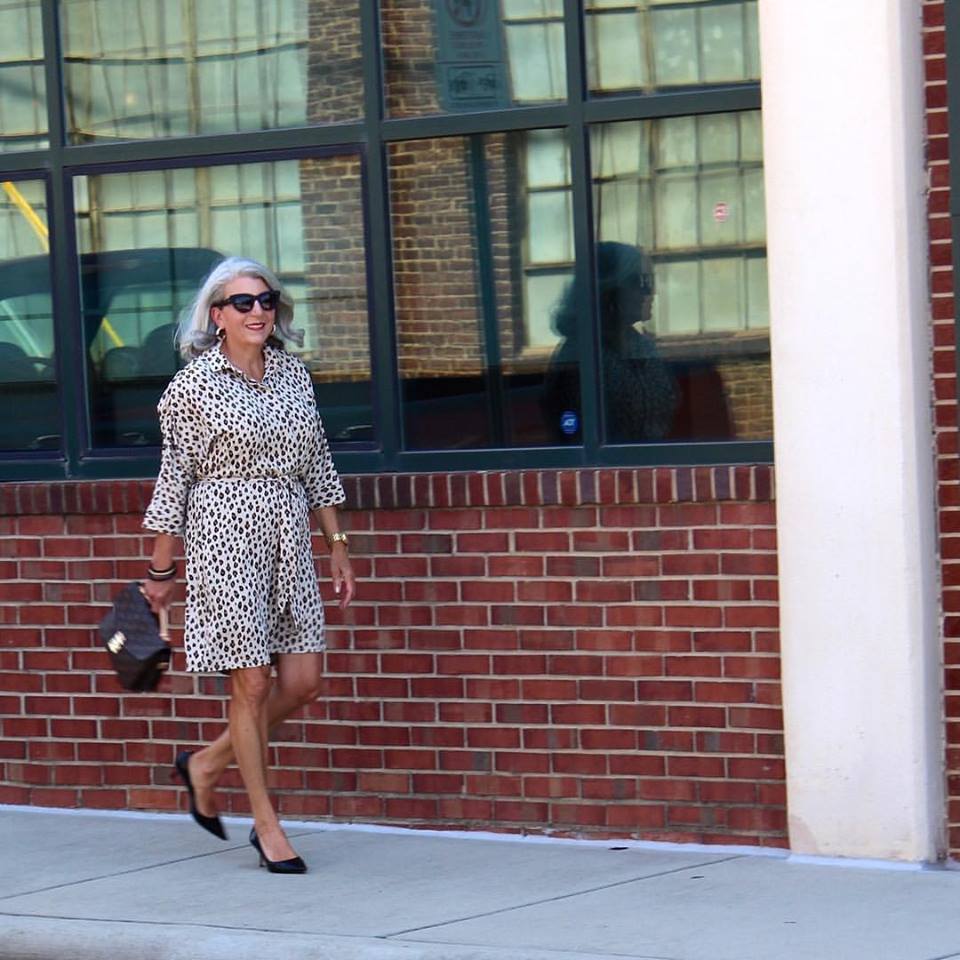 We spent 3 hours discussing our personal life, the blogosphere,social media, and how she juggles all of it,(which I'm still trying to figure out.) She had so many great tips and I loved her for openly sharing her knowledge and points of view with me.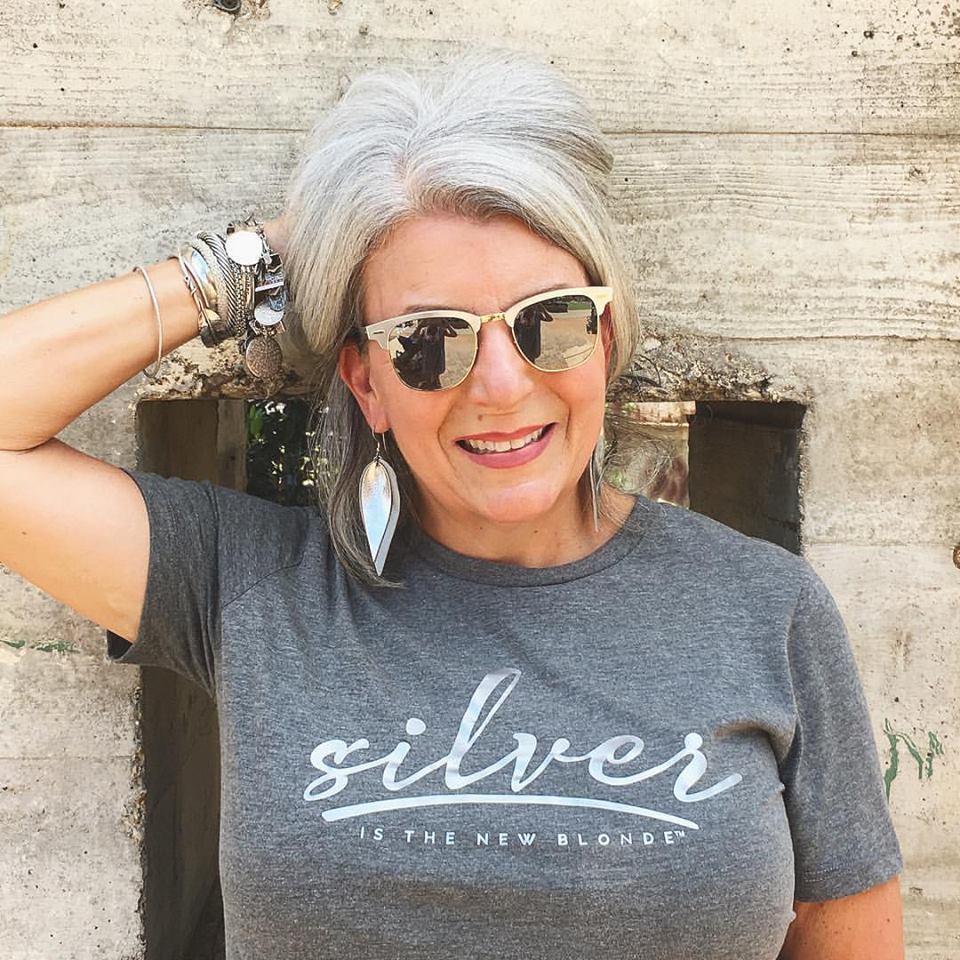 I enjoy sharing ideas with other women and found Jan to be smart, honest, and very authentic.
There is a wonderful connection between women when you listen to what they say about how they are embracing their life after 50 without judging how they do it.   We all wear different fashion styles and do different things to ourselves (Cosmetic, hair coloring, eyelash extensions, wigs, and the list goes on) to make us feel better. I love looking at women over 50 and their choices of fashion and beauty tricks may not be my own. I see so many beautiful women over 50 and I was fortunate to make a new friend with one.
My Resort Casual Style:
I always pack a couple of nice outfits when I'm in Hilton Head because I know I will be eating out a couple of times during my stay. Because it's in the high 80's in August at Hilton Head, I always pack sundresses for shopping in and a chic resort casual outfit for dinner at the finer restaurants.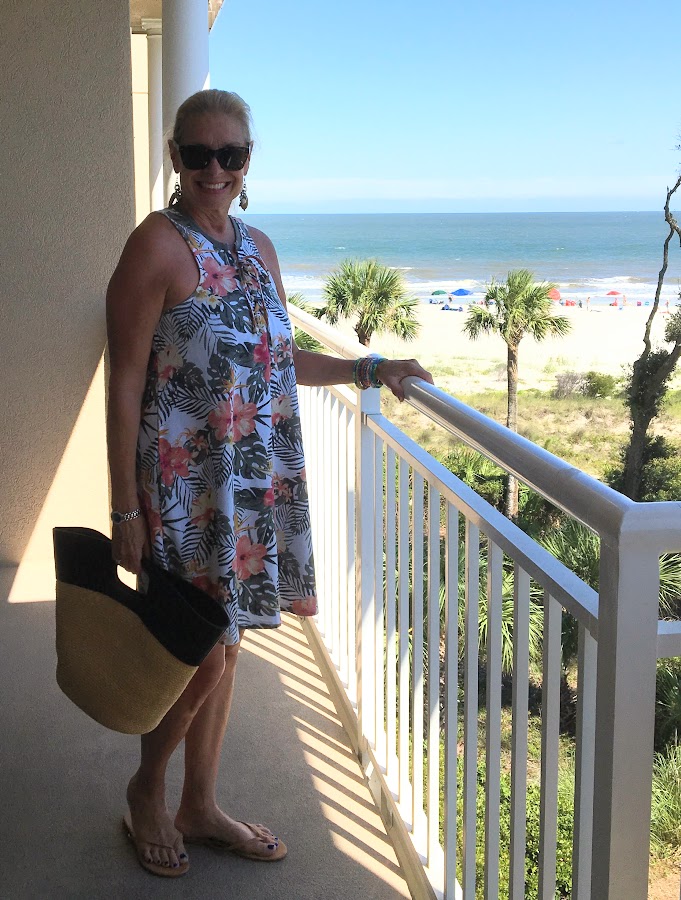 I always wonder what other people think is proper attire when dining out on vacation while at the beach. Do they think about packing a couple of nice outfits or just assume all restaurants are "Come as you are?" I see a lot of people wearing cargo shorts, flip flops and baseball caps at really nice restaurants. First of all, men should remove their hats when they enter a building. Period.
What is resort casual attire?
Resort casual is fashionable and functional . You can wear casual dresses, skirts, nice shorts, and tops. It isn't cutoffs and flip flops!
I packed this sundress I purchased from Collage Boutique in Atlanta and wore it for my lunch date with Jan and for dinner later that night at a popular seafood restaurant.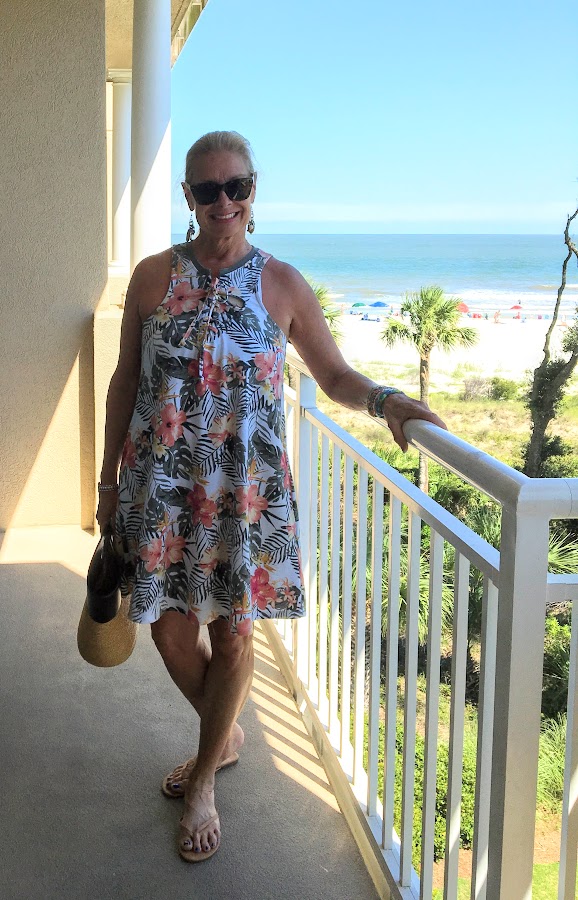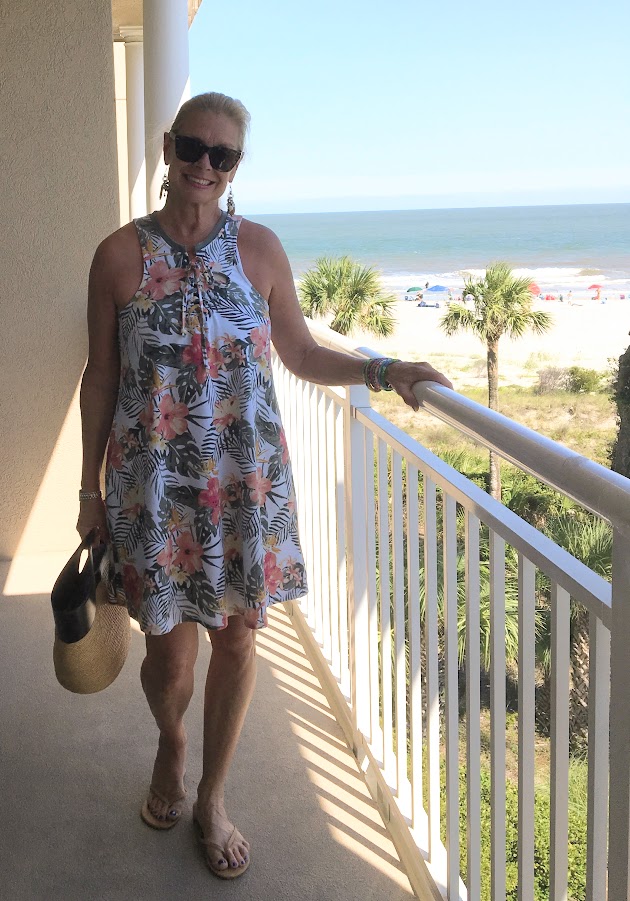 The restaurant is a dockside casual restaurant and you see all types of outfits worn to the restaurant. Yes, I know what you're thinking. I thought it a lot while eating out!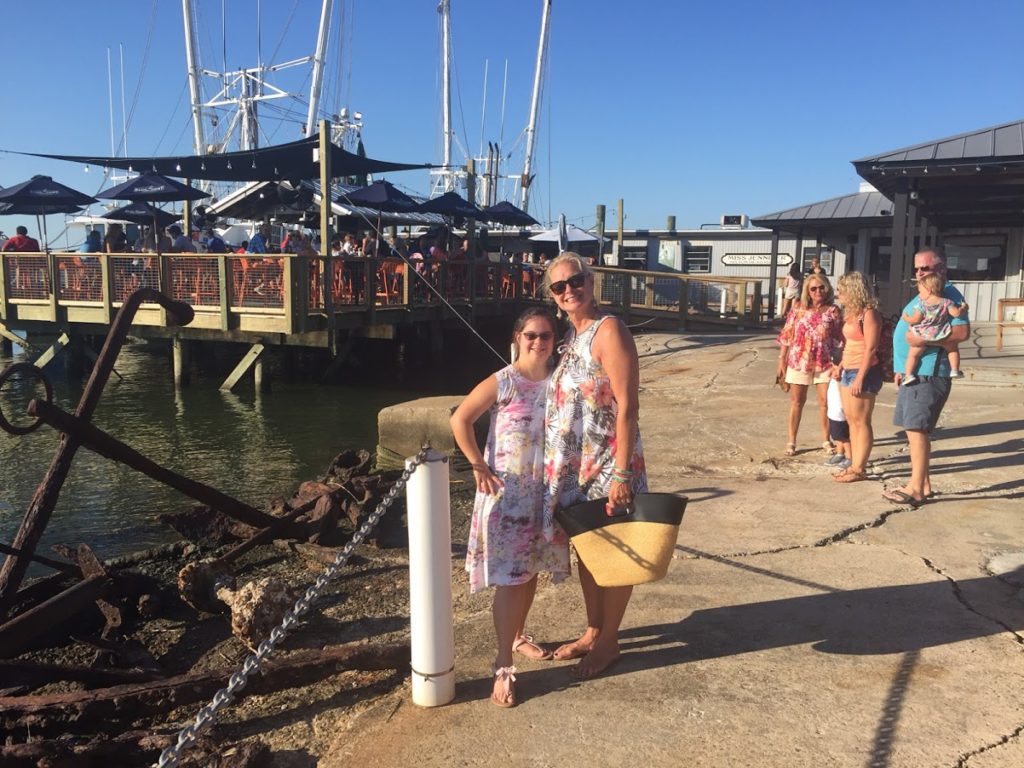 My Other Dining Story:
I had dinner with my daughters and husband at a popular Italian restaurant in Hilton Head to celebrate my husband's birthday. We dressed appropriately for this restaurant but a party of 4 were refused to be seated because they look like they just came off the beach, (The guys were wearing flip flops, baseball caps, cargo shorts, and tee shirts. The women wear wearing fedoras and really short jean cut offs.)They probably never thought once to look at the dress code or call the restaurant to ask what the dress code was in the first place.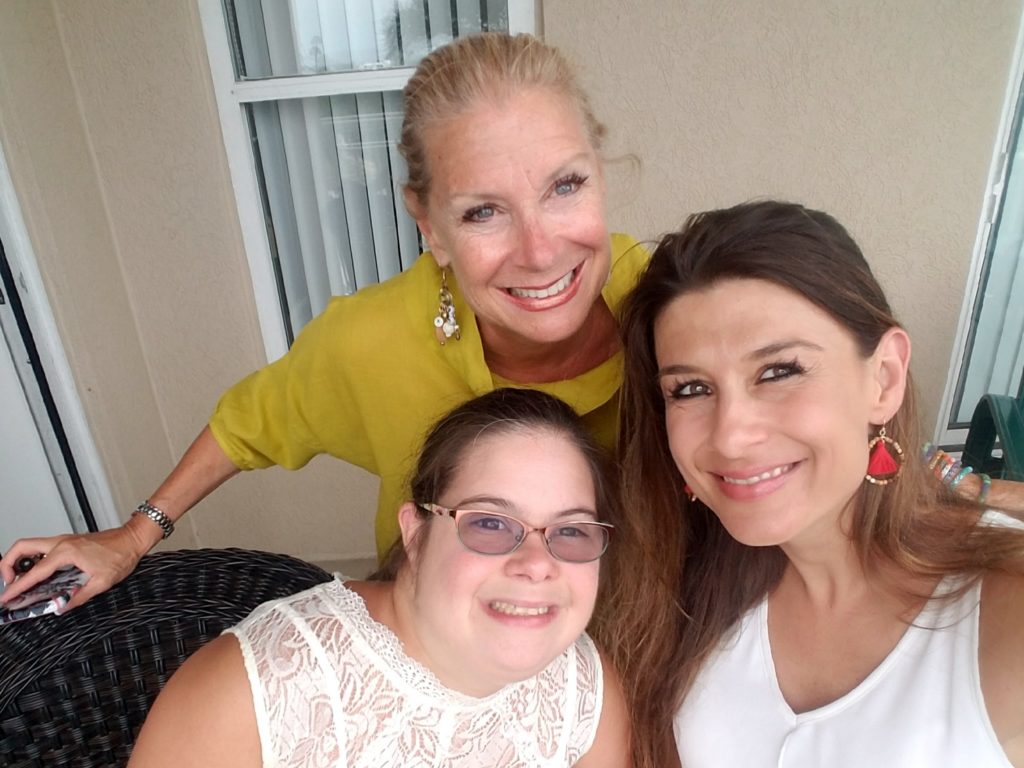 This restaurant is highly rated and one of the top restaurants on the island. If you're going to spend a lot of money, dress like the restaurants would prefer you to dress. Or you may find yourself scrambling to find a restaurant who will take you just the way you are….
Even the local Hilton Head Island Packet wrote an article this week to help the tourists figure out if they will be under dressed  at the better restaurants on the island. There was a time when people wanted to dress up to eat out but now I see a very casual look that may not be acceptable to some restaurants.
Know before you go.
We love eating at the different restaurants on the island and resort casual is acceptable everywhere!
Hope you're having a wonderful day!
Do you pack resort casual when you're at the beach on vacation just in case you eat out?
I hope you join me again!
Thanks for stopping by!
I would love to hear from you!
Follow me on Instagram, Twitter, FaceBook, Houzz,LinkedIn, and Pinterest too!
Hugs from Hilton Head!