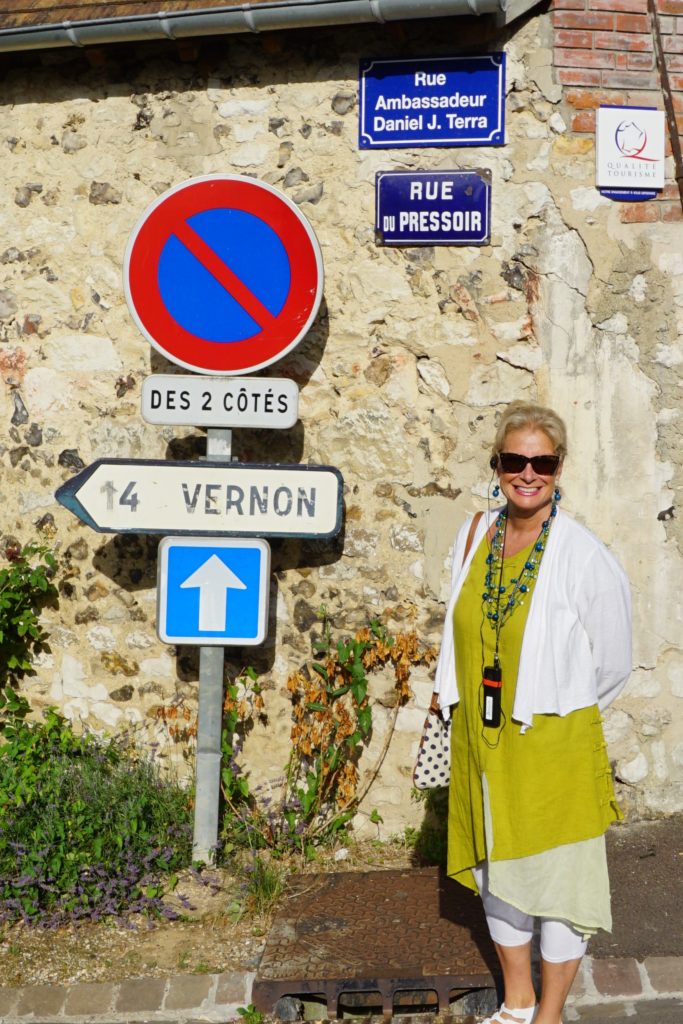 On day two of our Seine river cruise we stopped at Vernon, France in the morning, where we disembarked to visit  the most beautiful gardens that have been painted and displayed in many national museums because of the celebrated artist who lived there.
I was delighted that my river cruise included a visit to Claude Monet's home in Giverny. The expansive gardens were breathtaking and I actually  saw Claude's paintings come to life.
Come take a stroll with me through his gardens…
A Little background:
Claude Monet was a leading artist of the Impressionist movement. His artworks were considered "unfinished" and amateurish  by art critics in the 1870's. Claude Monet sought to capture the essence of the natural world using strong colors and bold, short brushstrokes; not the fine finish and detail to which most artists of  his day aspired and he preferred to paint outside, not in a studio. Banding together with several other artists, Monet helped form the Société Anonyme des Artistes, Peintres, Sculpteurs, Graveurs, as an alternative to the Salon and exhibited their works together.
He moved to a farm in Giverny in 1883 with his family. In 1890, Claude turned his farmland into the gardens I saw today. He was an avid gardener and helped to design this paradise. This place was where he was the happiest. He spent the last 40 years of his life painting only in Giverny.
I learned from our tour guide that he painted his water lilies at different times of the day and year, exploring different color schemes. I also saw this in his art of the Rouen Cathedral, which we will visit later together when we visit Rouen.
The Gardens
He was a collector of Japanese art and decided to make a Japanese garden on his property. He diverted a river to form a Japanese pond, planted willows and bamboo on the shores, filled the pond with water lilies, then crossed it with a wooden Japanese footbridge.
Our tour guide said that Monet was very particular about how to properly take care of his water lily pond and  that he had workers clean the pond daily of weeds and frogs. I wished I had written down why he was against frogs. Don't frogs belong on lilypads?  Or did they disturb the sky's reflection onto his pond? Do you see the clouds in the pond?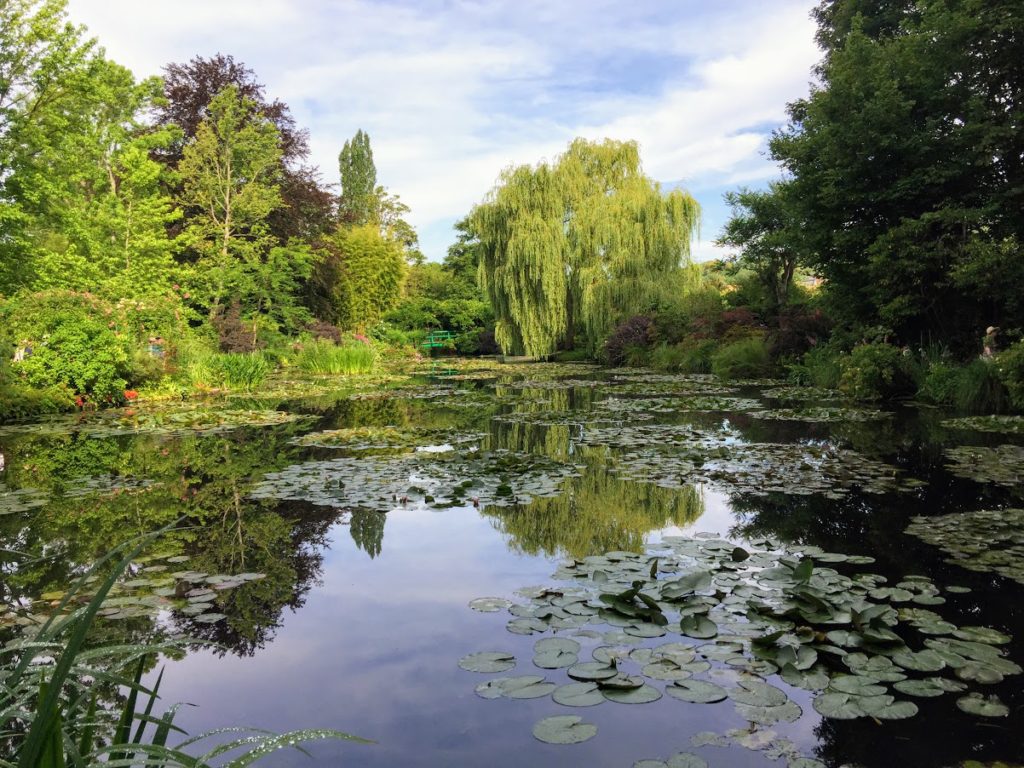 Do you see the green Japanese bridge in the distance?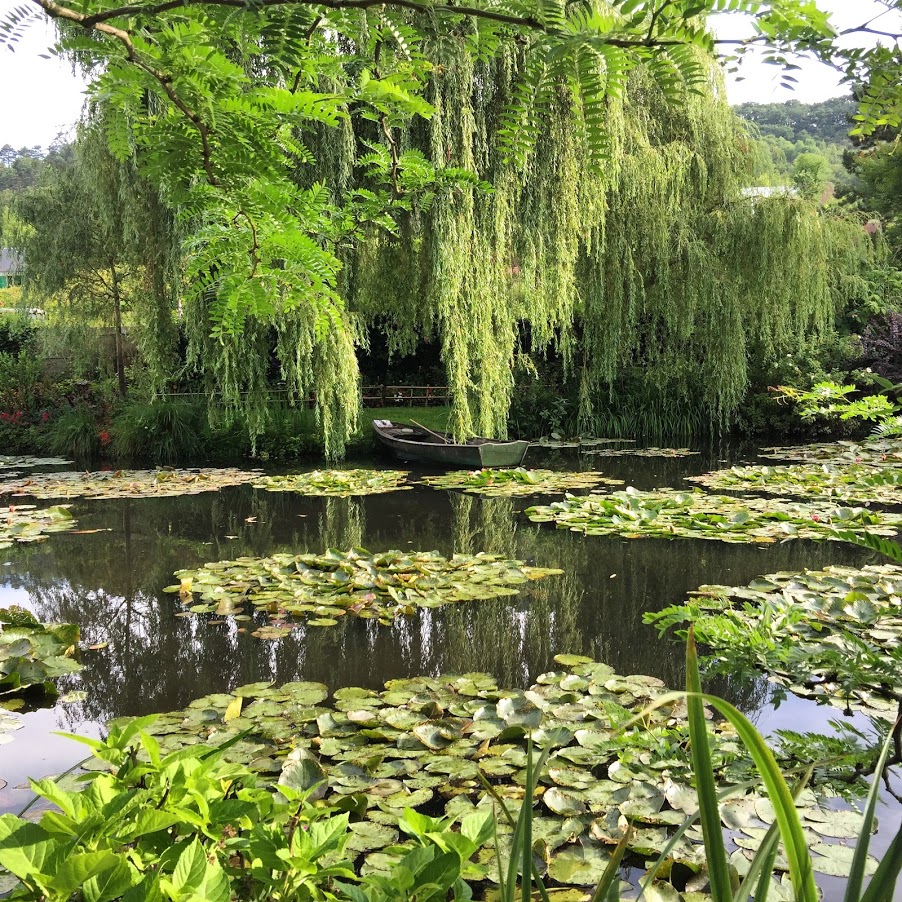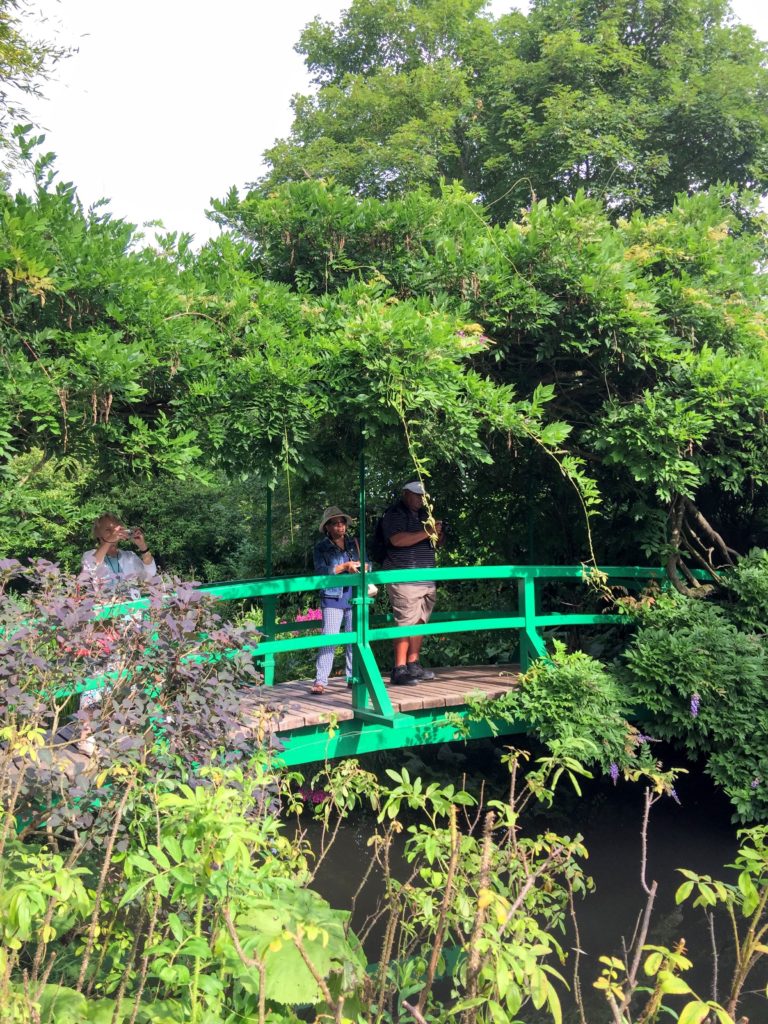 In 1899, he began a series of eighteen views of the wooden footbridge over the pond, under differing light conditions.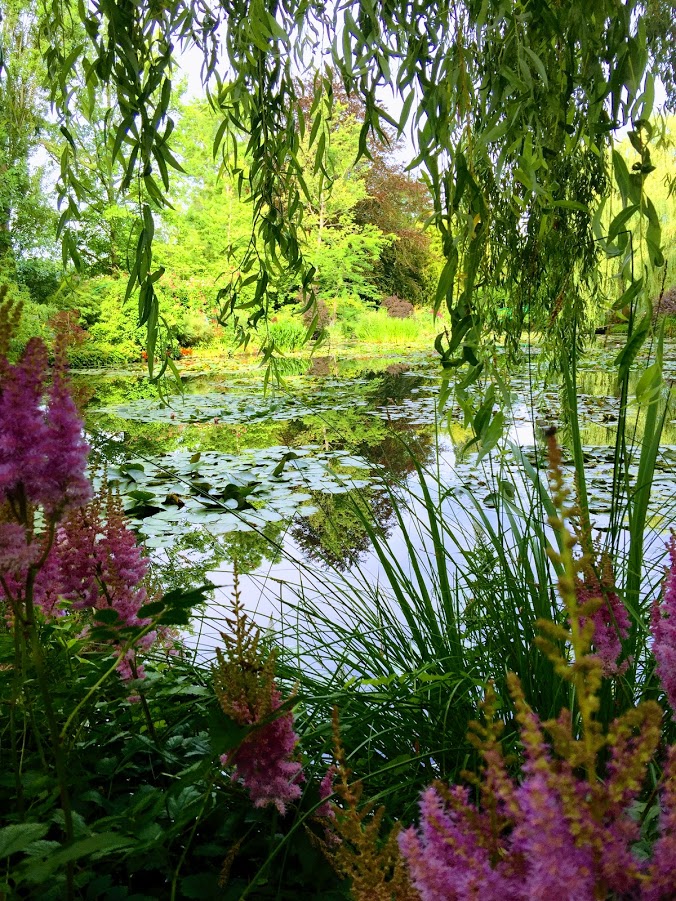 Nasturtium flowers line this walkway up to the main house and by fall the gravel walkway will disappear underneath these lovely flowers. (I'm going to try this next year in my garden.)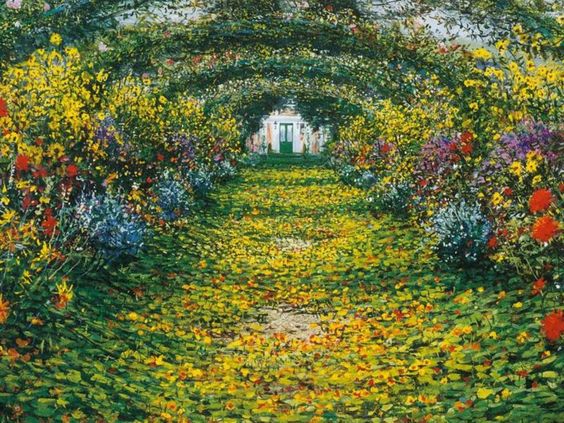 Al
The House
Today's house and gardens are a replication of Monet's home and gardens as they were when he lived  there. Unfortunately after the Second World War the house and garden were neglected.
It took almost ten years to restore the garden and the house their former magnificence.
Thanks to generous donors, mostly from the USA ,the house was given a facelift. The ancient furniture and the Japanese prints were restored. The property has been open to the public since September 1980.
His home was filled with his work  and his Japanese artwork collections. I highly recommend you arrive very early because it can get crowded with tour buses carrying pushy tourists. Some of these tourists were more focused on taking selfies than enjoying the gardens and the home. We didn't take many interior photos because it was too crowded inside and I really don't want to take photos of them taking photos of themselves.  Or they were taking photos of me, because I'm blonde and blue eyed and wearing Asian inspired clothing. It was very strange watching them watch me. (However I must say they were dressed very nice compared to the other tourists I saw on this trip.)
Every time there was an opportunity to take a shot of a room without people in it, was a rarity. Hence the kitchen was pretty empty.
I was particularly fond of this blue tiled kitchen with all the copper pots . The blue tiles came from Rouen and the stove was used for cooking and heating the home. There is a door from the kitchen that goes out to the front gardens.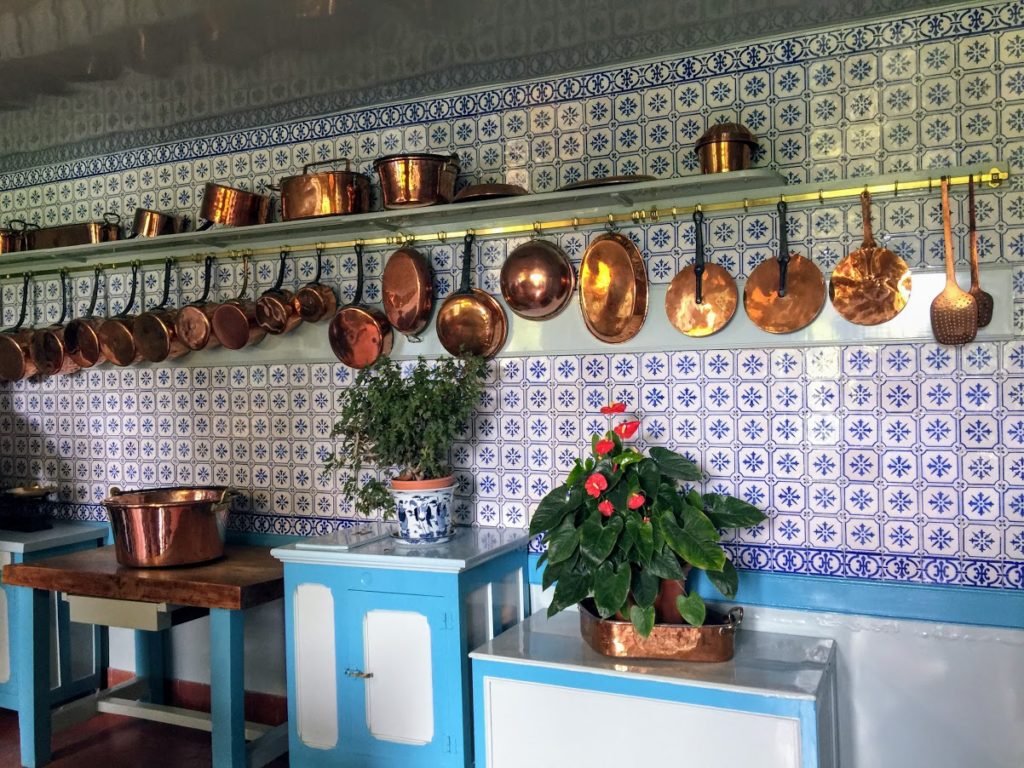 After our visit at Monet's home and gardens we ventured up the road to the little village of Giverny  and saw the Museum of Impressionism and the little cemetery where Monet was buried.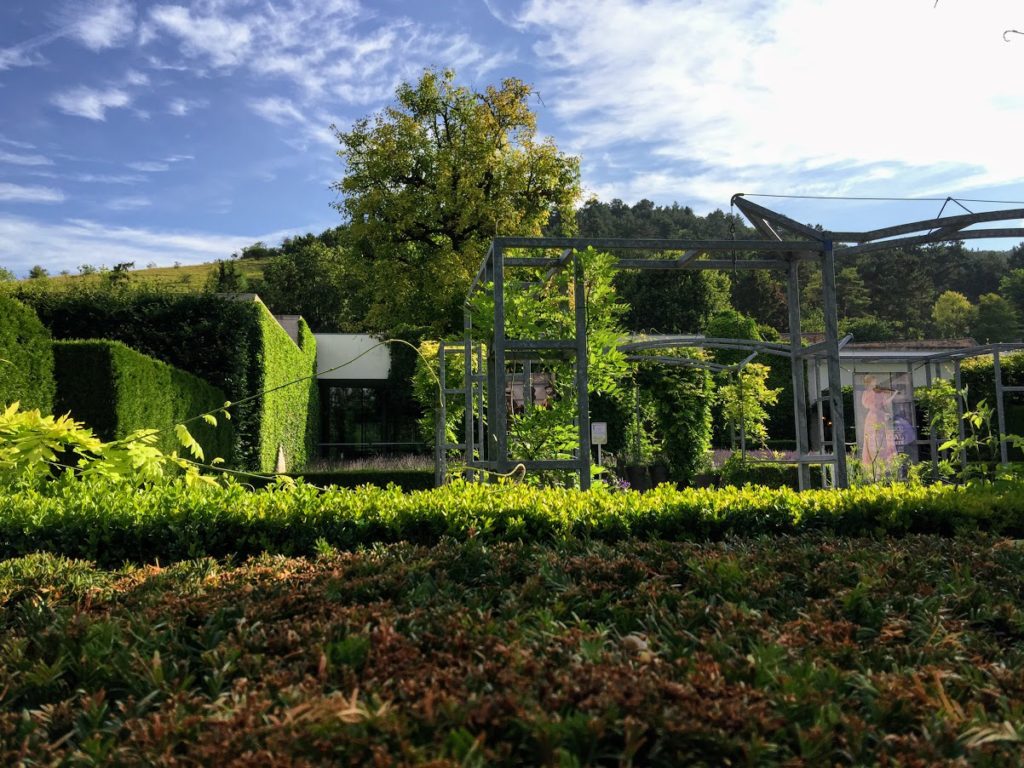 Just a 10-minute walk from Monet's house is his family grave. It's to be found at l'Église Sainte-Radegonde de Giverny. Built mostly in the 15th and 16th centuries, this is the church that Claude Monet attended, as well as being his final resting place.
On a hot day we were one of the few who ventured to walk up to the church and the cemetery but it was really lovely.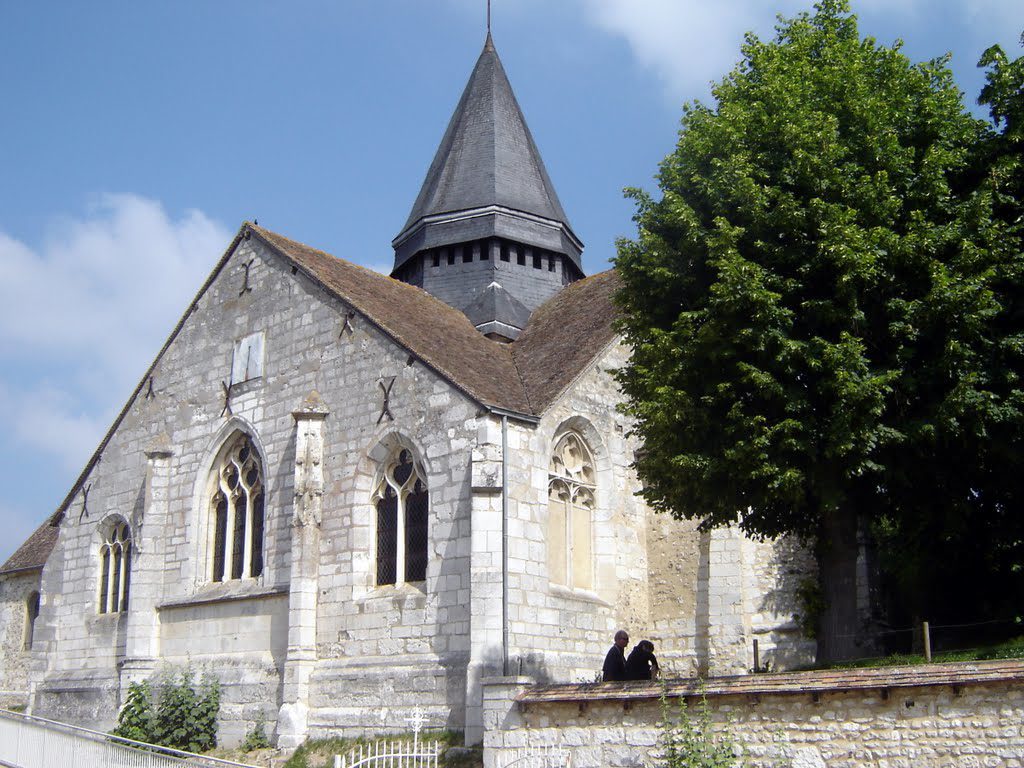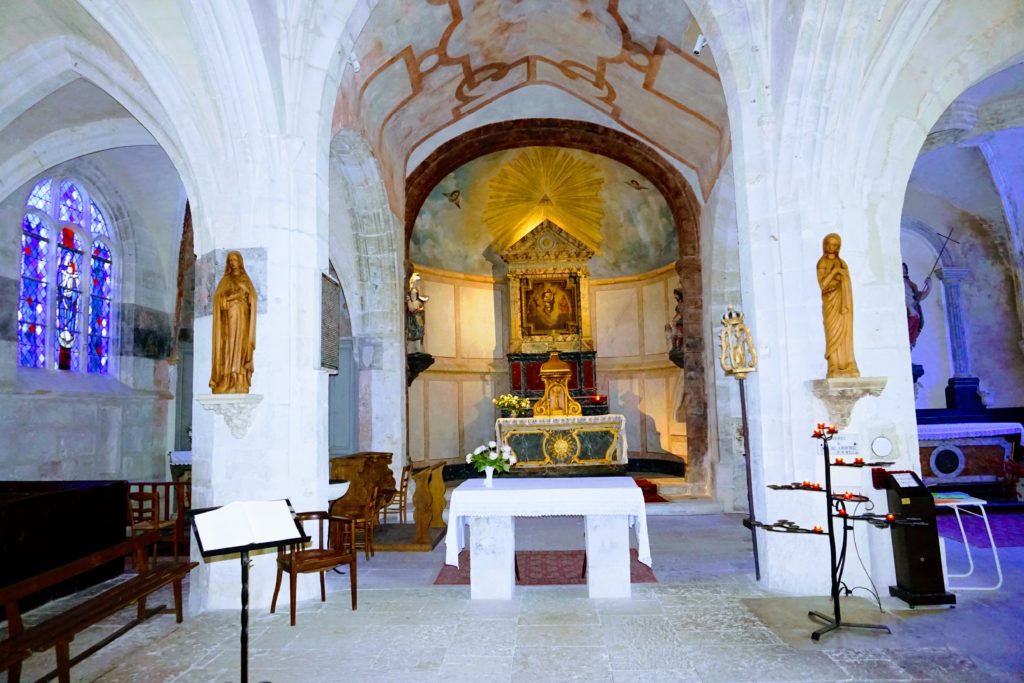 Monet now rests in the peace and tranquillity of this little cemetery in the company of Ernest Hoschedé, Alice, his second wife, and Jean Monet, his son.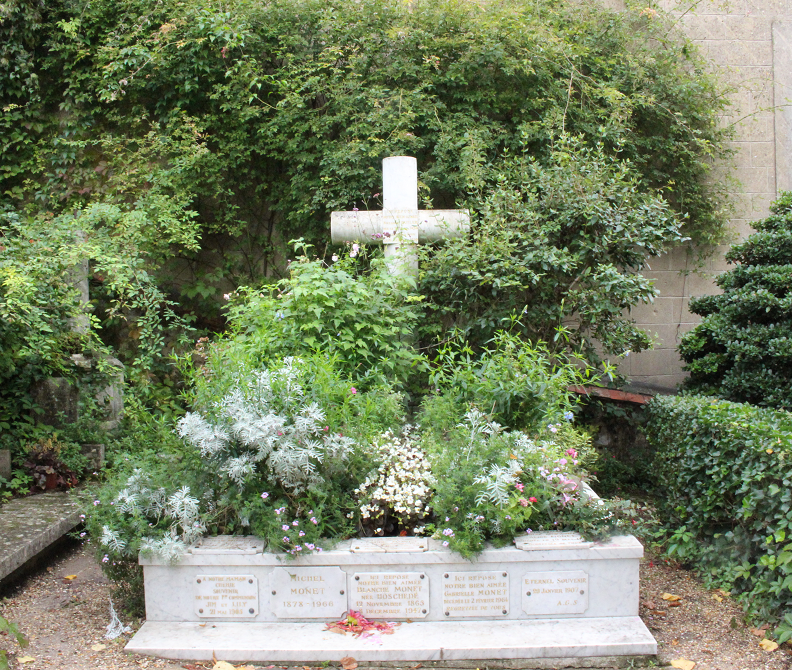 Entering the grounds we soon came across the Monet family plot and close by was a memorial to a WW2 Lancaster bomber crew who all perished on the night of the 7/8th June 1944. A propeller from the plane is part of the monument which stands in testimony to the crew who died for the liberty of the people of Giverny in their words.
Wasn't this a wonderful place to visit?
I hope you enjoyed this tour as much as we did.
I hope you join me again!
Thanks for stopping by!
I would love to hear from you!
Follow me on Instagram, Twitter, FaceBook, Houzz,LinkedIn, and Pinterest too!
Hugs from the Avalon river cruise!