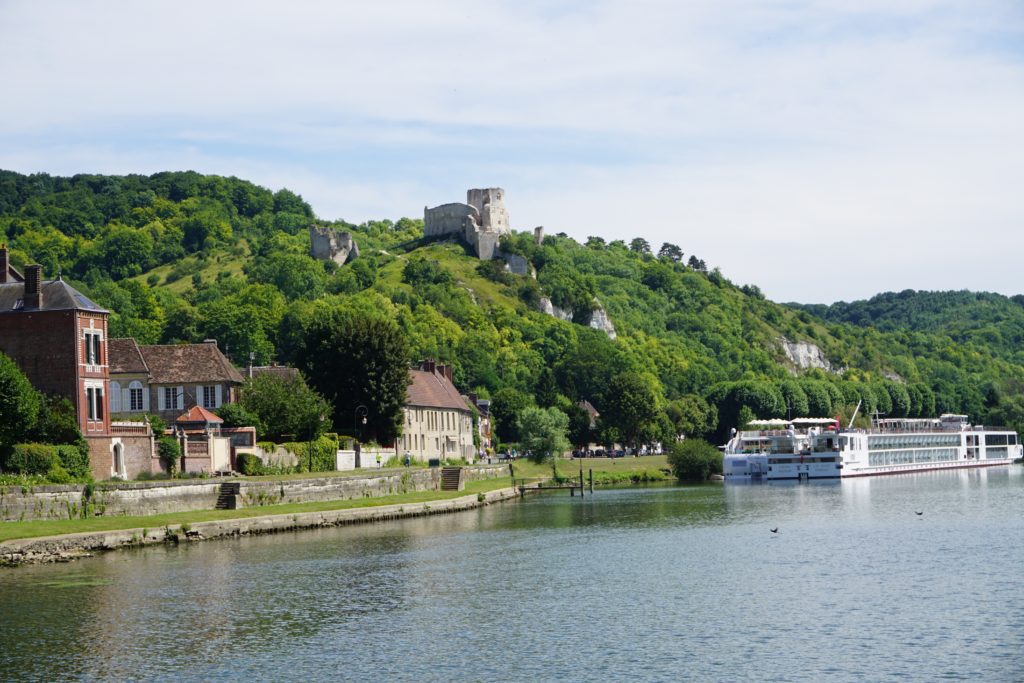 Hello friends!
I am continuing  my little travelogue of my river cruise that we took in July.  I really want to share my travels with you so that you will also want to add a river cruise from Paris to Normandy to your bucket list. This little port of call in Les Andelys was on our second day after spending the morning in Giverny. The highlight was visiting ChâteauGaillard way at the top of this photo.Les Andelys is in the Upper Normandy region of France. It is considered one of the prettiest villages in France.
My husband, myself,  and a few brave souls ventured to walk up to the castle built for Richard the LionHeart, Chateau Gaillard.
I should advise you if you ever take a river cruise to Les Andelys, this walk is not for everyone. It's a very rocky and uneven path you will walk on. We were told to wear hiking shoes or tennis shoes. (Seriously, the tour guide must have forgotten he was talking to a large crowd of sneaker wearin' Americans on this boat. I put on my stylish walking sandals.) We were doing this in 87 degree weather which is also not a good idea if you have any health problems. It would also be the last time I would wear my cute tie dyed tunic on this trip. Banished to the laundry bag!
If you don't walk up to the castle, the village is adorable and you can visit the quaint little shops .
A little background:
Richard inherited Normandy from his father, Henry II when he became king. The French King was very wary of Richard I.
ChâteauGaillard was built in 1196 to be a military fortress against the king of France, Philip II to protect Normandy against Philip's invasion.  Richard the Lionheart selected this site for his future castle overlooking the Seine River above Les Andelys. It was a very expensive project and built in less than 2 years. (Most castles were built in a decade.) Château Gaillard was ahead of its time, featuring innovations that would be adopted in castle architecture nearly a century later. Some historians have speculated the Richard, himself was the architect for this castle. Richard enjoyed spending time in the castle until his death in 1199.
His brother, King John of England failed to keep the castle out of the hands of Philip II. The castle changed hands many times in the Hundred Year's War built eventually stayed in France's control since 1449.
I had the most wonderful french guide , Martin, who explained much of the history to us as we visited the ruins. He even had imaginary conversations going on between Richard I and Philip II, it was like listening to an audiotape or a movie.
If you look really close at the photo below, I am the 3rd person (in the middle) walking even higher to the outer bailey ruins. We had just crossed over a moat that separated the outer bailey from the inner bailey and keep.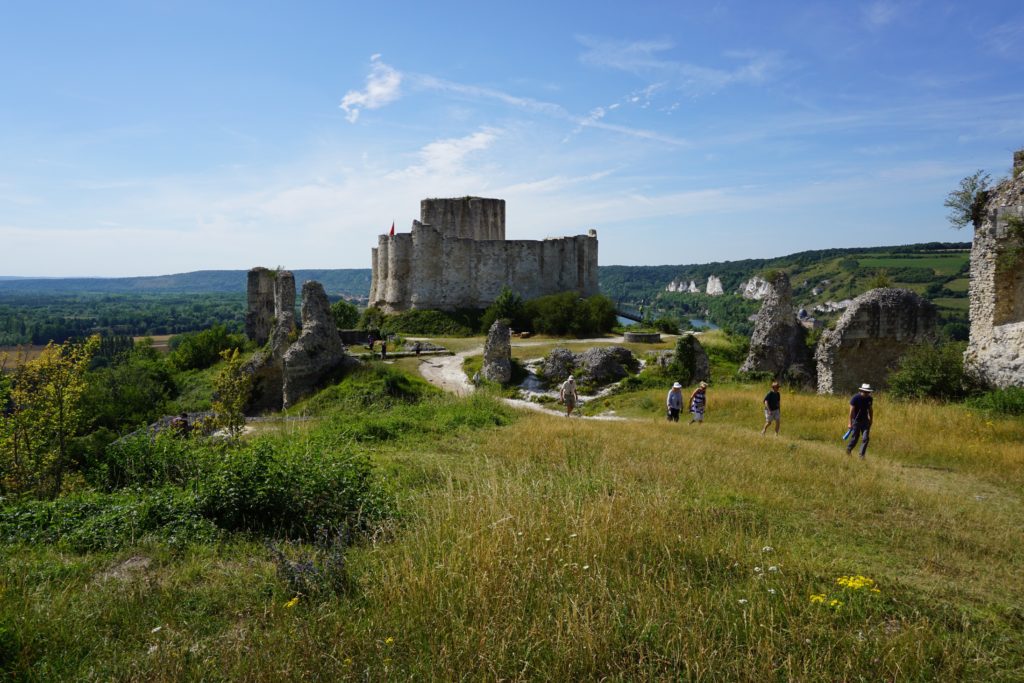 Alrighty, we've made it to the top ruins of the fortress( outer bailey) where the towers once stood.
We are now standing below the castle keep in the inner bailey looking up to the keep. Yes, I learned a lot of castle jargon on this trip. It was fascinating and I loved learning about the construction of this castle.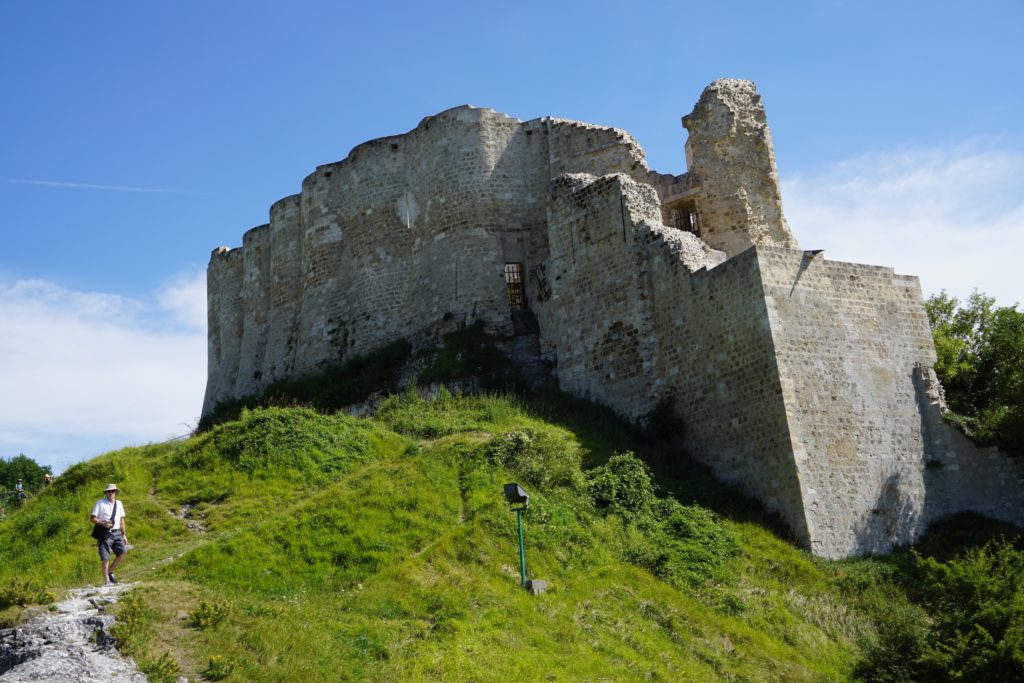 My adorable husband is standing in front of the ruins of the inner bailey.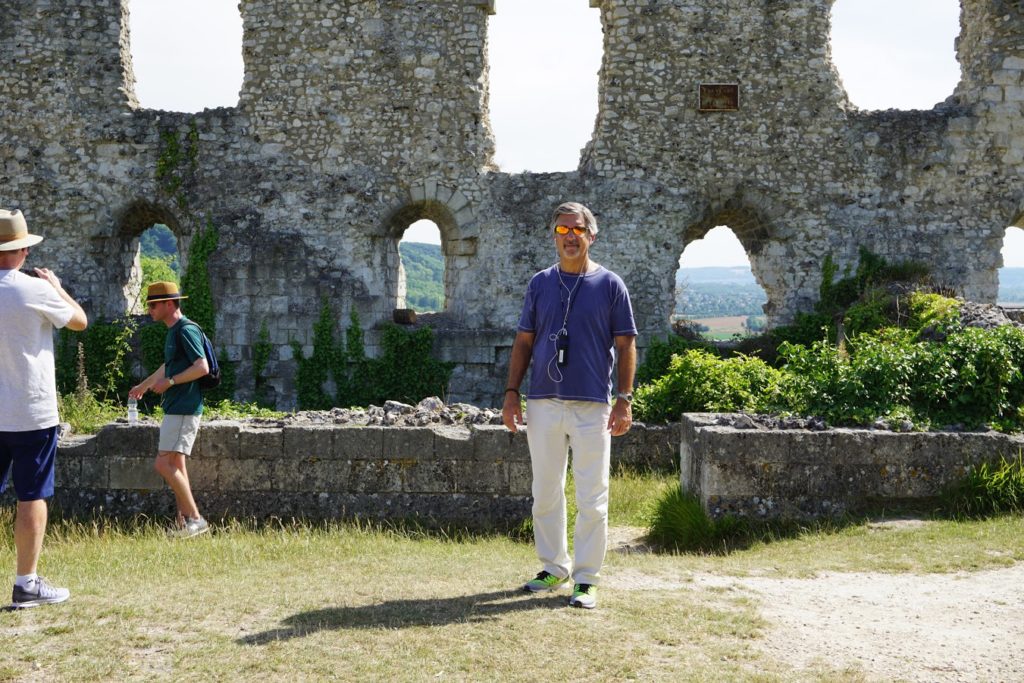 Another shot of the inner bailey walls.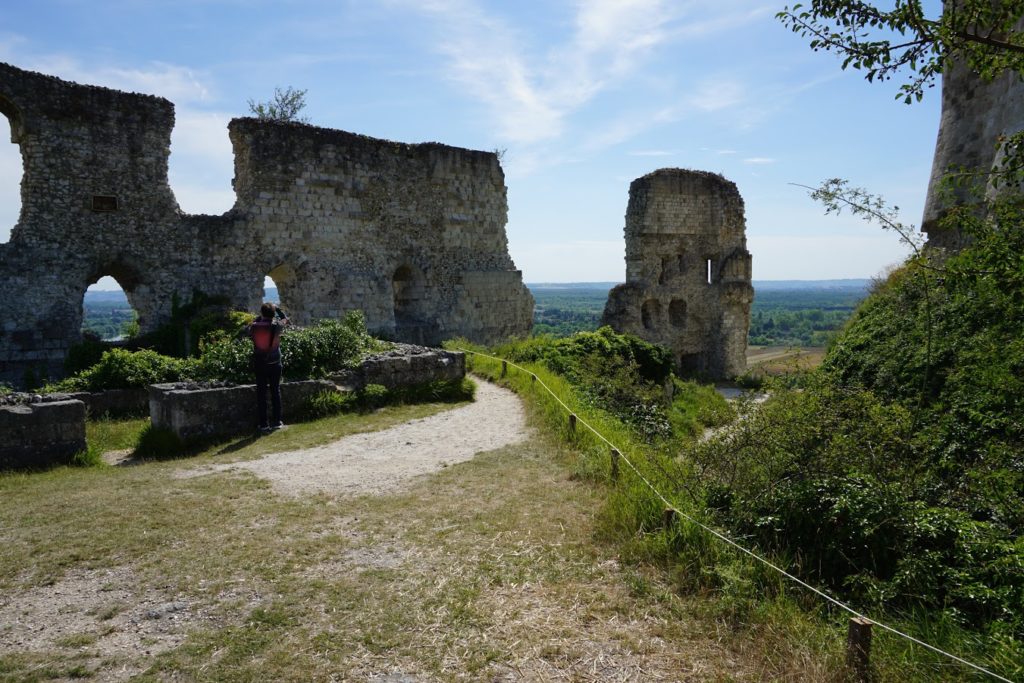 Now we climb the stairs to the castle's keep.
The outer wall of the keep.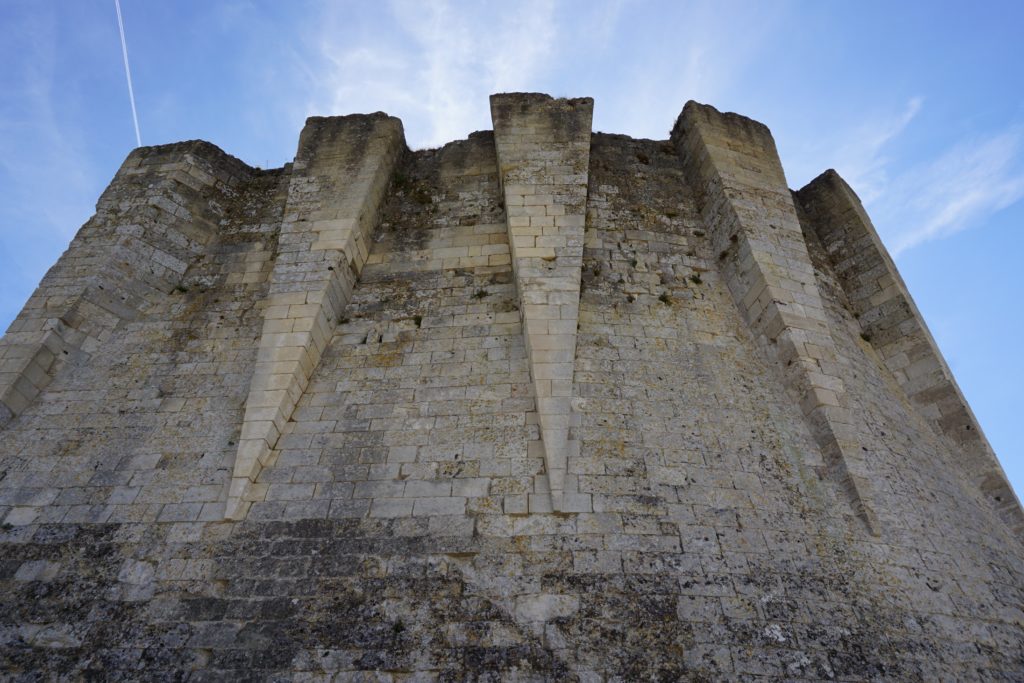 Once inside the keep,
Looking through the keep ruins down to les Andelys.
What a view from the castle!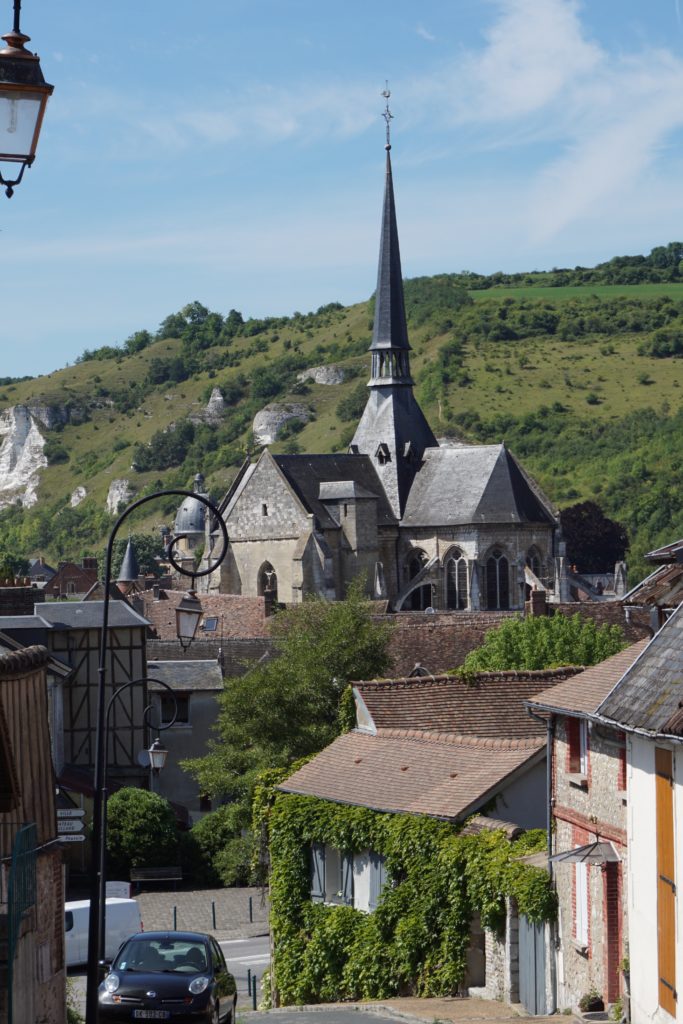 What a great day we had exploring ChâteauGaillard and the quaint town of Les Andelys.
I hope you enjoyed it as much as I enjoyed sharing it with you!
Next time I will share the Normandy Abbey experience with you on my Seine river cruise!
Until then my friends!
Thanks for stopping by!
I would love to hear from you!
Follow me on Instagram, Twitter, FaceBook, Houzz,LinkedIn, and Pinterest too!
Hugs,