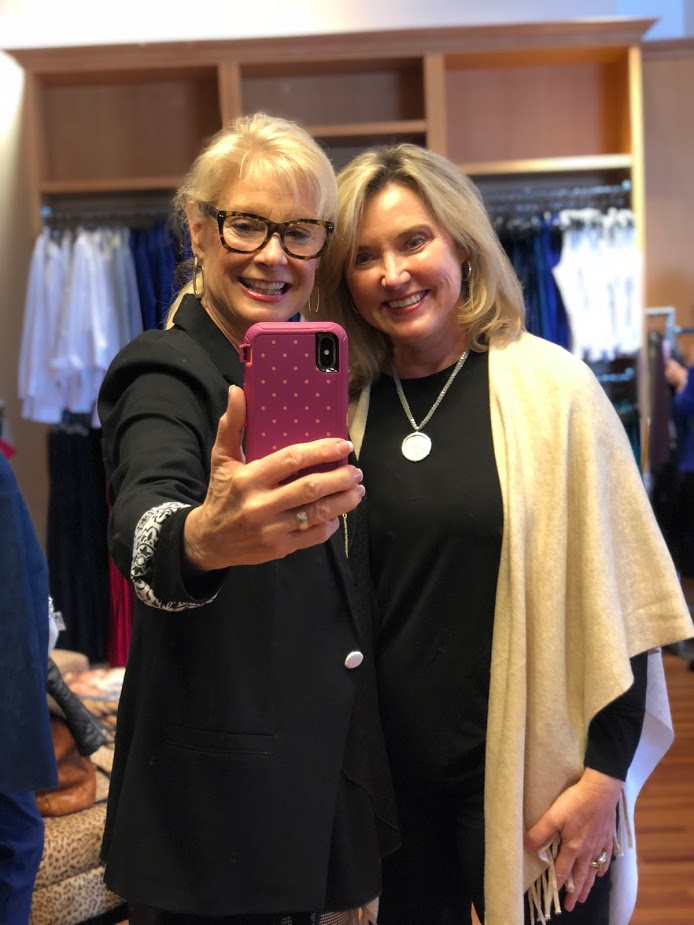 Do you bring along a friend when you shop for clothes? I did recently when I was shopping at my local Chico's store for the spring collection. I love having a second set of eyes when I try on clothes. I want someone who is honest and not trying to sell me the outfit. Many times I just stay in the dressing room, try on the clothes and never come out. But I have to come out of the dressing room to model my outfits, when I have my girlfriend tag along.
I was fortunate that I had  fierce 50 sister, Sheila Halter joined me on this shopping trip to Chico's. I made an immediate connection with Sheila when she joined our over 50 tribe of women,not because we like to look stylish and chic after 50, but because we are both from the interior design industry. Sheila lives in Chattanooga and made the trip to Atlanta to be with me. Sheila also has a blog  Life and style at 60.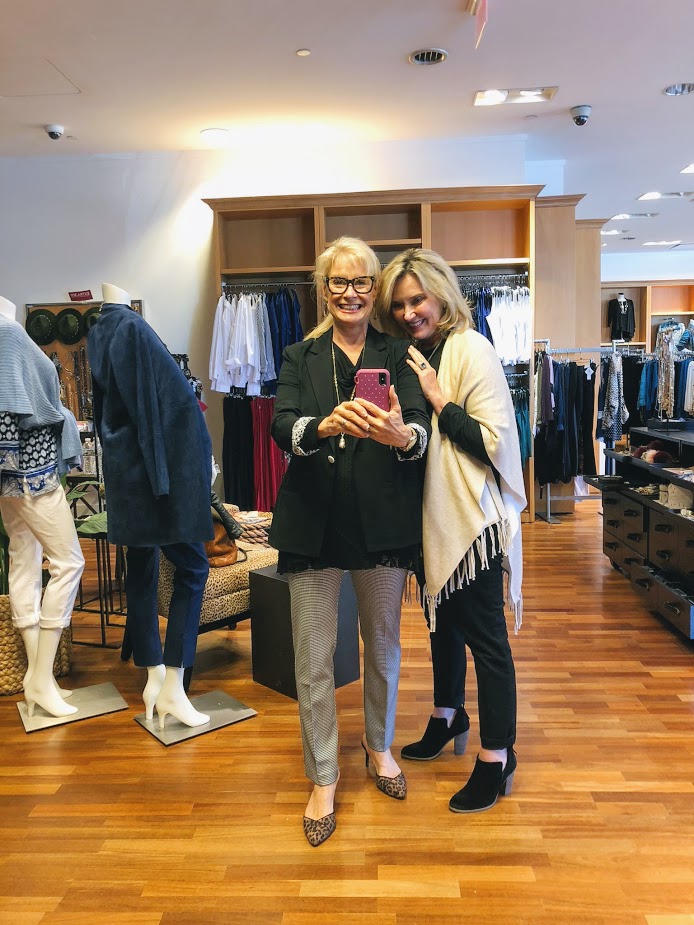 The first thing I tried on from Chico's was the houndstooth leggings with a patchwork tunic underneath the Boyfriend blazer  .
If you're interested in learning about our group of over midlife fierce 50 women you can join through our Facebook page. And please check out Sheila's blog or you can find her on Instagram feed here.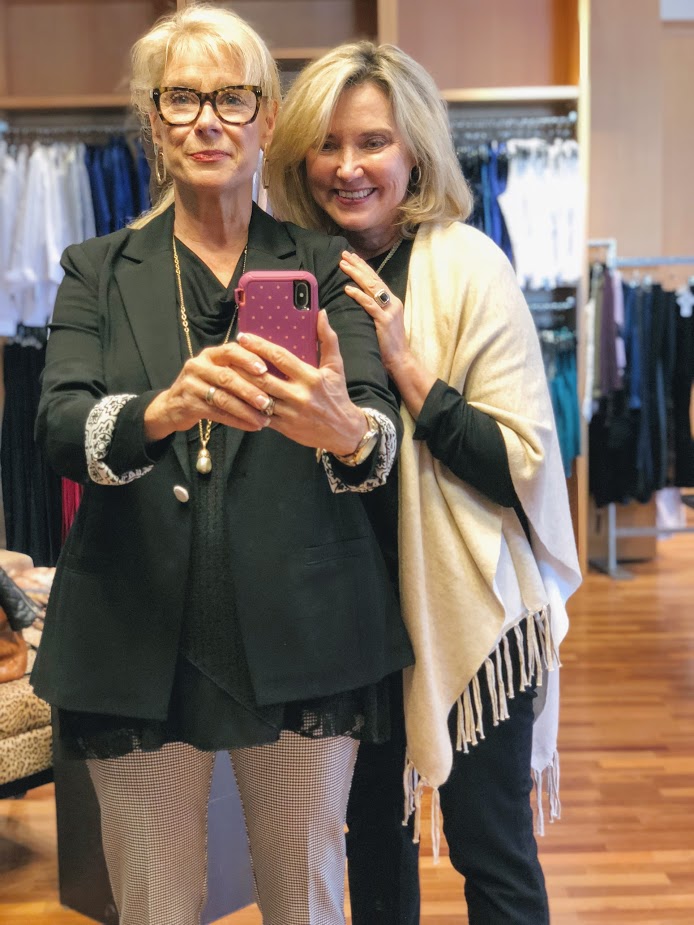 I have to apologize for some of the photos, the lighting threw off a golden glow over our heads and as you know, I shoot everything on my iPhone. Women were enjoying watching us move around in the store to find a low light area that didn't make us glowheads.
I switched the leggings and tried on the Paisley print jeans which I liked better with the tunic.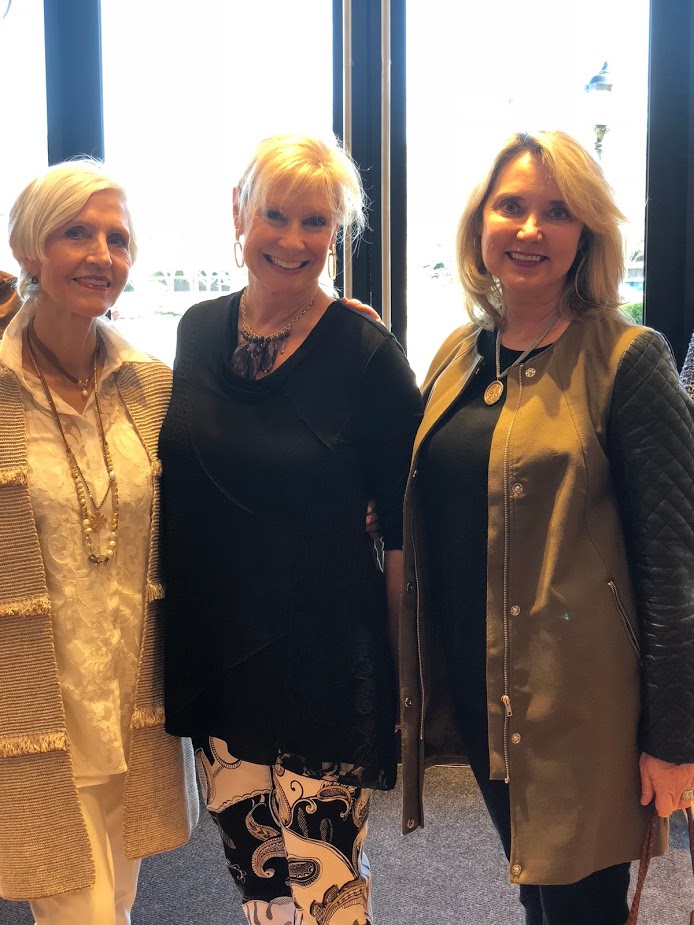 I even tried on this necklace with the tunic top.  I love mixing the purple necklace with an all black outfit.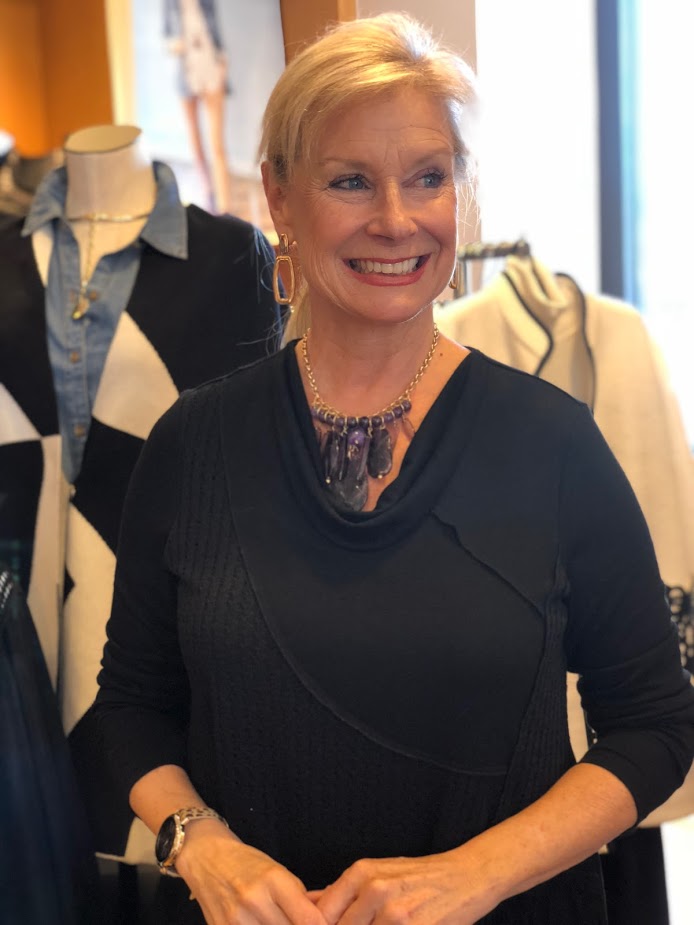 Because I loved what the sales associate was wearing, I tried on her outfit too. It reminded me of a Chanel jacket don't you think? Such a great jacket and I love the top! The top is a lacey blouse with a companion undershirt attached. So pretty!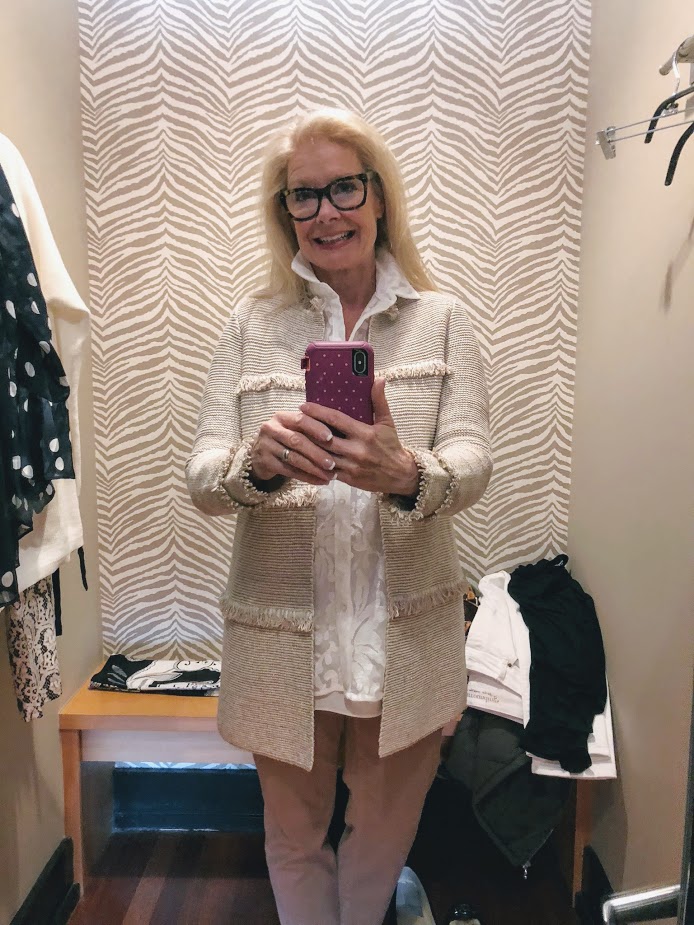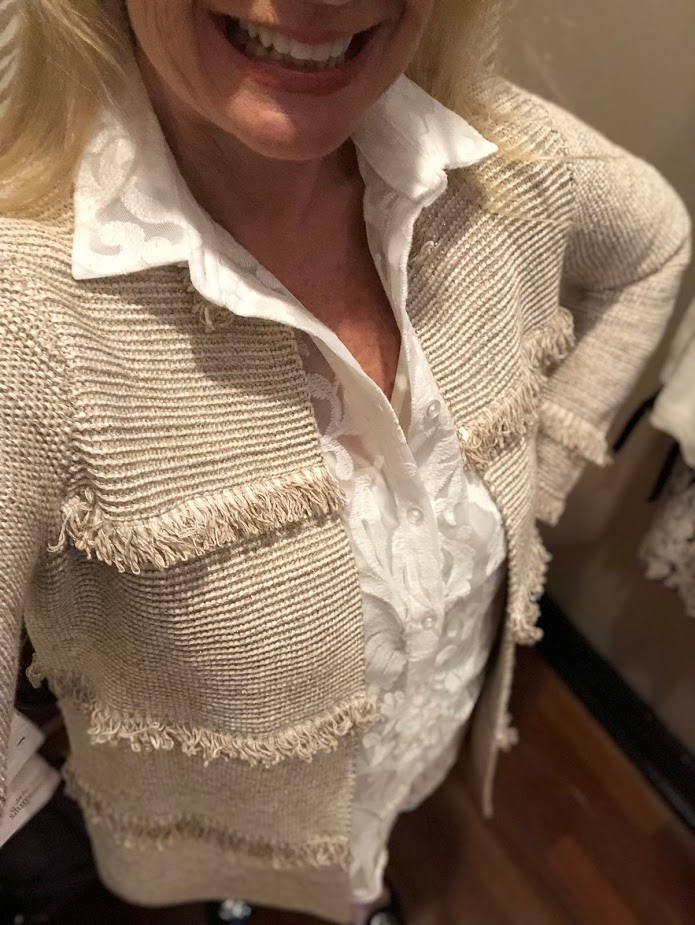 I wasn't the only person in the store trying on the same outfit!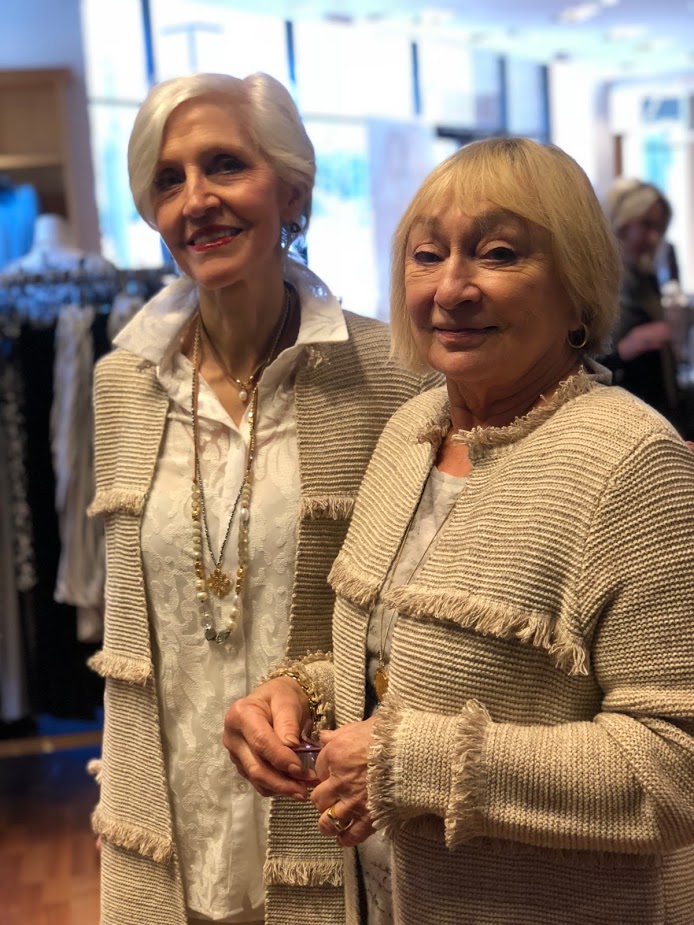 I think it's important for women of all ages to see real women wearing clothes that we may purchase. I think it's great that Chico's sales associates wear their clothes since the women who work in the store are over 50ish!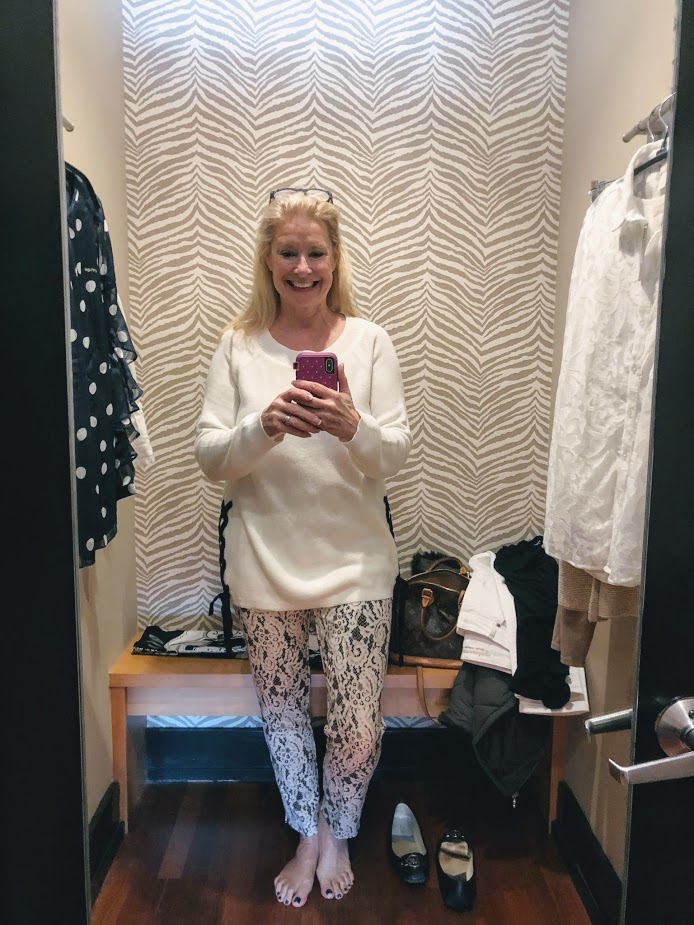 Back in the dressing room I tried on this sweater with the wonder lace up details and leggings (Which I couldn't find on their website to link it for you. You will have to go into a store.Sorry)
I tried on a size 2 which was too big for me because they didn't have a size 1. Super comfy!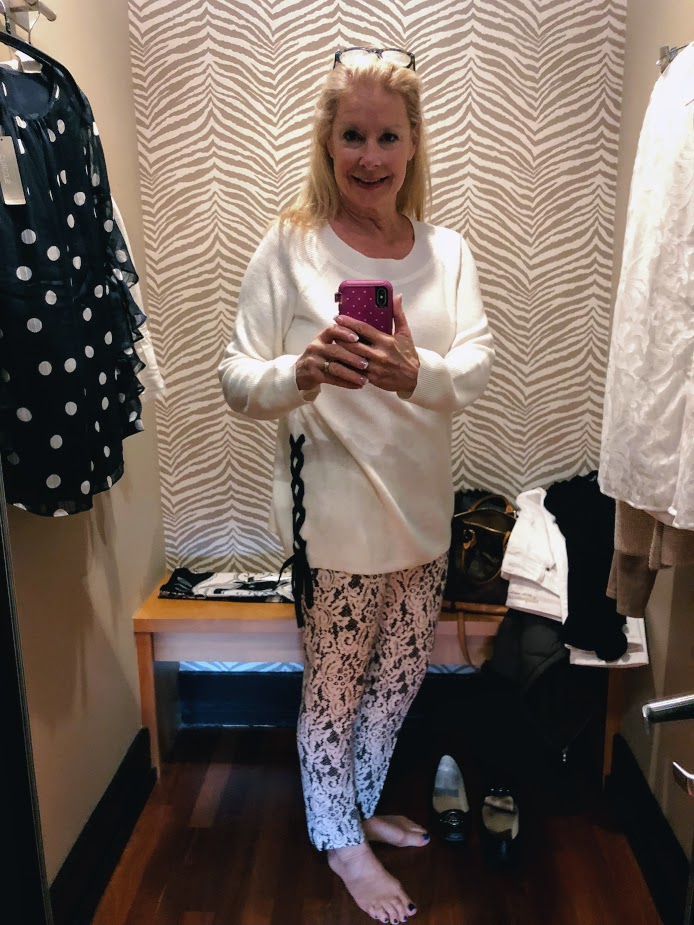 I took off the sweater and put on this ruffled denim jacket to see how cute I would look if I purchased it.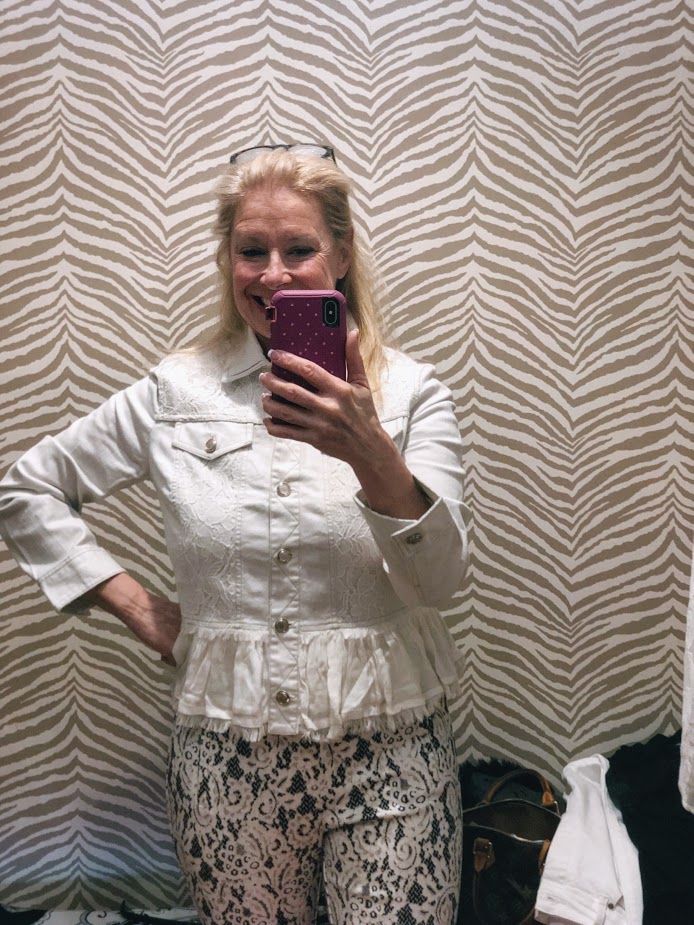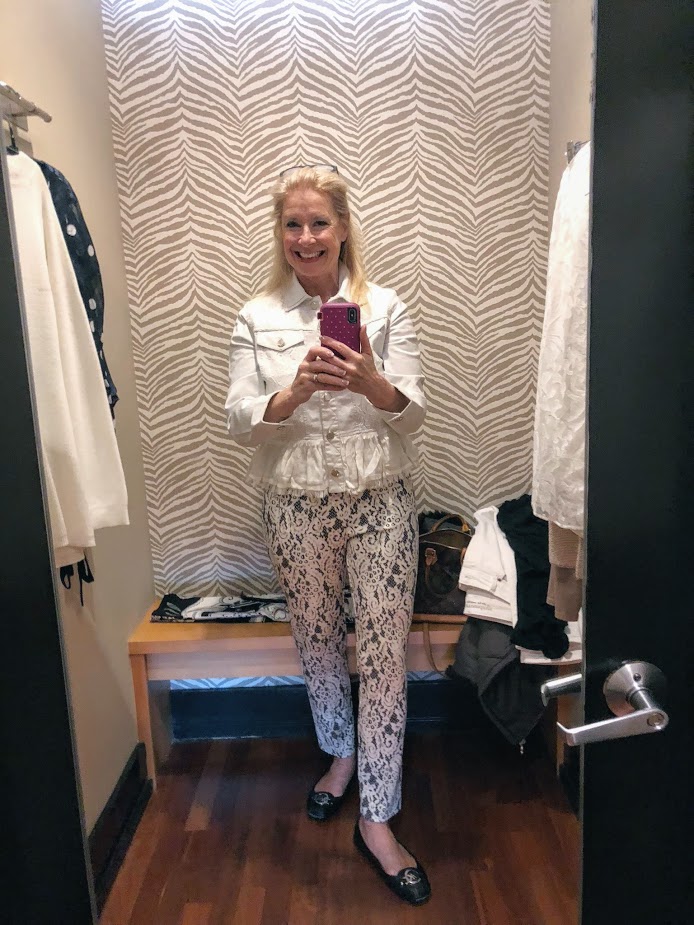 I loved the denim jacket, but I think I needed to style it differently. Shorter jackets throw me off because they dont hide my flaws, but what do you think?
I finally became brave enough to try on a botanical inspired top that was so soft and comfortable with violet capris but of course I had the wrong heels on!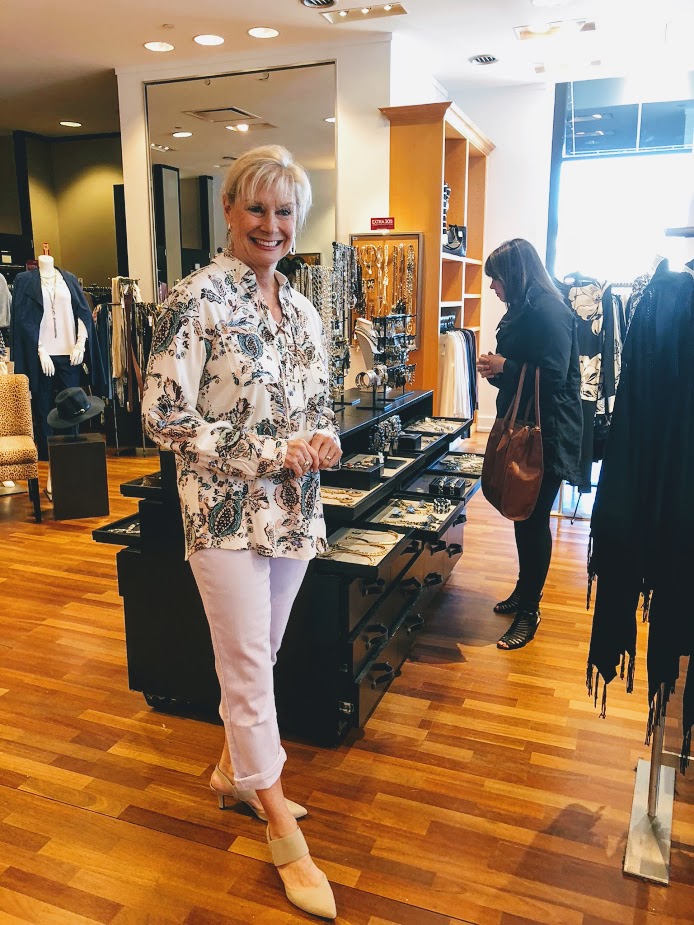 That is why I cropped the photo so you don't see my shoes! I love editing! Not!!! See that woman behind me? She's also an interior designer and I spent one hour on how to write the perfect design agreement for clients. I believe all women should support other women because I want them to be as successful as I am. This isn't a competition amongst interior designers, because her clients are not my clients. In the end, we all win as interior designers because we want everyone to be successful.
It should also be the same way for fashion bloggers, because we should be happy that the brands now reach out to us, but this is a more competitive field. Even at 61, I have a hard time understanding the competition amongst us. I am blessed that I am a nano influencer that brands actually contact me for my opinions on their product. I get tickled when I see an email from a brand that says they want me to try their product. I am also happy when I see many of my over 50 sisters getting contacted by the same brand to review the same product. Progress is slow but it's coming to the over 50 women!!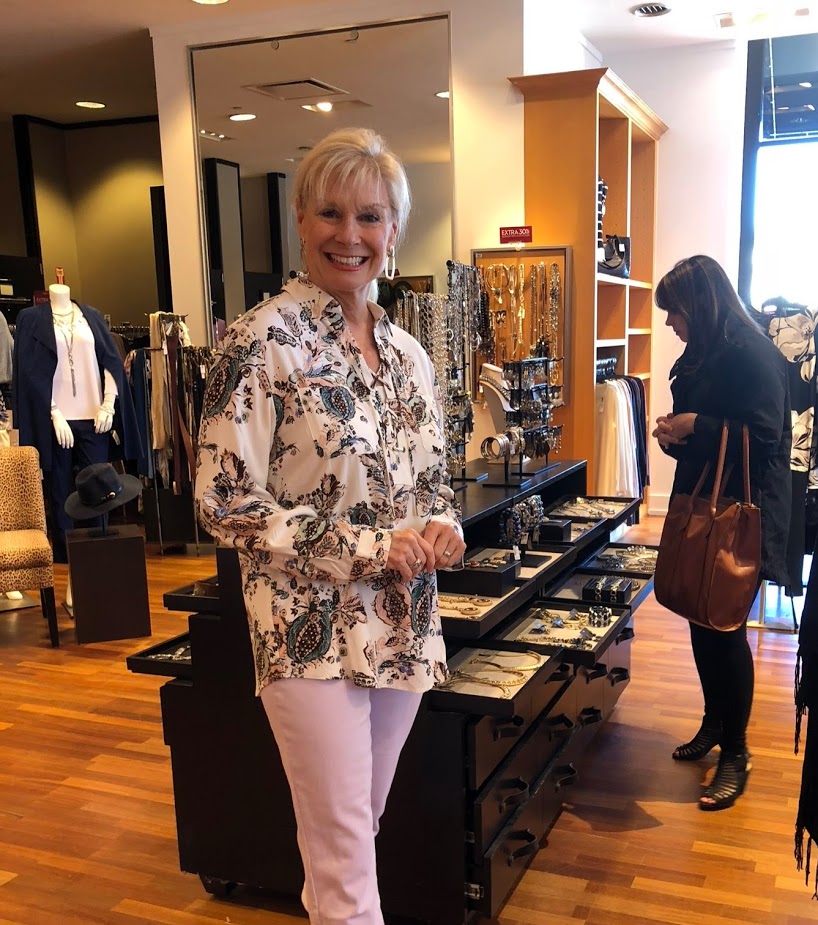 This post was not sponsored by Chico's. I actually shop here quite frequently. I want my voice to be authentic and not based on sponsorships. I will only write about brands that appeal to me.  Not all women like Chico's, because they do not find their fashion style at Chico's. This is my voice and I want you to appreciate my voice, but you do not have to agree with it.
That's the beauty of being 50ish. You don't have to like everything I write, but please take the time to read the bog without posting judgement.
Shop My Look
The post contains affiliate links which may generate income for Hello I'm 50ish.
Thank you for stopping by today!
What brands appeal to you?
I would love to know!
Hugs,