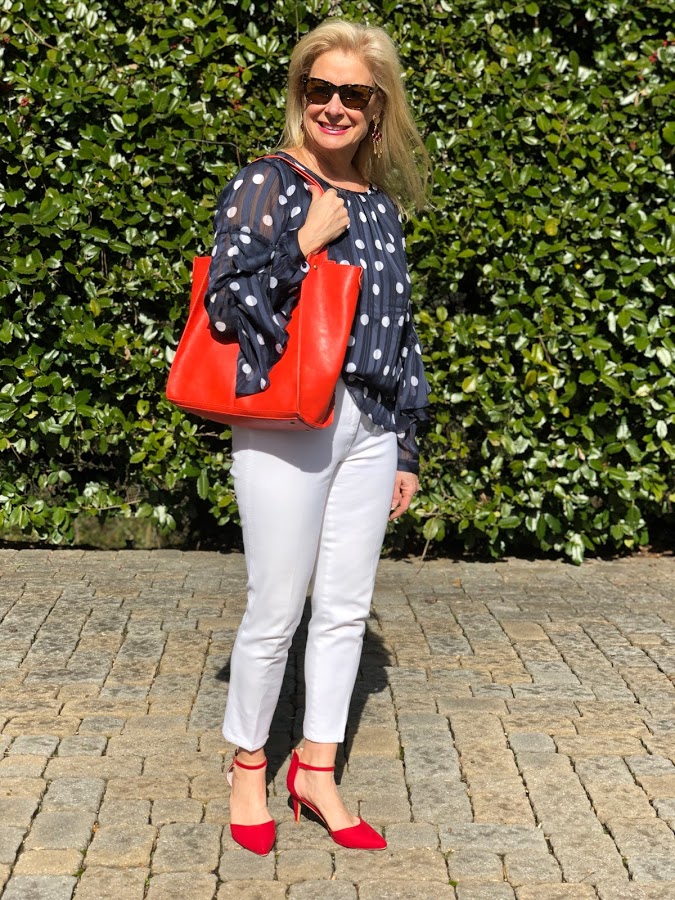 The Winter Olympic games begin this weekend! It's supposed to rain all weekend in Atlanta and I plan on watching them as much as I can! Do enjoy watching them too?

I love the Winter Olympics because most of the events will take place outside in the snow. I am from Minnesota and grew up in the cold weather. Does anyone remember the Miracle on Ice from the 1980 winter games? Most thrilling moment I can remember in Olympic history.  We were screaming at the top of our lungs when we beat the Russians, even though we were screaming at a television! (NOTE: This was just updated because the IOC blocked the YouTube video I had prior to this photo. Watch the YouTube video here.)
We defeated the Soviet Union led by fellow fierce Minnesotan Herb Brooks, the coach of the University of Minnesota hockey team who had 3 collegiate national titles and coached a team of top collegiate players ( a few of his players were from the U of M.) against professional Russian hockey players. Remember when it was only college level US Olympians not US professional athletes? Hockey is huge in Minnesota as well as ice skating outdoors. When I was growing up hockey was played outdoors, now everything is inside.
It will be interesting seeing South Korea's opening ceremony and how well received North Korea's athletes will be. I hope there will be no drama at this Olympic only wonderful competitions from the international athletes.
I will be cheering on the US athletes and hope we bring home the most medals!!
In honor of the Olympics I am wearing a new navy polka dot blouse from the Chico's  spring collection. Remember I posted about shopping with my fierce 50 sister, Sheila on Monday? I came home with with a bag full of goodies!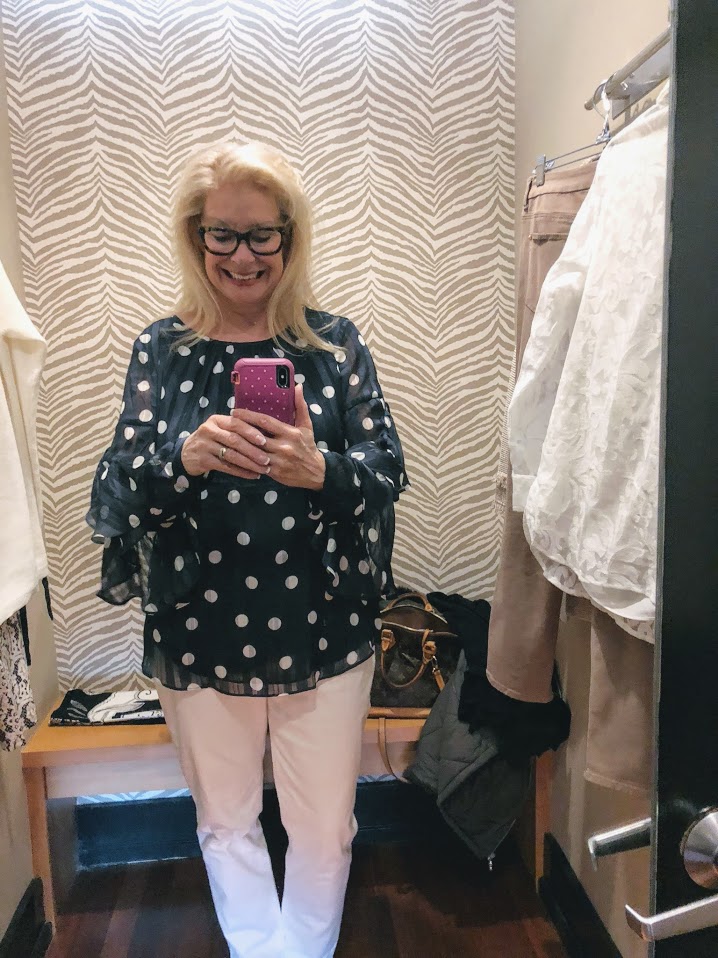 Still haven't mastered the dressing room selfie…..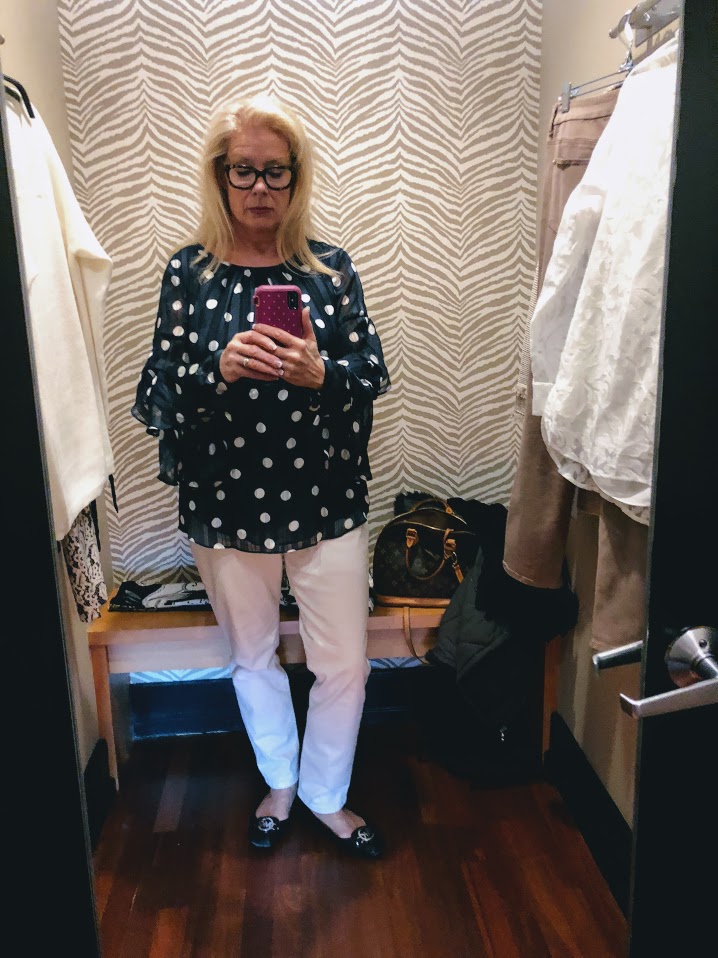 I paired my polka dot blouse with my white jeans red heels, and red tote I purchased in the fall to get my patriotic mojo going.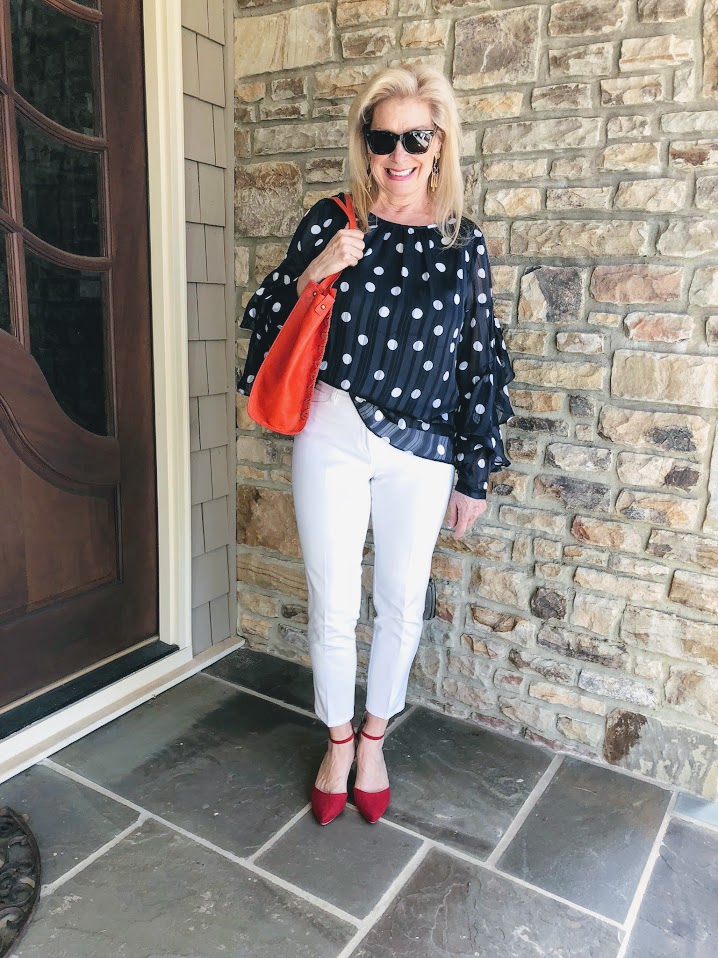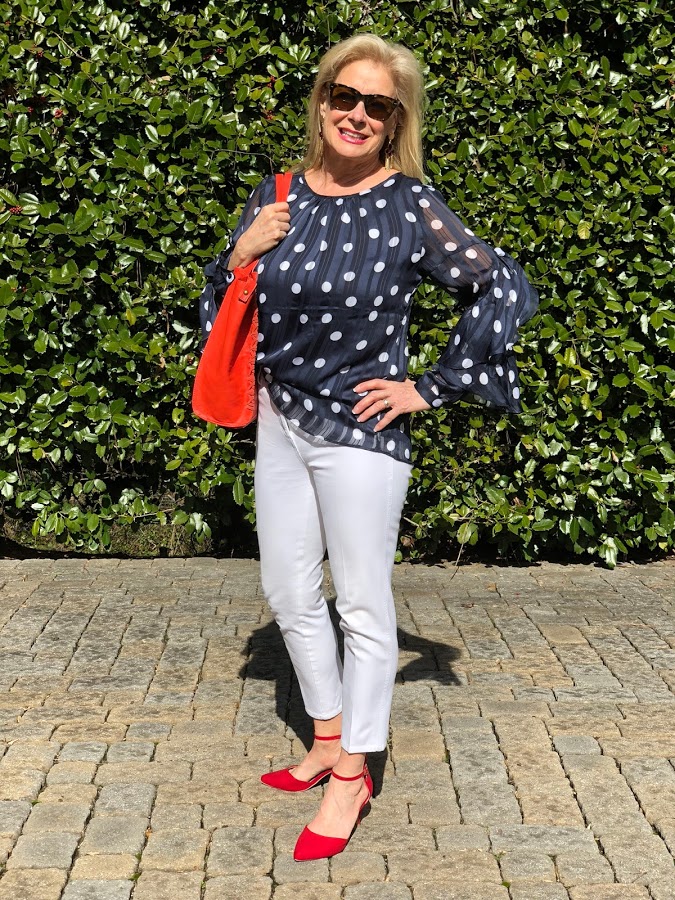 Get My Look
The post contains affiliate links which may generate income for Hello I'm 50ish.
Thank you for stopping by today!
What sport is your favoritebrands appeal to you?
I would love to know!
Hugs,