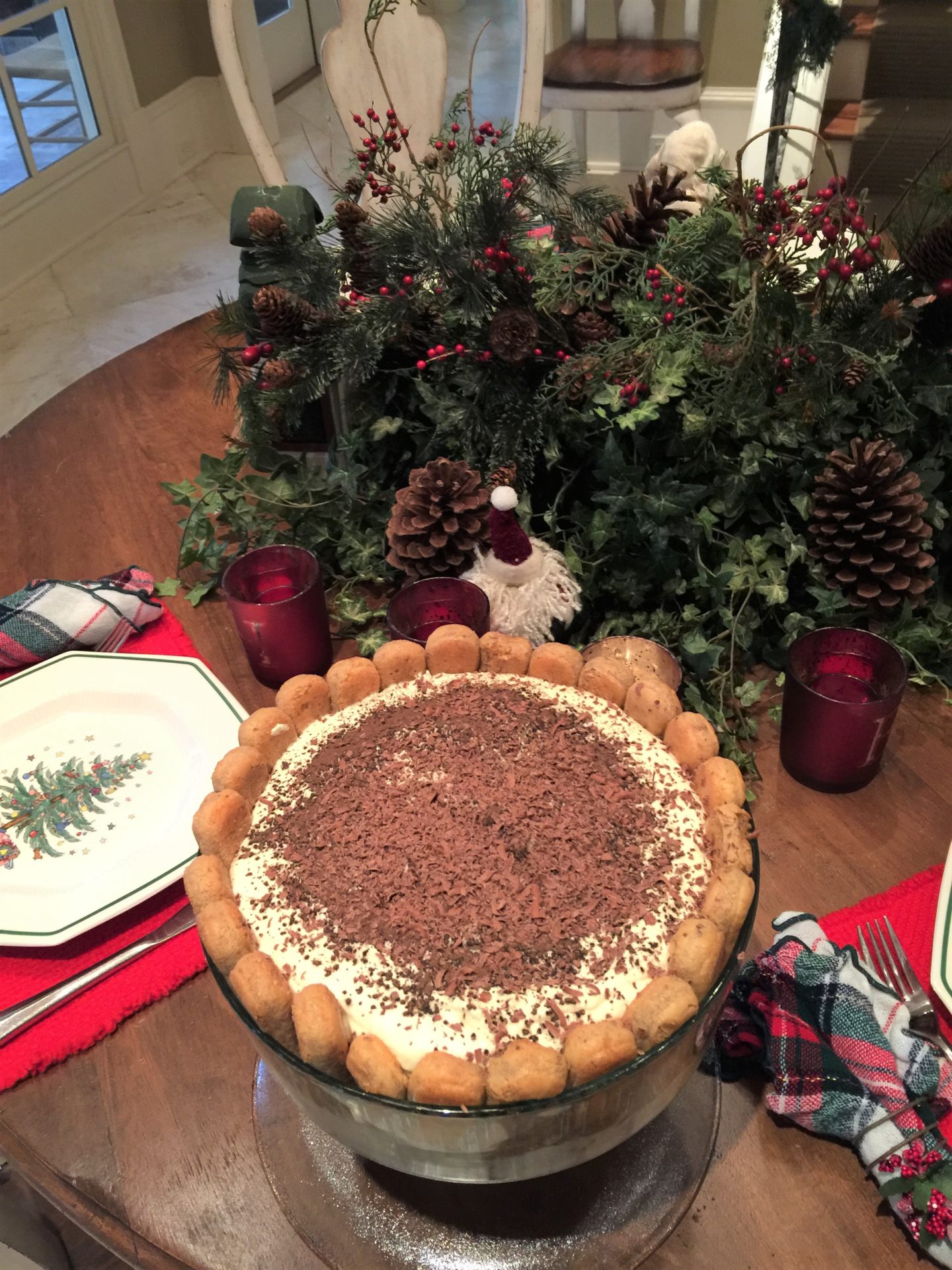 I love to bake for the holidays and one of my most requested dessert is Tiramisu. This Italian dessert has been tweaked by me over the years and I would like to share it with you today. It's fun to bake at Christmastime. Sammy and I even wear Christmas sweaters while creating this delicious dessert while listening to Christmas music.
If you have never made this dessert before, I shall warn you now it is very time consuming and it's always great when you have a helper in the kitchen.
Sammy loves to help me cook and was eager to get dressed up in her Christmas sweater. We tend to wear our old Christmas sweaters every year when we bake or even when we make gingerbread houses. I prefer not to think of them as Ugly Christmas sweaters, but outdated sweaters. When we were snowed in last weekend our daughters dressed up in Christmas sweaters to build another gingerbread house. With new headgear.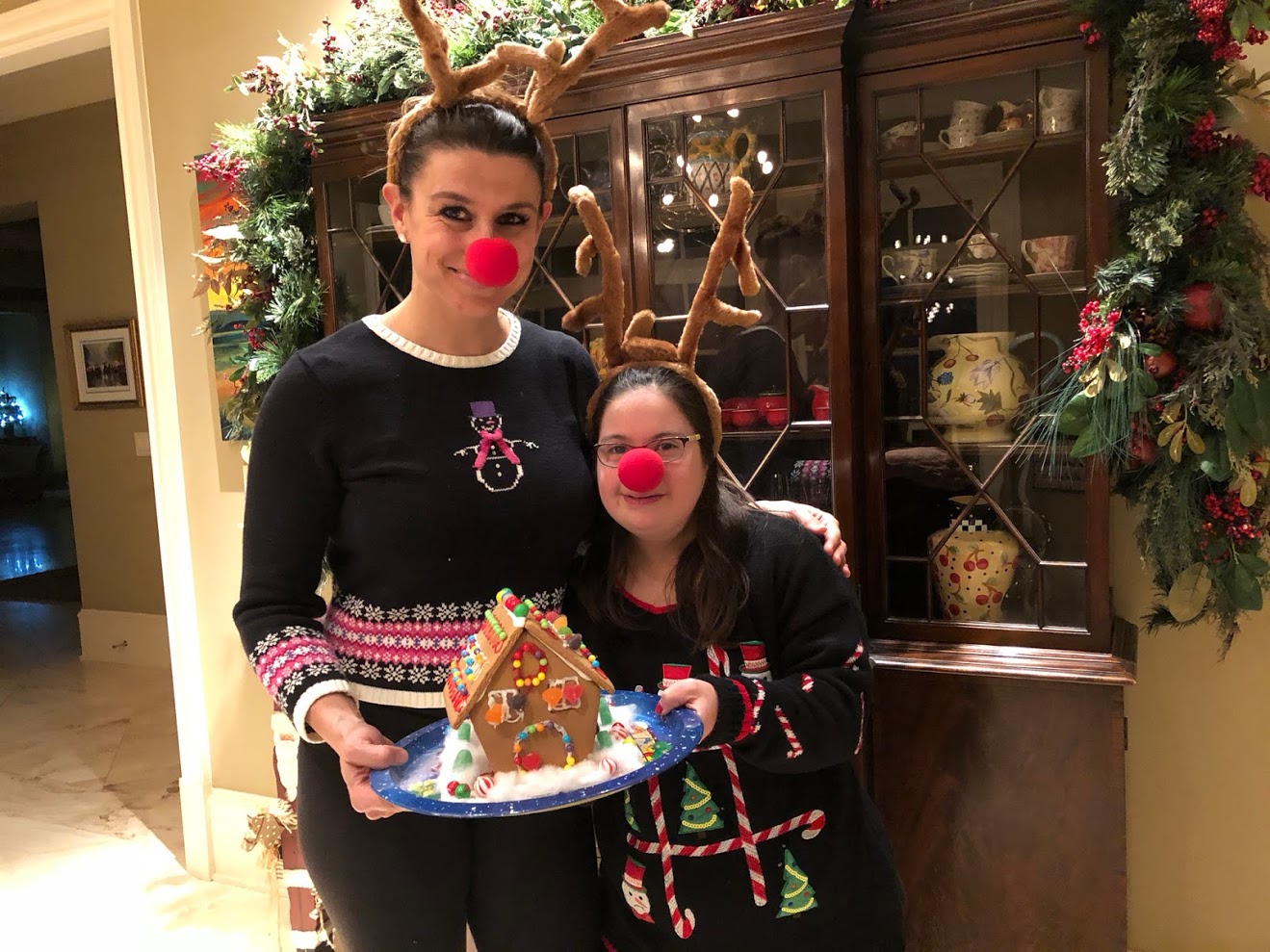 Tiramisu
INGREDIENTS
6

 

large

 

egg yolks

1

 

cup

 

sugar

1 1/4

 

cup

 

mascarpone cheese – room temperature

1 3/4

 

cup

 

heavy whipping cream

2 -7

 

oz

 

packages Italian Ladyfingers

 

(Savoiardi)* I have even made Tiramisu with yellow cake if your store doesn't carry ladyfingers. I make it both ways. You will see the cake pans in these photos because I was making 2 Tiramisu desserts. (I doubled the recipe)

1

 

cup

 

cold espresso or strong coffee

1/2

 

cup

 

coffee flavored Liqueur

 

optional, I use Kahlua ( some recipes call for rum)

1

 

ounce

 

cocoa for dusting

Bittersweet chocolate for shaving
INSTRUCTIONS
Combine egg yolks and sugar in the top of a double boiler, over boiling water. Reduce heat to low, and cook for about 10 minutes, stirring constantly. This is your sabayon, remove from the heat and whip yolks until thick and lemon-colored.  Allow to cool briefly before mixing in mascarpone.

Add Mascarpone to whipped yolks, beat until combined.

In a separate bowl, whip cream to stiff peaks.

Gently fold the whipped cream in the mascarpone sabayon mixture and set aside. The mascarpone does not have to be at room temperature, but it will help it mix in easier if it is.  Take it out of the refrigerator as you gather ingredients to make the recipe.

Mix the cold espresso with the coffee liquor and dip the ladyfingers into the mixture just long enough to get them wet, do not soak them!

Split the ladyfingers in half, and line the bottom and sides of a large glass bowl.

Spoon half the mascarpone cream filling over the lady fingers.

Repeat process with another layer of lady fingers

add another layer of tiramisu cream

Refrigerate 4 hours or overnight.

Dust with cocoa before serving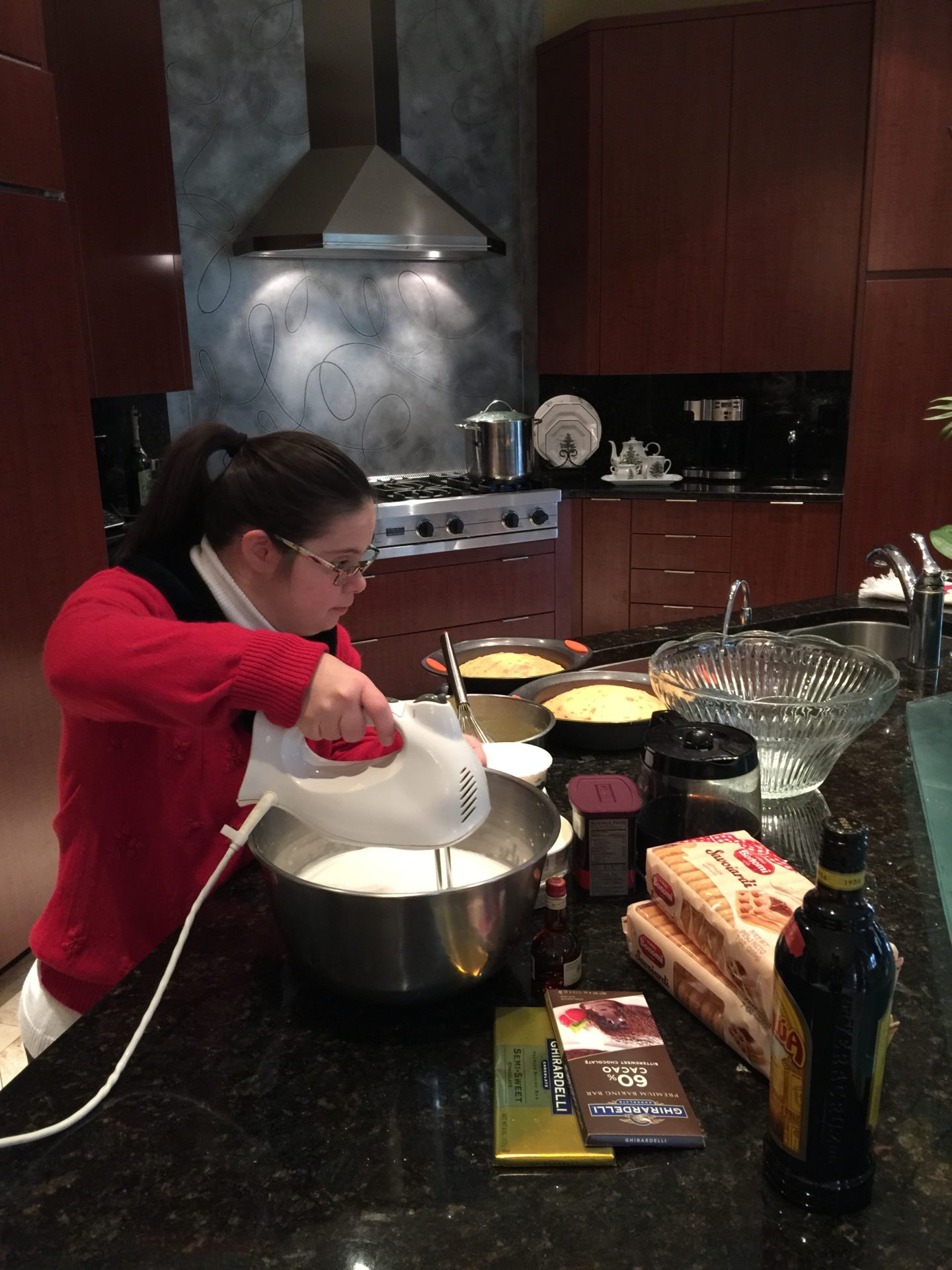 Sammy is busy whipping up the heavy cream. You can see all the ingredients  and notice that we have both the ladyfingers and yellow cake because I am making 2 tiramisus and doing a tasting competition.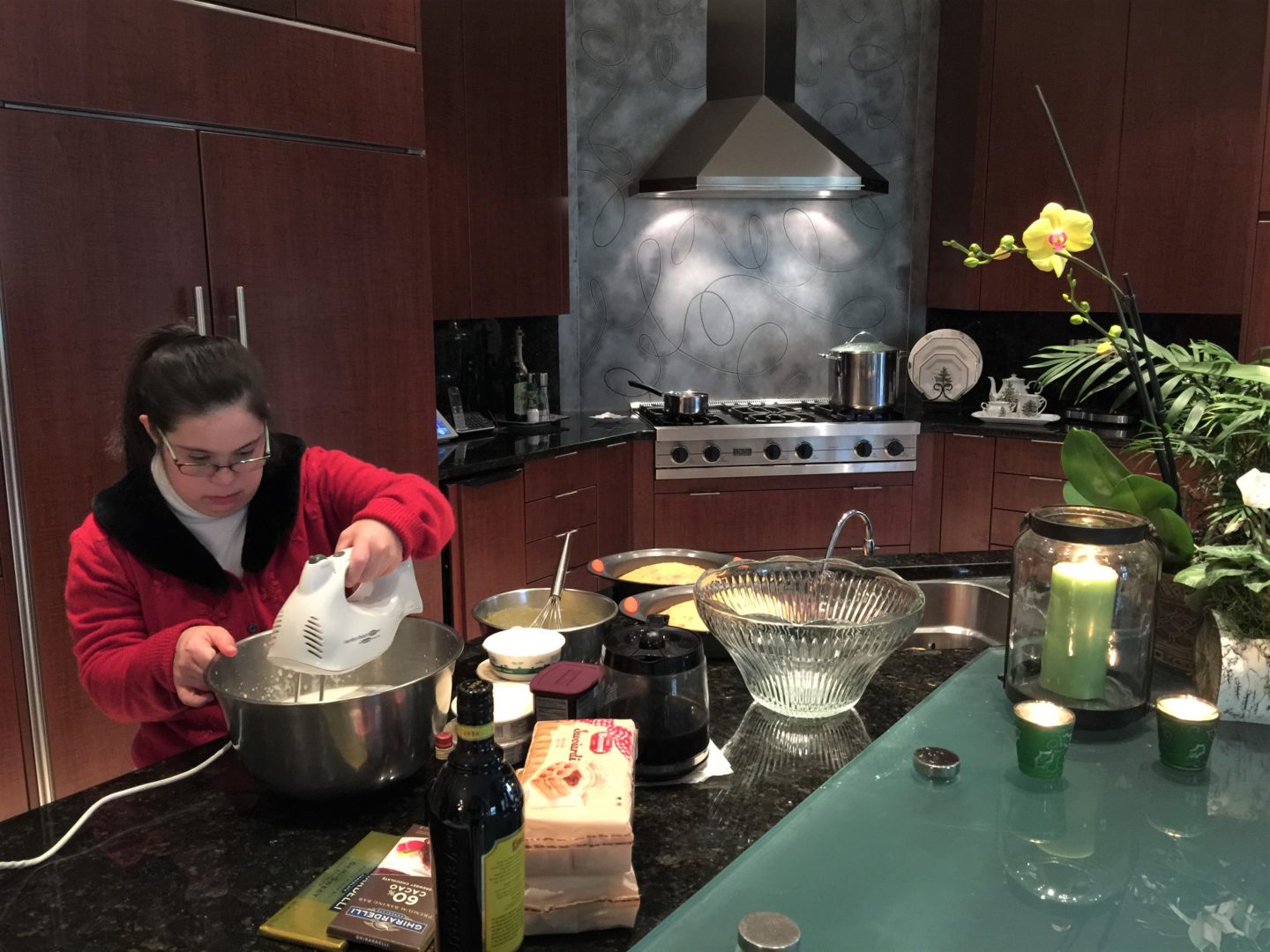 I have to apologize for the next photos, they are very grainy and not as sharp as I would like them to be. I edited them on my phone and I think that is where I went wrong.
I used an app that has a timer but they didn't turn out as sharp as the ones I took. Now that I have the iPhone X, it has a timer built in and the photos are fantastic!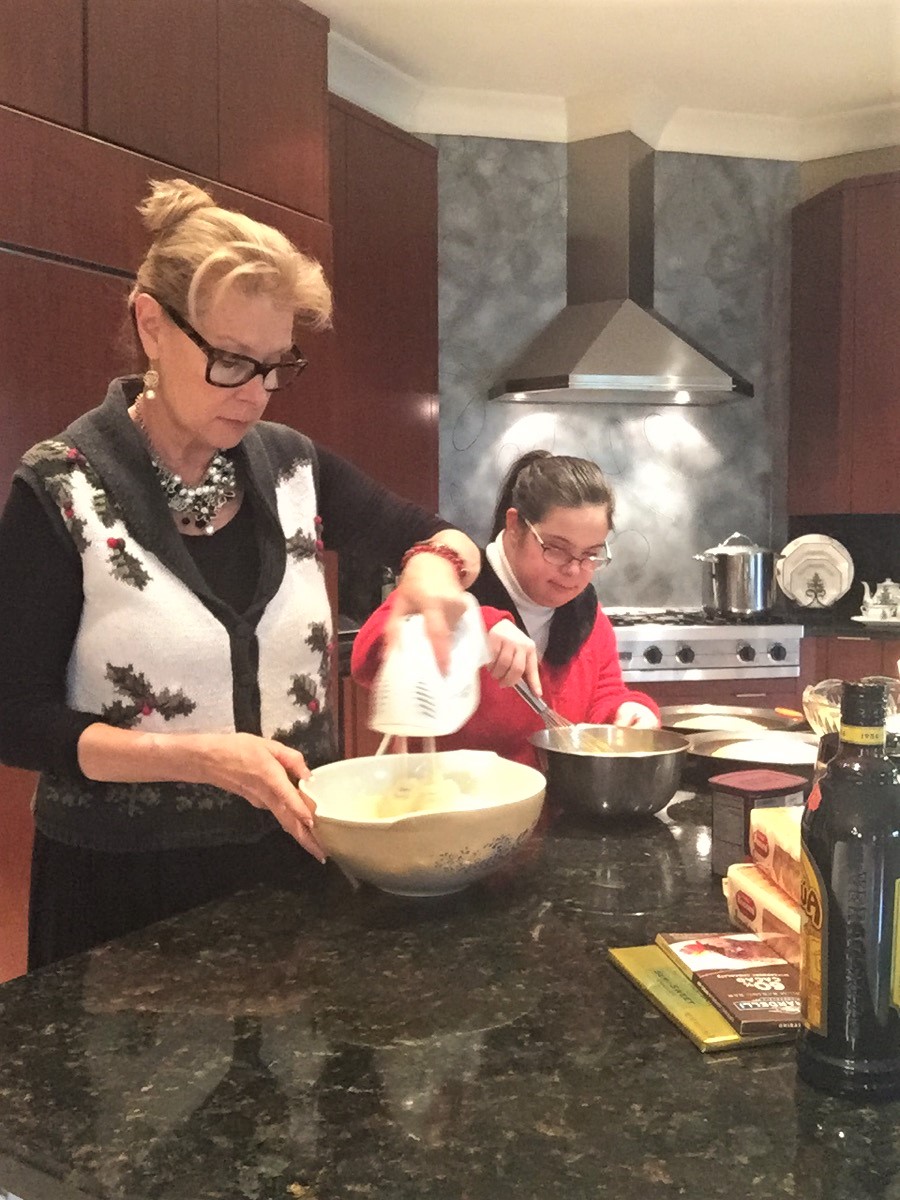 I love to bake and I come from a line of bakers. My mother is the queen of pies and I am the dessert fairy.
When the children were little we made Christmas cookies together, but once they went off to college Sammy and I decided that making 6 dozen cookies wasn't in the best interest of our health and waistlines, now we make one holiday treat together.
Someday I will share with you my most requested recipe, Cheescake.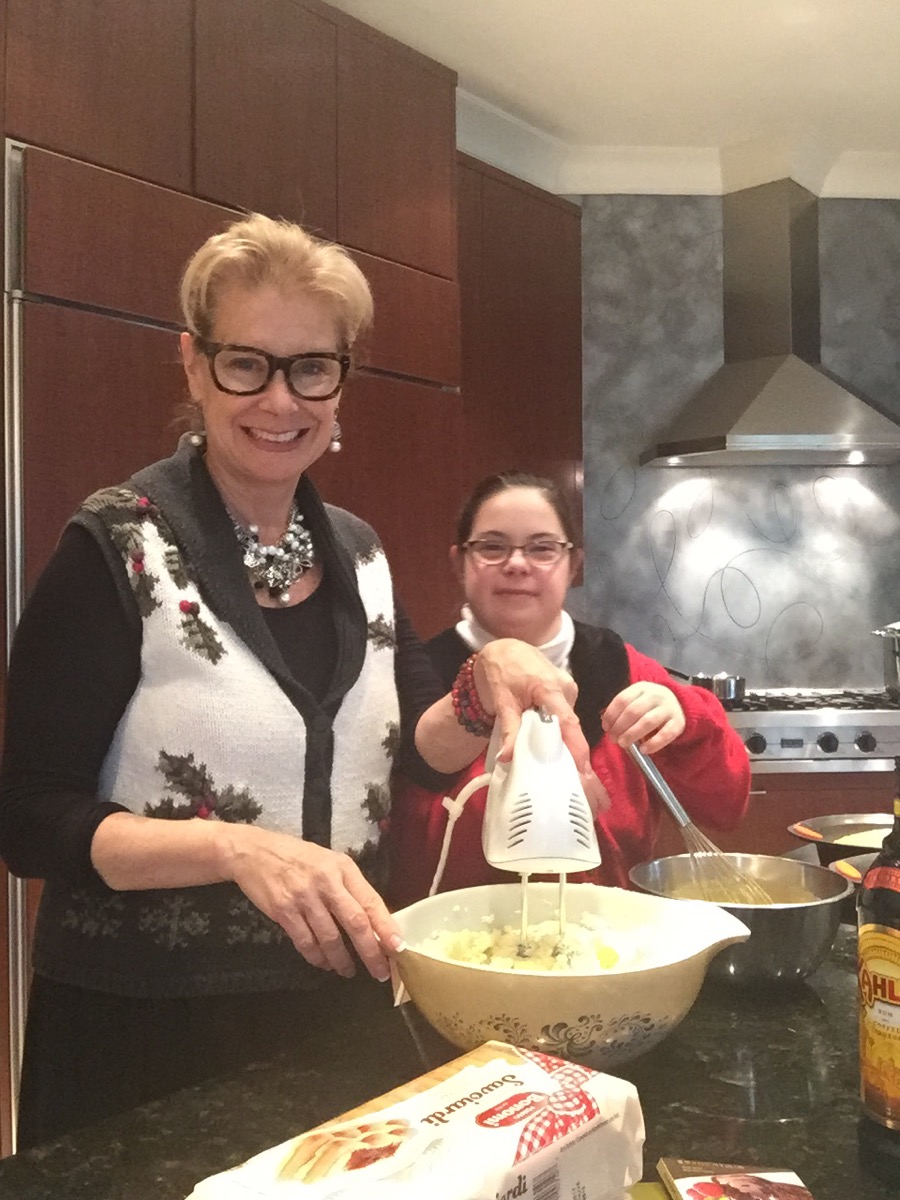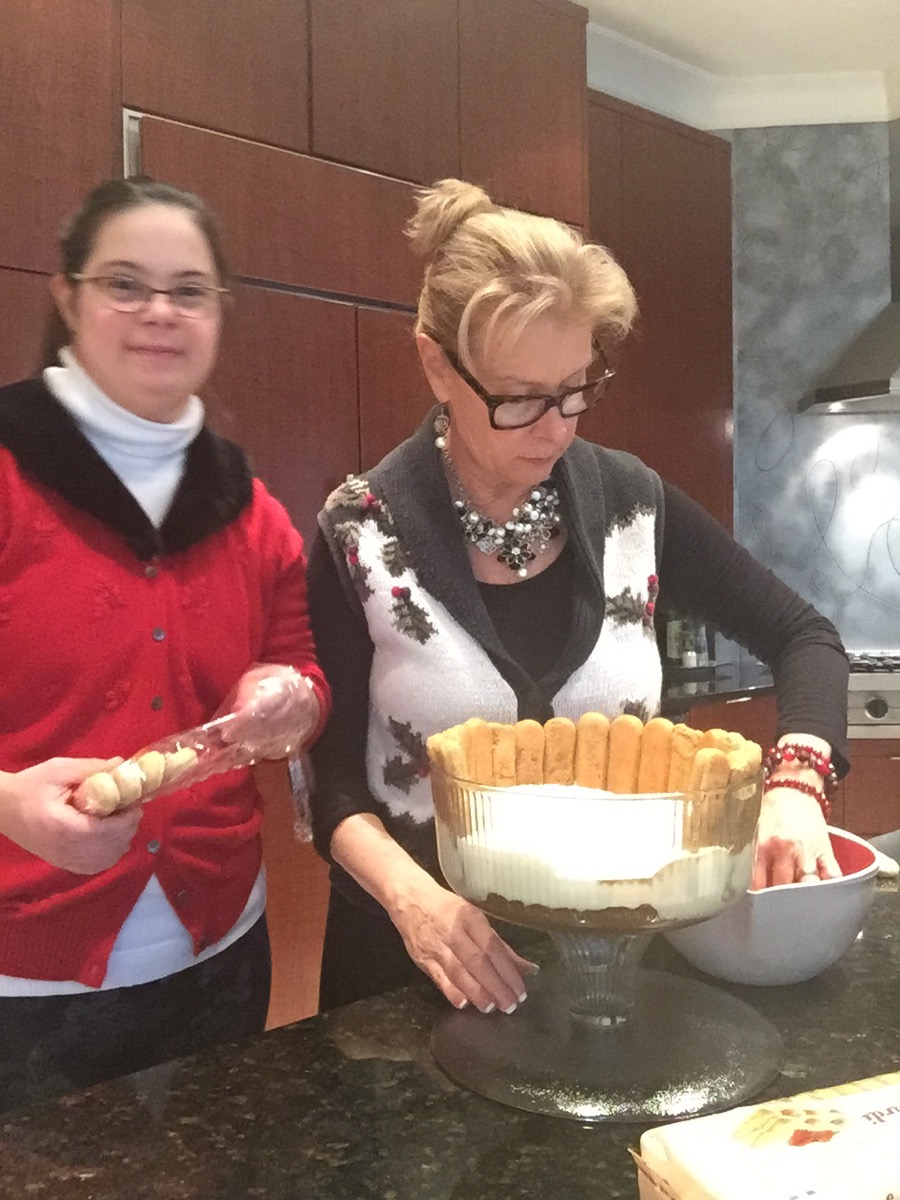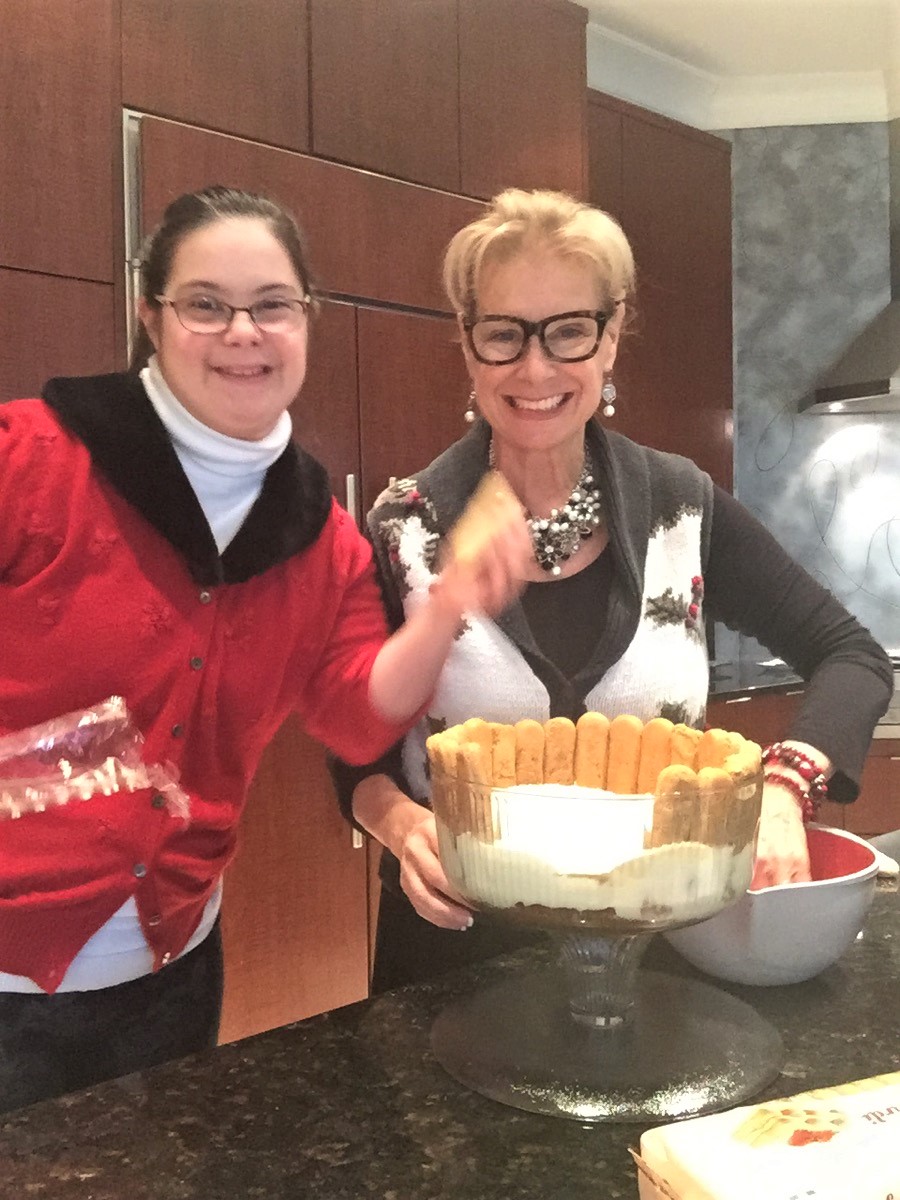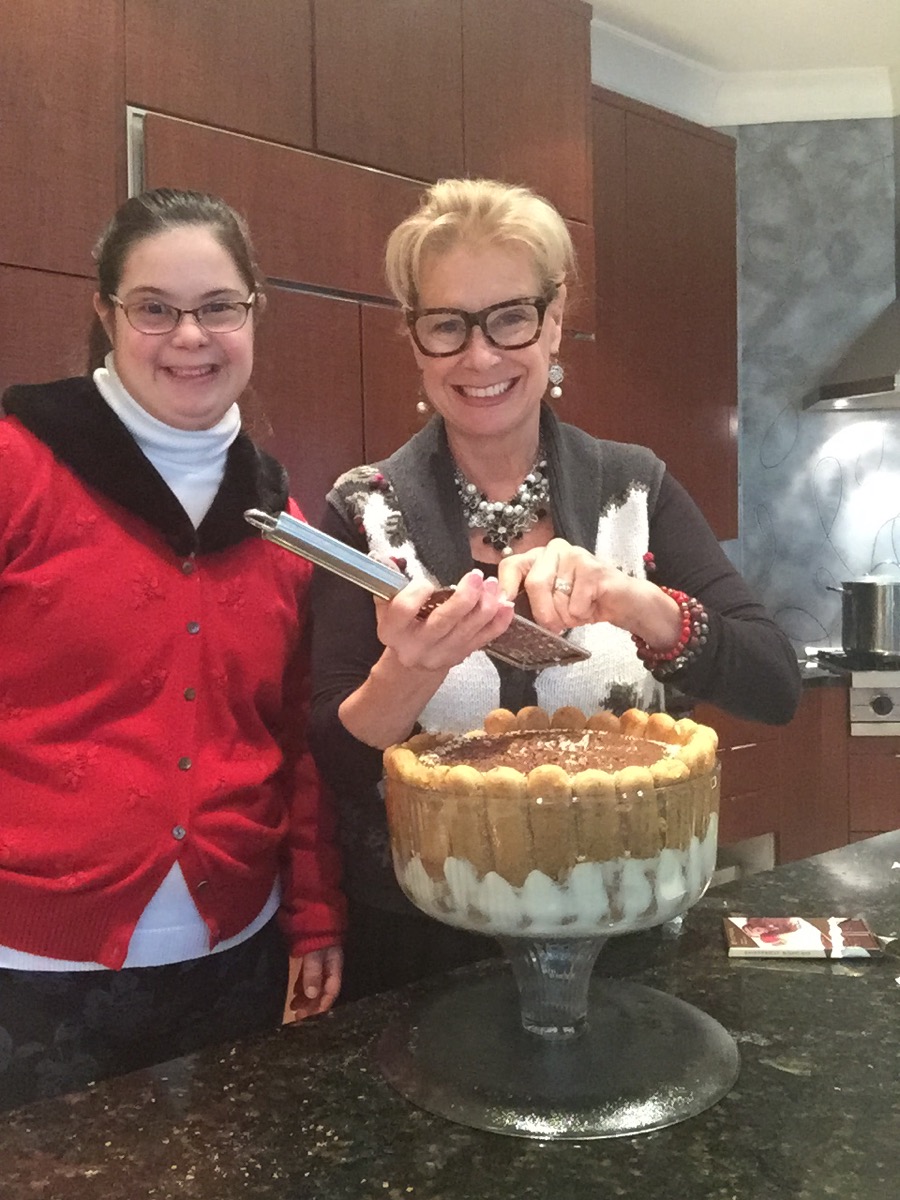 This is the Tiramisu recipe using the yellow cake instead of Ladyfingers.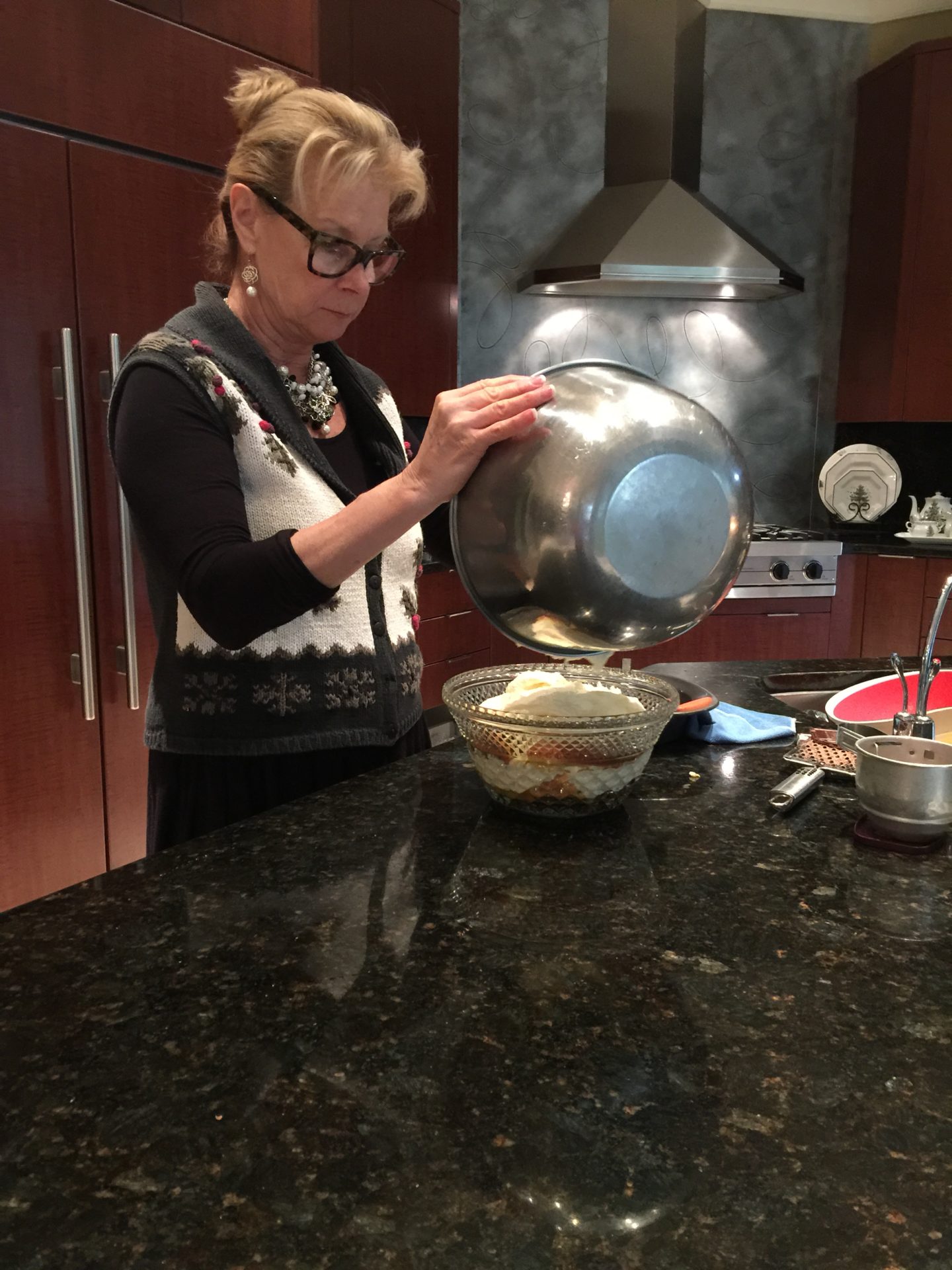 Shaving chocolate can leave a mess on your countertop but the dessert is so delicious!!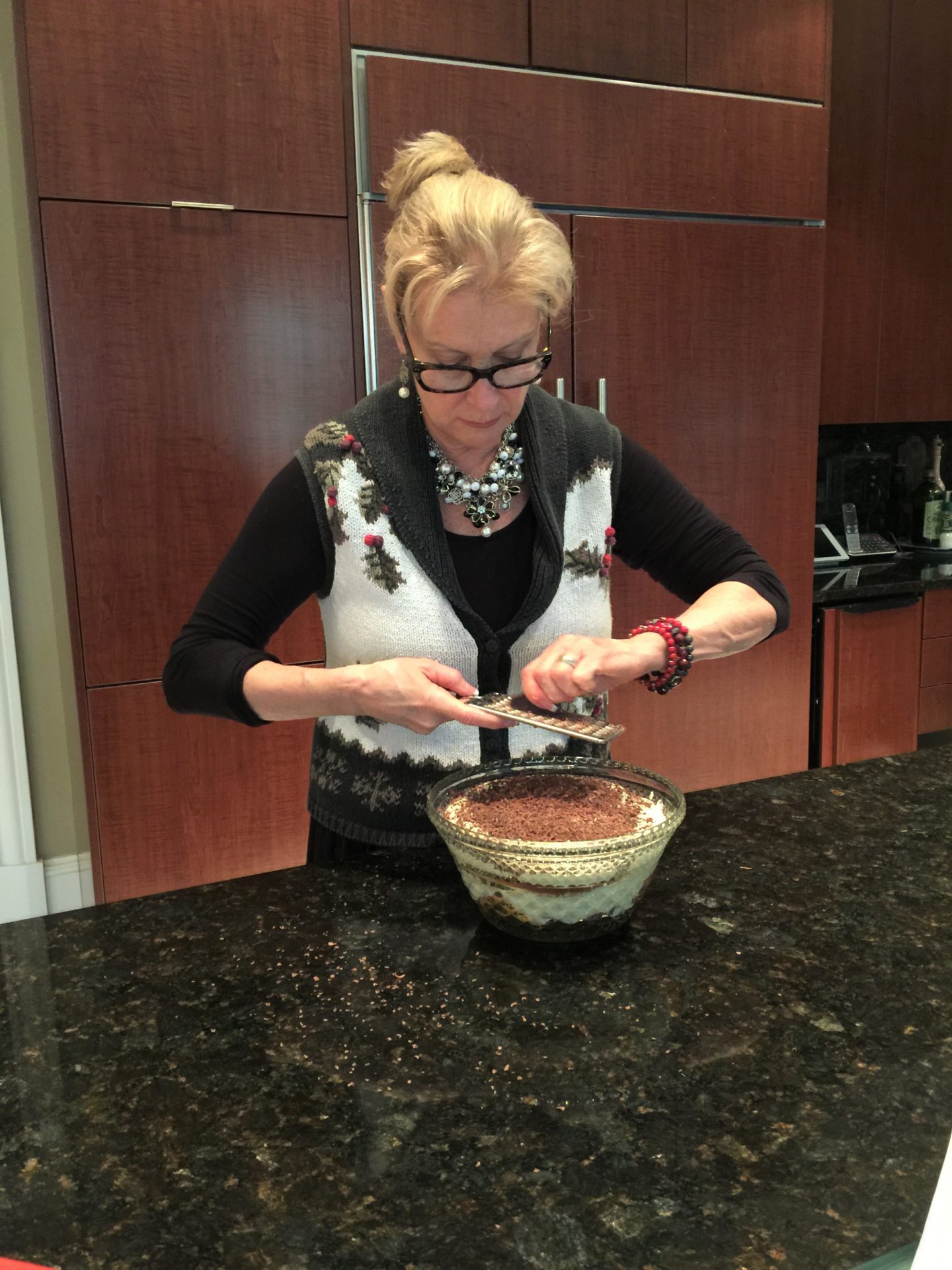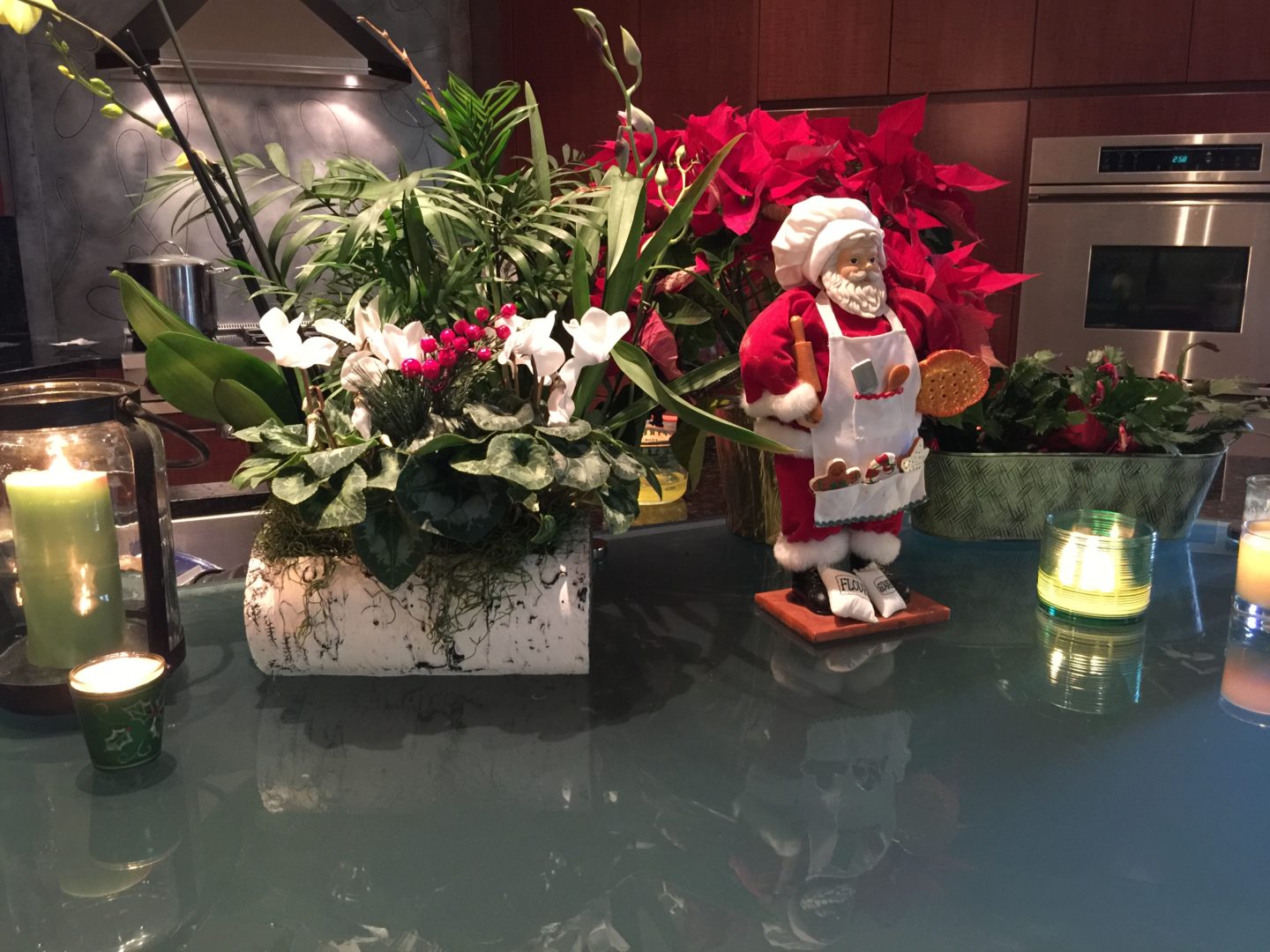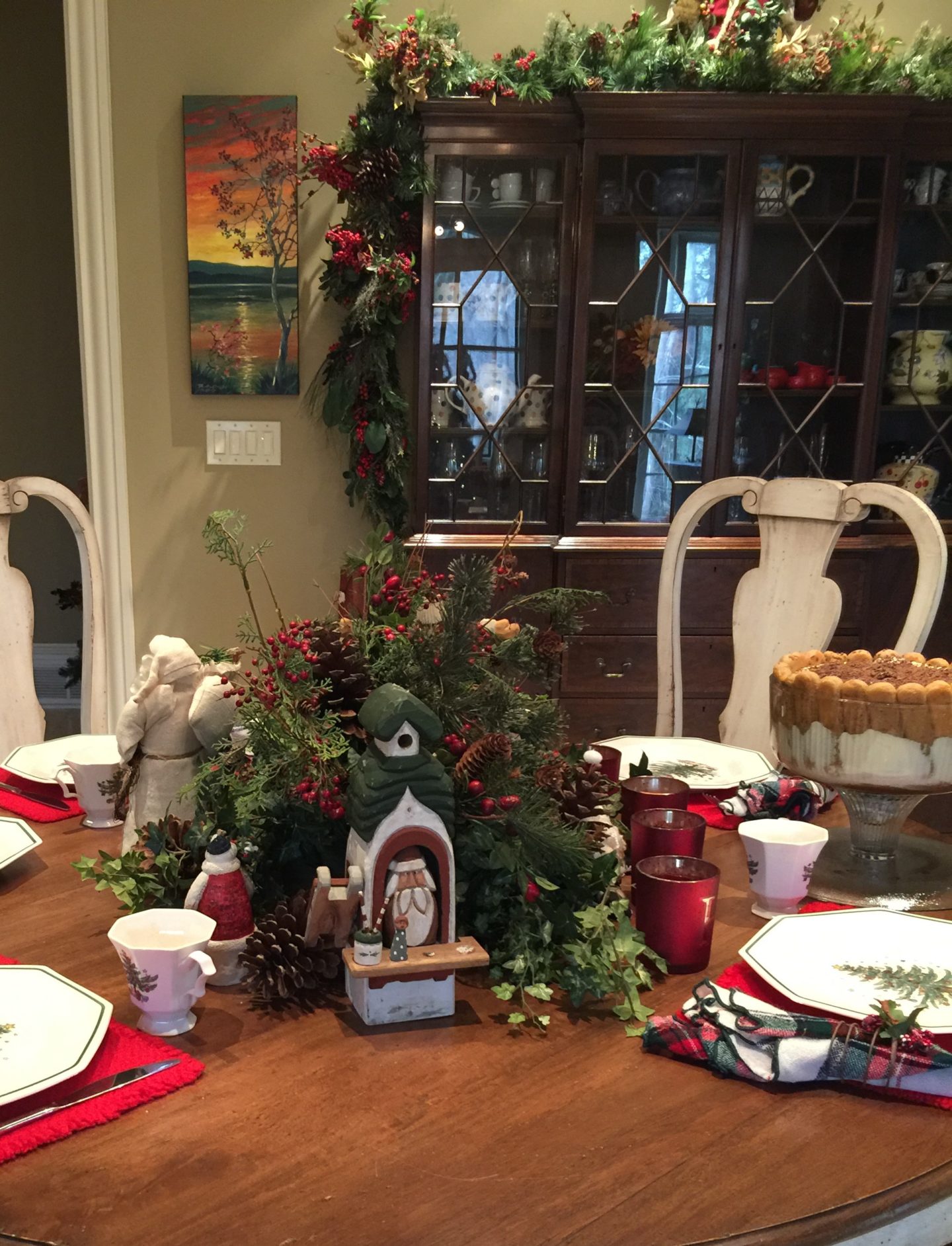 MANGIA!!!
Do you have a special Christmas or holiday tradition ?
I would love you to read my fierce 50 sisters blogs about their Christmas Traditions and follow them too!
Nina from Sharing a Journey. Read here.
Cindy from Fashion, Friends, and Trends: Read here.
Suzanne from Ask Suzanne Bell: Read here.
Hilda from Over the Hilda: Read here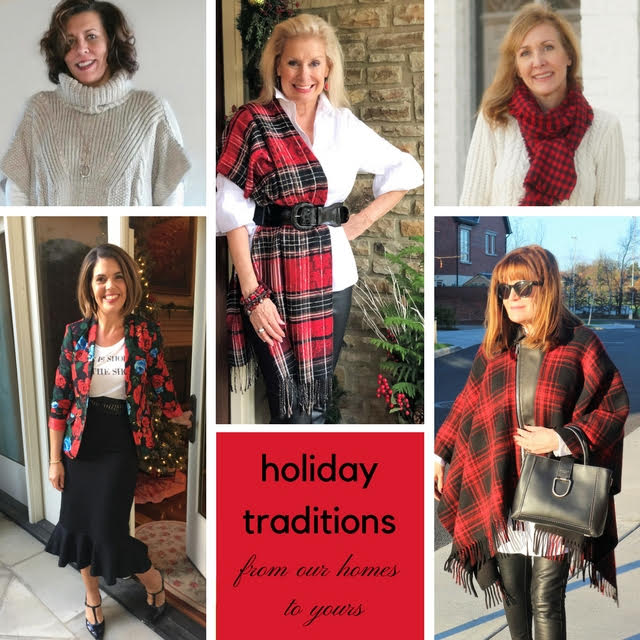 I hope you're living your best life now and that age is just a number to you too! I would love to hear from you!
Follow me on Instagram, Twitter, FaceBook, Houzz,LinkedIn, and Pinterest too!
Hugs!