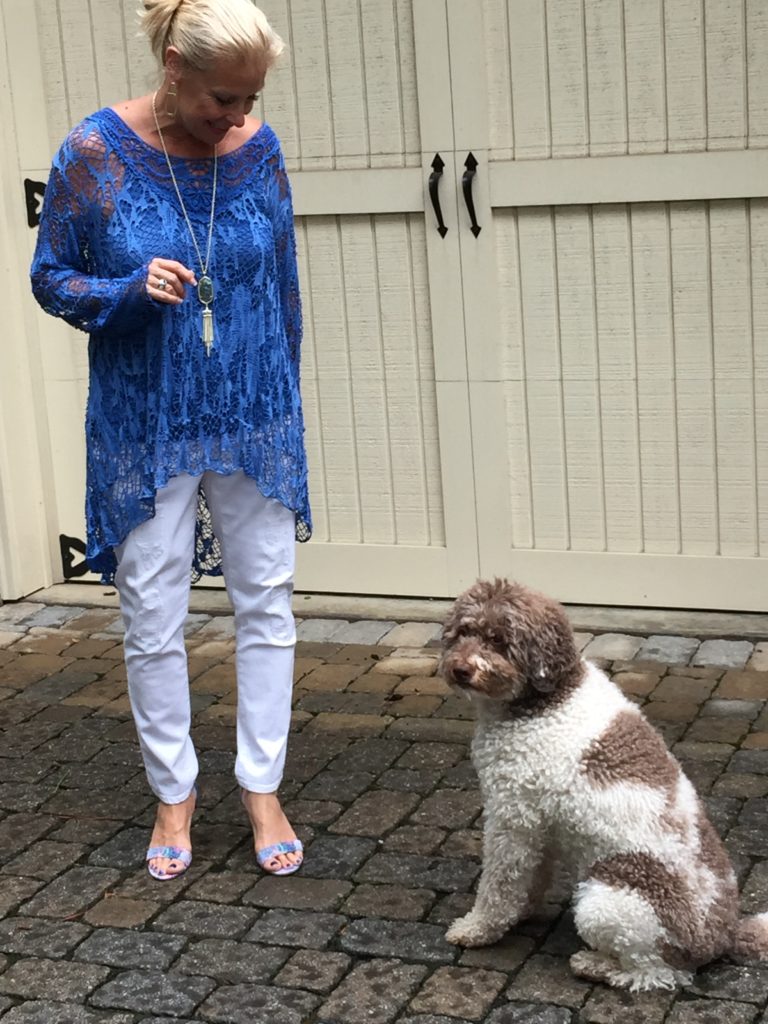 I have the honor of hosting a Kendra Scott party in the Avalon store on Thursday and it's because  they found me on social media. The store wanted an Atlanta interior designer to help them launch their Home Goods Collection and the Fall jewelry collection.
What Andrea Knight, the Community Relations and Event manager for Kendra Scott's store in Avalon didn't know was that I am also an over 50 fashion blogger. They wanted me as the designer and got a 2 for 1!
I already knew who Kendra Scott was because my daughter in law is a huge fan and I received my first piece of jewelry from my son and daughter in law as a Christmas gift. Kendra Scott jewelry  is very delicate and tastefully designed. Kendra Scott recently  launched a home accessory collection which is why they wanted me as an interior designer. I asked Andrea how she  found me, and she said  she found me on Instagram.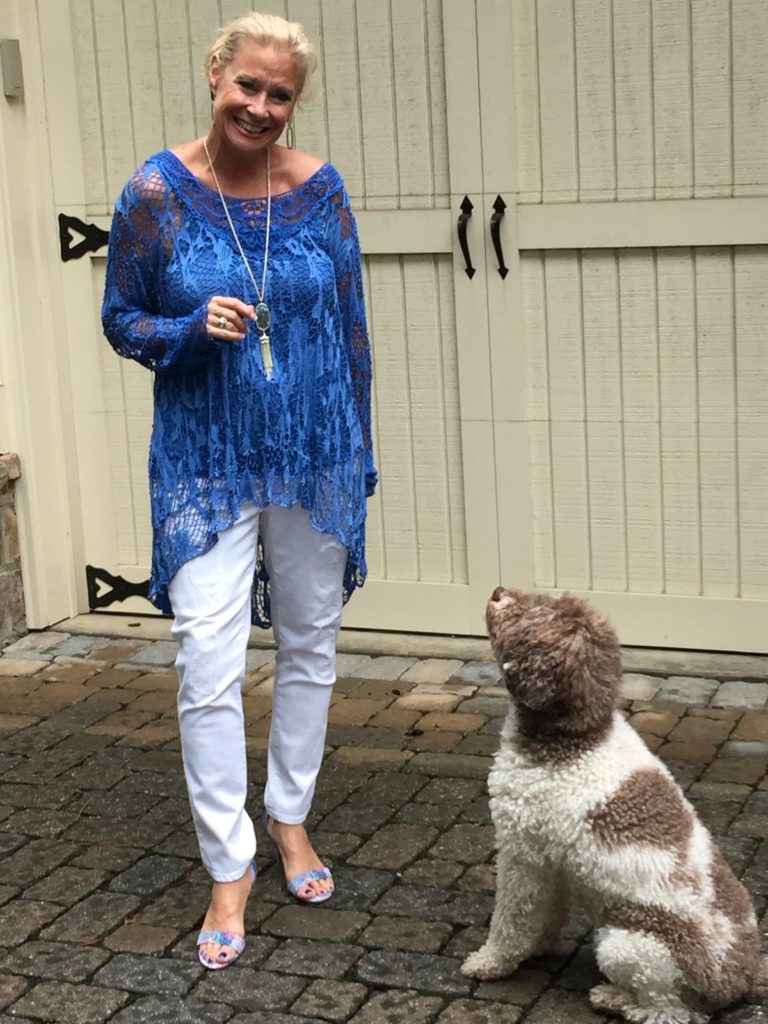 Andrea did not know  that I had another Instagram account for Hello I'm 50ish. She was targeting interior designers in Atlanta, not an over 50 blogger.
So I am a perfect winning combination for hosting a shopping party for Kendra Scott , a fashionable interior designer!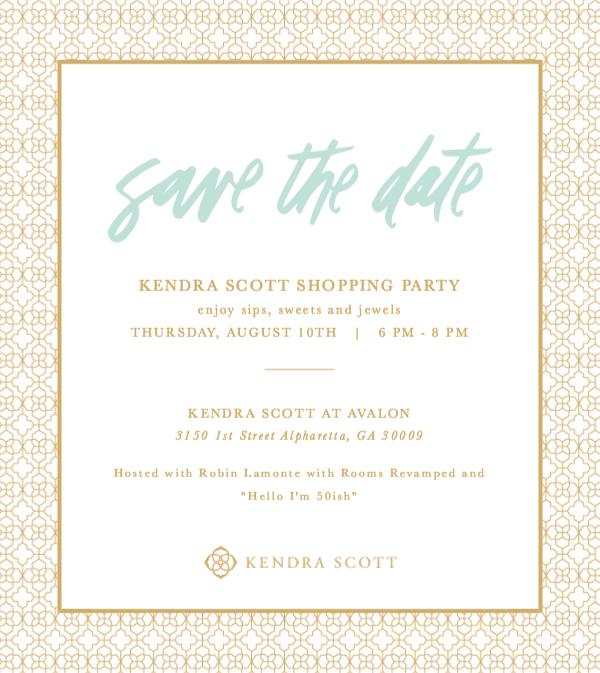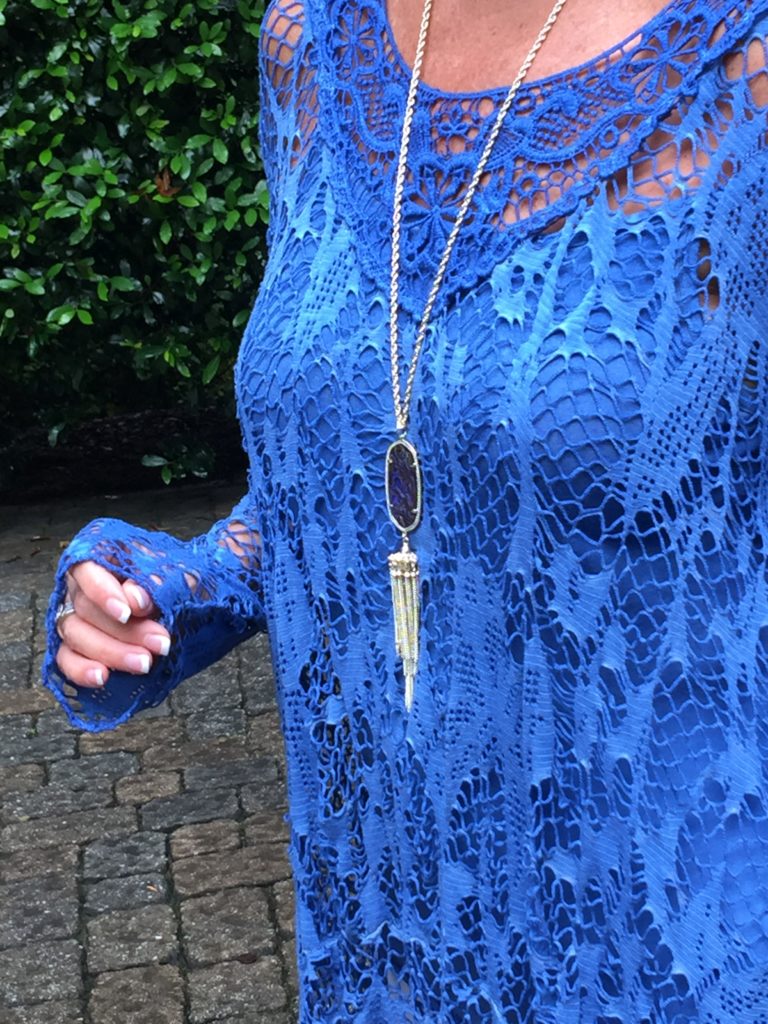 Are you using social media for your blog?
Being new to social media is always a learning process.  You need to understand who your target market is and work very hard at it.
I started my social media marketing as an interior designer about 6 years ago on  FaceBook  and just 2 years ago on Instagram. When I launched my personal blog, Hello I'm 50ish a year ago  I found out very quickly how hard it is to market yourself as an over 50 woman when it's already a saturated market.
What I have come to understand and learn this past year is this is a daily job. Not just a once a week job, but a daily commitment of posting,  responding and liking other people on social media.
The Photos
It's all about a professional looking image that is curated and stylish enough to attract followers and brands to you.
I use a professional photographer for my interiors because I am hoping to get published in magazines and in digital articles on HGTV, blogs, and Houzz.
Food , travel, and fashion bloggers also require a polished look whether you're taking the photo or someone else is. When I do show houses the bloggers are part of the media buzz and show up with DSLR cameras. They are considered "influencers" and will write about my interiors and feature beautiful images of my room.
I need to step up my game because my Hello I'm 50ish is a second business for me. "Oh did she just say business?"(My husband still doesn't know what I'm doing, but he was like that when I started my interior design business.LOL!) Yes, this is a second business and it is all about marketing myself as a fashionably dressed 60 year old who also travels and is an interior designer.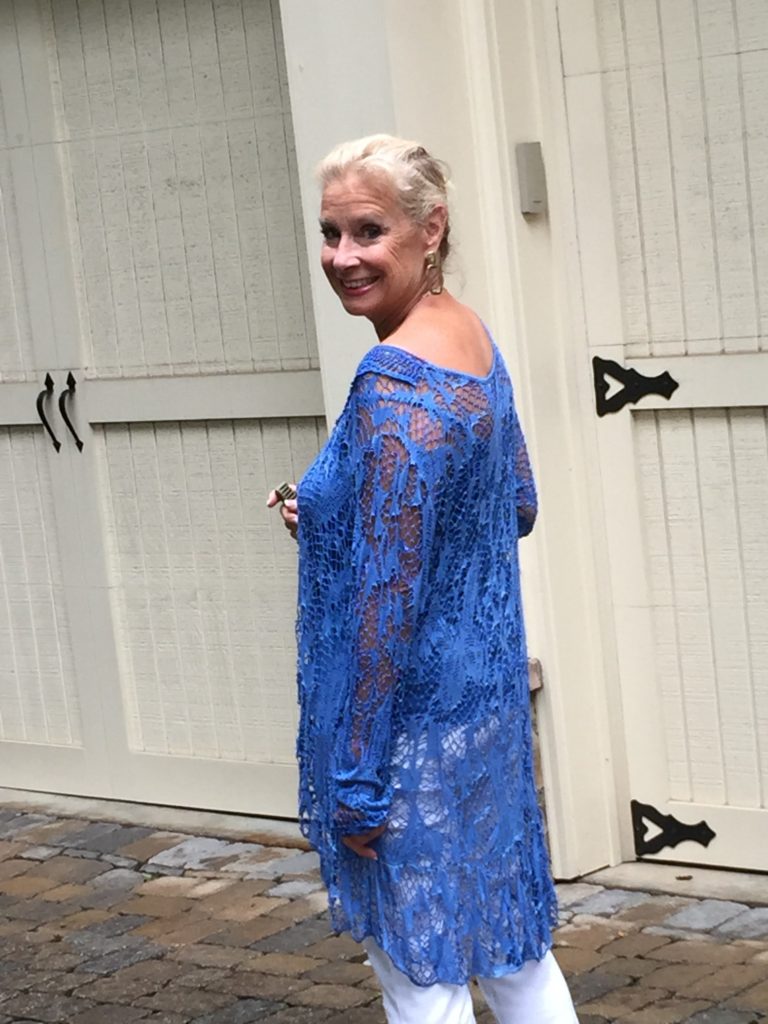 Some of the women fashion bloggers use their husbands/boyfriends as their photographers and use really good DSLR cameras ( mostly  with blurred backgrounds- portrait mode). There are also fashionistas who have professional photographers shooting them. I am still using my iPhone and my daughters,( especially Sammy), are my photographers. I use a timer on my phone when noone is around. I am learning to take the photos and edit them before I post on Instagram and Facebook. I use apps and edit my photos in editing features on my computer. I have DSLR cameras but I haven't taken the time to learn about shooting in the raw, I am still a point and click  chick. Thank goodness the camera has portrait mode!
I am learning to stop and think about my outfit and my pose more seriously. I know my flaws on my face and body all too well. When I smile with my side pose, you will see my wrinkles. I have wrinkles and won't do cosmetic surgery so I am comfortable showing you my wrinkles. I need to start looking at the whole photo not just the outfit.
Photo Background
I wish I had a white wall somewhere but my cream colored garage doors will do for now.
Do you notice where most fashion bloggers shoot? Some are using locations everywhere and some shoot in the same place every single time they post. It's up to you where you take a photo but make sure the area is clean around you.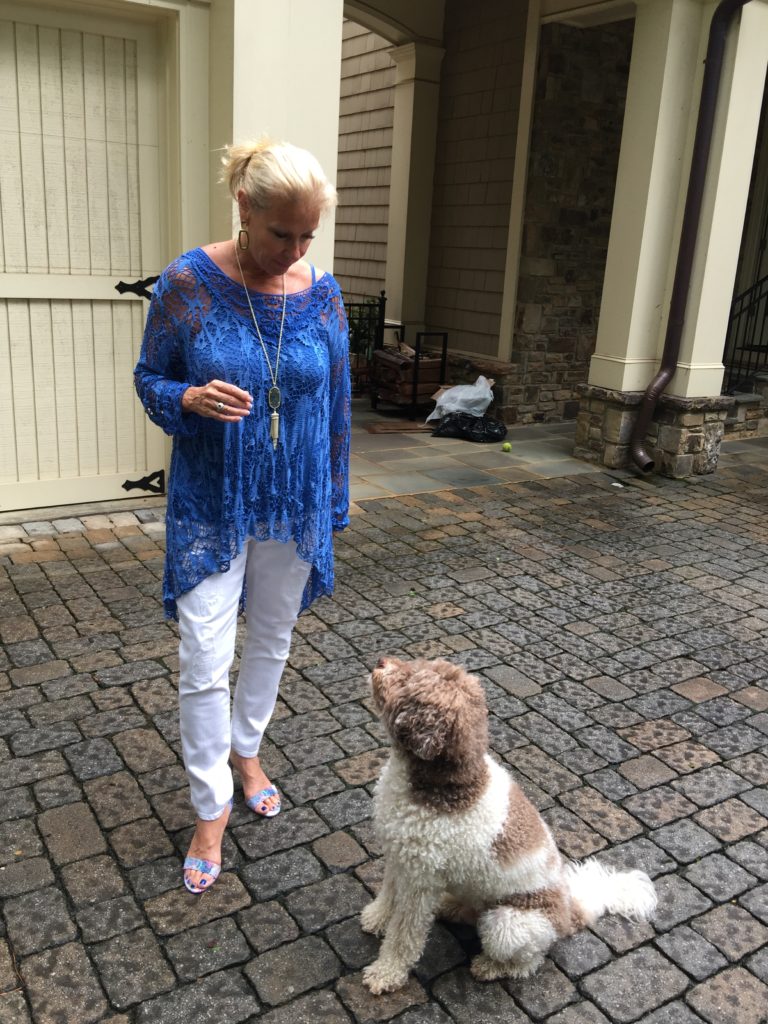 This was a great shot until I saw the background and had to tighten up the shot. Poor Bruno got edited out of photo!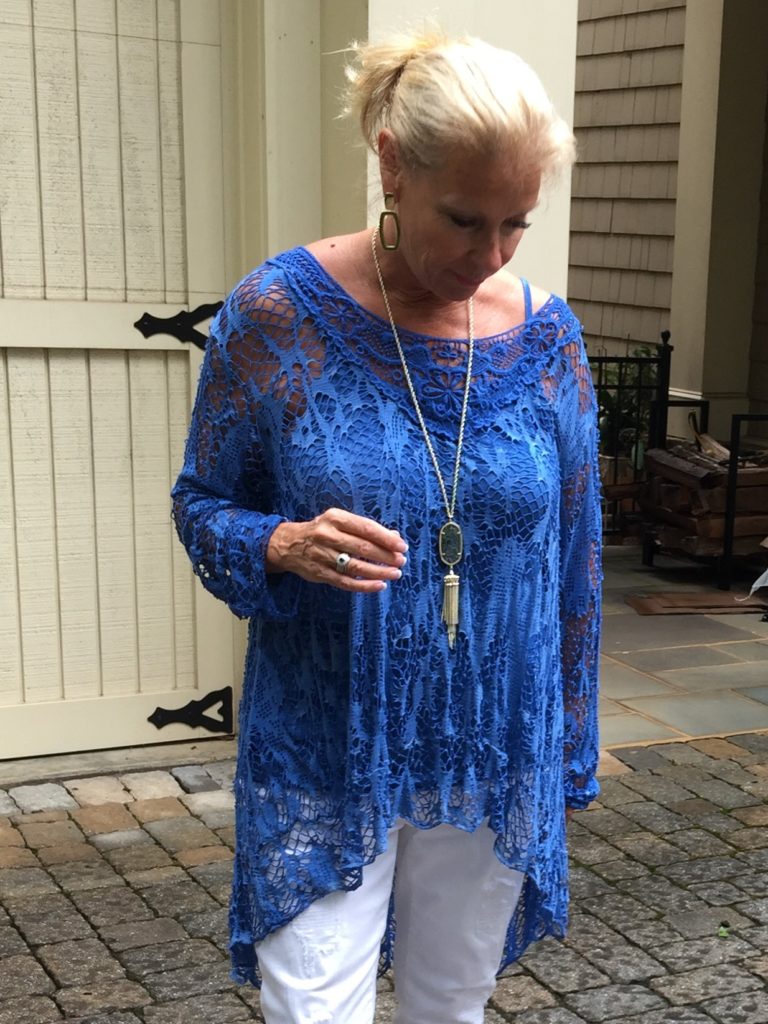 Posting
If you really want to gain followers you must post daily. Period. Think of yourself as a little over 50 newsletter to the world. People want to see what you are wearing or cooking or the places you travel to. People are curious and hopefully they will be kind to you when they comment.
You also need to know why people follow you. Pay attention to your likes and comments per post. What image draws people to your social media. Even the big bloggers/ influencers are reposting older images so that gives you permission to repost photos from a couple of years ago. I don't have enough images to repost so I need be clever with my blog and social media.
I notice when I don't post daily a fashion outfit, my followers tend to drop off on Instagram. On my blog, I try to post twice a week and even that is a struggle. I am so impressed with bloggers to post every day! Some have writers and some are doing it on their own. The larger the influencer is, they can afford to hire help.
As for me, what you see is what you get.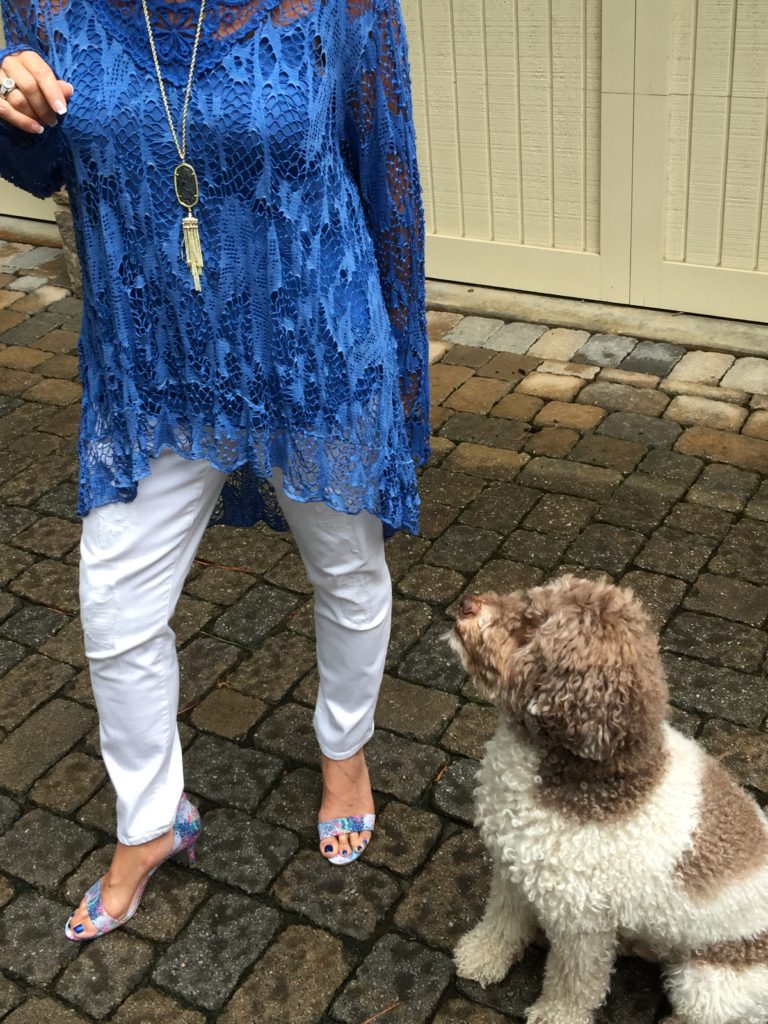 Following, Liking, and Commenting
This part takes the most time for me. I spend a couple of hours a day playing catch up to all the people I follow with likes and comments. I get so busy with my clients that I'm not on Instagram as much as I would like to but that's okay. I have another job where people pay me to make their homes pretty.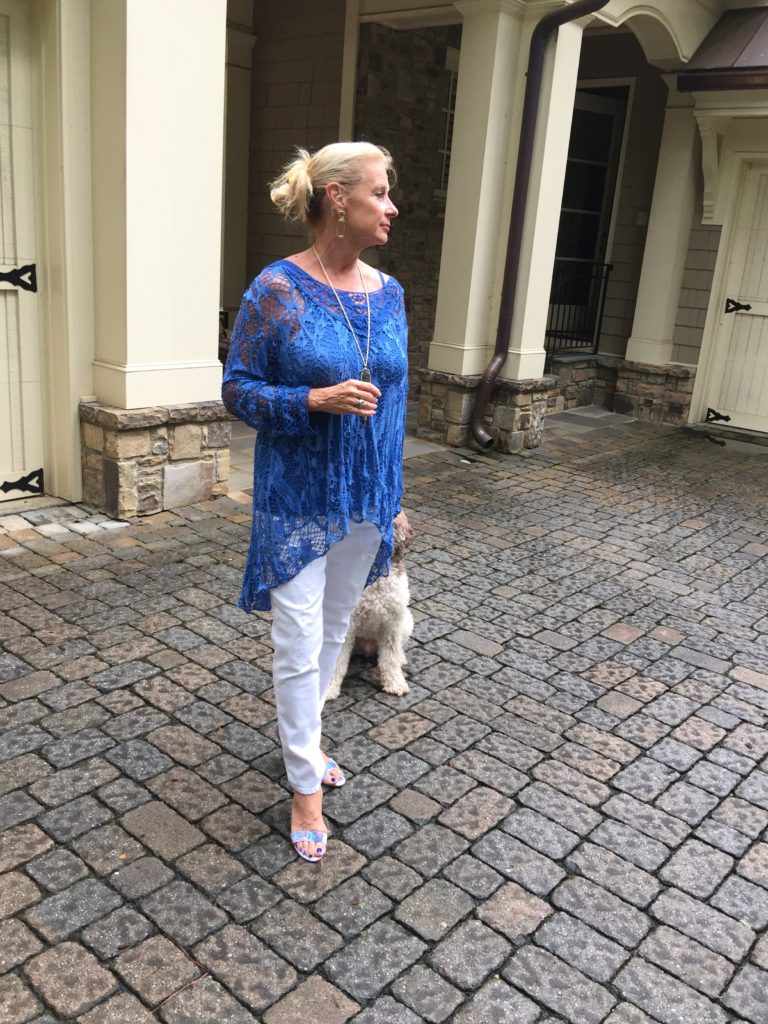 As you post, you need to like and comment on other people's blogs, and on their social media to get them to notice you. In return, they will do the same for you.  If they ignore you, you can unfollow them. They may see you as competition or they are just too big to notice you.
However, don't be suckered into the people who like to follow then unfollow you. It's a way to for them to gain followers but it isn't nice. If you follow someone, do it honestly. Comments are another huge part of social media. Brands actually follow people with the most likes and comments on Instagram. If you want brands to pay attention to you social media, you need posts to have lots of likes and comments. That tells them you are influencing others to say something.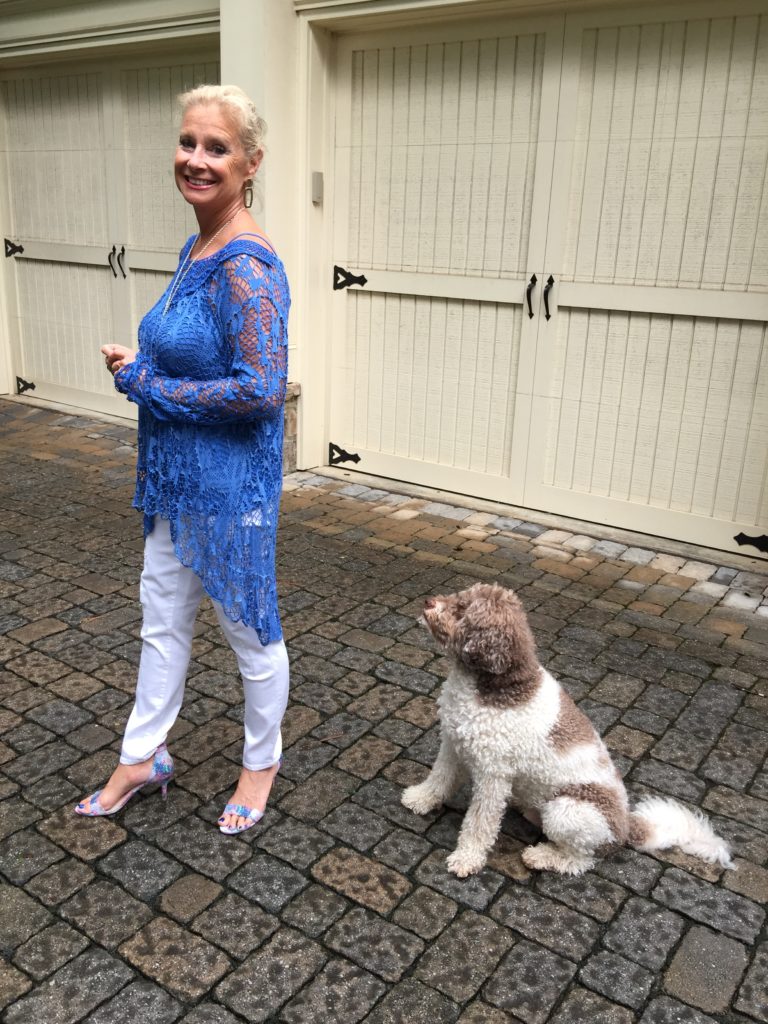 Do Brands want to work with you?
I have only accepted 2 brands to work with since I started my fashion and lifestyle blog but I have been approached by many brands that do not align with my message as an over 50 year old.
I have been asked to do casting calls for commercials and for television, but I don't have the numbers the brands are looking for or my age is an issue.. Being out in the public eye on social media is an interesting dance with the brands who want to market to the older women or the brands who didn't know you are over 40, which immediately disqualifies me.
I am just tickled that the brands and the television producers thought of me in the first place. It's because they found me on social media and wanted to have a conversation with me.
I purchase all of my clothes for my blog because I only have one clothing sponsor but I was honored that they reached out to me. You never know why brands contact you but make sure they are aligned with your message.
When I started this blog a year ago I have learned so much about marketing myself and the commitment that goes into working my social media.
I know you make think this is just a fun little way to share your ideas but to be an influencer, you have to think of yourself as a business. Everyday you need to work at your business to make it successful. You need to develop a mission statement and know who your target market is and nurture all of those people who follow you on your social media platform.
Then out of the blue, (no pun intended) they contact you. Then you smile and realize they are watching you because they like want they see…..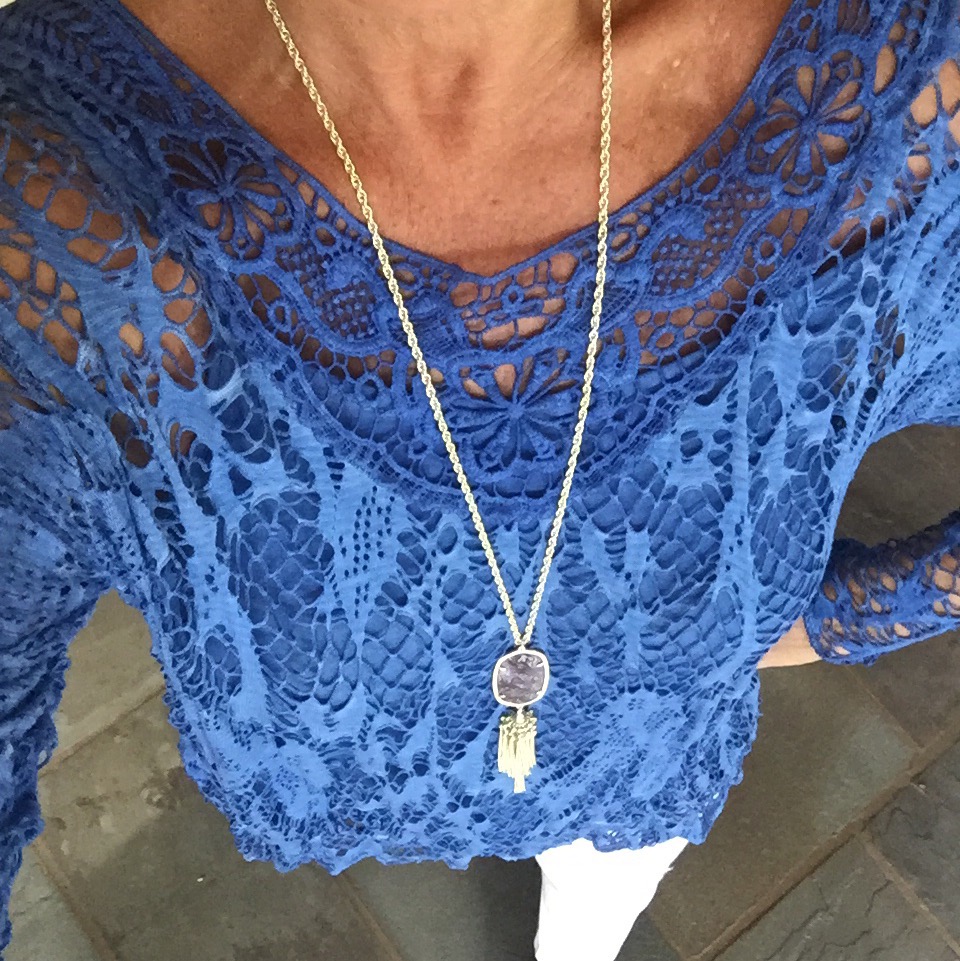 The Outfit:
Because this was an intentional photoshoot showing off my Kendra Scott  Rayne Necklace in Abalone Shell, I had to think about the perfect top to go with the necklace.
When my photographer, (My daughter Lisa) saw my outfit for the photoshoot, she said she may have to borrow it. That is as good as it gets friends! When our daughters still want to shop out of our closets, we are winning!
I wasn't planning on showing you my yellow scrunchie and my skinny jeans caught in the heel of my sandals (Over 40 fashion nono) but this was a good shot of the angled lace top. I guess I need to hire a stylist for my photo shoot to make sure everything looks perfect!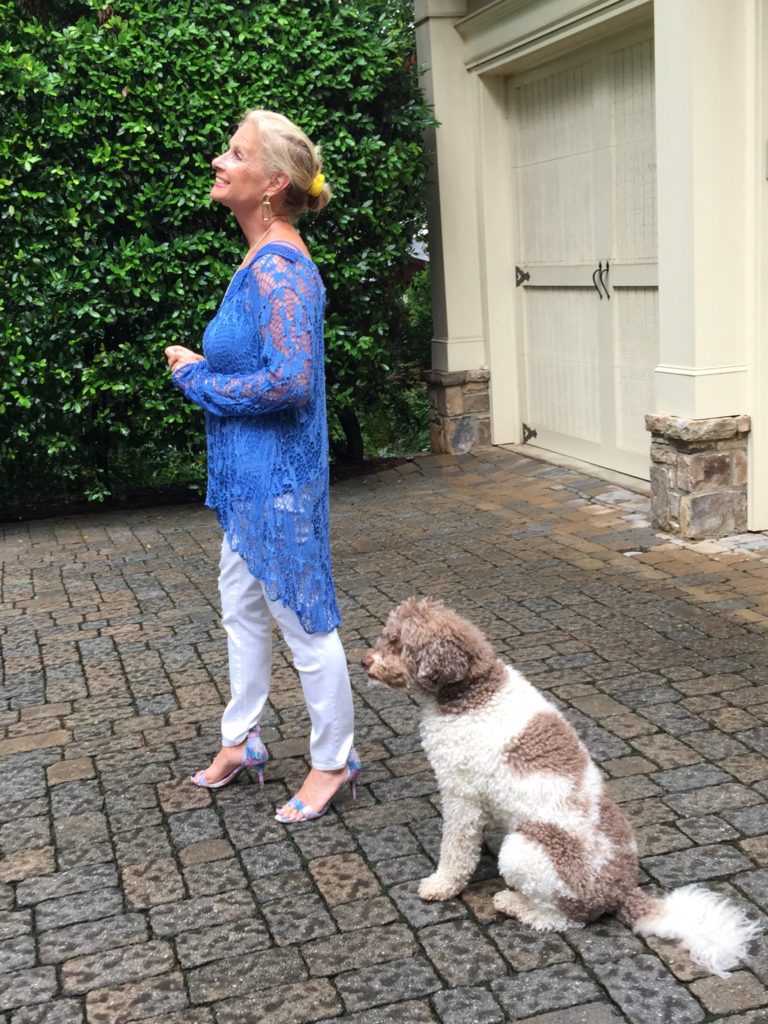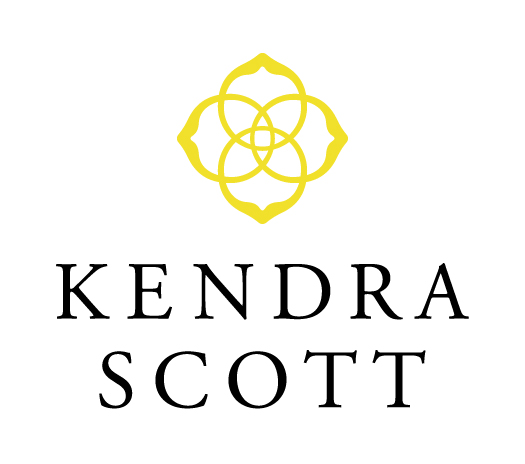 Thank you for stopping by and you those of you who love Kendra Scott jewelry, I am offering a 15% discount on your purchase if you attend the event or if your pre order online before 4:00 on Thursday 8/10/2017!
I would love to see you and  give you a hug!
Thanks for stopping by!
I would love to hear from you!
Follow me on Instagram, Twitter, FaceBook, Houzz,LinkedIn, and Pinterest too!