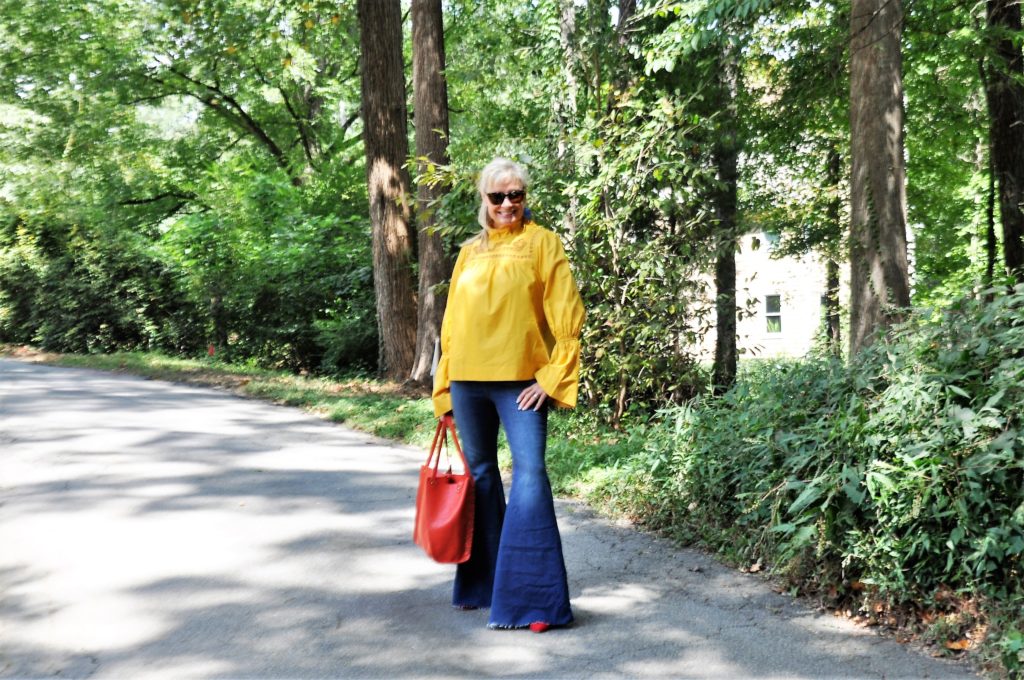 Fall is just around the corner and as the summer season ends, I am looking forward to cooler days in Atlanta. When I was in Paris this summer, I saw a lot of mustard colored clothes for the upcoming  fall fashion season and I even purchased a mustard colored dress which I will share later on my blog.
I fell in love with these flared jeans immediately and the crocheted poplin blouse from Free People.
I have been a fan of Free People for many years, but as I've gotten older, I am more selective with the style that will look good on me.  I know the store caters to a younger crowd, but I found many items that make me look chic, and fit my body very well. Some of the items were a tad young looking and I don't like to dress as a 20 year old. That body sailed years ago.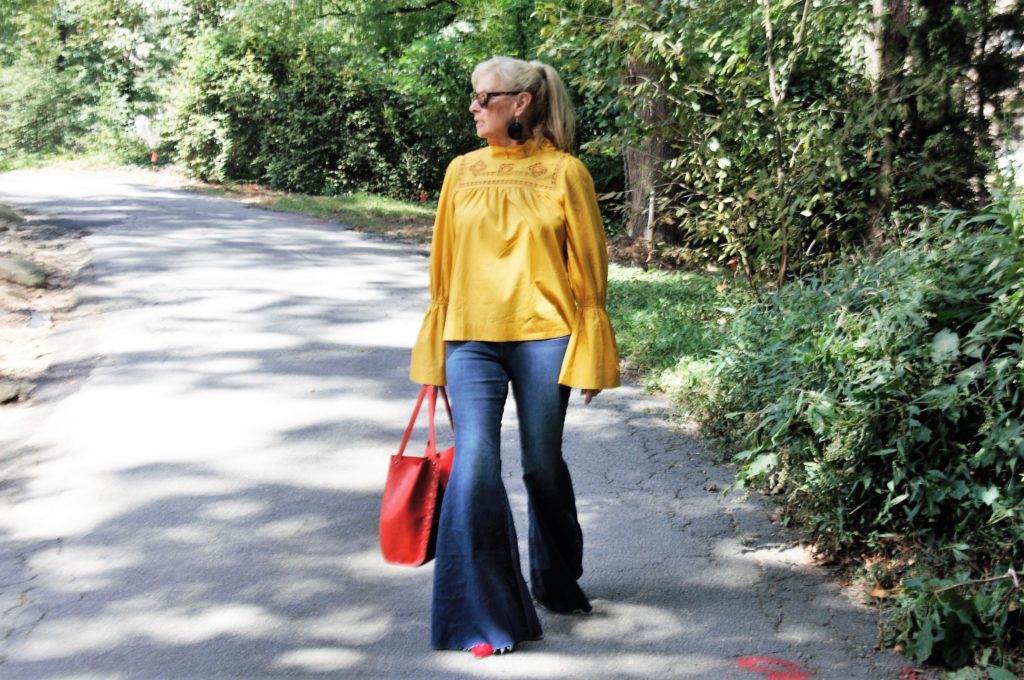 I can't begin to tell you how comfortable these high waisted jeans are!  I pray they stay in style for at least a couple of years. I am a long term investor with my fashion and not a fan of spending money on one hit wonders. I wore flared jeans in the 70's and know our millennials love our recycled fashion so I think these jeans will have some longevity.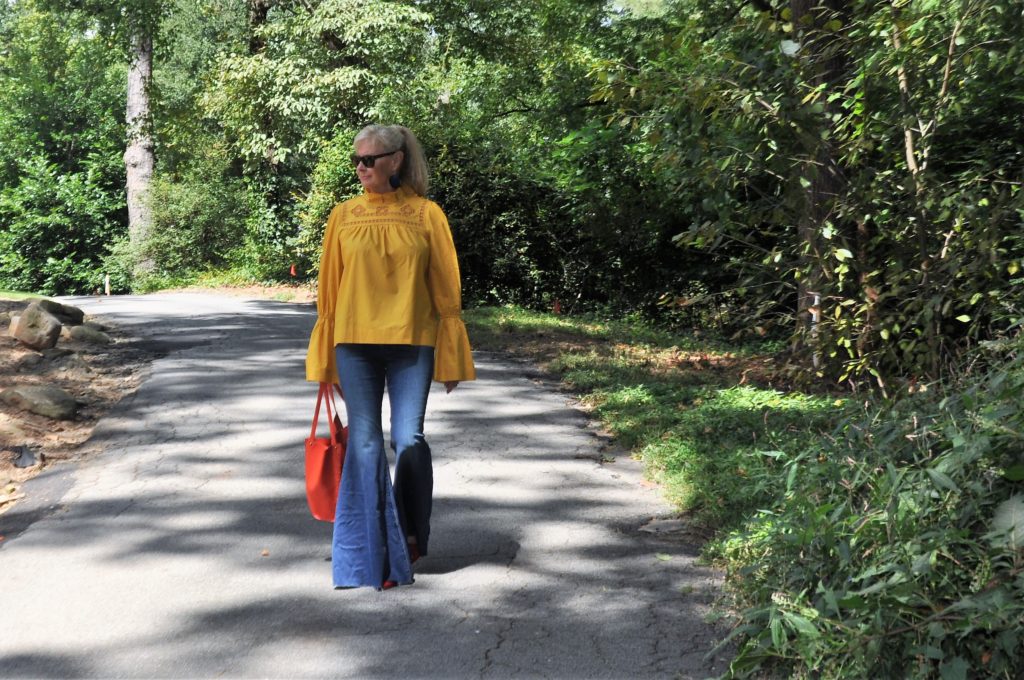 I paired my Thalia Sodi Vanessa Pointed Toe Pumps and the INC whipstitch  tote  with a removable pouch from Macy's with my outfit.
Red is the latest accent color for bags this season and you will be seeing a lot of them. They are the perfect pop of color don't you think?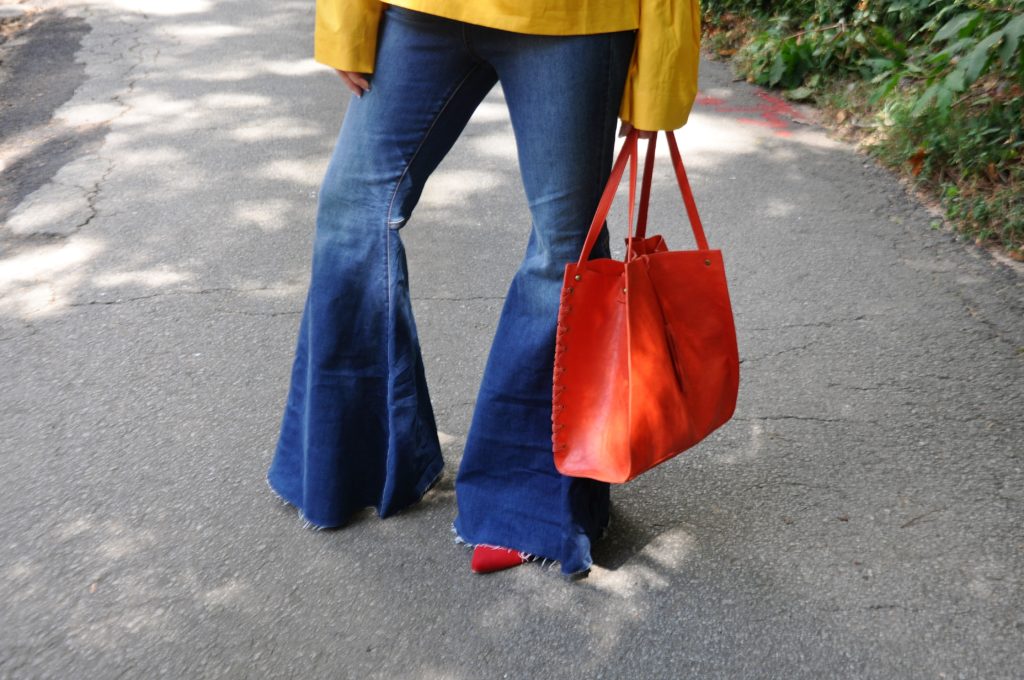 I love the crocheted details on the top of this blouse and decided less was more. Let the blouse be the statement, not the necklace.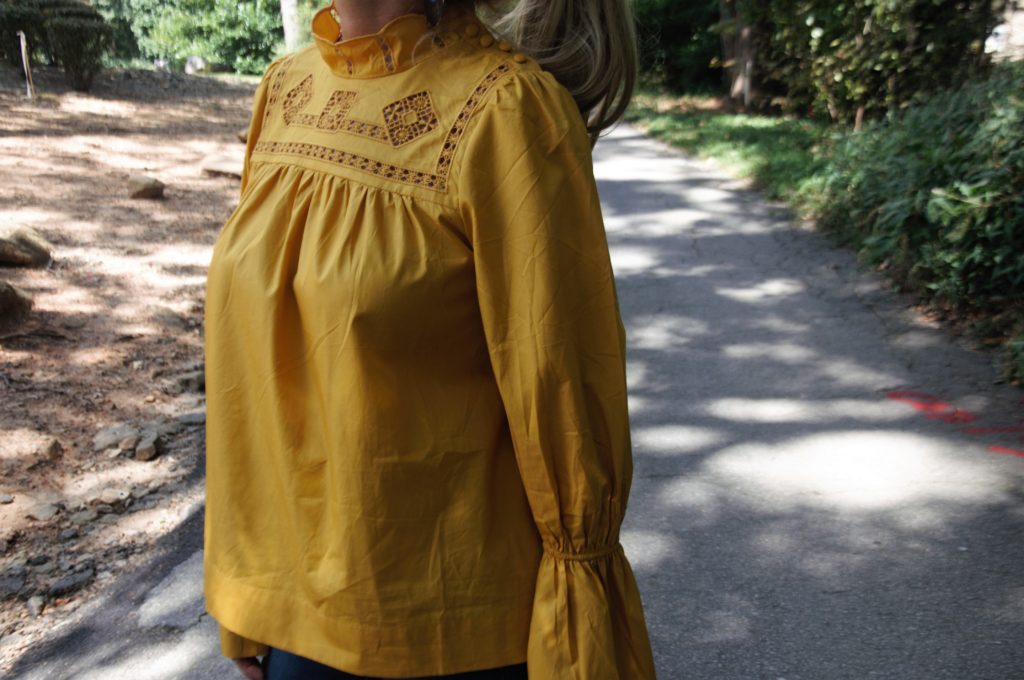 What I love about this look is that it doesn't look like it's a forced style for a 50ish woman.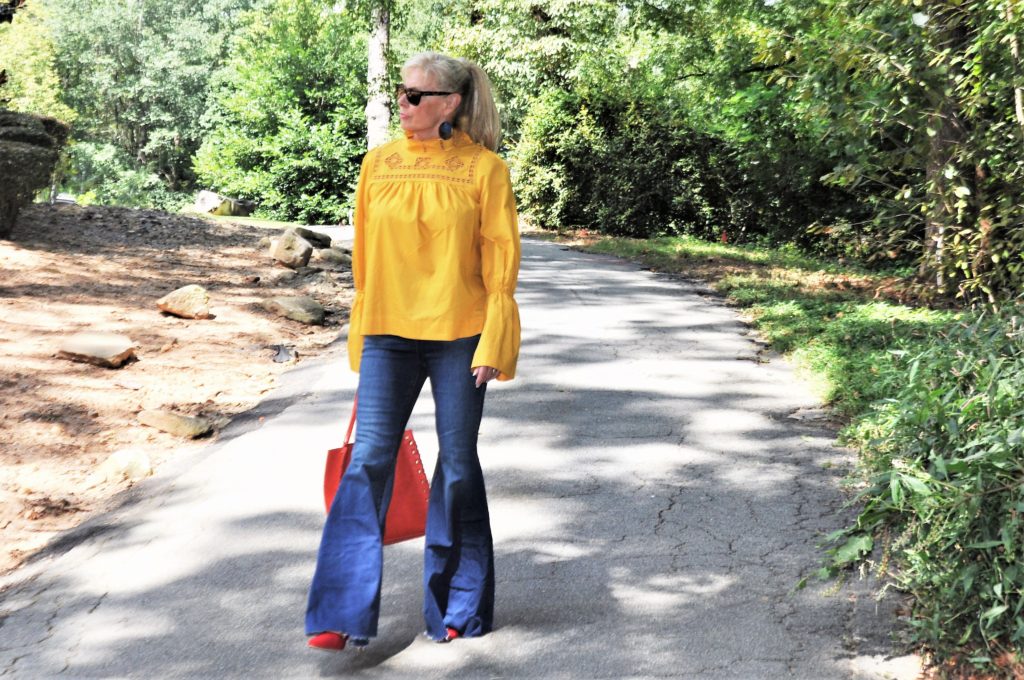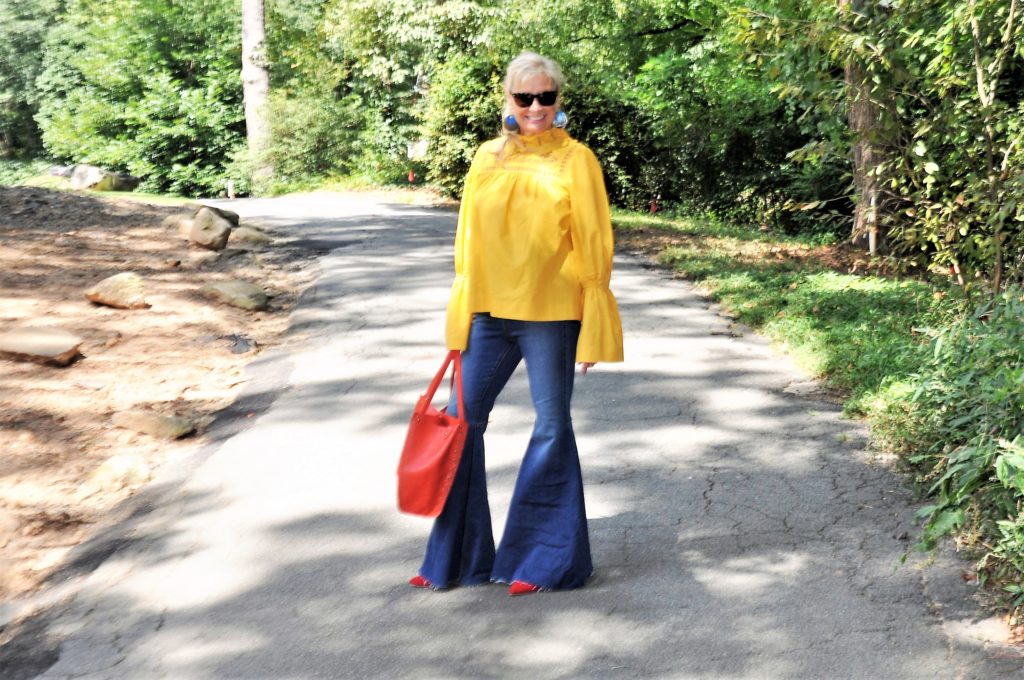 What do you think? Would you wear it? Or is it outside your comfort zone?
Design Tip:
We all have fashion styles that work well with our personality and our lifestyles. Many of you are classic fashionistas and this style may be outside your comfort zone. Never force yourself to wear an outfit that you feel isn't on your radar. Looking chic and stylish at our age doesn't mean we need to embrace a younger style if it doesn't feel right for us.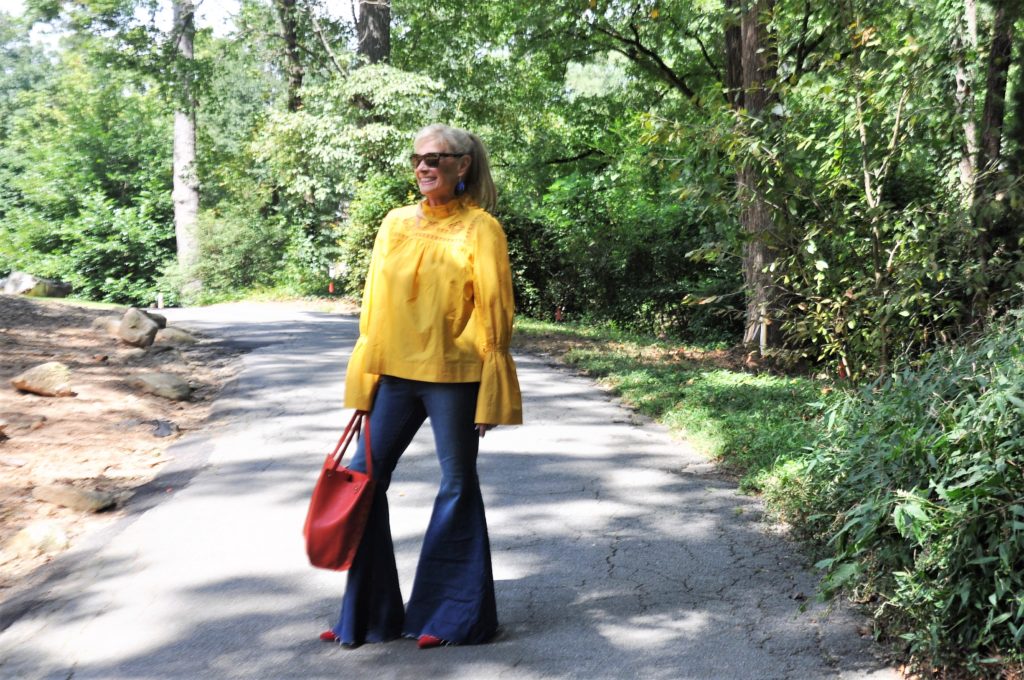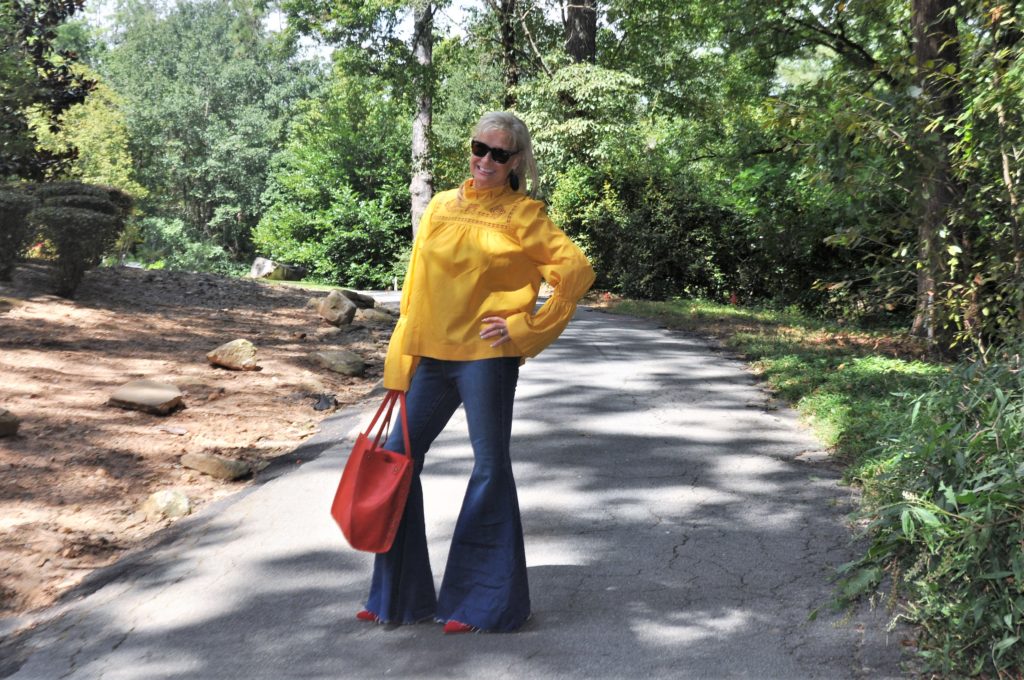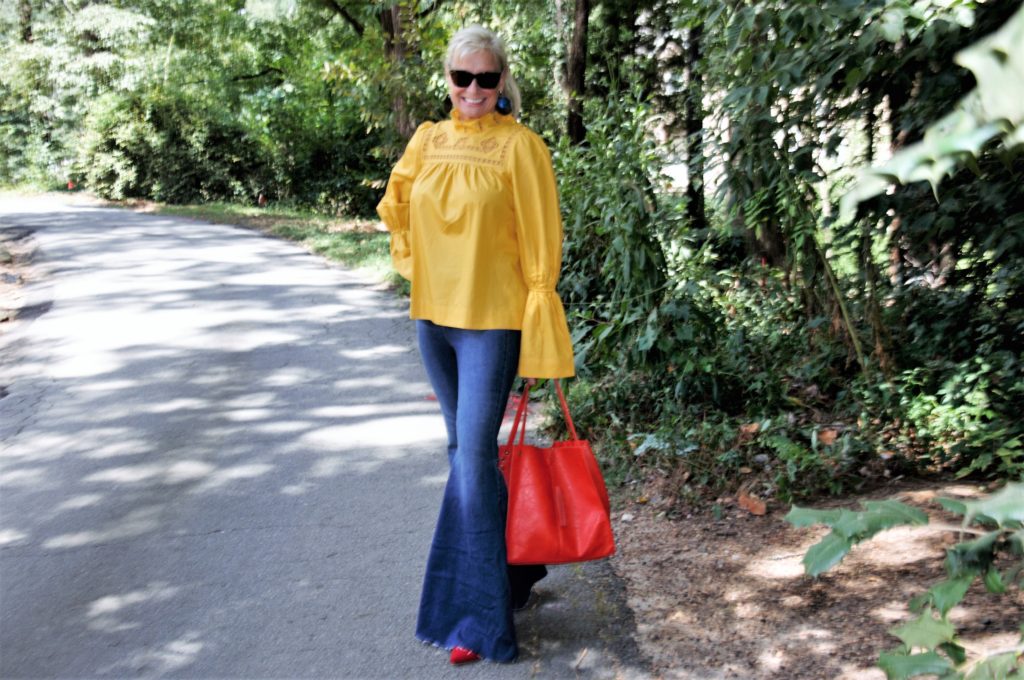 We are getting Hurricane Harvey's rain as it passes through the south. Still thinking of all my family and friends that were impacted by this devastating storm.
I am grateful my friends were not in harm's way. Did you have family and friends in Hurricane Harvey's path? I hope they are safe. Praying for Texas.
Thanks for stopping by!
What do you think of flared jeans? Yeah or Nay?
I would love to hear from you!
Follow me on Instagram, Twitter, FaceBook, Houzz,LinkedIn, and Pinterest too!

Shop the look: