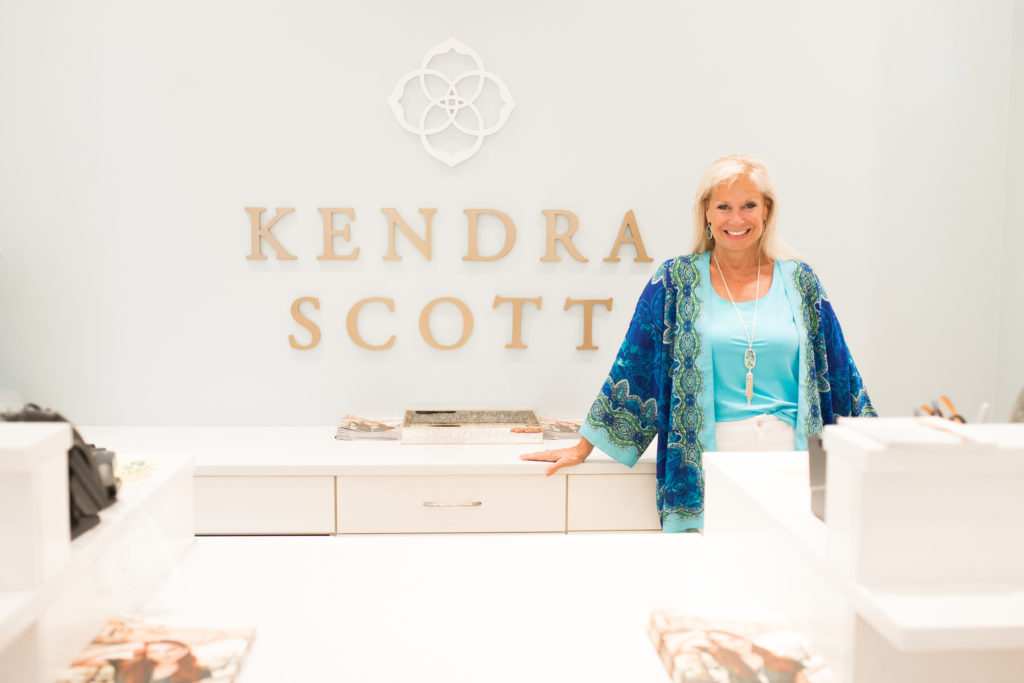 I had a wonderful time hosting my very first event wearing 2 hats, (one as an interior designer and the other,a fashion blogger ) for the Kendra Scott fall collection at their Avalon store in Alpharetta. As I drove to the store, I was playing Frank Sinatra (HUGE fan) and on came one of his signature songs, "Baubles, Bangles, and Beads." What a perfect way to set the mood for the event I was hosting and the perfect title for this blog post! 
Warning Jewelry crush is about to happen behind these doors!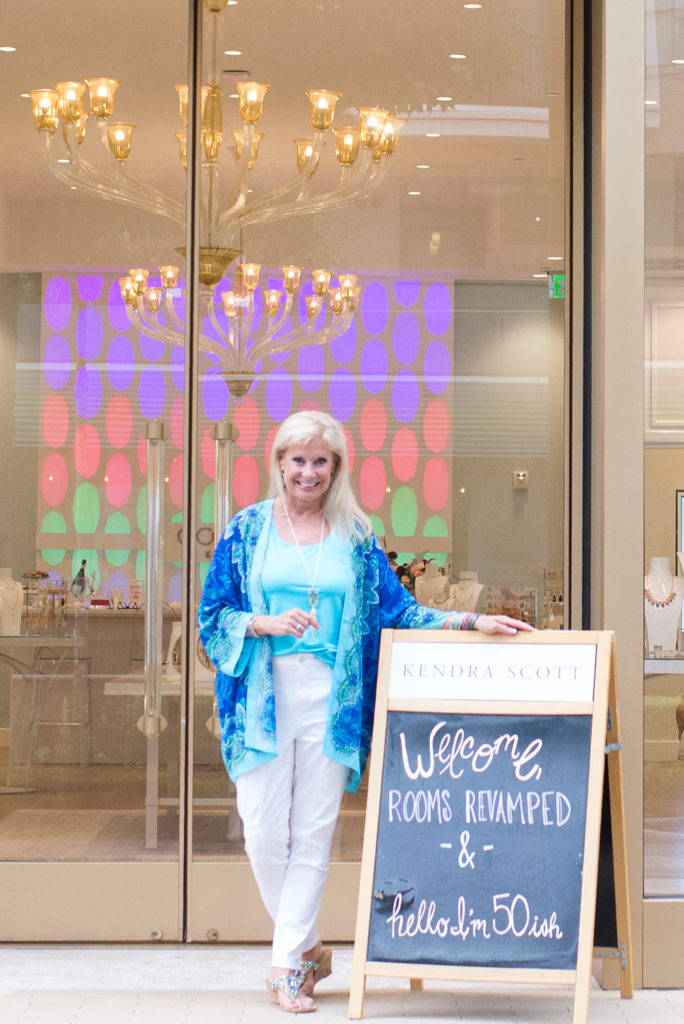 I was so tickled to see this sign in front of their store that of course I had to stand next to it!!
My guests were greeted with Prosecco, nibbles, and dessert while they shopped during the private event.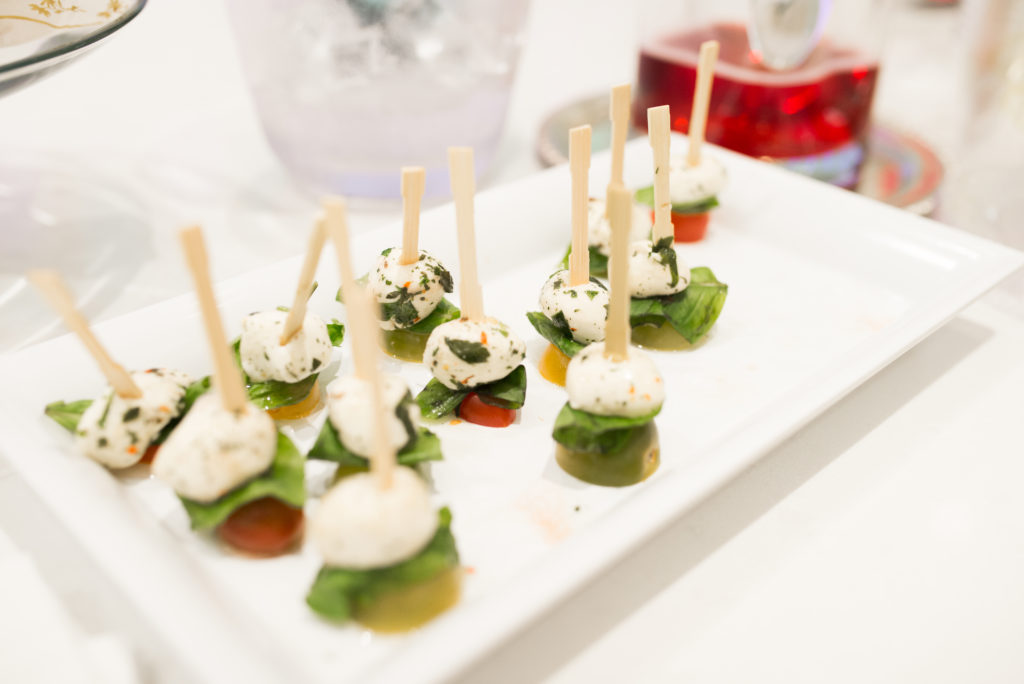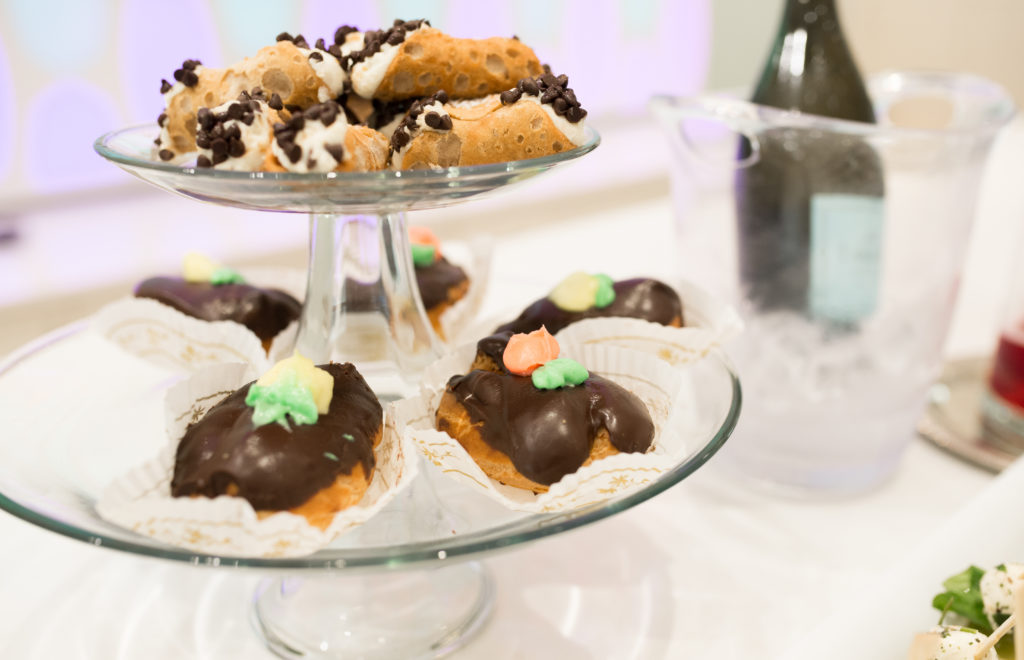 Background-Family, Fashion, & Philantropy
Kendra Scott started her business in 2002 in Austin, Texas as a single mother raising 2 small boys,by making jewelry out her spare bedroom and selling it to local stores. She had been making jewelry as gifts for her friends, but  envisioned selling quality jewelry that wasn't  high end nor was it poor quality low end jewelry. That dream has  launched 58 Kendra Scott branded stores in the United States, and also sold at Nordstrom, Neiman Marcus, and fine clothing boutiques. She now runs a multimillion dollar business. Kudos to Kendra for believing in her dream and working hard to be a successful female CEO. She made Forbes " Richest Self made Women List"She was listed as a "Fashion Influencer" in the Pantone Fashion Color Report in 2013 and 2014, which is very impressive to me.
Home Accessories
Kendra Scott launched her home accessories line last winter and as this good interior designer knows, accessories are the jewelries for your home. Without accessories, your room will not have any character, just furniture! These gemstone boxes, trays, and photo frames will add the perfect bling to a room!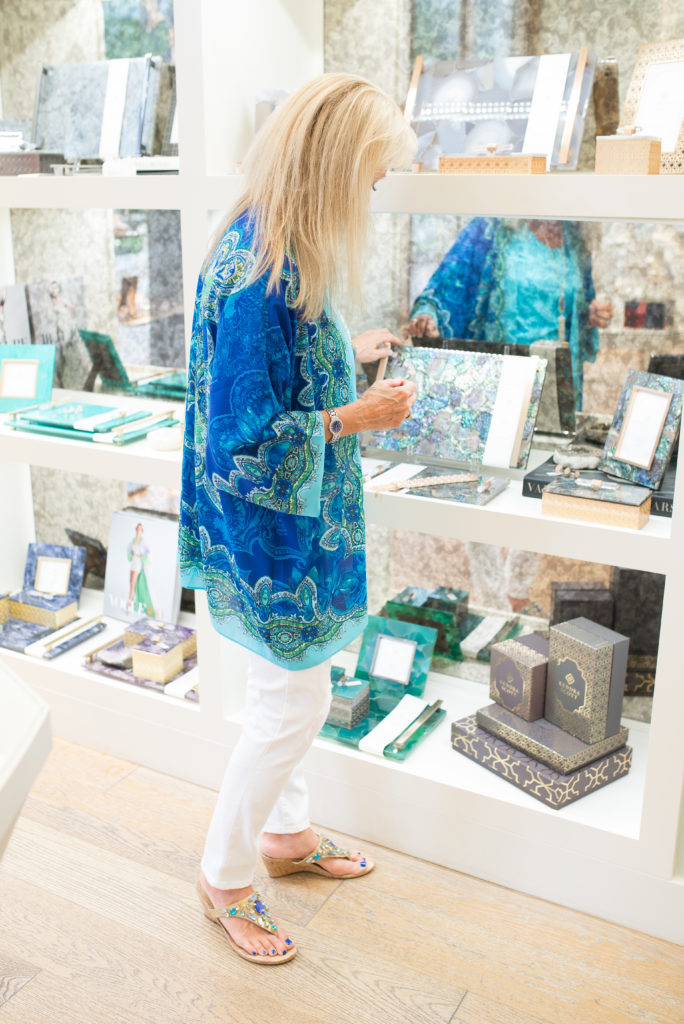 Baubles, Bangles, and Beads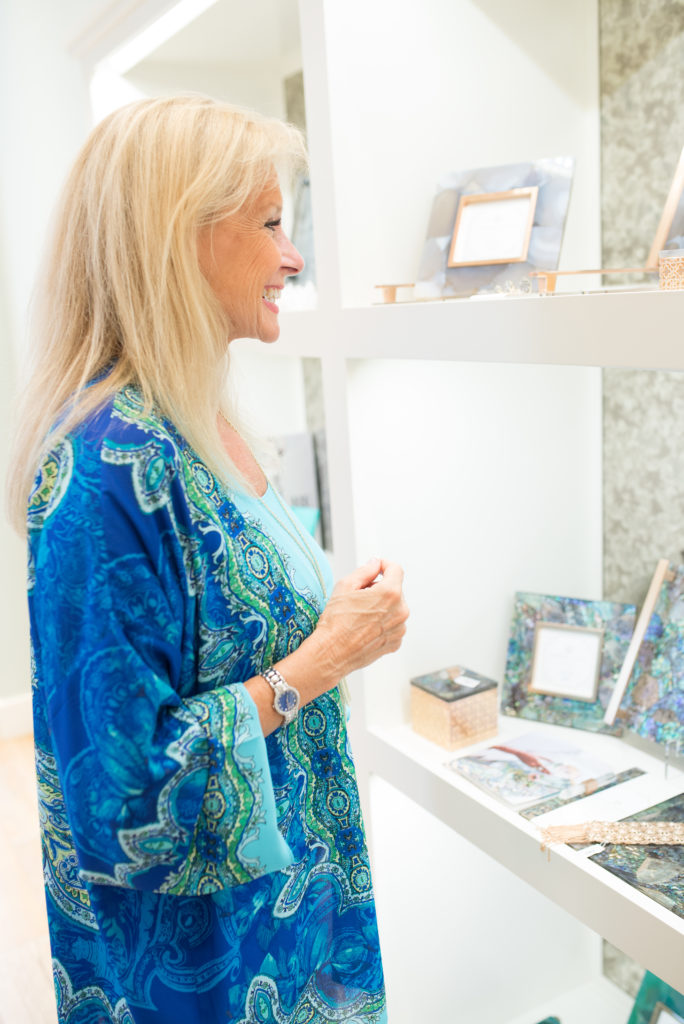 Kendra had just launched her fall 2017 collection the day before my event and I have to tell you how gorgeous the collection is! The fall collection was inspired by her trip to Italy with her family.  Florence is filled with wonderful architecture, museums, and I can see why  she fell in love with the city.
My favorite items from the fall collection was this stunning necklace and earrings. You can wear them with your casual fashion as well as your date night fashion!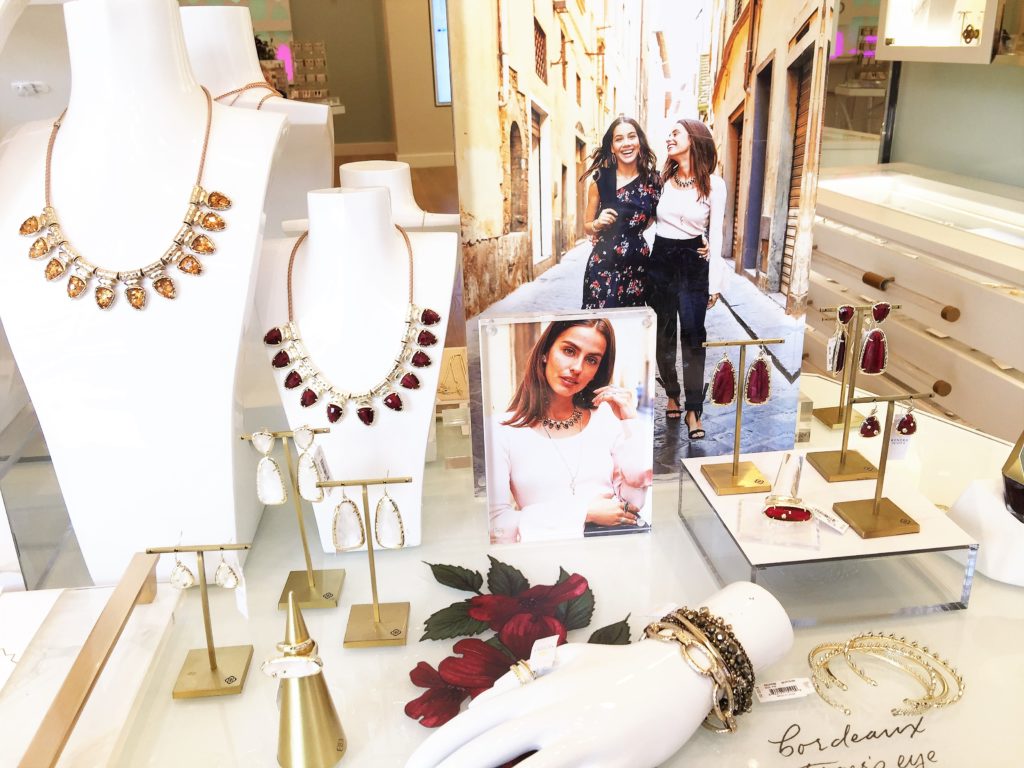 My favorite from her  rose gold line this fall is this statement bracelet. Such detail in the floral filigree and the long chains make for lovely fringe on the  band. Rose Gold is very popular in interior design and also in fashion. You will see a lot of it this year.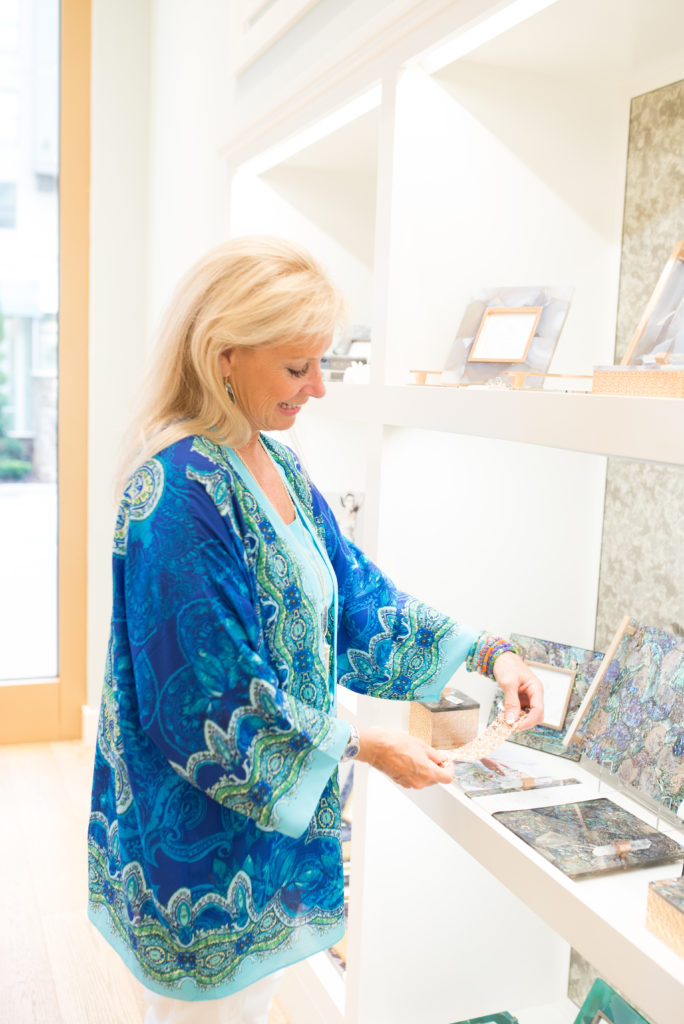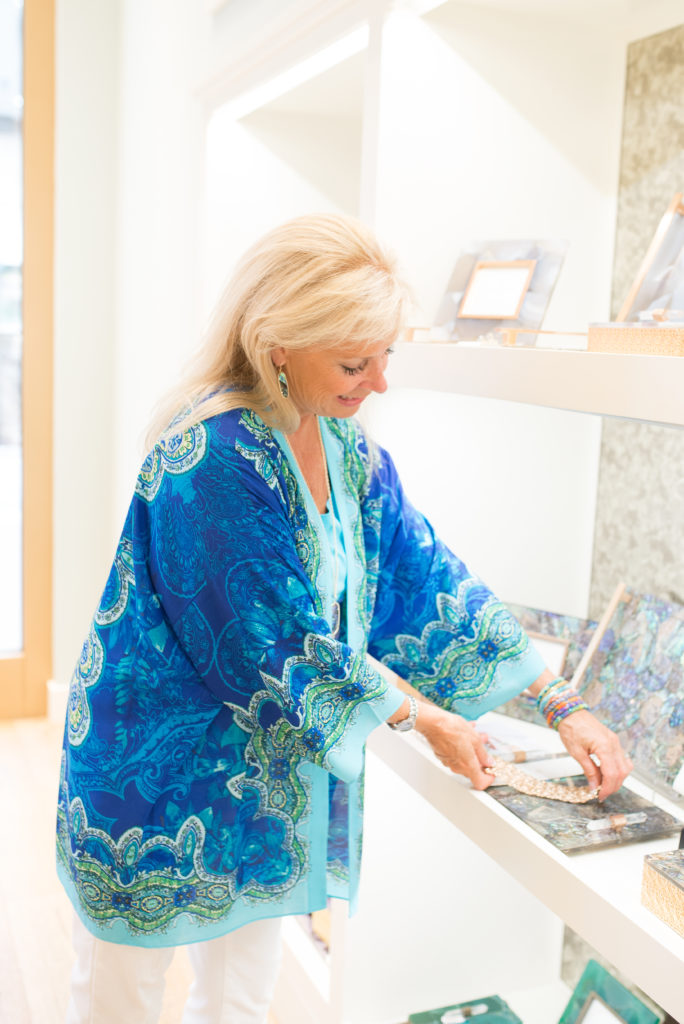 I picked up these earrings that match my necklace because I like the size of them. They are amazingly light weight! I will be wearing them next weekend to an outdoor  wedding in Athens, Georgia.
Baubles, Bangles, & Beads for the Wedding
My sweet daughter in law, Jennifer, gave all her bridesmaids Kendra Scott jewelry for their wedding in June. Lisa is wearing the earrings and Sammy wore a bracelet from Kendra Scott. Such a thoughtful gift to give on the wedding day.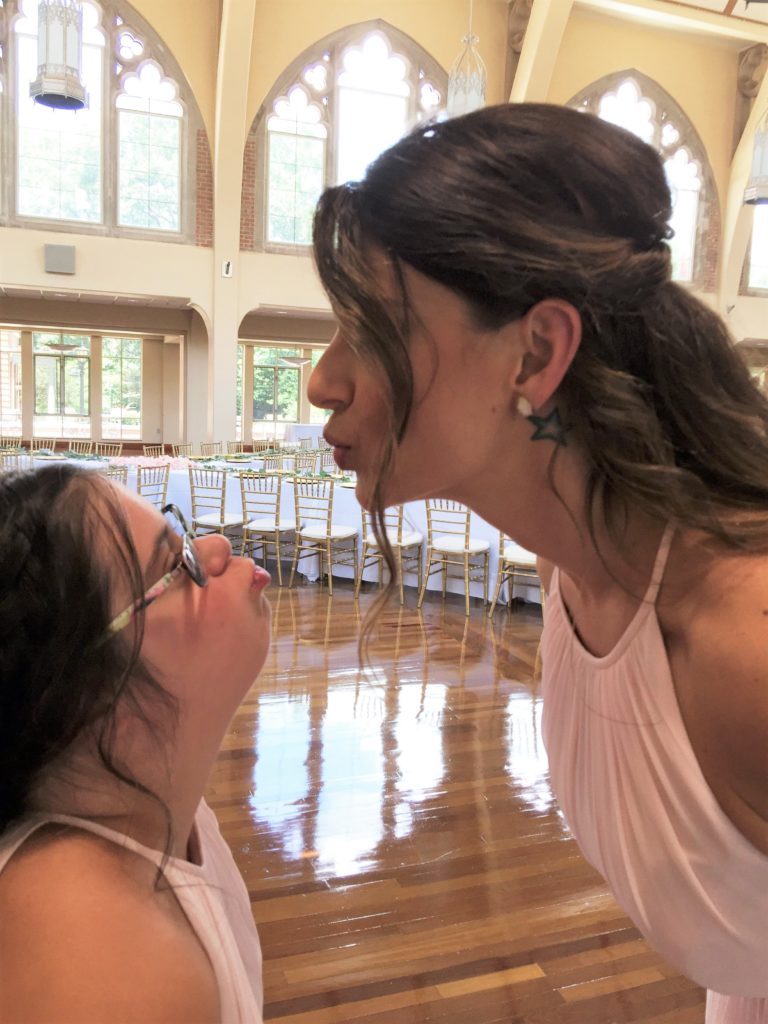 Nail Lacquer
Kendra Scott launched her nail polish line last August and the colors mimics her gemstones. I haven't tried them yet, but they are gorgeous!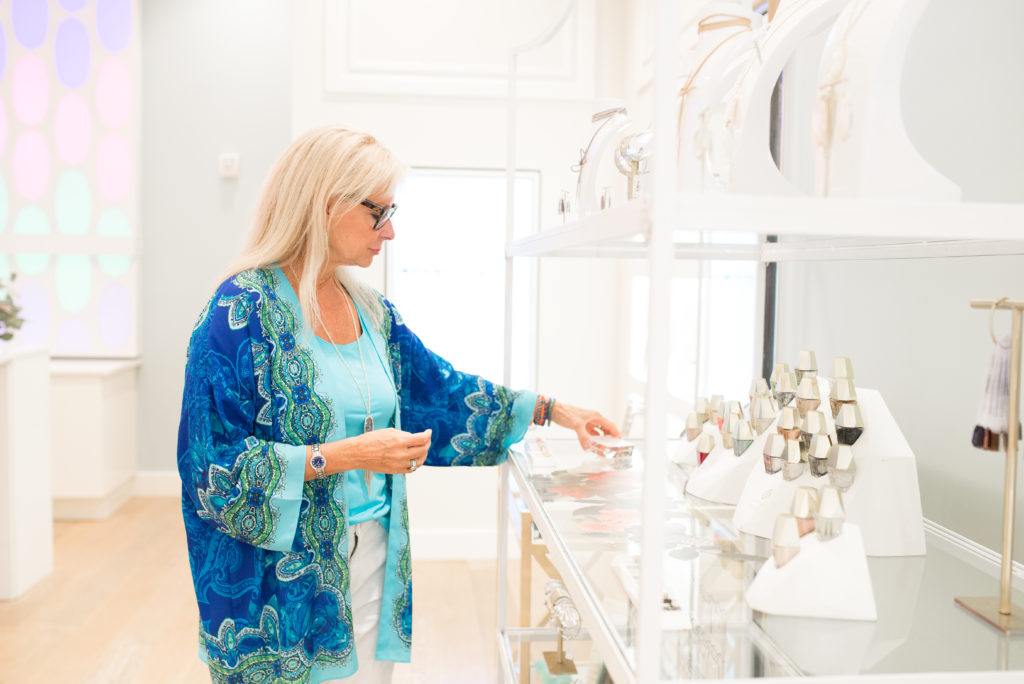 Color Bar- Design your own Baubles, Bangles, & Beads
If you want to be creative you can also design your own jewelry and home accessories at a Kendra Scott store in the Color Bar. You select the type of jewelry, the stone, the metal, and how many you want. A great gift idea for a bridal party, birthday gift, or for yourself! You can also do it online too through her website. This island is filled with drawers full of her gemstones and empty jewelry pieces. They can make your jewelry while you keep shopping.
Paying it Forward
This is why Kendra Scott appeals to me the most; she is a woman who pays it forward and gives back to her community and to local charities. From a local to a national scale, if someone comes to them with a cause they care about, Kendra Scott will always have something to give. Philanthropy has become an integral part of the Kendra Scott company, and every store has an outreach coordinator. I have served on committees and boards of 5 charities and I am always happy to see other women giving back to their communities .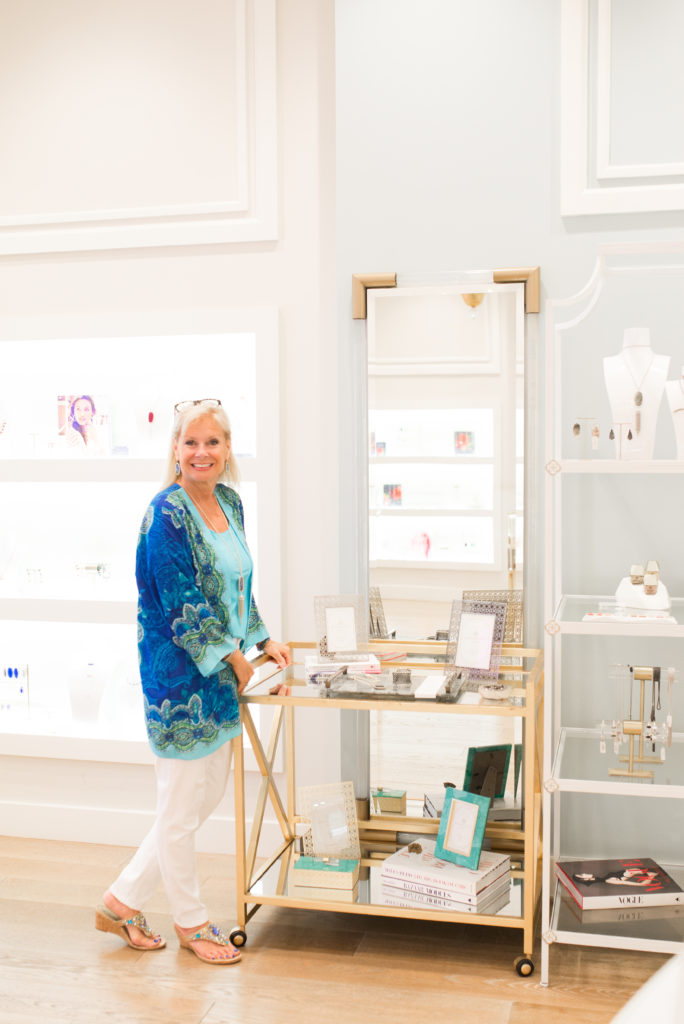 Remember friends, Christmas is just around the corner!! It's never too early to start your shopping!
If you have never shopped her jewelry, you can sign up online to be an insider (receive emails and promotional material) and receive 15% off on your next purchase! Just a thought…..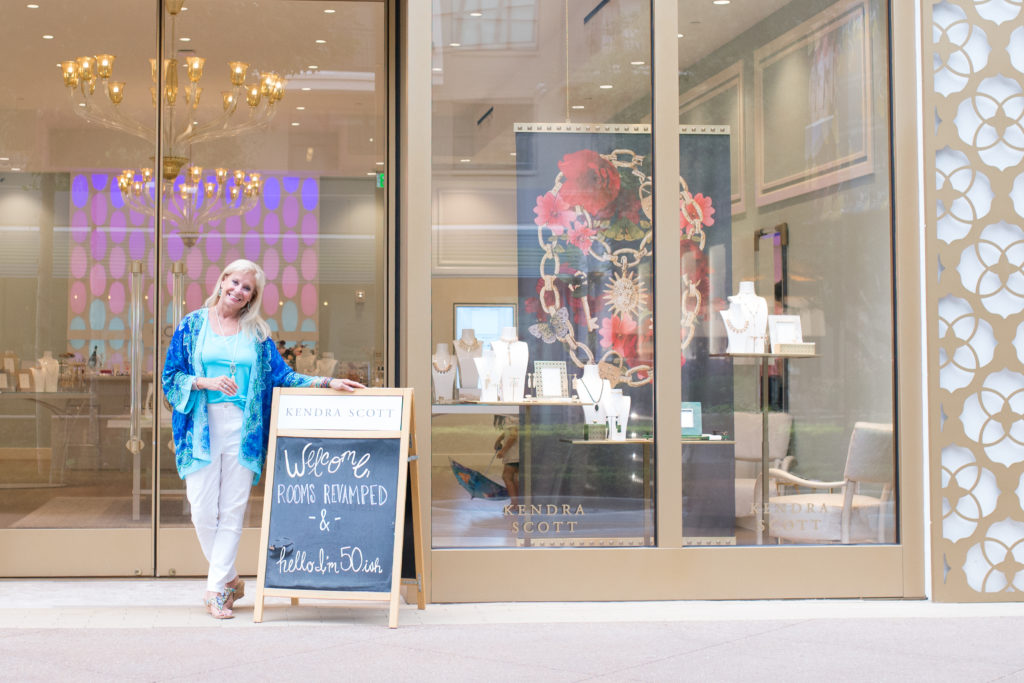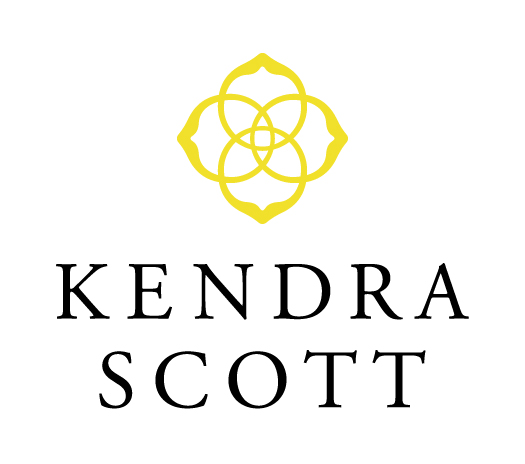 MY Fashion Look of the Day: I wore my blue kimono, light blue tank, and white jeans  from Chico's to go with my Kendra Scott jewelry. The jeweled sandals came from Hilton Head.
Thanks for stopping by!
I hope you have some Kendra Scott jewelry and if you haven't purchased her fine jewelry yet- what are you waiting for!!!
All of the wonderful photographs were by my dear friend, Jessica Jane Photography
A couple were shot by me!
I would love to hear from you!
Follow me on Instagram, Twitter, FaceBook, Houzz,LinkedIn, and Pinterest too!