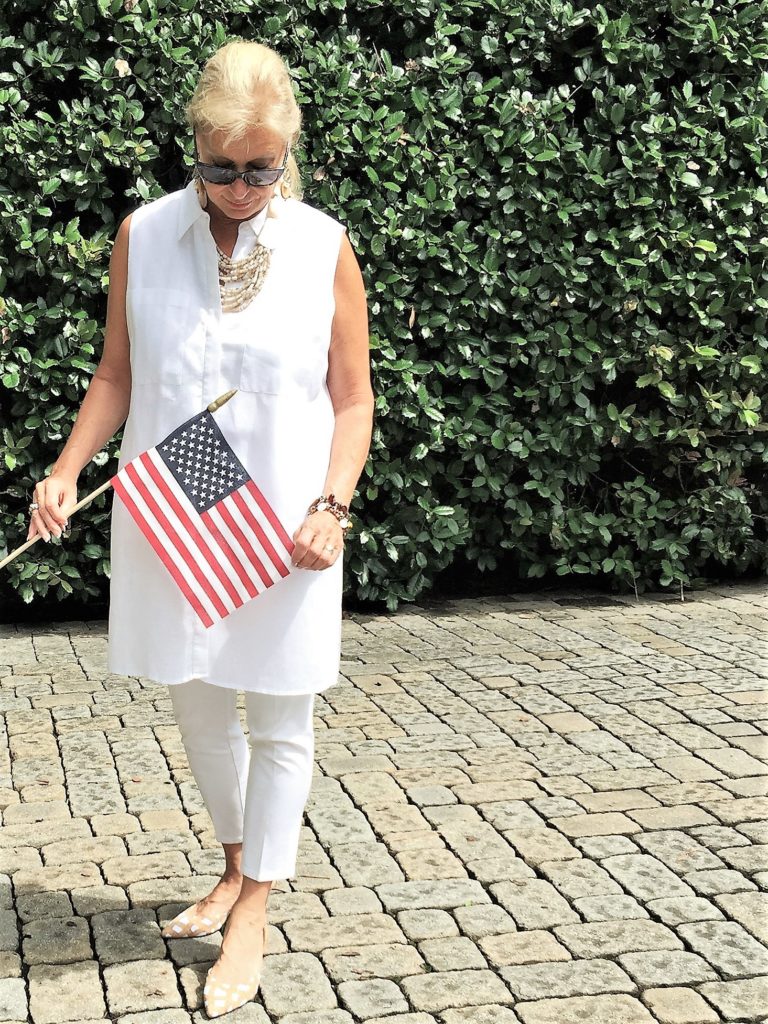 When I was dressing today for a meeting with my clients, I was reminded of my visit to the American Cemetery and the bluffs overlooking Omaha  Beach during our trip on the Seine river cruise..When we were planning this Seine river cruise, we wanted to see Omaha beach and the cemetery in Normandy where our troops landed on that fateful day on the 6th of June in 1944.  We were eagerly anticipating this day  and I  even planned the outfit I was going to wear.
I loved studying about WWII and D-Day was the turning point in the war. This was the largest amphibious assault  led by America, Britain, Canada, and Free France troops.
To see the cliffs where the invasion occurred during a full moon back on June 6th was breathtaking as it was a somber reminder that thousands of soldiers died during the invasion. Our guide told us that the soldiers who scaled up the cliffs were sitting ducks because the germans were hiding in the bushes.
The first boats that landed were immediately hit. Many died and many drowned because their backpacks were so heavy.
The horrors of this war is 73 years old but to step onto the hallowed ground and to visit the graves of 9,387 soldiers who were laid to rest is so moving and beyond words.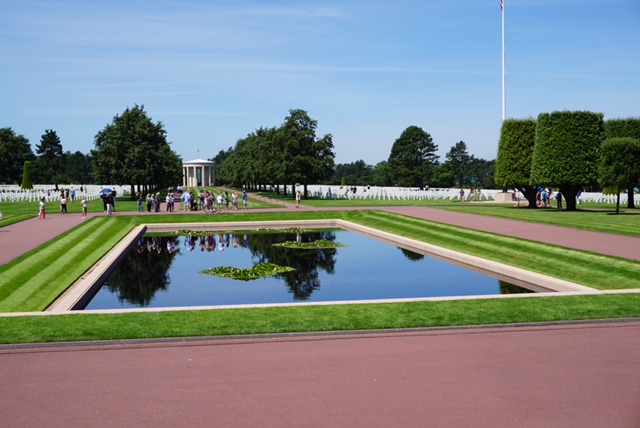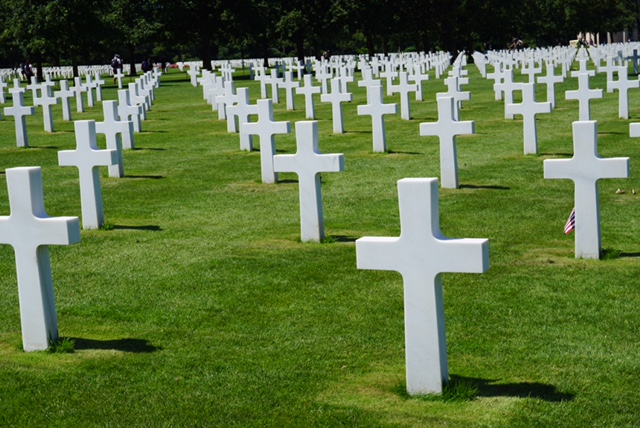 I knew I would be visiting a special place that is a cemetery and  I wanted to wear something dressier and respectful to the cemetery. Wearing white shows reverence and my linen outfit was also appropriate to wear in 87 degrees. I was cool and comfortable in the heat but I wanted to be dressed appropriately for such a somber visit.
My husband was in American tourist attire. He didn't want to wear his sneakers but his walking shoes looked silly with his linen shorts. He had no other options. He  also made the decision not to  visit Europe in the heat of summer. He likes to dress nice too ,but hot is hot!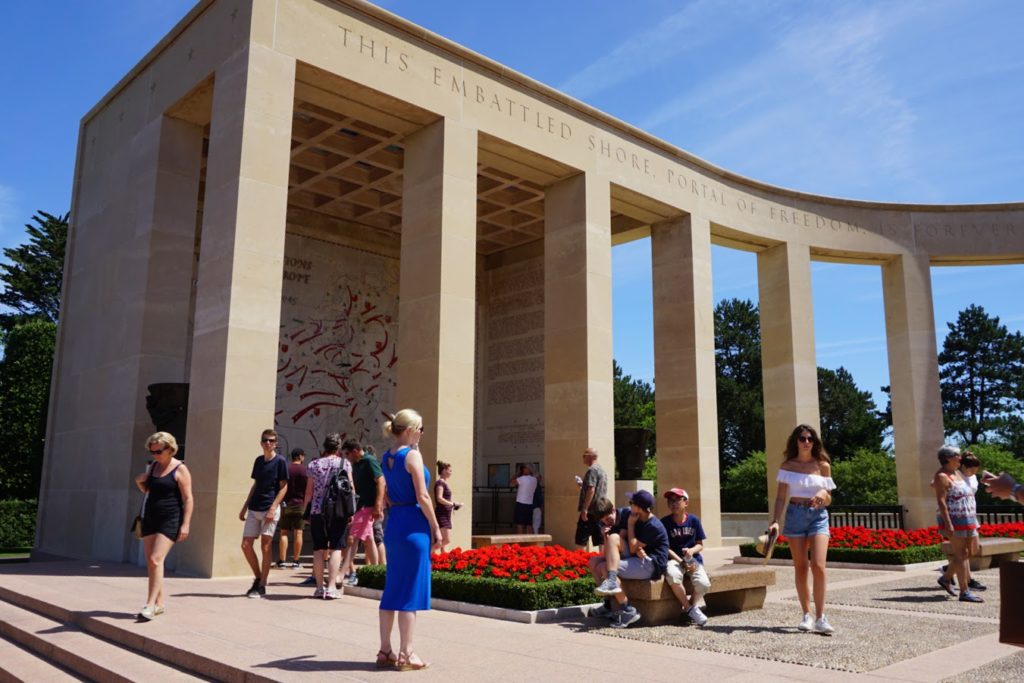 Most of the American tourists were comfortable being dressed as the American tourist. The lady in the blue dress was a French guide.
I thought it was a lovely gesture by Avalon Waterways to give each of us a rose to be placed at the gravesites of our choosing. We found an unknown soldier's grave and placed a rose in his honor. There are Jewish gravesites for the Jewish Americans who fought in the war which I thought was lovely too.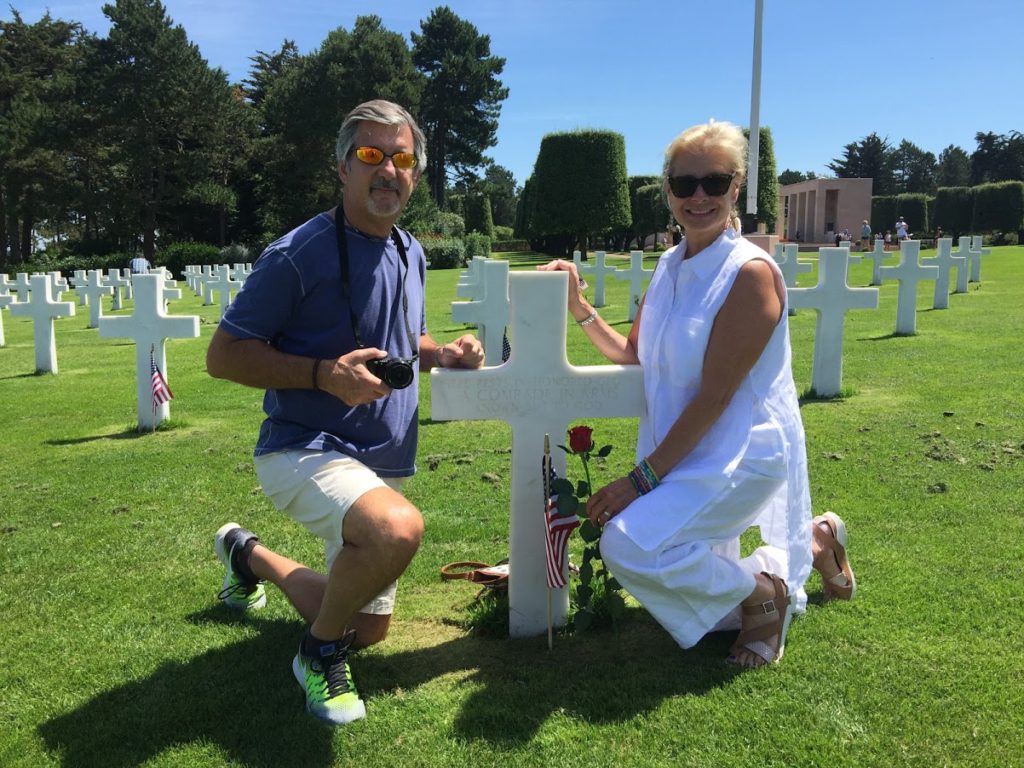 The names of 1,557 Americans who lost their lives in the Normandy campaign but could not be located and/or identified are inscribed on the walls of a semicircular garden at the east side of the memorial. I was looking to see if anyone had the last name of Wakefield or Knox on the wall.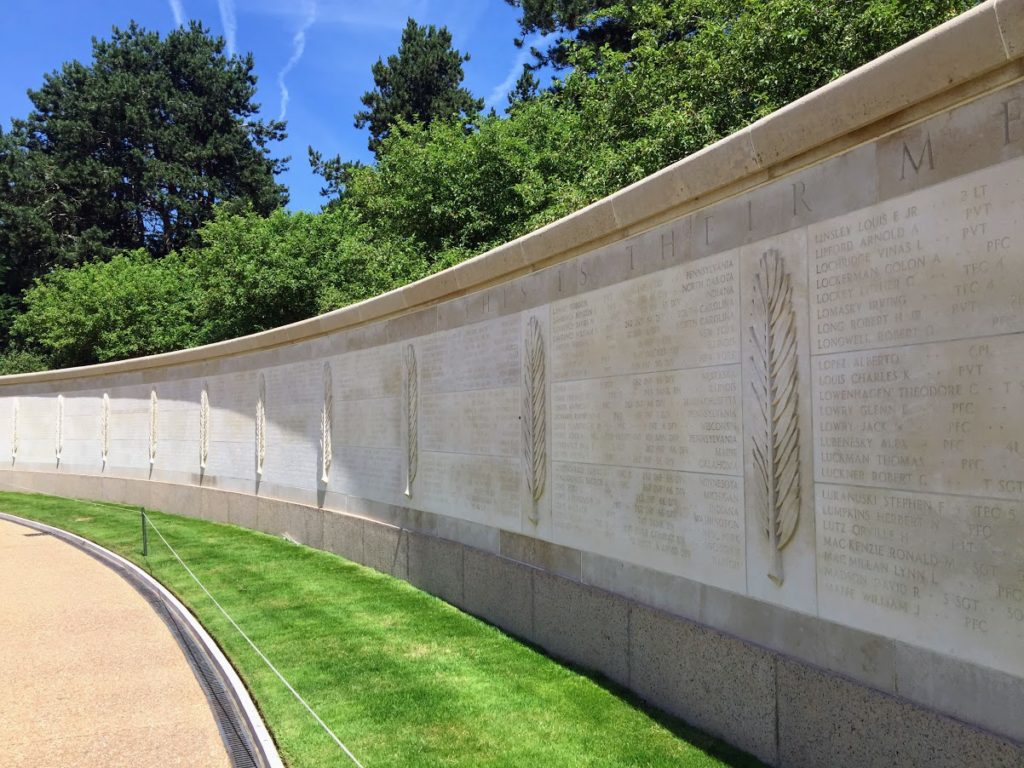 Other points of Interest
We made a stop along the tour to Pointe du Hoc. Pointe du Hoc is a cliff between between the Omaha and Utah beaches. During Operation Overlord (D-Day invasion) US Rangers climbed up the cliff and held this strategic point against German counter-attacks in one of the heroic battles of that day. Now you get to visually see what our troops were up against when they scaled the cliffs to the awaiting German army.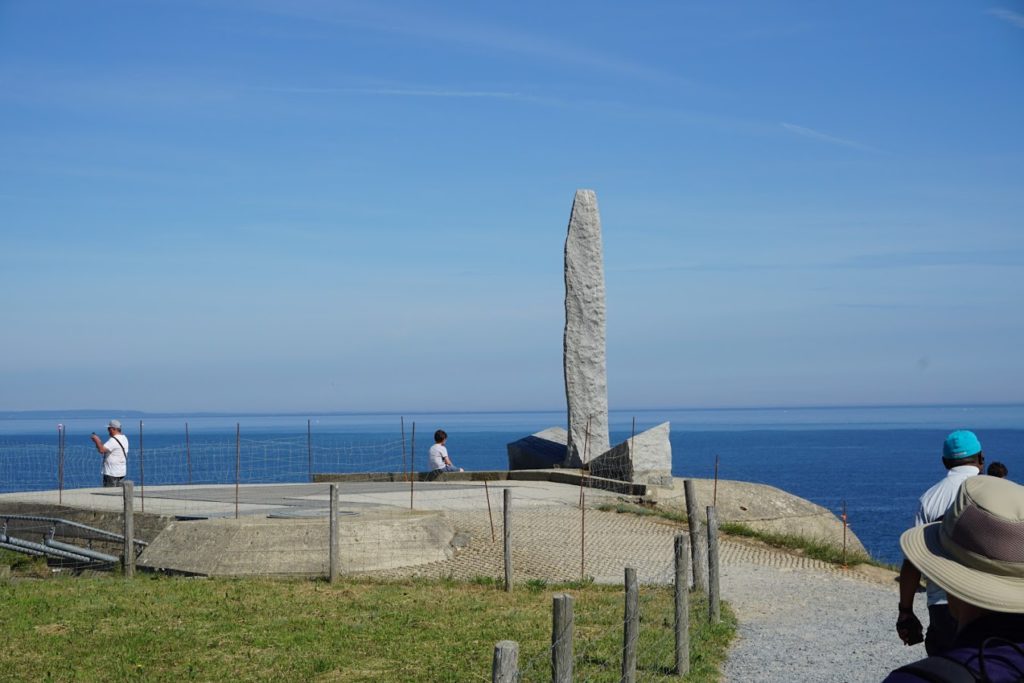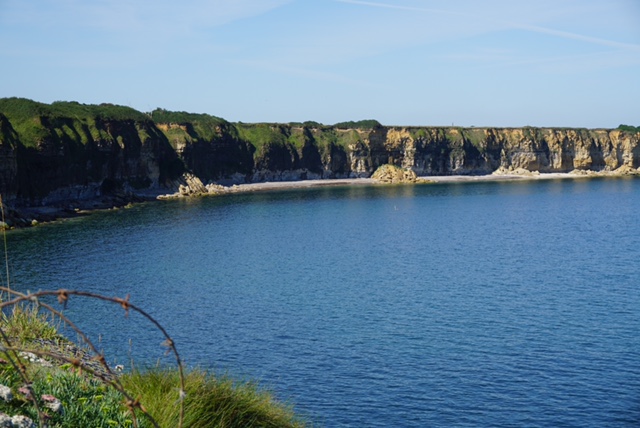 The ruins of the German bunkers where they had their guns facing out toward the water  was a somber reminder of our soldiers sacrifice.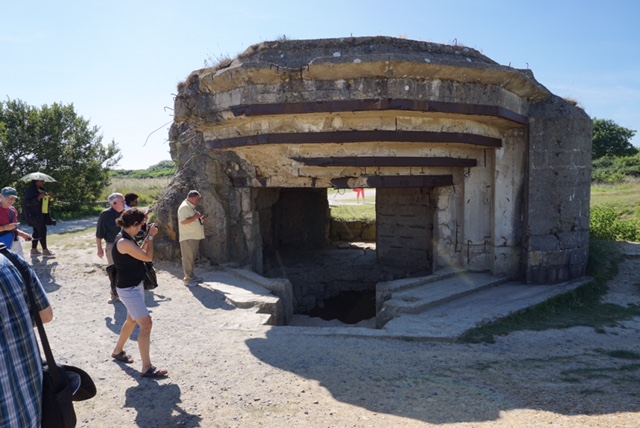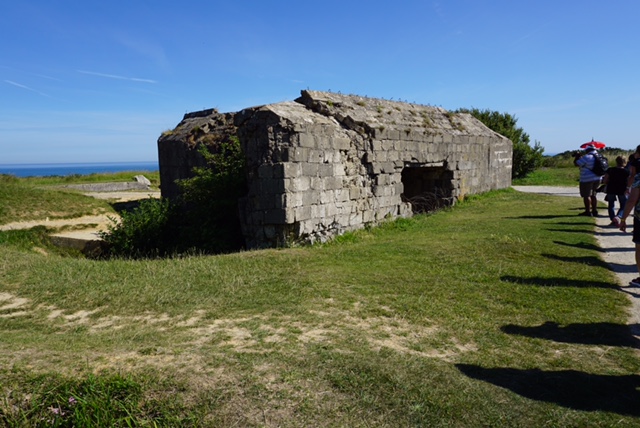 Les Braves is a war memorial that is located on the shores of Omaha Beach and commemorates the fallen American soldiers, of World War ll who have lost their lives on the beaches of Normandy, June 6th 1944.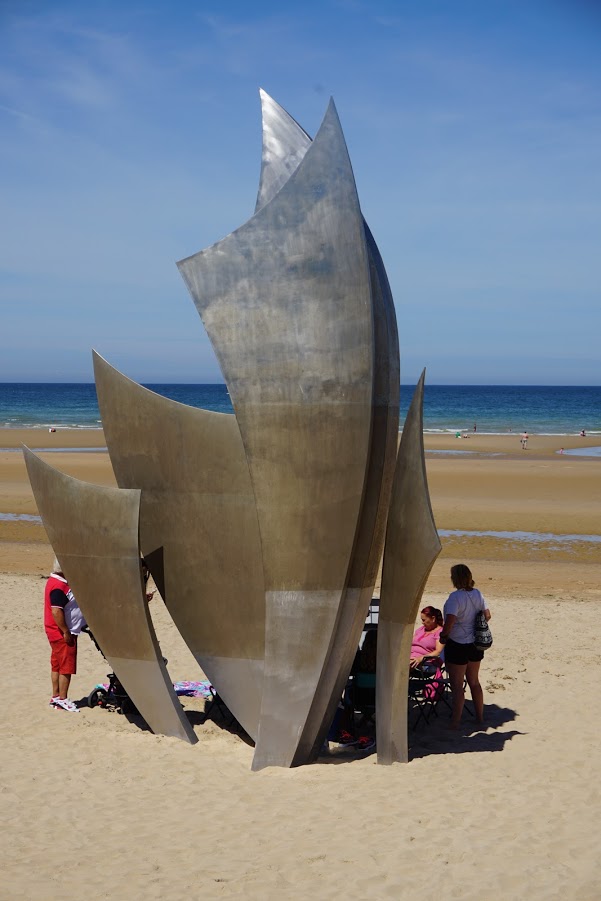 The sculpture is used for shade by the beachgoers. The sculpture is quite impressive when you see it in person.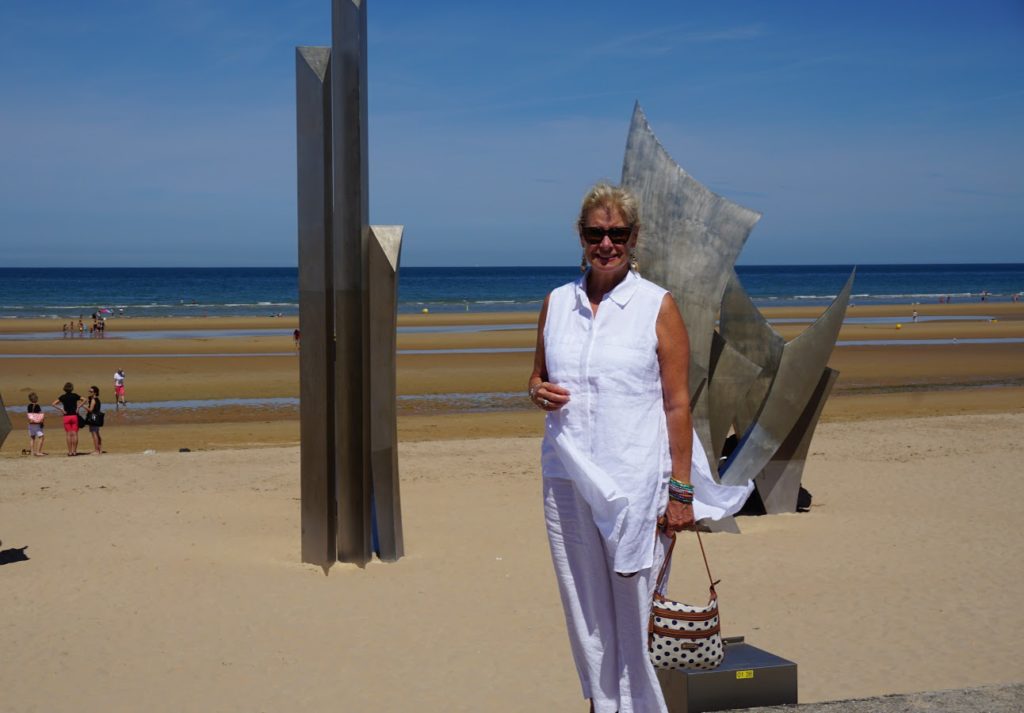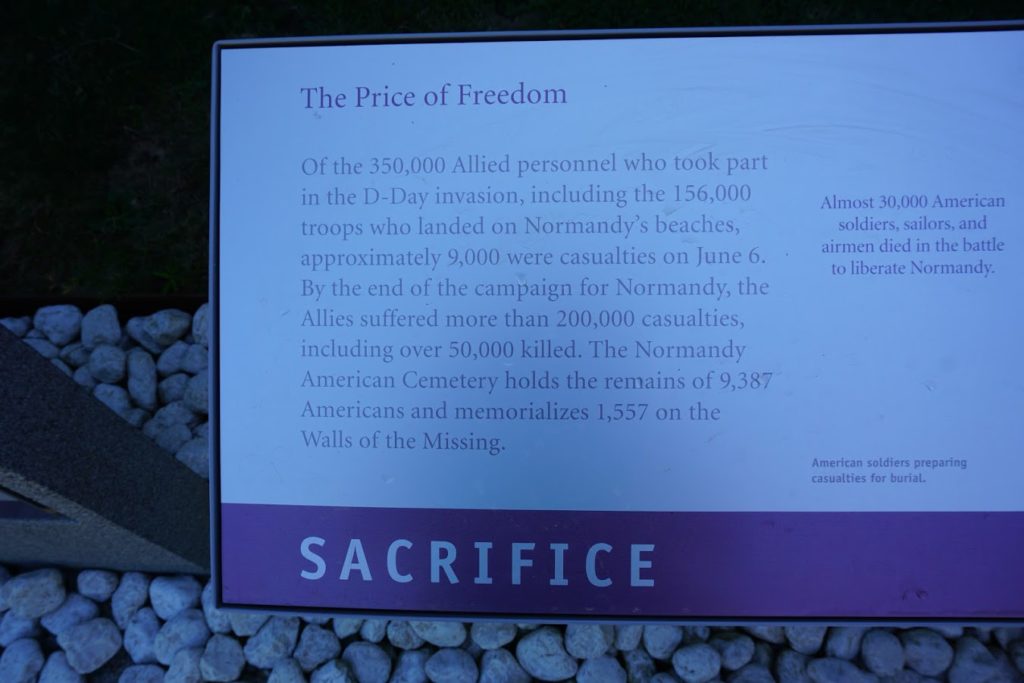 I am so happy my husband shot this sign at the American cemetery.
Today I am reminded that being a patriot is not about being a racist. We went to war against Germany because  Hitler declared war on us. He did it  apparently offhand,without consultation, (consider his declaration against the United States in 1941, his personal tweet).
As I am writing this blog today, it was a sad weekend in Charlottesville, Va.  where white supremacist and neo nazis  clashed with counter protesters. 1 fatality and 19 injured. What I find so wonderful was an elder statesman from Michigan,  John Dingell, reminding us once again why we went to war against the Nazis.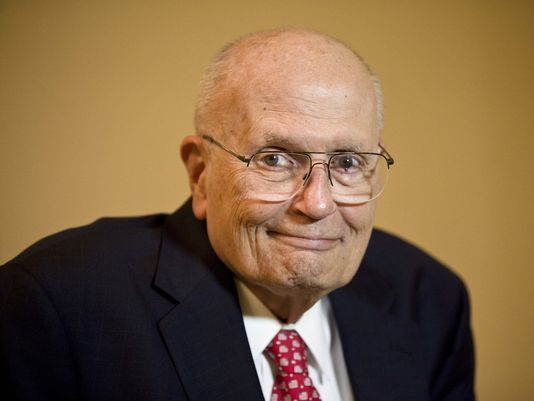 I signed up to fight Nazis 73 years ago and I'll do it again if I have to. Hatred, bigotry, & fascism should have no place in this country.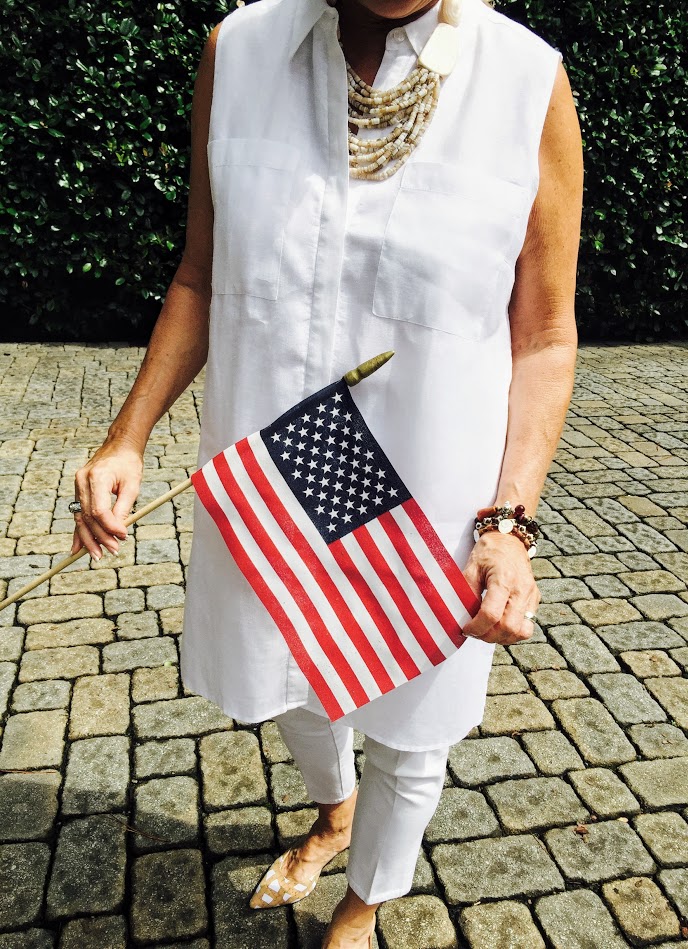 My Fashion Look:  I wore my white Chico's linen tunic and  jewelry  with my white linen pants from Soft Surroundings. The walking sandals  were from Clarks. I switched up my look for my client meeting and wore my Chico's white jeans.
Be kind to one another my friends.
This is not a political statement ,but I am so sick of the anger and the hatred that is filling up our country.
Thanks for stopping by!
I would love to hear from you!
Follow me on Instagram, Twitter, FaceBook, Houzz,LinkedIn, and Pinterest too!