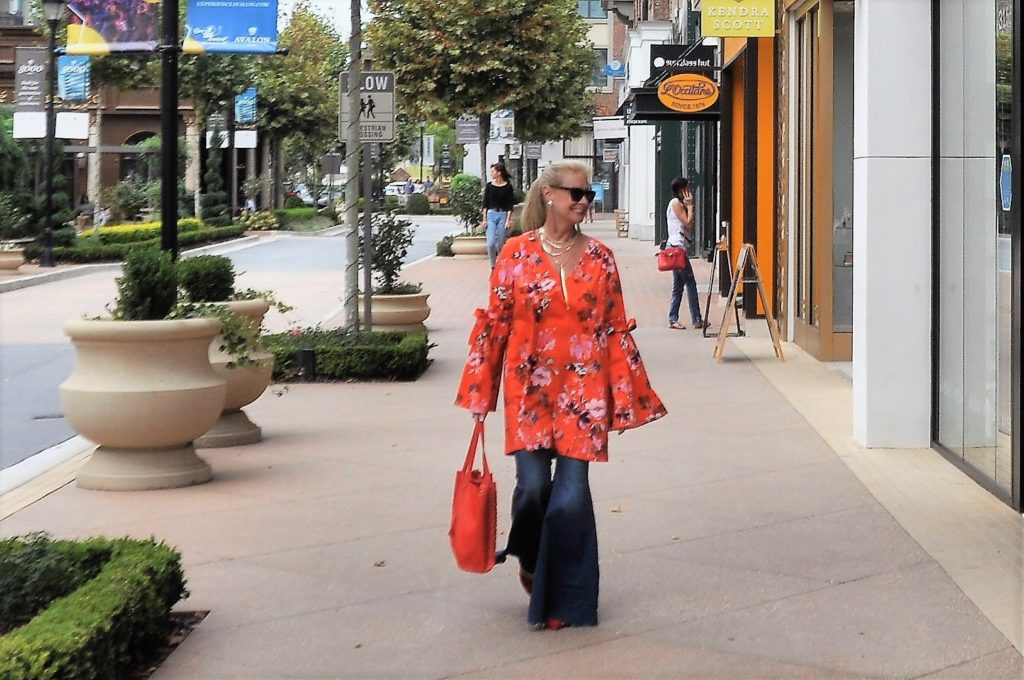 Well friends I've found a great little dress that I can actually wear two different ways and get a lot of mileage out of it. Do you have dresses that can also be worn with pants?
I recently stopped into Free People in the Avalon Mall in Alpharetta looking for some fabulous fall fashion and you saw one of my purchases in a recent blog post.
If you love boho chic style you will love Free People. Yes, this store caters to a younger crowd but you can still find clothes that fit your fashion style. I really like their clothes and this mini dress with the large bell sleeves called out my name.
Styled with Pants: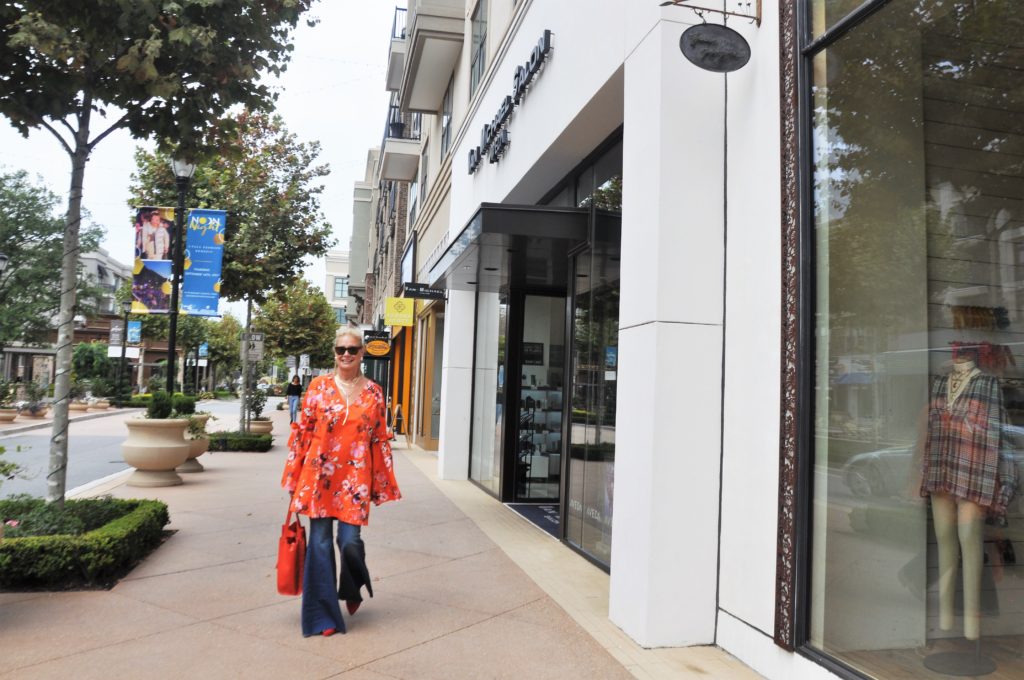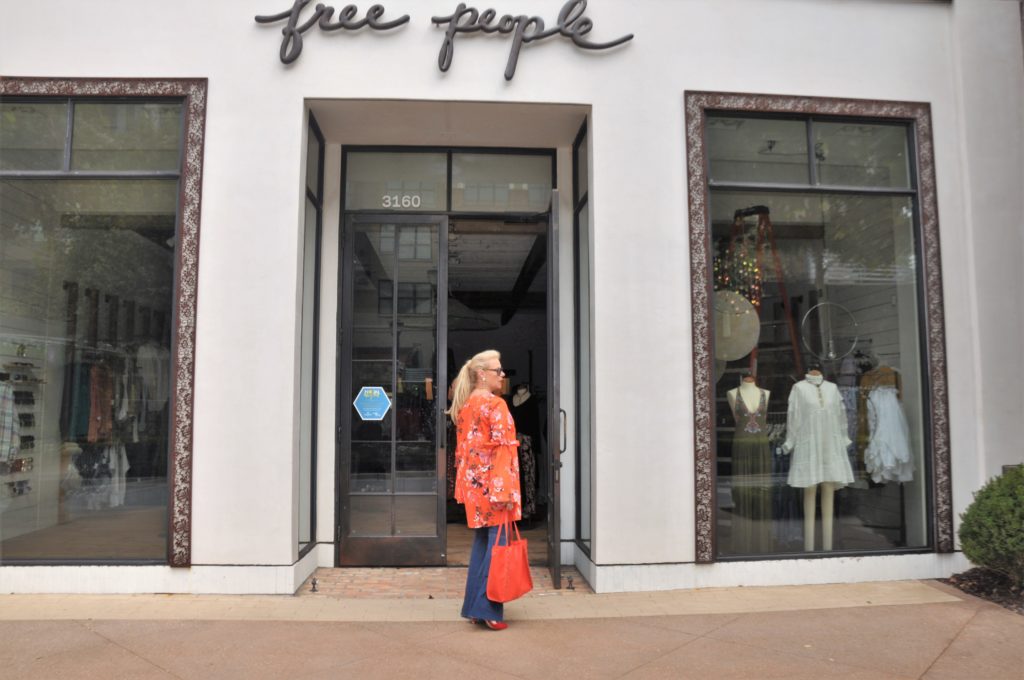 Because my legs are not in great shape, in my opinion, I tend not to wear really short dresses. I have varicose veins on my right leg and have become very self conscious of this large vein  mapping it's way down my leg. I actually admire great legs on women over 50 because they inherited their great legs from their parents.  I inherited varicose veins from my father's side of the family. He didn't know he had them until he asked me why I had them. (My mother's legs are flawless.) He thought the veins made him look muscular!  Hello!  Another conversation with you ladies on another blog post.
This mini dress was a nice length and I can wear it so many ways. With or without leg coverings.
I paired this dress with the flare jeans and long dangling tassel earrings from Free People too. I love these high waisted flared jeans but you can also wear skinny jeans, jeggings, tights, and leggings to cover your legs if you're self conscious about your legs like I am.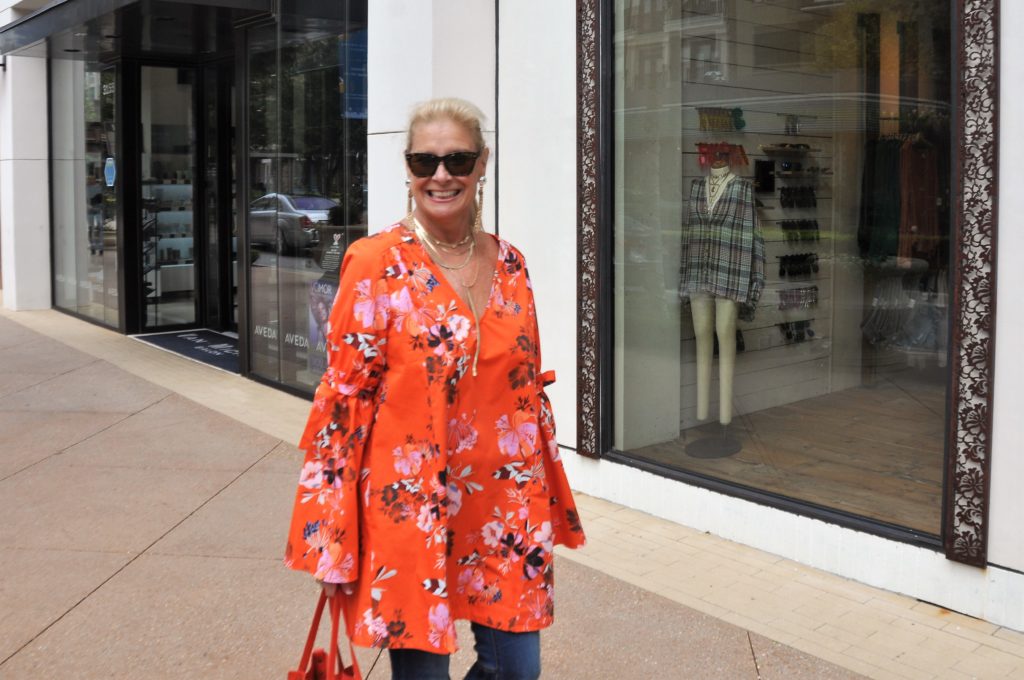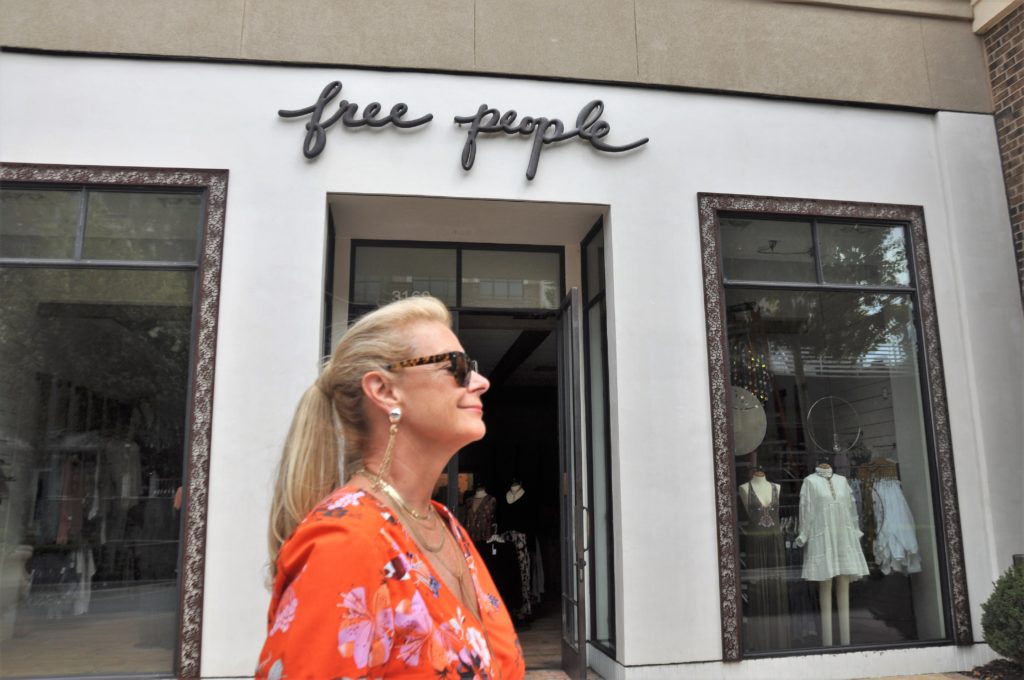 This mini dress has side pockets on it too and gives the impression of being a tunic for taller older women like myself.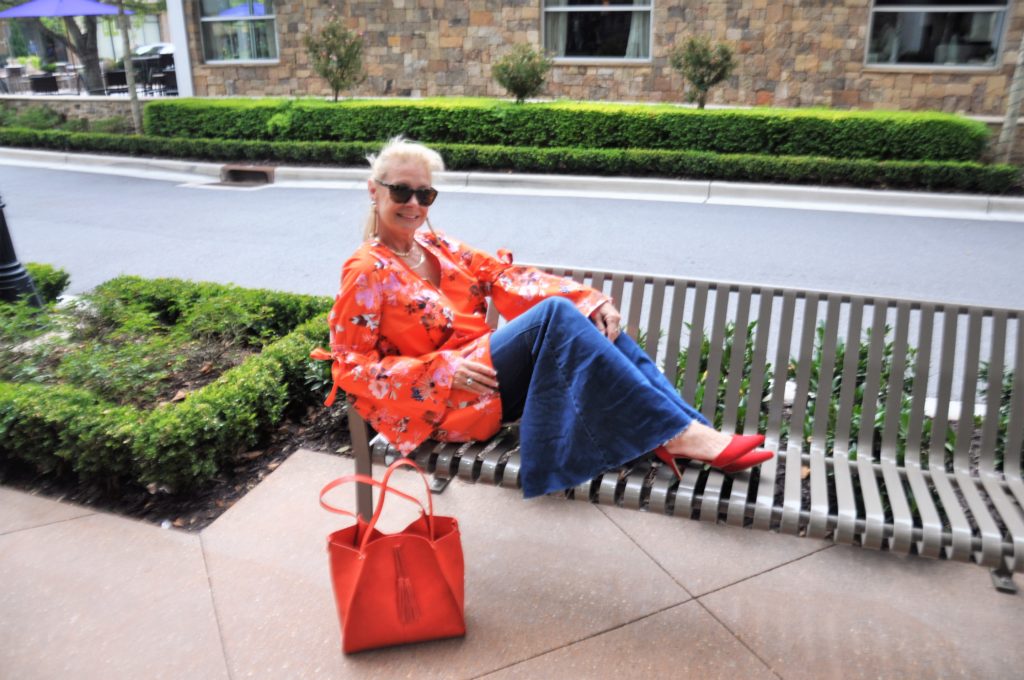 See how stylish I am just sitting on a park bench? I wanted you to see how big the flare is on these jeans!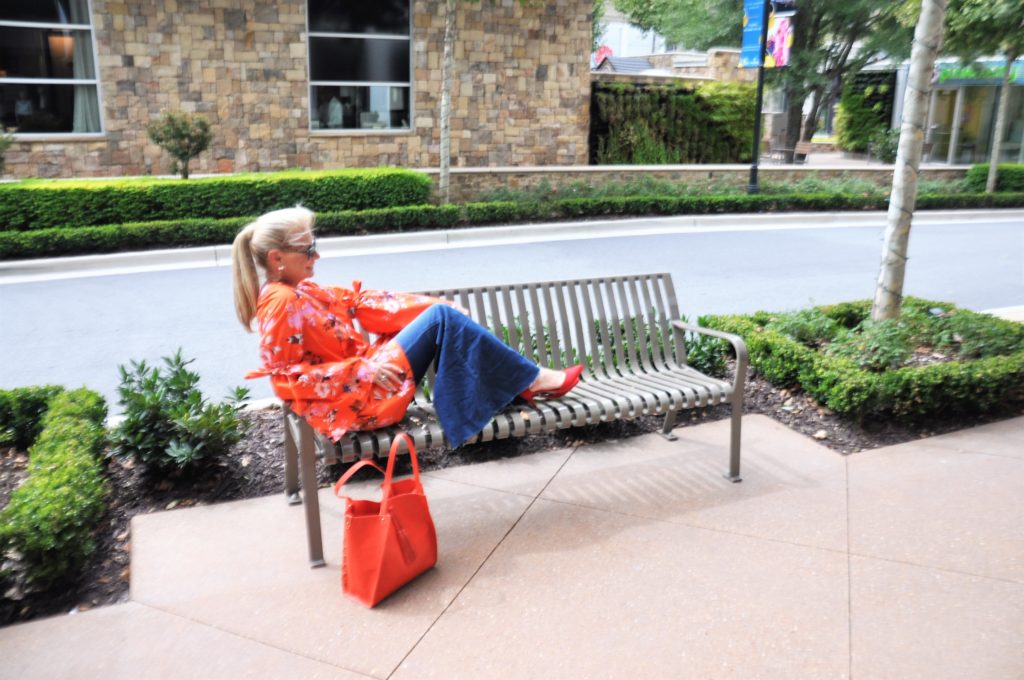 Styled Au Natural:
If you have great legs or not, this dress can be worn as it was meant to be. As a dress….
For an evening out I can wear it as a dress and I plan to wear it with boots and leggings when the weather get cooler.
Right now Atlanta is in the high 80's and I'm not ready to wear boots and leggings yet. I put on my favorite navy sandals and changed up my earrings  but still wear my opal necklace, both from Free People.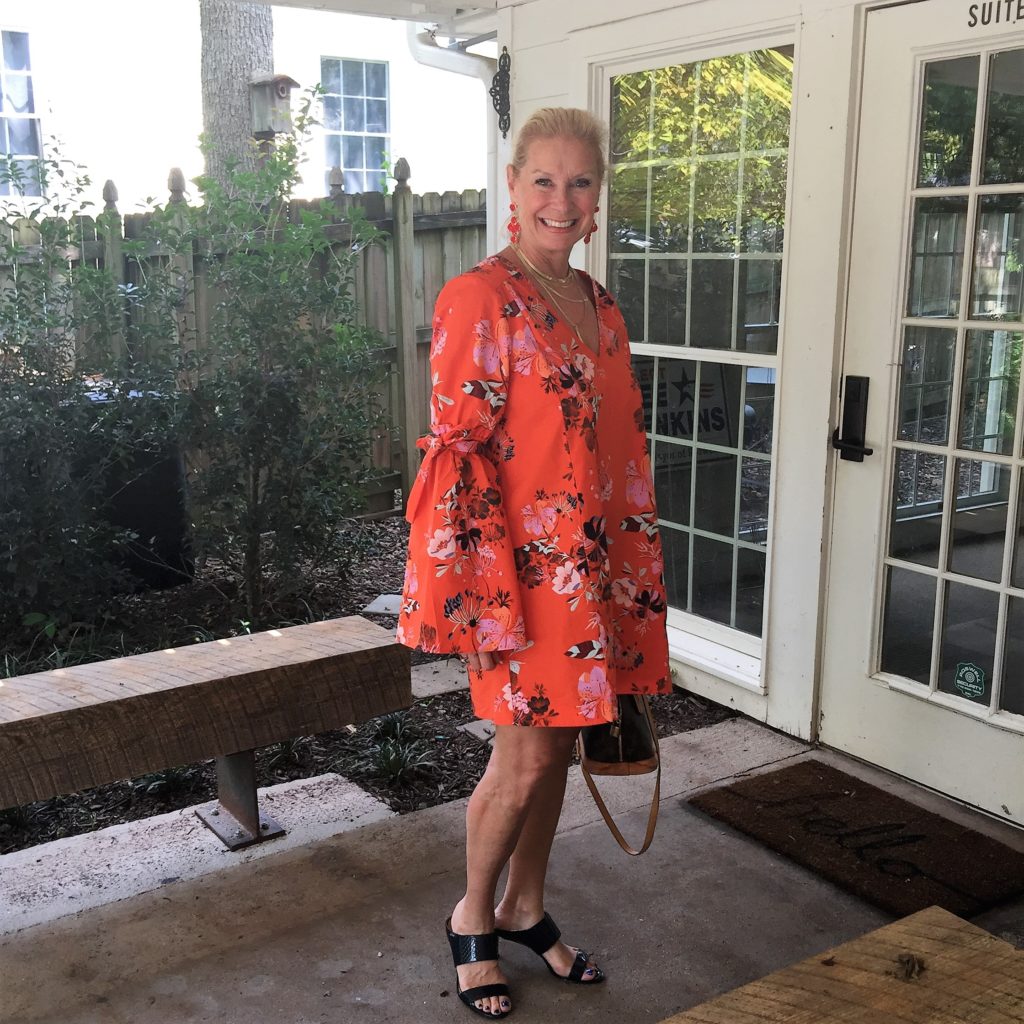 Yes, when dining out, be aware that bell sleeves can get in your food . But they won't prevent you from enjoying a good glass of red wine!
I hope you're having a terrific day and are inspired to purchase a mini dress and style it your way!
This post contains affiliate links which generate income for Hello I'm 50ish. Please see my complete disclosure statement Here.
Get my Look
Lover Of Mine Printed Mini Dress by Free People • Free People • $69.95
Just Float On Flare by Free People • Free People • $78
City Slicker Opal Necklace by Free People • Free People • $38
SHASHI – Kelsey Beaded Statement Earrings Earring • Shashi • $42
Rose Cross Statement Earrings by Zhuu at Free People • $38
I hope you're living your best life now and that age is just a number to you too!I would love to hear from you!
Follow me on 
Instagram
, 
Twitter,
FaceBook
, 
Houzz
,
LinkedIn
, and 
Pinterest 
too!