I am lucky to have both parents living and we do discuss what they want to see or experience before it's too late.
 My father and I were both blessed with airline careers, where we traveled a great deal by air, but rarely by water. He was an avid sailor until his mid 70's but never experienced traveling through Europe by boat.
 On his 80th birthday I asked him what else he wanted to experience and he said he wanted to see Europe on a river cruise.
I made the arrangements and spent 7 wonderful days with my father on a Rhine River cruise. I'm so lucky he had it on his bucket list!
River cruises are all the rage for the over 50 crowd  and many of my friends have already been on 3 of them. The cruises range from 7 days to 21 days and the destinations are not limited to Europe but expanding to Russia, Asia, and Egypt.
The difference between ocean and river cruises are the following:
You see land everyday, not vast amounts of water.
You see land everyday, not vast amounts of water.
Rarely see children on board, not unless you book a Disney Adventure.
You are docked in a city and walk off the boat vs. taking a little boat to a city.
 River boats are not floating cities, small number of passengers means you can actually meet and know 50% of the passengers. Which I did, but that's an option.
You do not experience sea sickness. You can hardly tell the boat is moving.
The First 2 Days in Amsterdam


I arrived at 10:30 am  in Amsterdam with only 2 hours of sleep but with 3 movies under my belt. I was fortunate to be sitting in business class on Delta, so I had a lovely dinner and light breakfast before arrival. (I highly recommend spending money to sit in business class on any flight over 6 hours.)
Why am I showing you this bathroom?
Because I am an interior designer silly!
I dined alone in the hotel restaurant on my first night and enjoyed having duck prepared Dutch style. Delicious!
In the morning I decided to venture into downtown Amsterdam for a little sightseeing, but I was 20 minutes away from the center of Amsterdam. I took the metro train instead of a taxi. Mind you I am 50ish sightseeing alone in a foreign city. This was a completely new experience but I was not worried at all. I decided to walk behind women shopping together to blend in.  I also carried my small pouch purse in front of me and left my big designer bags at home. No fanny packs please! They scream American tourist!
Word of caution for all you who have never been to Europe: Plan on doing a lot of walking! Purchase REALLY good walking shoes because European cities have lots of cobblestone sidewalks, while charming and quaint, can make you twist your 50ish ankle!!
I purchased these Naot casual walking shoes from Foot Solutions in Atlanta, but  I highly recommend everyone investing in a good quality shoe, not just wearing your sneakers. I also packed my golf skirts because they do not wrinkle and I prefer skirts to shorts when I travel.
Amsterdam is a city of canals, decorative gabled roofs, bicycles, museums, the Anne Frank House, and the famous Red Light District.
So much to see and explore in Amsterdam. This city is definitely a 2 day trip.
The  wooden shoes worn in Holland by the Dutch filled the souvenir shops in Amsterdam.
I highly recommend taking a canal boat tour and seeing Amsterdam from another perspective.
Below:
Many of the canals in Amsterdam are lined with house boats. Do you see them in the photo through the bridge?
Shown are examples of the Step, the Bell, and the Ornate Raised Neck Gable Roof.
 Below: The building on the corner has 2 Step Gable Roofs. Isn't it wonderful!
 September 11: All aboard the Avalon River Boat!
We boarded the boat at 5:00 pm and was greeted in the lounge by the captain and crew of our Avalon excursion before we got settled into our rooms. This is also an opportunity to meet your fellow passengers. As you can see we are all over 50.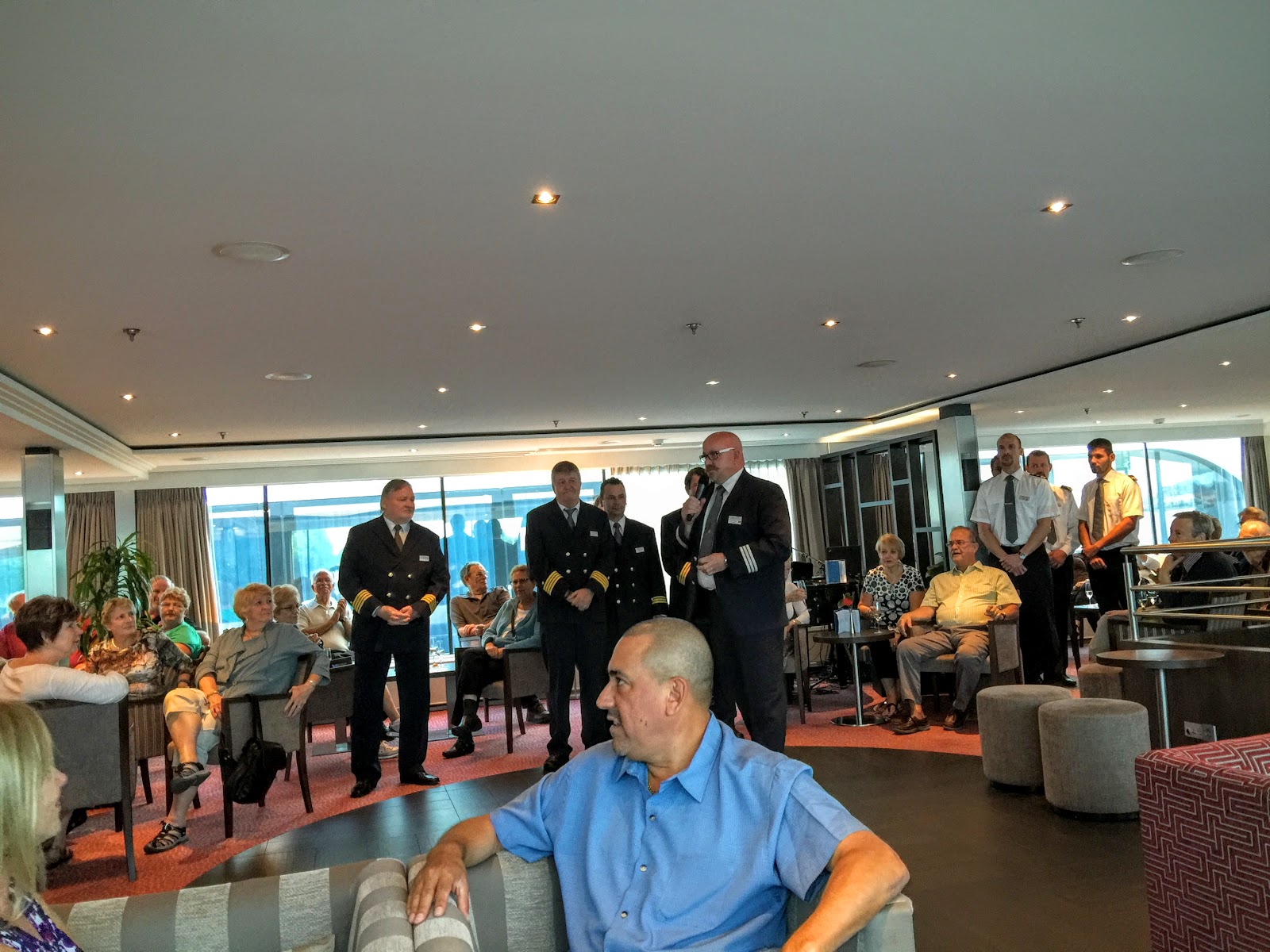 Dad stayed on the top floor and I was on the second floor. There is a lower floor on all river boats but you don't get a very good view outside of your room. 
The lower level is also the cheapest priced level, so if you don't need the view, go with the lower level pricing of your river cruise boat*.
*River cruise lines tend to penalize single passengers and expect to pay double if traveling alone. Which my father did and I had to pay an upcharge when my husband had to cancel at the last minute. I paid more to be a single passenger if I still wanted to go on the trip without my husband. There were a few single passengers on this trip with dad and I.
All rooms have twin beds that can be pushed together to make a queen size bed. Plenty of storage and my luggage went under the bed. They limit the size to 30″x21″x11″ which is a nice size suitcase. (Not the carry on size. Checked baggage size.)

The small European Marriott bathroom prepared me for the small cabin bathroom. This bathroom had l'occitane products which I love! It was also fitted with Grohe and Duravit features.
All set for dinner and ready to meet my fellow passengers on this Rhine River cruise.
Oh I forgot to tell you that you learn safety and evacuation procedures on the first night of your river cruise. But not until after the cocktail party!
Next stop Cologne, Germany and the castles along the Rhine River!
Thank you for stopping by and reading my blog about Amsterdam!!
Follow me on Instagram, Twitter, FaceBook, Houzz,LinkedIn, and Pinterest too!