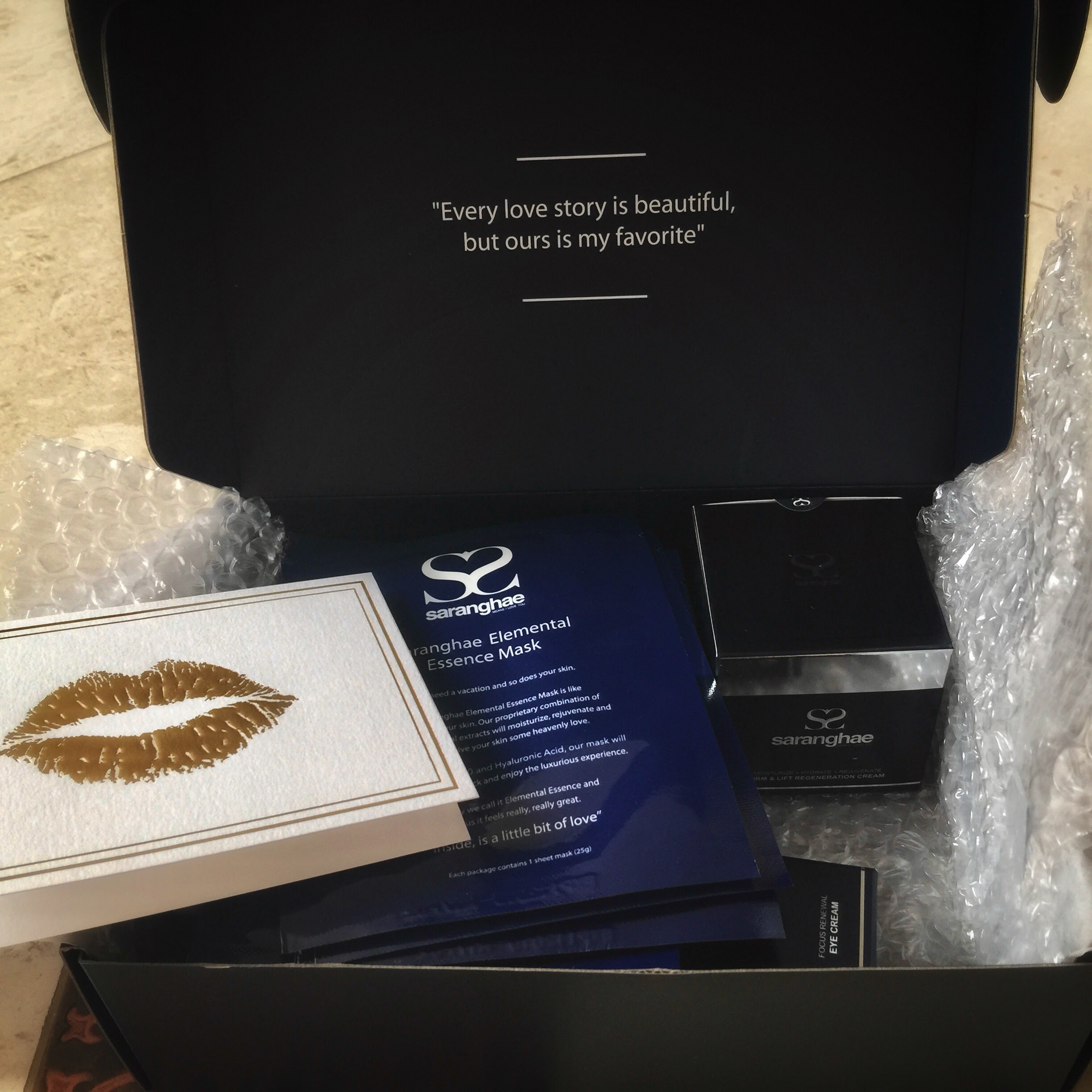 Can you imagine how delighted I was when this beautiful package arrived a month ago? I love a great skincare product that helps to hydrate, heal, and regenerate my sun damaged and dry 50ish face.
How can you not love a product with a principle belief of :
"Love the world, love one another and most of all love yourself" – Lee Myeong Jo
I was asked to review Saranghae's  5 Step Skincare Routine and I will share with you my honest opinion.
I had never heard of Saranghae ,( which is "I love you," in Korean) until I received a lovely letter from the North America marketing people asking that I try their product and give my honest opinion of what I think of their skincare line.
Lately every skincare product out there is now marketing or should I say targeting the over 50 woman touting fabulous results with their products. I refuse to sign up for any skincare line that wants a financial commitment from me long term, before I even try the product, nor will I jump on the bandwagon to sell the product.  All beauty and skincare companies today are selling "anti aging"  skin care because the over 50ish woman is looking for a better product that may or may not diminish crow's feet, deep lines, brown spots, and dark circles and puffiness under your eyes.
Disclaimer:This is product was given to me to review. I received no money from Saranghae, but what you are about to read is an honest opinion of the product and what I think of it.
I told the marketing team at Saranghae that they wouldn't  see my review until after 4 weeks. To share an honest review requires days of testing the product, (not a few days I see a lot with bloggers), but  long term testing.  I received this product in September and have been using it for over 30 days.Being honest and authentic are a few of my core values. This is an expensive product to begin with and having my review of this product for  you is my responsibility as a  blogger.
Even on Saranghae's website they tell you to try their 5 Step Routine for 30 days before you can see the difference. "If you are trying our 5 step anti-aging routine for the first time, please give the routine at least 30 days to repair, regenerate and protect."
I think I am the oldest woman to review their product because every time I did some research I saw young women on YouTube, Instagram, and Twitter recommending the product .  I still do not like the term anti aging  and the overuse of the term. Many women have become so frightened by the pressure of social media and marketing towards looking youthful that they welcome anything that claims to stop time. Until society accepts the aging process as a normal progression in life, we will have companies promoting anti aging product.
The image below is very misleading because the right side looks like me and the left looks like me after a facelift or fillers.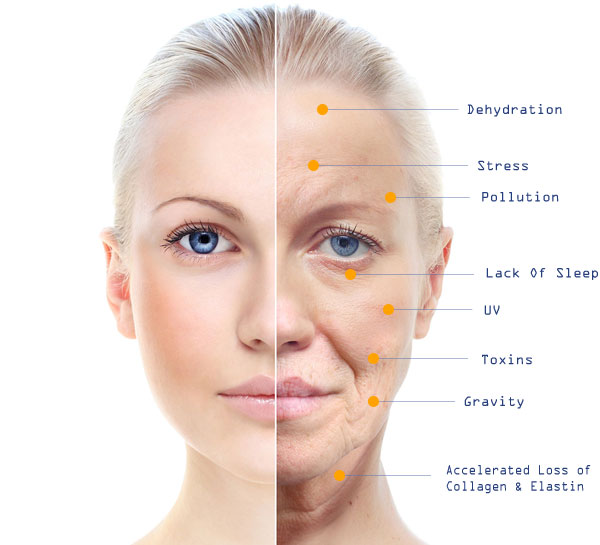 aft
To have my skin reverse the deep lines of stress, gravity, sun damage, and loss of  elasticity, I would need to have some major work done like fillers, botox, and then I would look like my oldest daughter Lisa, who is 30ish with perfect skin.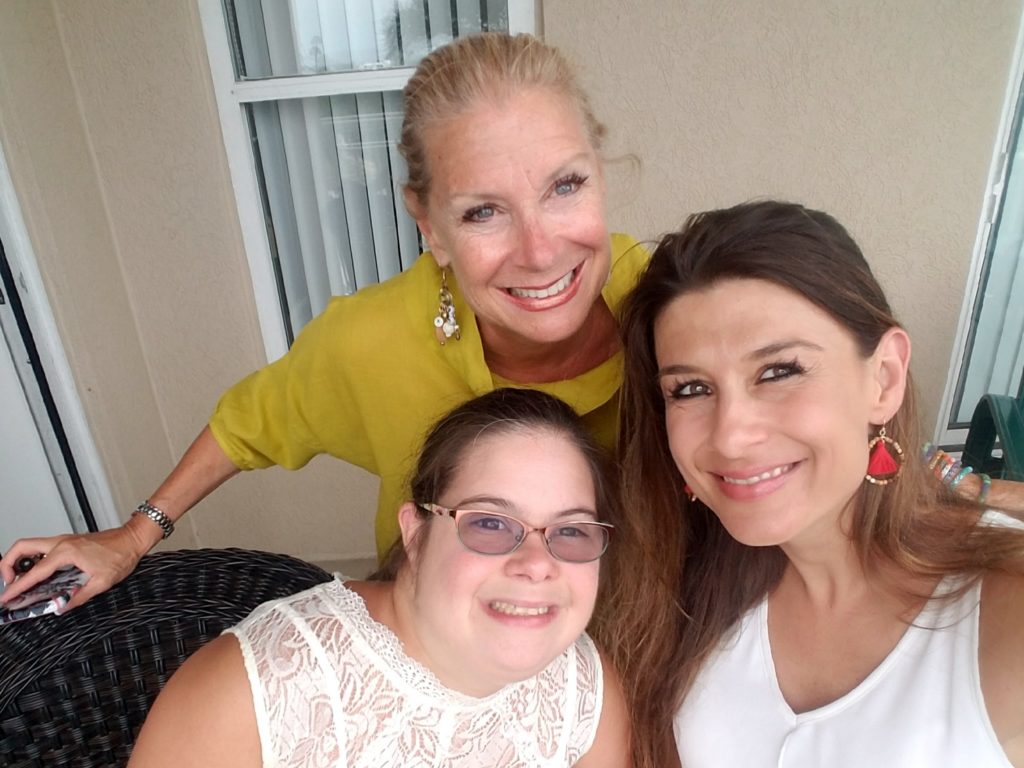 What Saranghae does very well for a person like myself who has wrinkles and dryness is skin maintenance of healing, regenerating, and protecting my skin from further damage.
Who is Saranghae?
"Saranghae is a multi-national company that maintains its boutique philosophy. Their mission is to bring the power and beauty of Asian botanicals to the world. Their goal is to always provide the highest quality and most innovative products with world class customer experience."
The 5 Step Process
The cleanser goes on first. This is an olive oil based cleanser and it will shock many of you who have never used an oil based cleanser. It did with me,but it is olive oil and it is so good for your skin and your insides! If you look at their recent website, it seems this cleanser is now a truffle oil based oil and foam cleanser.( I can only review what was given to me.)
A  little dab'll do ya!
The verdict: Still out on using an oil based cleanser.
2.The  Deep Radiance Essence & Serum
The serum is filled with botanicals , 10% Phellinus Linteus (Sang Hwang) Mushroom extract, plant based placenta, collagen, elastin and hyaluronic acid.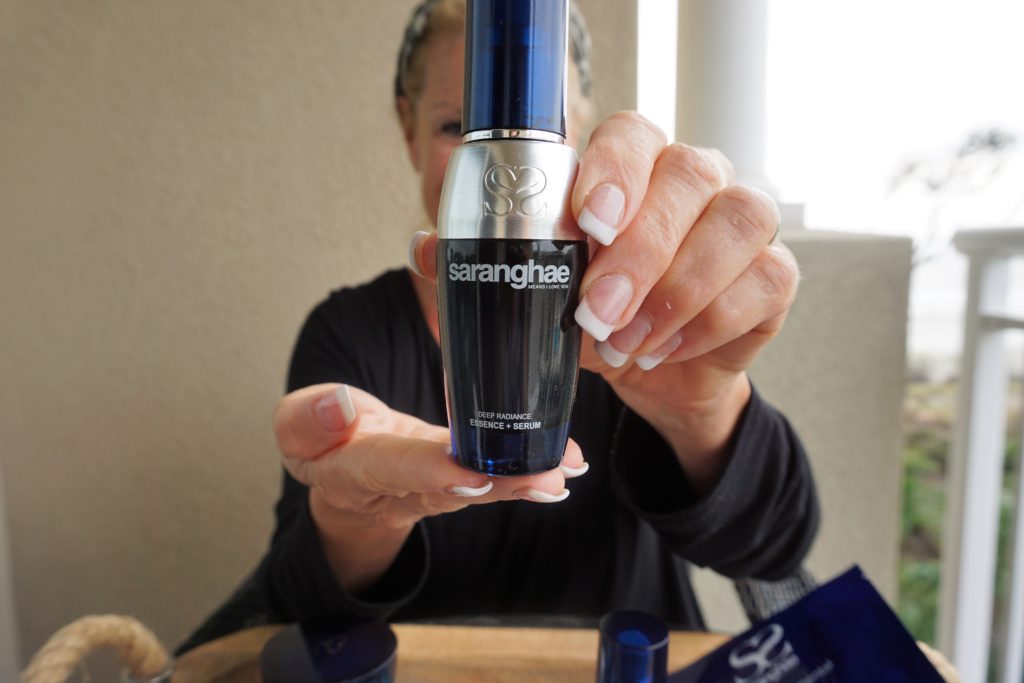 I applied this all over my face and waited for it to dry before I went to the next step, the Saranghae Firm and Lift Cellular Regeneration Cream.
The Verdict:  Love this product!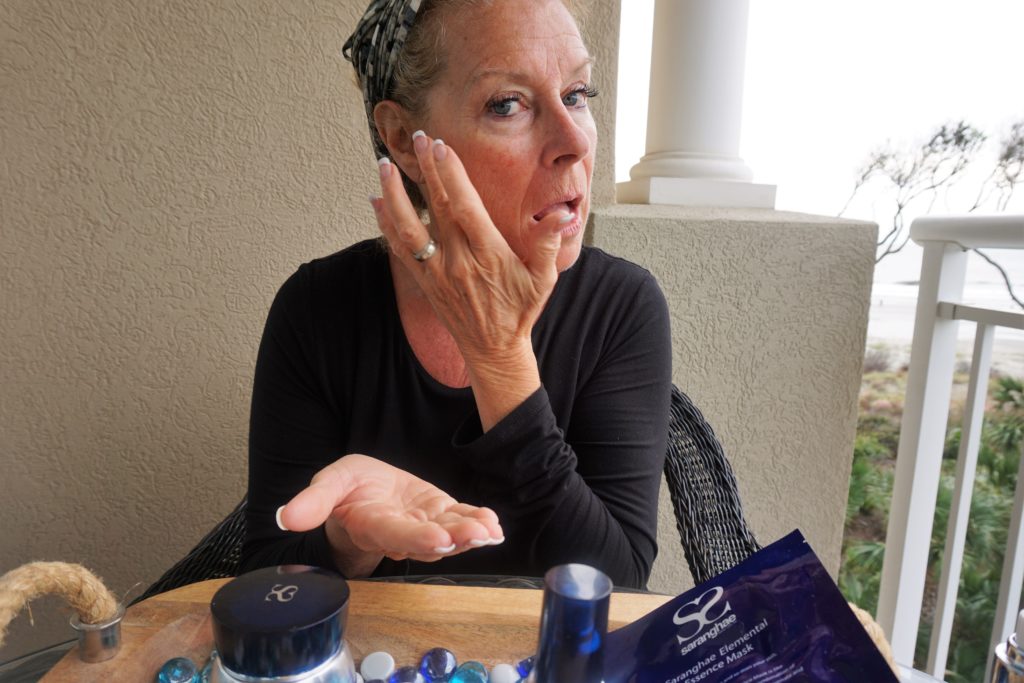 3.Saranghae Firm and Lift Cellular Regeneration Cream
This regeneration cream is a  natural blend of antioxidants, amino acids and regenerative peptides will deliver astonishingly smooth, supple and quite simply beautiful skin while diminishing age spots, redness and visible signs of aging.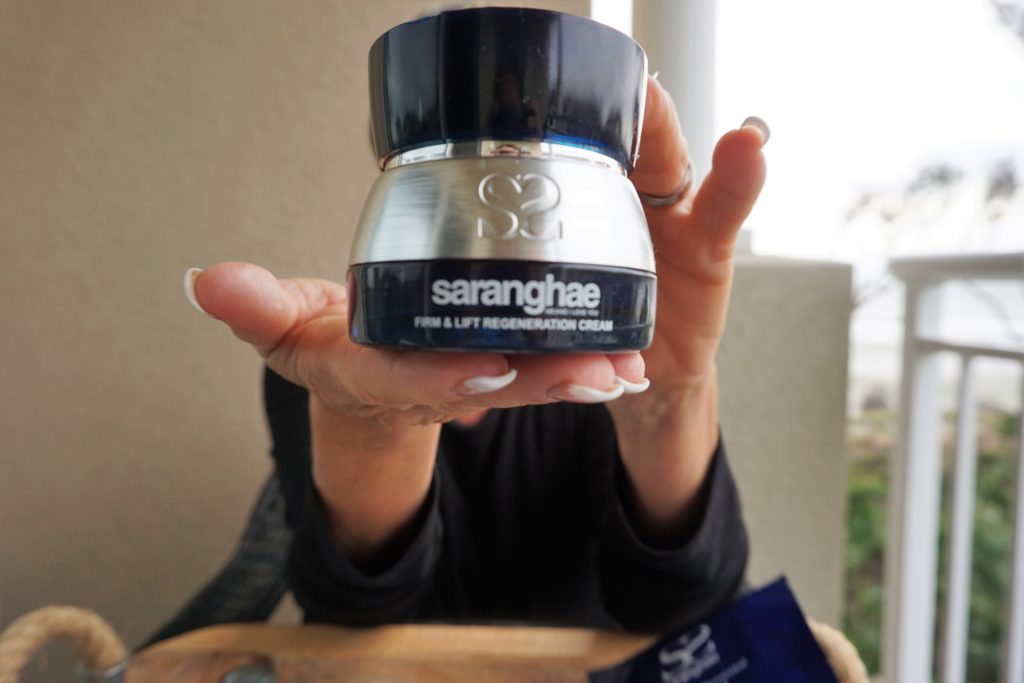 Saranghae's creams and serum are beige or skin tone in color because that is the natural color of the Phellinus Linteus mushroom.
The Verdict:  Love this product!
4.Saranghae Focus Renewal Eye Cream
Formulated with Phellinus Linteus (Sang Hwang) Mushroom Extract, adenosine, vitamin B3, elastin and collagen. They claim" this will restore vitality, diminish wrinkles, visibly lift and firm and brighten the appearance of dark circles around the eyes."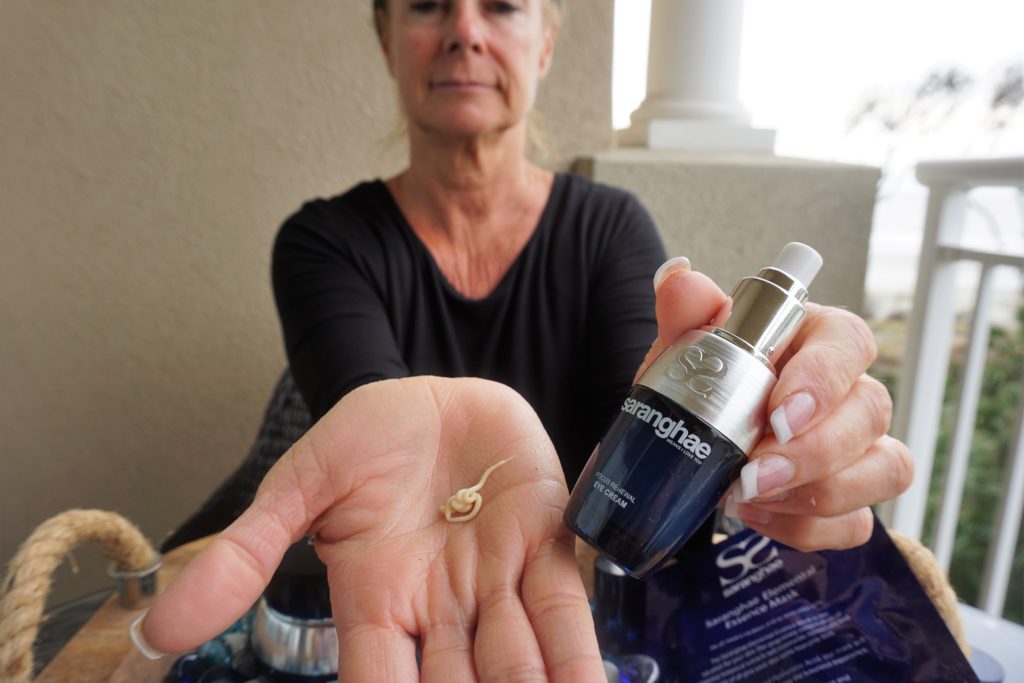 The verdict: My circles and wrinkles are still here, but the skin under my eyes feels healthier .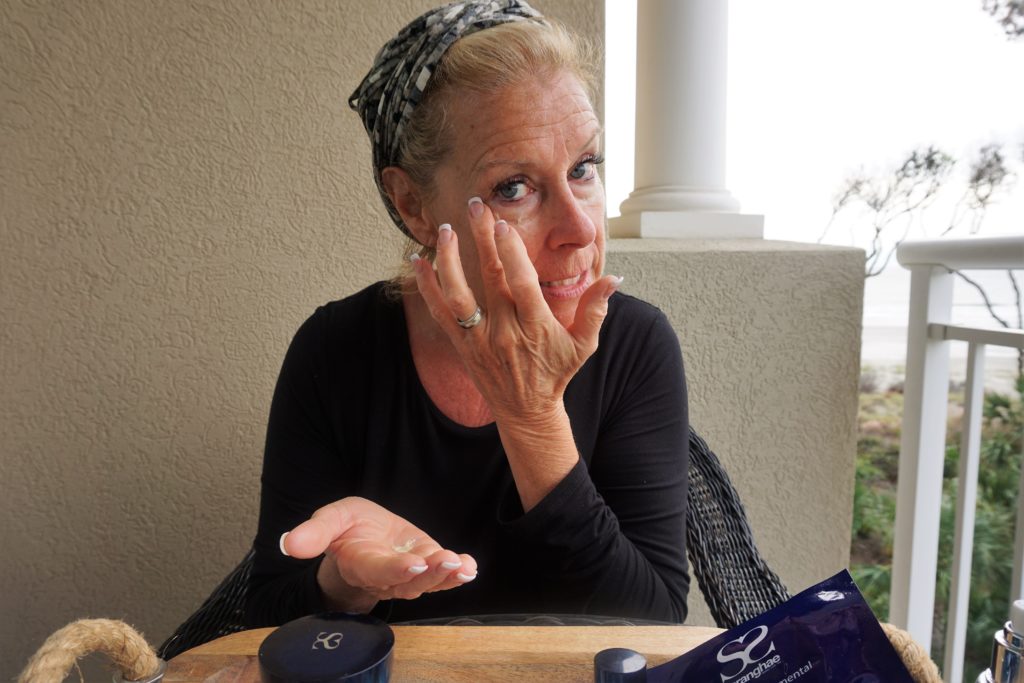 5.Saranghae Elemental Essence Mask
This step is the strangest but feels really good on your face. The mask should only be used once a week. Leave it on for 15-20 minutes. The mask is soaked with essential antioxidants botanicals, CoQ10 and Hyaluronic Acid.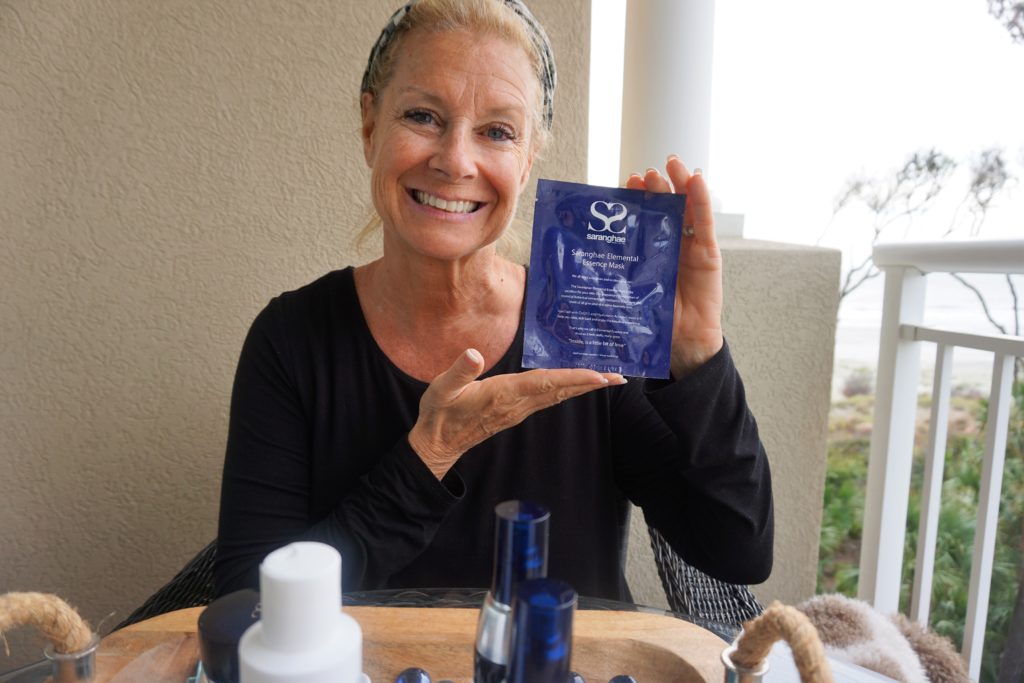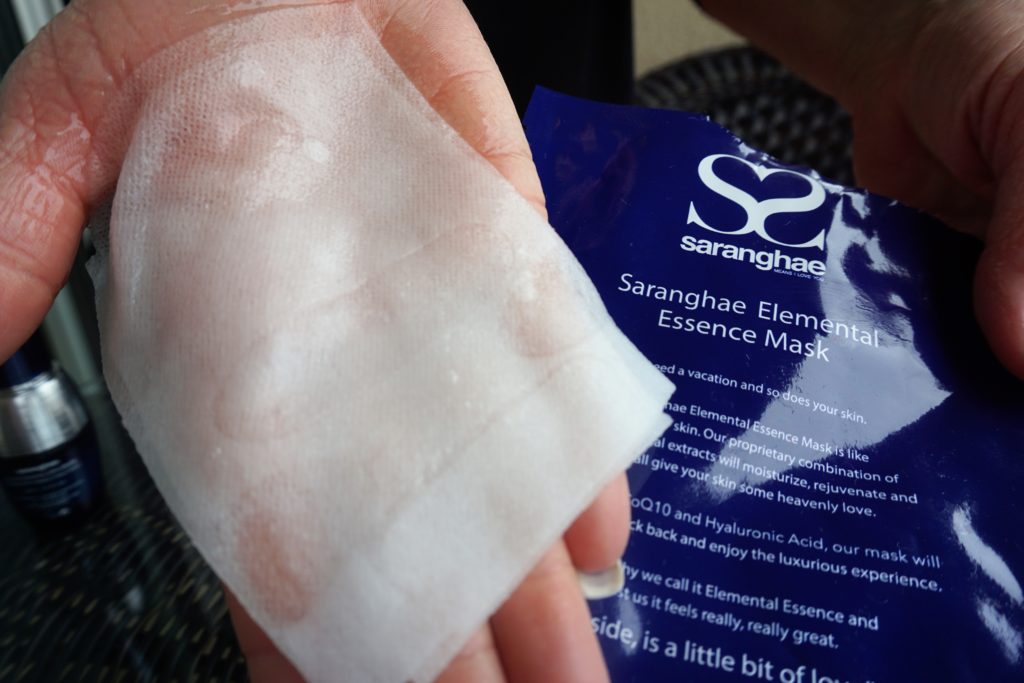 The Verdict:  The mask feels great, but don't be seen in public with it on!! I will never look good in it but it makes my skin look good!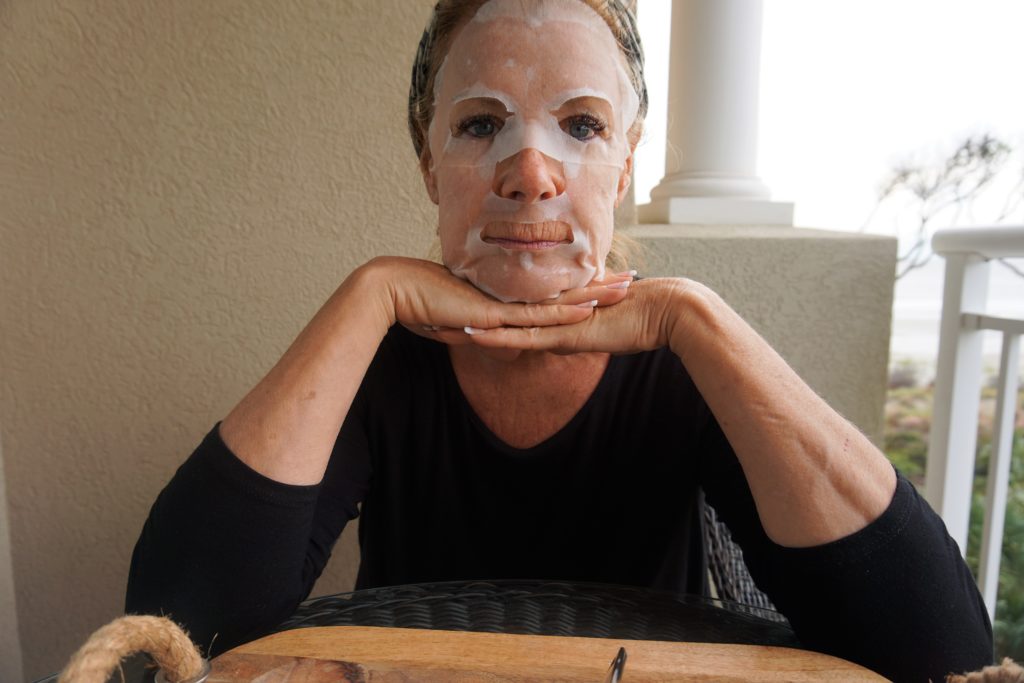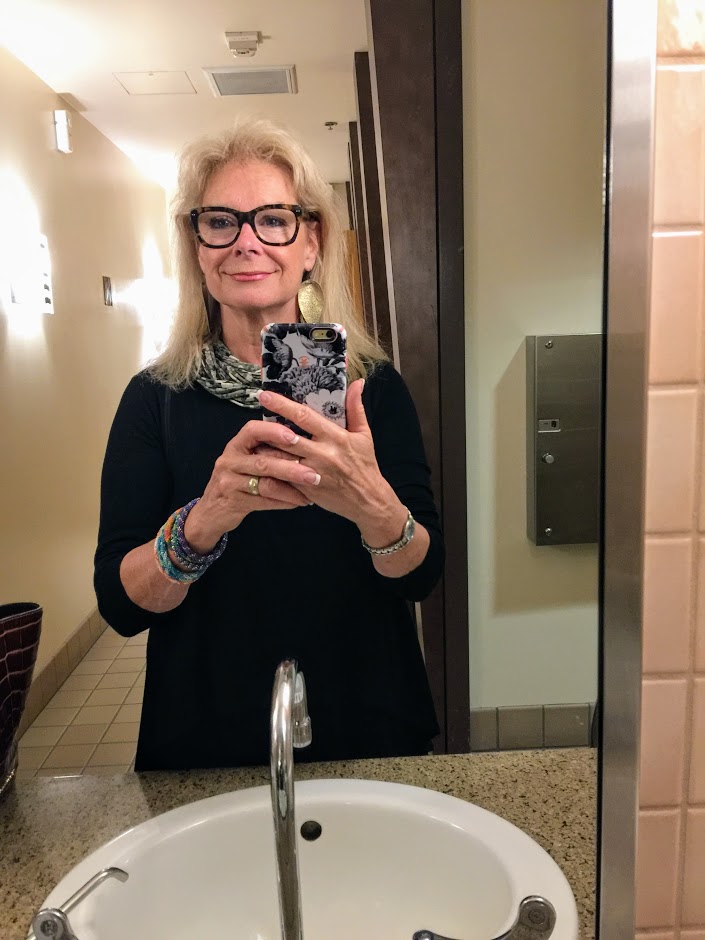 Final grade: A-. I really enjoyed trying the products but they need to stop using the word, "Anti Ageing!"
Thank you Saranghae for this sponsored post. The review is my opinion.
This is my YouTube video review of Saranghae.
I hope you're living your best life now and that age is just a number to you too!
I would love to hear from you and if you are using a skincare product too. Let us know which one and why you love using it!
Follow me on Instagram, Twitter, FaceBook, Houzz,LinkedIn, and Pinterest too!
Hugs,