Or I decorate my kitchen table with my sweet little snowmen sitting on 2 boxes. Glue gun project done in 30 minutes. This is my favorite project.
Christmas Present-The dining terrace has my old kitchen table and tree. Still set like it was in New Jersey. But it is now outside in warmer Atlanta. Each Christmas stocking was made by me for our family of six. They do not fit the decor of the modern  family room, but work perfectly on this slate floor, more rustic porch. They are still filled with gifts from Santa every Christmas. He knows where stockings are hung…….


Christmas Past- Table in my prior home.Love trees by a table in the kitchen! Also don't forget to decorate chandeliers if they are anchored properly!
Last stop is my family room decorated in blues and greens and a bit more modern.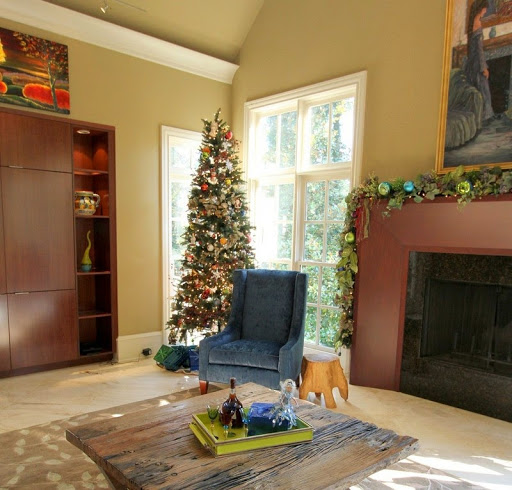 This room has little fairies sitting watch on my fireplace mantel which is adorned with floral picks and ornaments.
Misfit and broken ornaments get a special table alongside family photos of Christmas past.
Follow me on Instagram, Twitter, FaceBook, Houzz,LinkedIn, and Pinterest too!
Get your merry on!
Robin