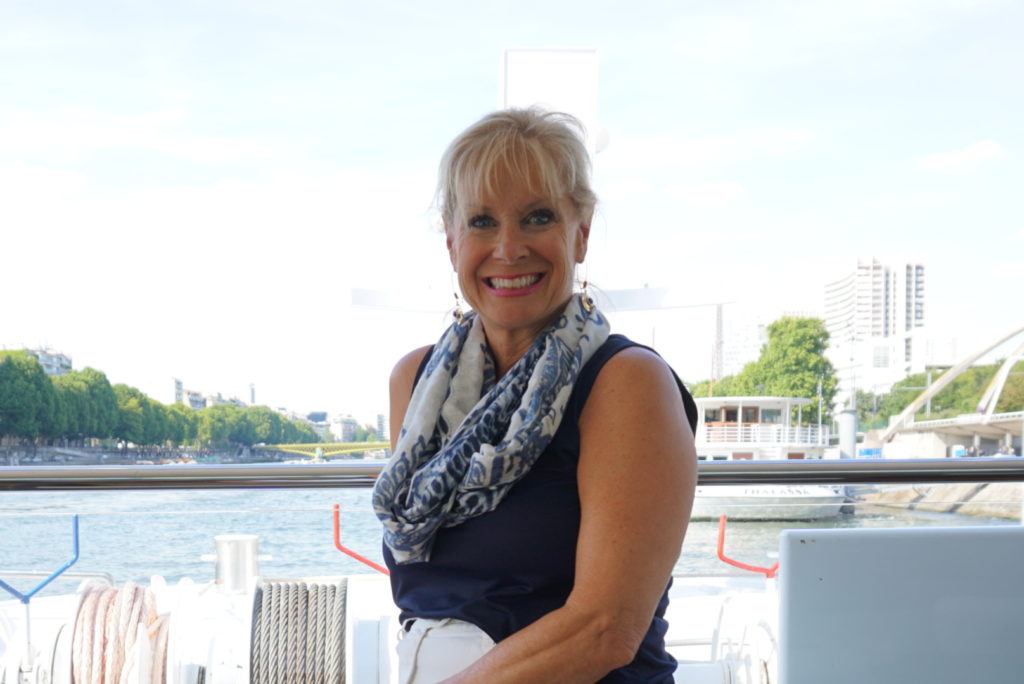 Bonjour mon Amis!
Have you ever been to Paris and explored all the history and art (not to mention it's considered the fashion capitol of the world)?
Paris  and the river cruise up the Seine River to Normandy was a 30 year anniversary gift from my husband.
Paris has been on my bucket list and I can't wait to share  this incredible city with you! In fact, it is a very walkable city in my opinion , and we spent 6 hours walking around on the first day we arrived.
I think the hardest part of international travel is the time change and landing in Europe (six hours ahead of Atlanta) in the morning with only 1-2 hours of sleep requires a nap in the hotel.  The flight is 8.5 hours long and we flew in business class on Delta to Paris.
My husband is a world traveller and went to sleep right after we were served dinner.
Me, I watched 3 movies and partied alone in my seat.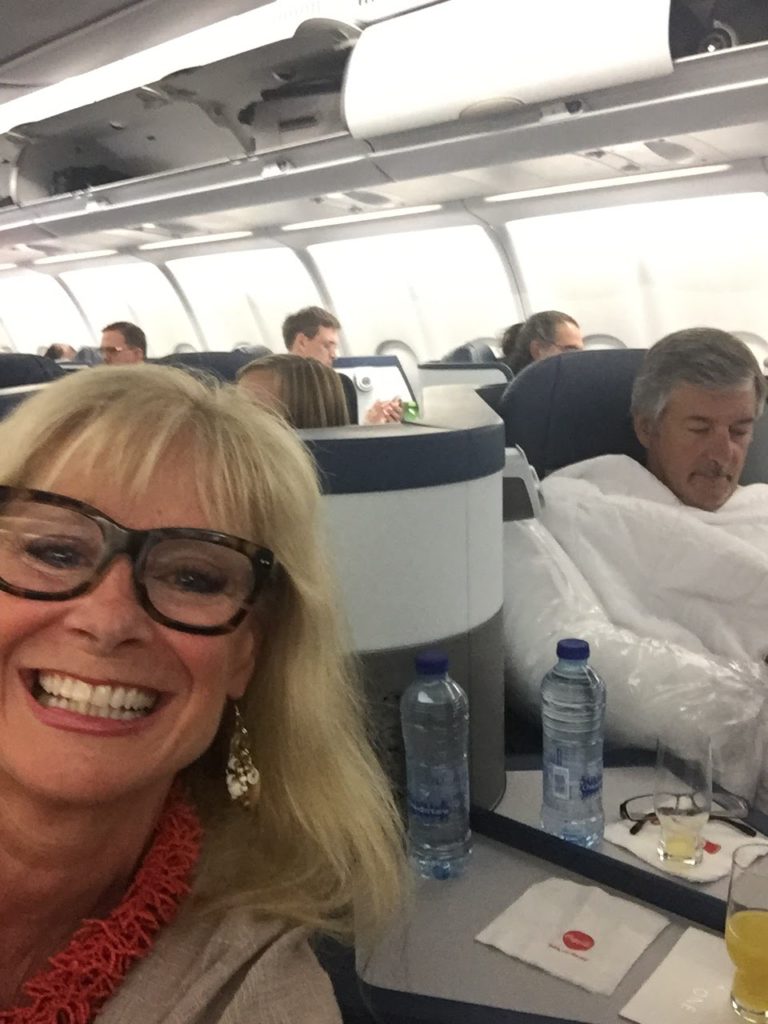 We landed in Paris at 6:30 in the morning and because of  customs (Yikes!), a car accident on the highway into Paris,we arrived at the Marriott at 10:00.  FYI- Charles de Gaulle airport is only 30 minutes outside of Paris, but they don't move accidents to the side of the road, they just stop traffic dead in their tracks. It took us 1.5 hours to get to the hotel. Our driver was so flustered when we arrived at the hotel he couldn't talk in English, just French. Perhaps he was swearing and we just didn't understand him.
Once our room was available (11:00) we went straight to sleep for a 2 hour nap.
Why Paris now?
Yes, we were wondering how safe Paris was going to be after all the recent terrorism activity in Europe but we  immediately noticed Paris was under a heavy police and military presence. We were just told to be aware of pick pockets so I brought along my daughter's little strapped polka dot purse and left my Louis Vuitton at home. I think the heavy police activity was in preparation for Bastille Day and Donald Trump was going to attend the festivities.
We decided to walk around the city before our dinner. (At 8:00, not my usual 7:00, but we're in Paris not Atlanta!)
What to wear in Paris
I packed mostly clothes that could be repeated and worn a couple of days while I was in France. Because it was going to be hot, I packed linen outfits and my brightly colored clothes from Chico's, both not seen on the streets of France. It is true, Parisiennes tend to wear a lot of black, scarves and no chunky jewelry. I packed my scarves and I thankfully packed 2 pairs of walking sandals for this trip and I highly suggest comfortable walking shoes or sandals, not athletic sneakers which was a dead giveaway for any typical tourist which I saw on many German and Aussies too. The more you look like a tourist, the higher probability of being pick pocketed .
I  pulled on my white jean skirt from Talbot's, my navy tank, indigo blue infinity scarf from Chico's and my white gladiator walking sandals from Bare Traps and was ready to take on Paris.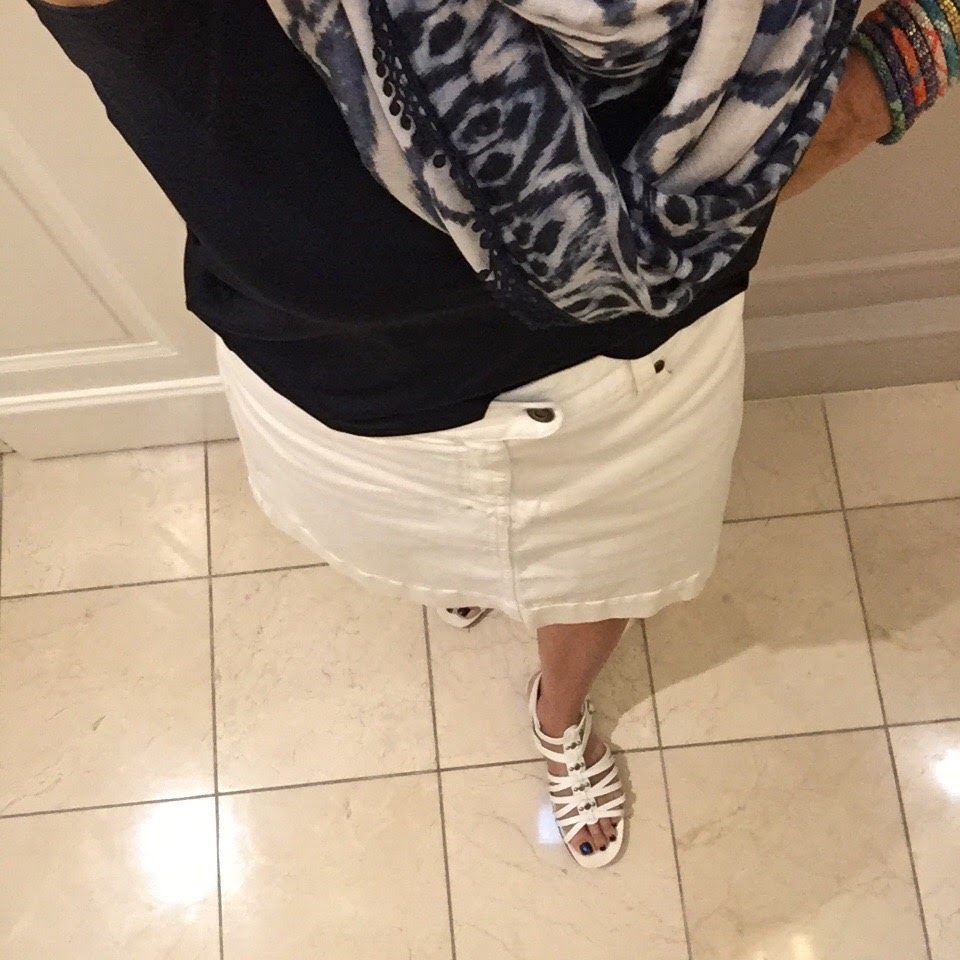 And a scarf of course! ( I also had bloodshot eyes due to lack of sleep.)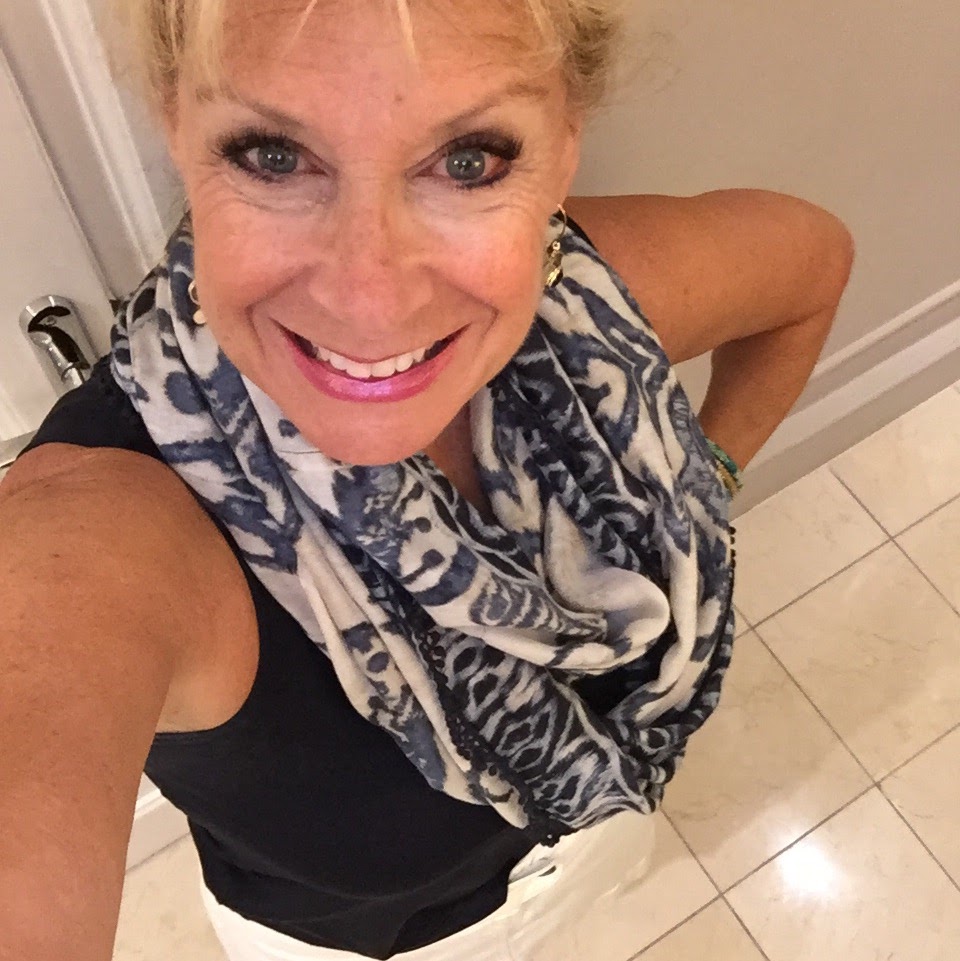 Our hotel is only a few blocks away from the Paris Opera House and you can see it from the rooftop of the Marriott Ambassador.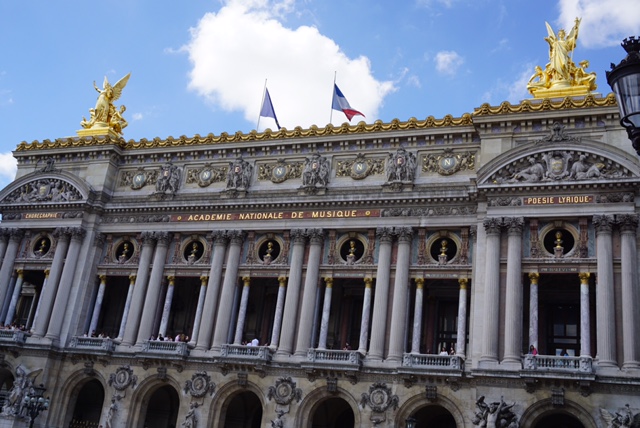 One thing I have learned as a tourist is to study a map before I go out walking. Especially in Paris because the streets change names just like they do in Atlanta.
Our plan was to walk to the Opera House then to the Louvre (never made it) , then up to the Arc de Triomphe and down the Champs-Elysées but we went a tad farther than we thought when we crossed the Seine River.
If we had stayed  on the Right Bank area  we would have had a shorter walk but we ended up on the Left Bank and walked around abit.
We saw the Tuileries Gardens and the Obelisk of Luxor, the oldest monument in Paris with the Eiffel Tower in the background. It was closed off to the public due to the Bastille Day  preparations.
We had no idea what we were seeing when we walked into the gardens. It reminded us of Central Park in New York but later learned more about it. I wished we had walked around but it was very hot as you can tell.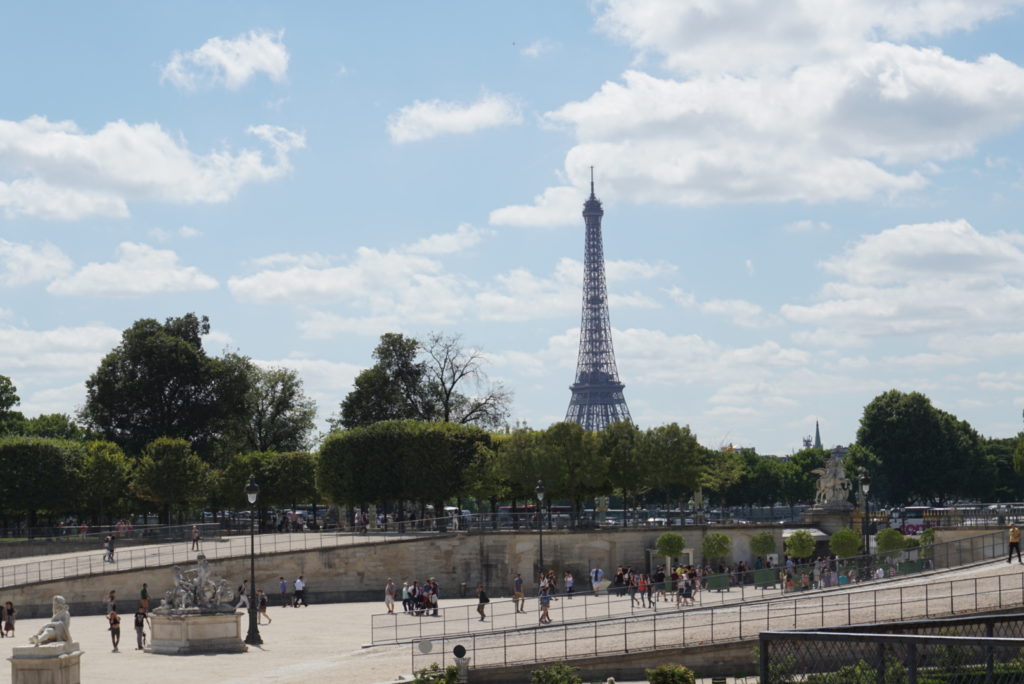 We stopped on a riverboat bar for a glass of wine and a quick look at our map. My husband didn't want me to pull out the map in public (tourist giveaway) and I didn't mind a glass of wine.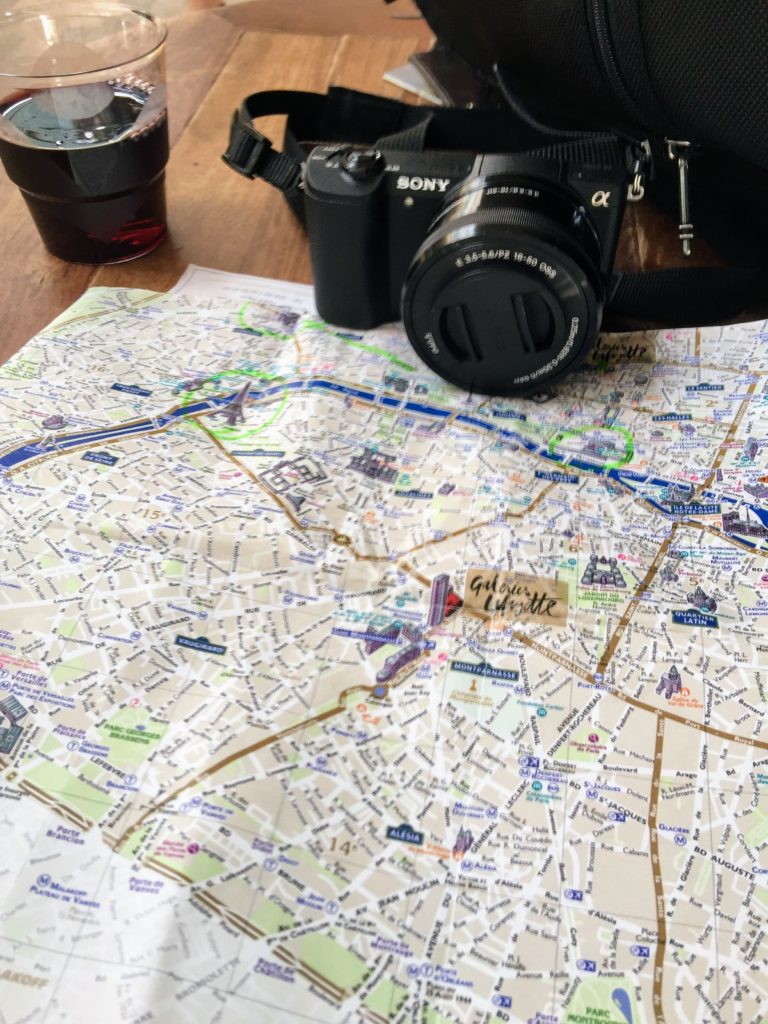 After we got our bearings we saw the Grand Palais across the river and headed back over to the Right Bank towards the Arc de Triomphe.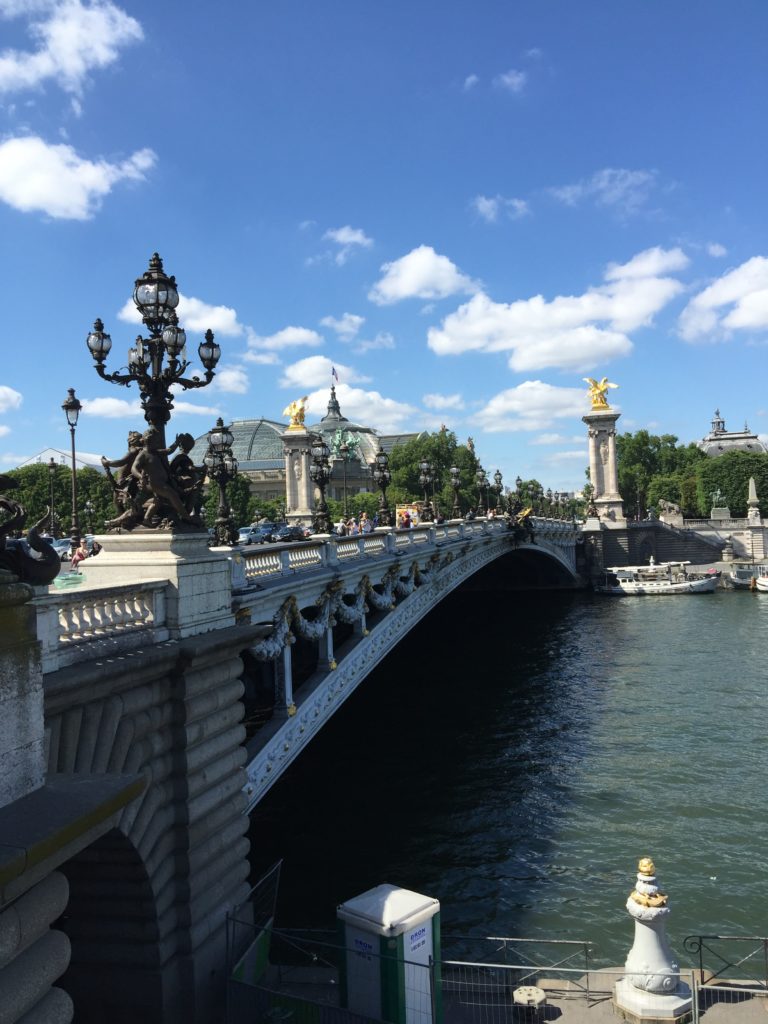 Grand Palais and the Petit Palais sit opposite each other on the Avenue of Winston Churchill.
We finally found the Champs-Elysées and headed up towards the Arc de Triomphe. This is the most celebrated avenue in Paris and home to many fashion houses. If you wanted to visit the stores, many had long lines getting into them.
Expensive sports cars lined the side streets to the Champs-Elysées. I wonder where they were shopping?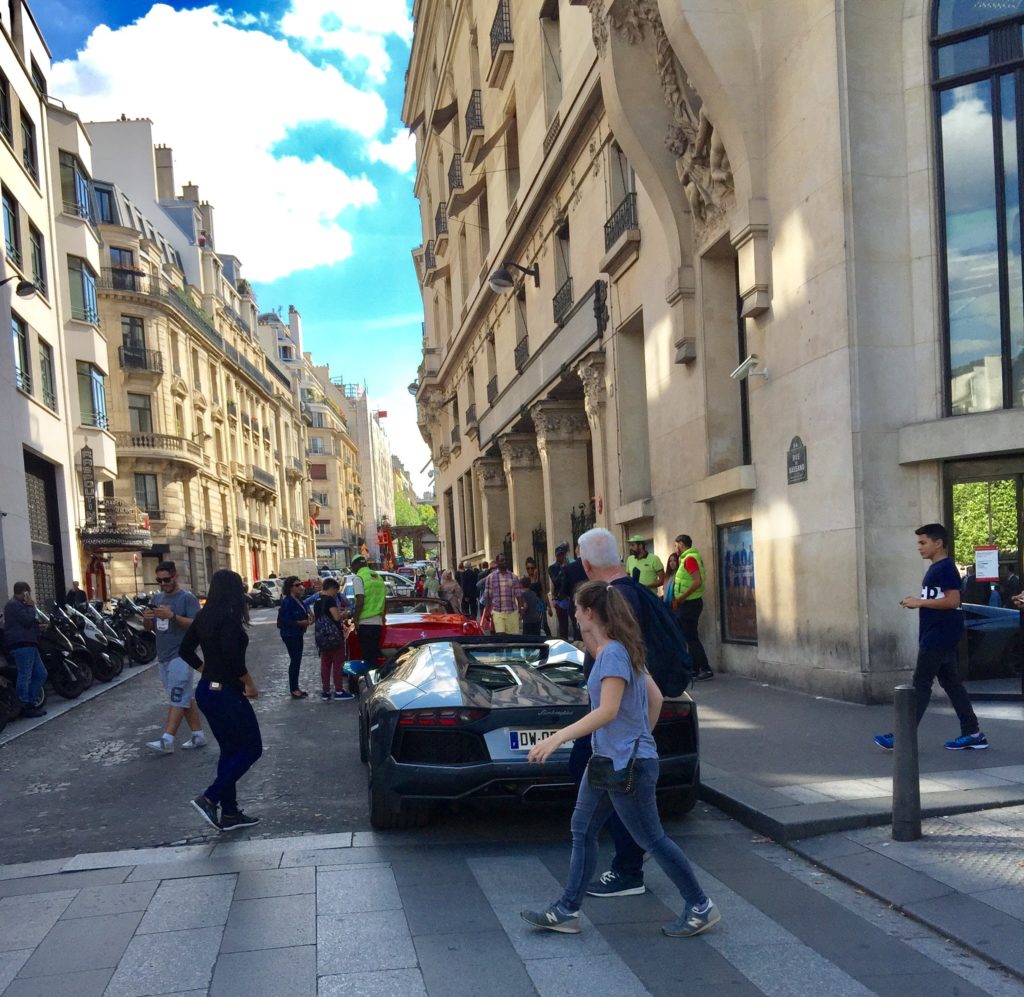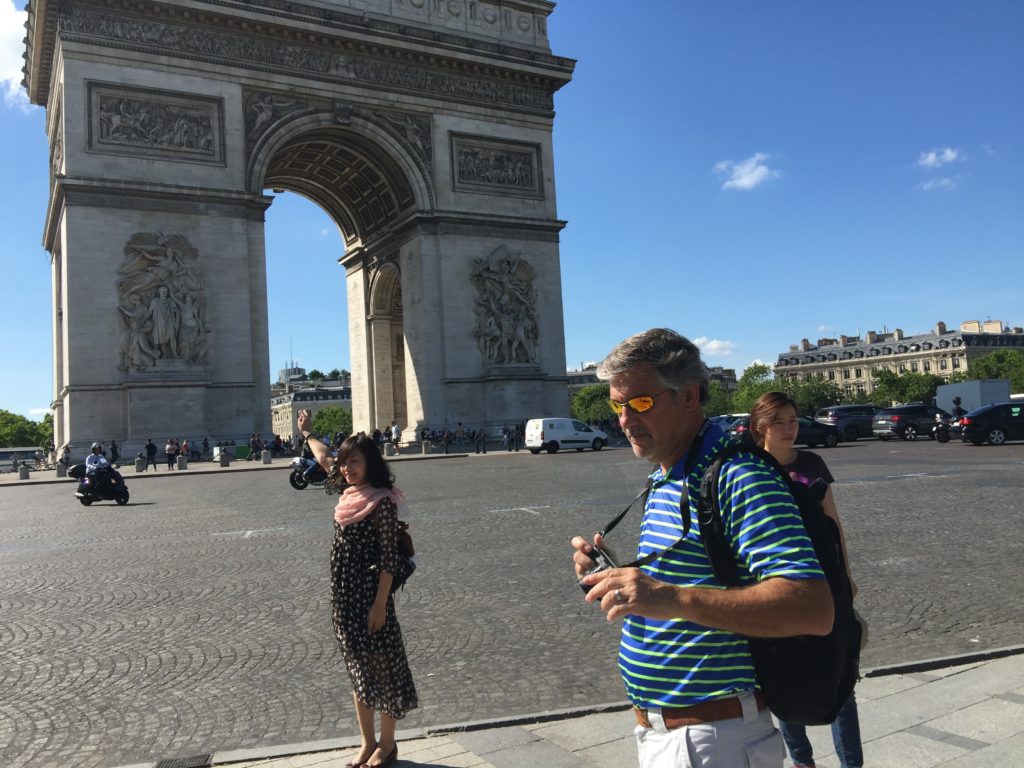 Paris has a huge Asian tourist population who dress very nicely and took lots of selfies. I even saw what I considered many fashion bloggers posing on this street.
Some of the fashionistas even had professional photographers tagging along with tripods and lighting. My husband isn't my photographer and I'm thinking of hiring a professional when I return to Atlanta. My selfies need to be replaced….
Heading back to our hotel we walked through the Rue du Faubourg Saint-Honoré and walked past many luxury fashion stores. Let me repeat, walked past not in. But first you walked past guard posts with armed guards at both ends of the street.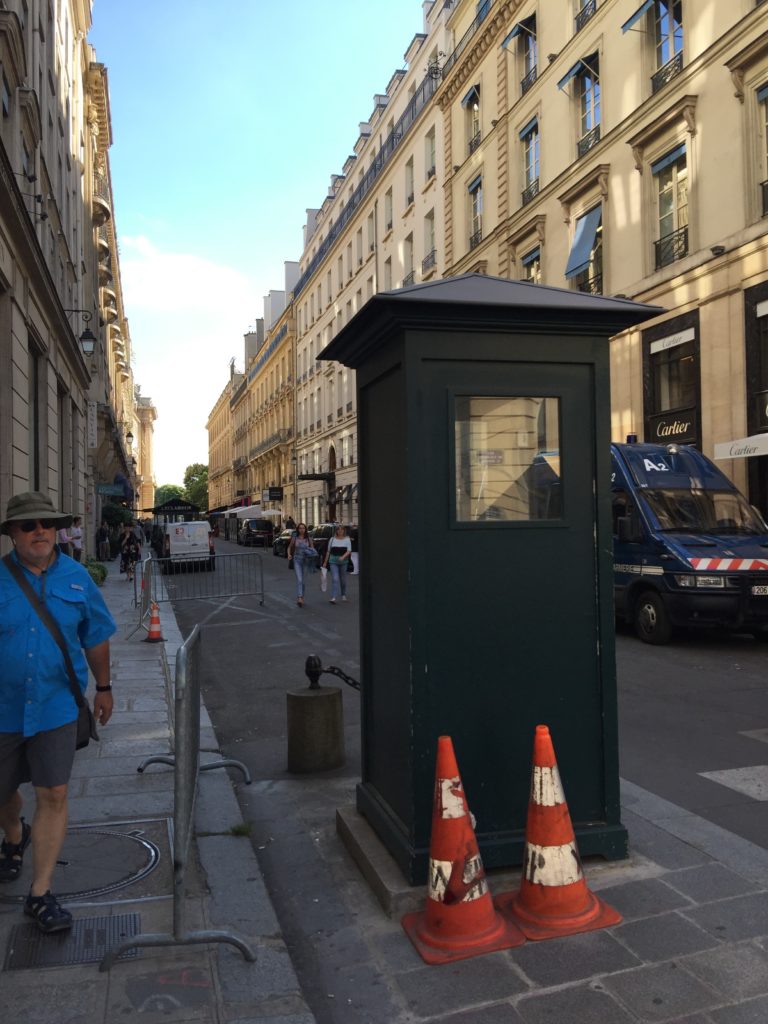 This little walk took us 6 hours and we felt that we saw a lot on the first day in Paris. We were tired but ready for dinner at Drouant, a short 10 minute walk from the hotel.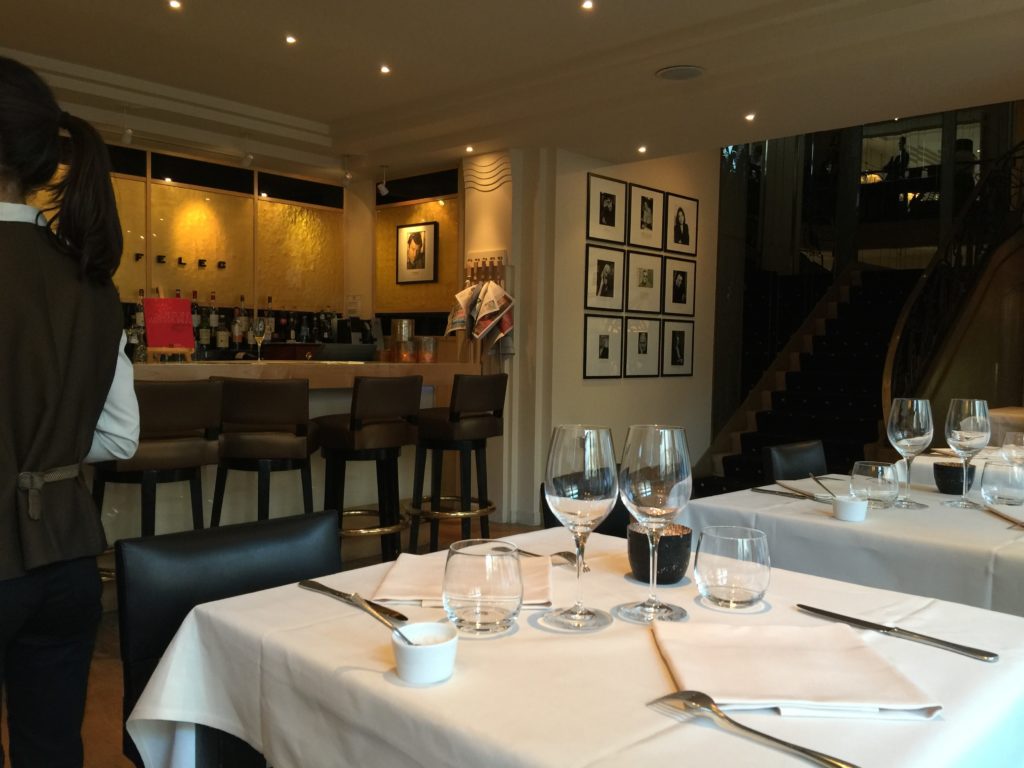 The food was fantastic and a great place to watch people.
I found that I would have been perfectly comfortable and appropriate wearing chic jeans for Paris on this trip because I saw many Parisiennes wearing designer jeans with stylish tops. I noticed no one wore bright colors which is my signature style, so the patrons knew I wasn't from Paris. Oh well, c'est la vie!!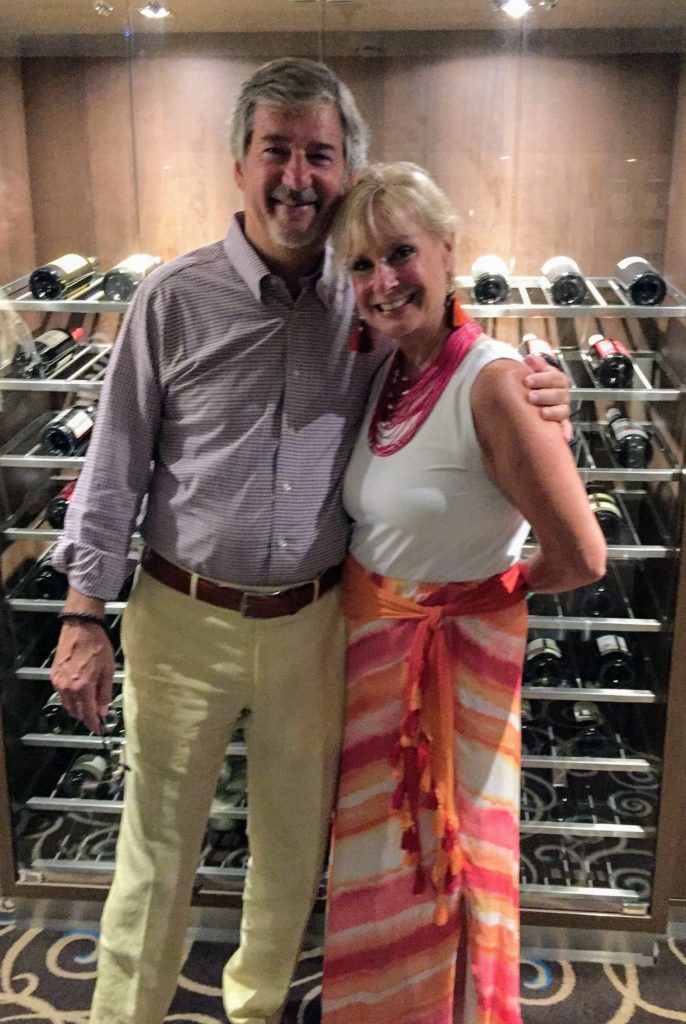 Well my wonderful friends I hope to enjoyed this little sample of Paris.
I would love to hear from those of you who have been to Paris and what you enjoyed and disliked about Paris.
I found the heavy smoking and the poverty in Paris to be the hardest to take. Paris has a huge unemployment rate and the refugees have come to Paris and live on the streets or in tent cities. I saw a city that is full of history, great wealth, and beauty while  people were begging or sleeping everywhere. It makes me grateful for what I have and appreciate the life I've been given.
Next on my blog I will continue with the river cruise from Paris to Normandy on Avalon Waterways.
I hope you continue to follow me as I share my French vacation with you.
Au revoir!
Thanks for stopping by!
I would love to hear from you!
Follow me on Instagram, Twitter, FaceBook, Houzz,LinkedIn, and Pinterest too!
Hugs from Paris!