Happy Thursday everyone!
Or as I say from Atlanta, Day 2 of  more news from CNN on "How to play the Blame Game with the Mayor and Governor of Georgia." I think Al Roker and the Weather Channel are winning.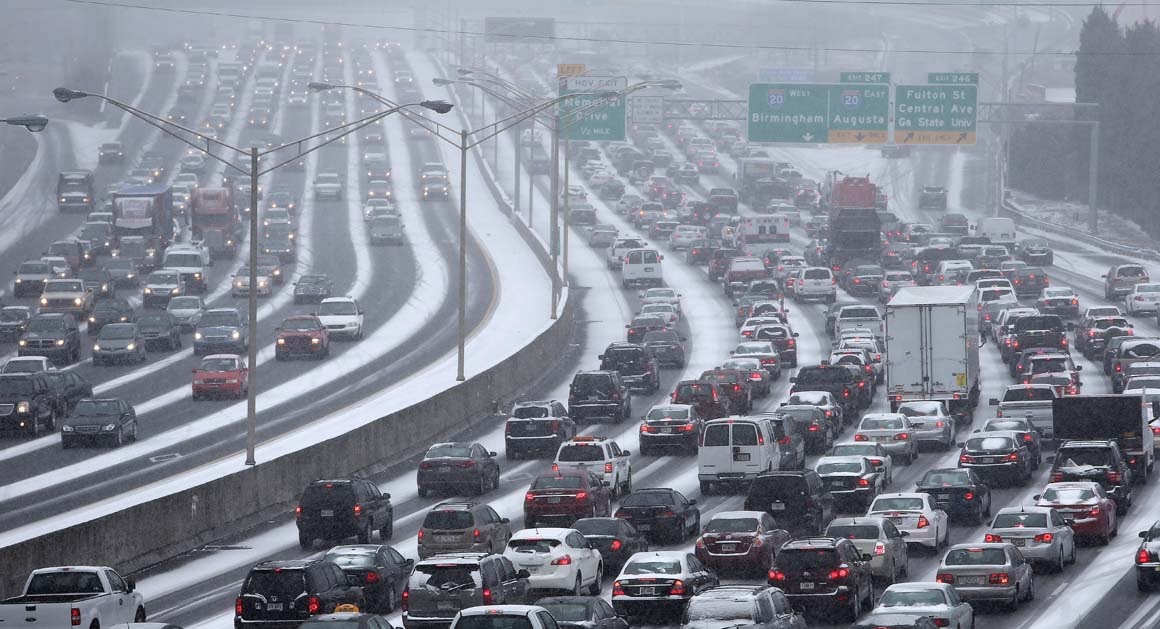 Atlanta on Tuesday
The Polar Vortex has wreaked havoc on most of the country east of the Mississippi and it brought Atlanta to a full complete chaotic stop. As a Minnesota/New Jersey girl, I was totally unprepared for the iced up roads of beautiful Atlanta on Tuesday.
I won't recap my experience on Tuesday, let's just say  I have to put in an auto claim for damage by a unseen hit and run ice skidding car……
The Super Bowl is this weekend and for many people, including myself, I will be watching it from the warmth of my basement , not outdoors in New Frigid Jersey.
It is the end of my favorite time of the year. Beginning at the start of football season, through the holiday season, college Bowl Games, and now the Oscar of football, the Super Bowl.
Are you kidding me? I  was a football cheerleader in high school in Minnesota and in college at the University of Wisconsin. My parents were season tickets holders to the Bud Grant Era of the Minnesota Vikings . Wearing snowmobile suits,snow boots, and stadium blankets were the norm. 
This was the era before Super Domed Jerry World stadiums and man caves….
https://youtube.googleapis.com/v/6o97Difmwwk&source=uds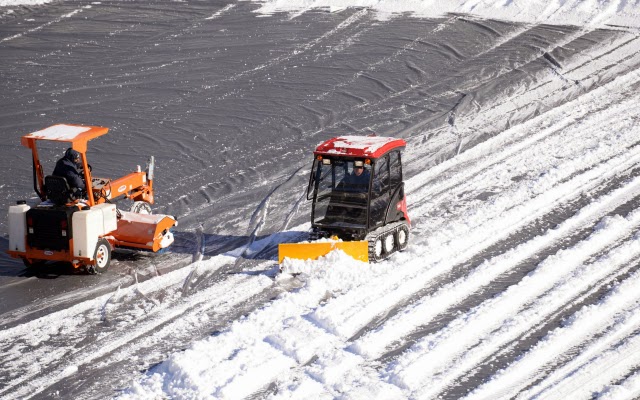 MET LIFE STADIUM
I prefer watching my football indoors or in warmer climates. Have no idea what the NFL and the owners were thinking when they decided to host it in a  polar vortex open air stadium.
 Even people in Minnesota caught onto domed stadiums, even though the last stadium's roof  collapsed in 2010 under snow. Architects and engineers poor decision, not an interior designers……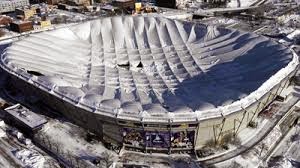 2010 COLLAPSED METRODOME IN MINNEAPOLIS
Watching the Super Bowl  in the warmth of your game room or home theater has it's benefits. You can watch the game with friends, or alone, in front of a fire, while playing pool, shuffleboard, eating and drinking while not standing at a concession stand in the cold..

Things to consider for your Home Theater Project:
Room Acoustics– this is a technical article that explains it better than I stating, " fat thick plush carpet, sound proofing sheetrock, big fat leather recliners… 
Room Design/Layout- Think rectangle as in a movie theater. Best acoustics is a room with no windows, thick padded plush carpet, acoustic panels or padded walls.
Minimize the art/posters- Framed art with glass is too reflective to light and sound.
Wall Color– Go as dark as possible with your color or neutral. Here is where a light color is more reflective, dark absorbs. I learned this in science class. We wear light colors in the summer to reflect the heat, dark absorbs. Got it?
Hire the Best Home Theater expert you can afford if you didn't take AV class in High school
Things to consider for the Game/Sports Room:
Games to be added-How many, the size, and where are they going to be played? 
Size of the space vs. the size of the Game- Know the size of the game,e.g., ping pong, pool, and shuffleboards you plan to put in the room. Also allow walk around space for each game too.
Safety of the Games-Darts or tossing games should not be in the walking path of the room.
Lighting for the Game- Consider increasing the overhead lighting ( recessed, chandeliers, pendants) for all games, except the television games. Can not play in poor lighting, someone  will complain, usually the loser.
Flow of the Room where the Game is

–

For a game room, think about the games you plan to have. For example, you want to put the darts off in a corner furthest from– traffic, in a corner where the actual dartboard is as far away as possible from walkways, so no one gets hurt.
Wall of televisions?- Personal preference
Kitchen/Wet bar area
My home has a great basement  designed for entertaining. I have an open style with a kitchen, pool table, Home Theater, and a family room that opens up the the billiard room. We  have entertained 40 easily in this space.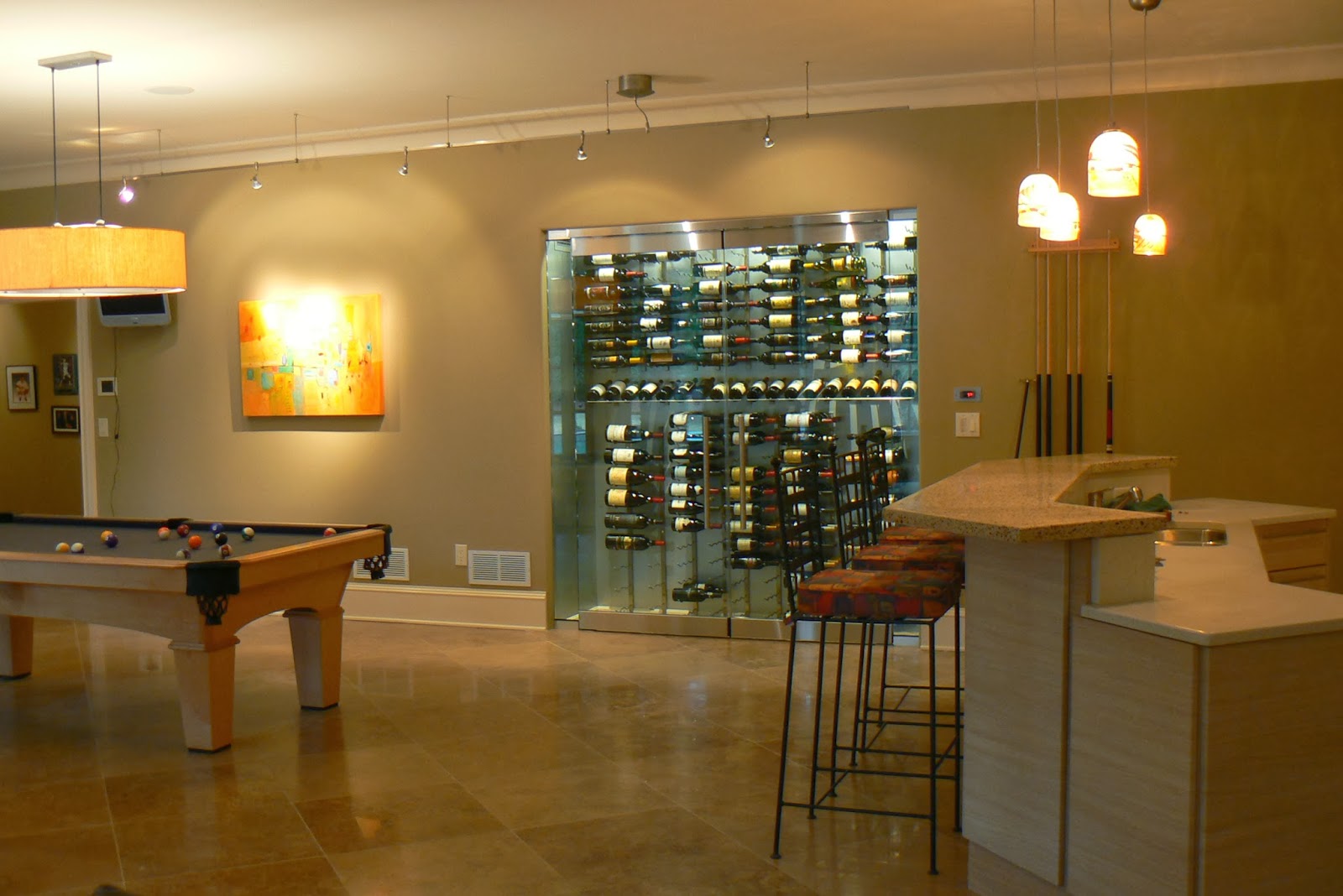 My contemporary basement  with my pool table and wine cellar. A small television is mounted on the wall in case you miss something on the large screen television. It's a guy thing……….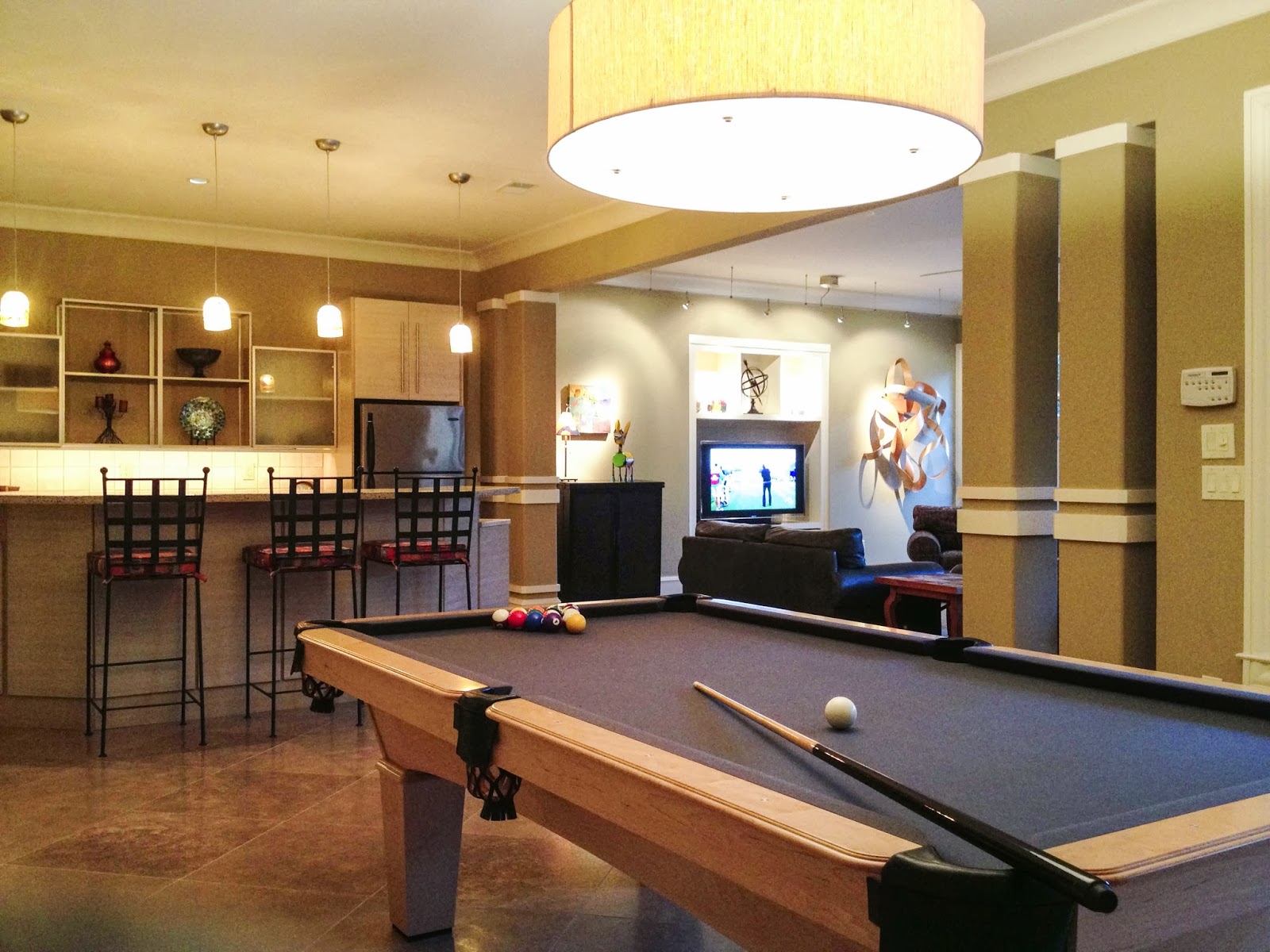 The kitchen is open to the family room and the pool table area.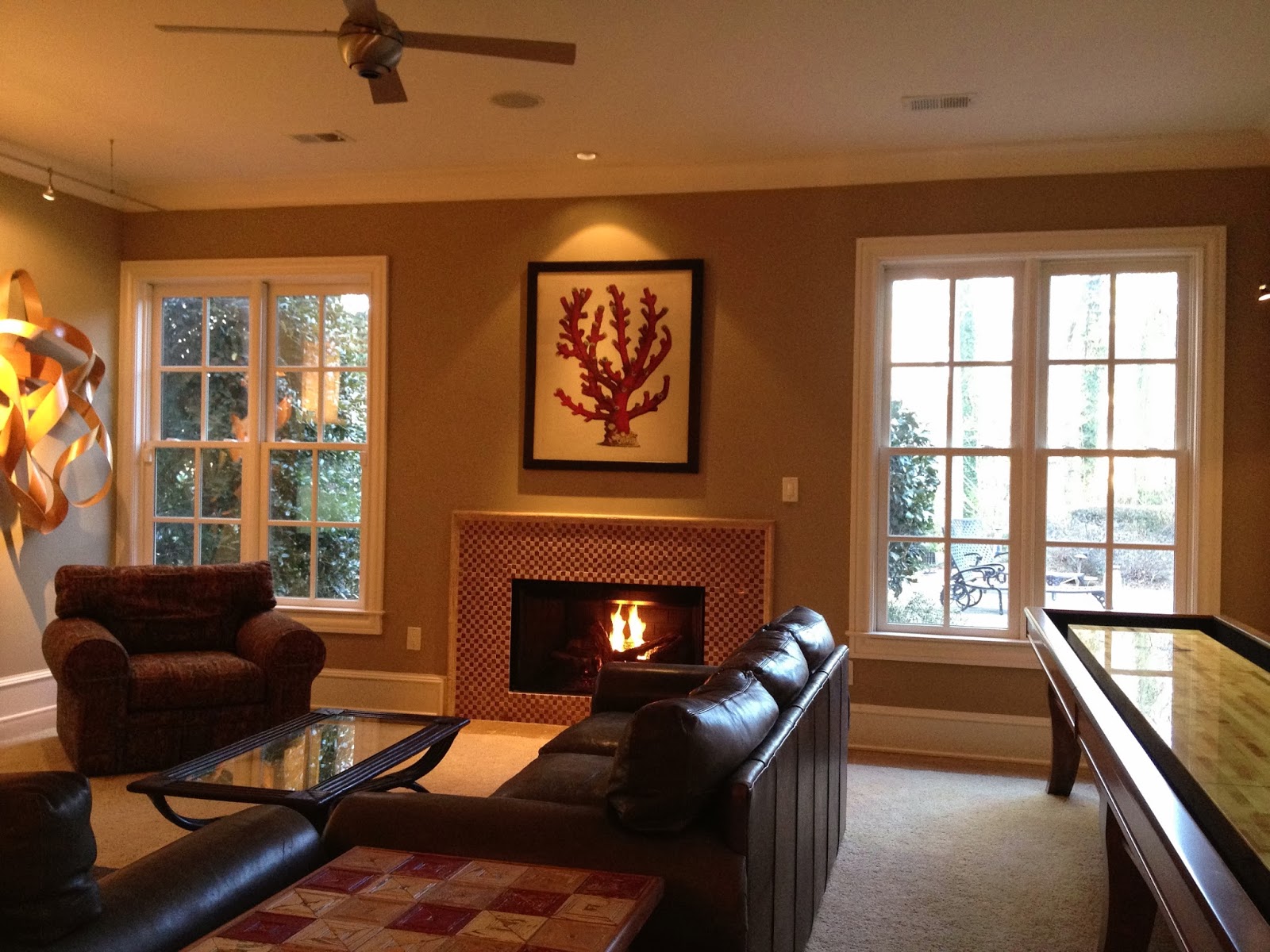 The family room  with a 14′ shuffleboard . Adding the shuffleboard shifted the room to the left but it is a real crowd pleaser. Fun and easy to play.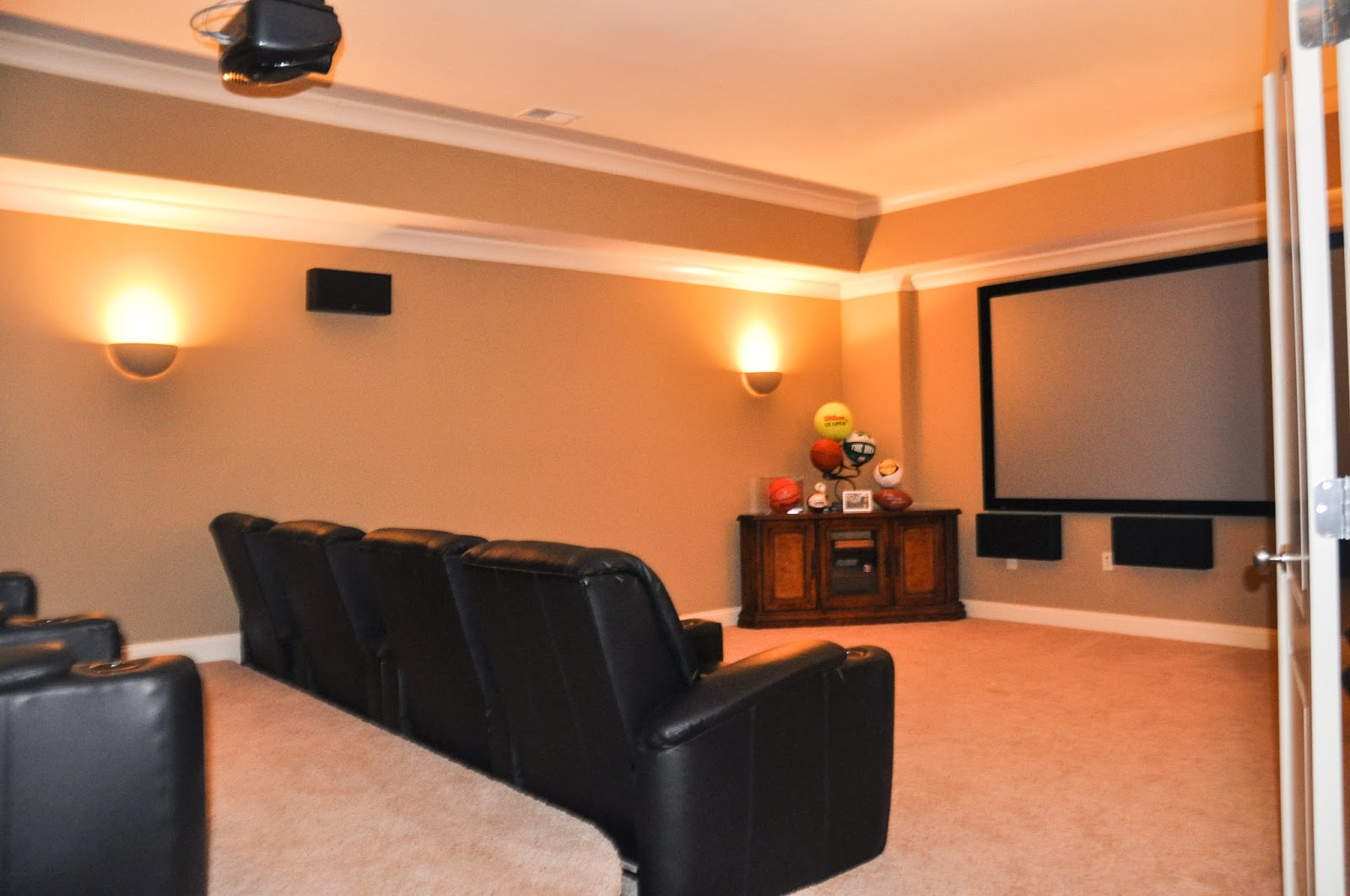 The Home Theater that is used for all sporting events, movies, and serves as extra beds  when my son brings home his college friends for a visit………..
I found many great celebrity Home theaters and game rooms to inspire you. Enjoy the rooms and the top 25 Super Bowl commercials at the end of this post….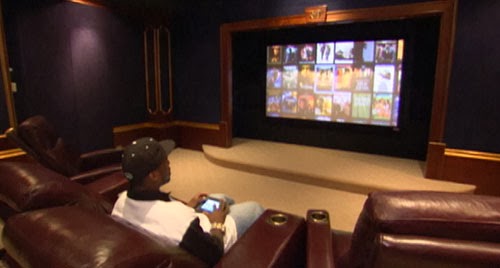 50 Cent's Home theater via Electronic House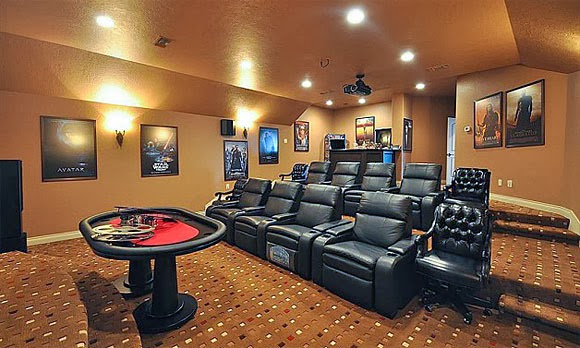 Brian Cushing's Home Theater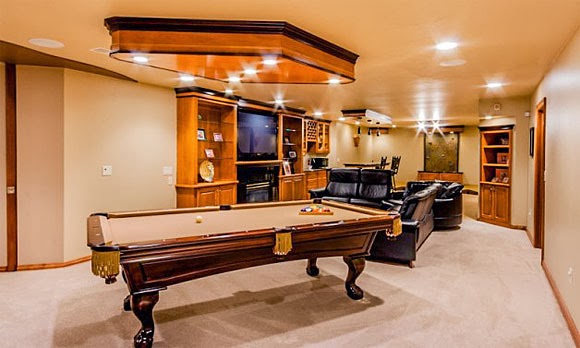 Greg Jennings via Zillow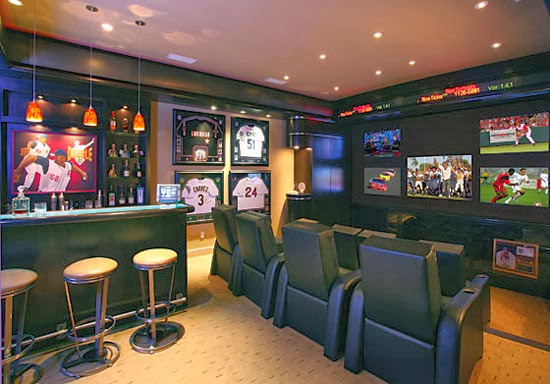 CC Sabathia's Home Theater via Electronic House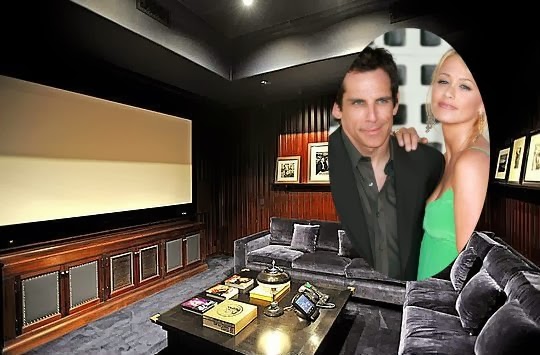 Ben Stiller via Apartment Therapy/Casa Sugar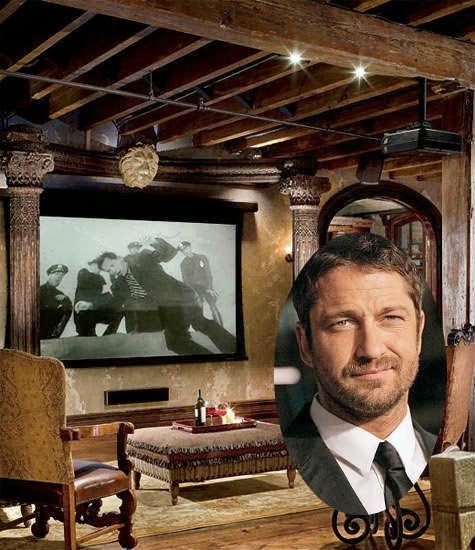 Gerard Butler via Architectural Digest/Apartment Therapy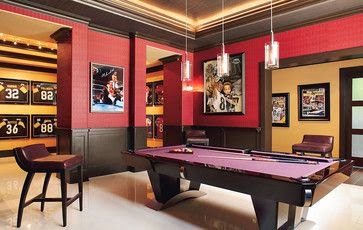 Hines Ward- Game room via Houzz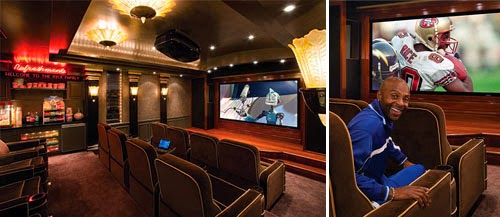 Jerry Rice via Electronic House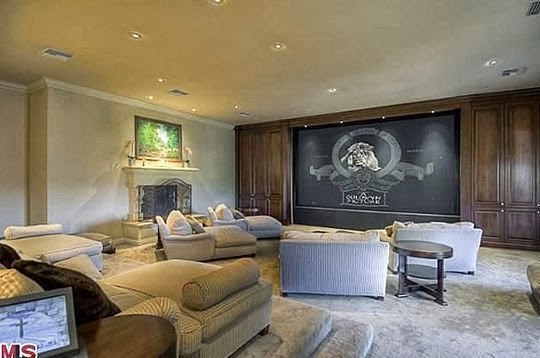 Mark Wahlberg from Apartment Therapy/Casa Sugar
No matter if you decide to add a home theater, large screen television with surround sound to your existing family room, or multiple televisions for a sports bar look for your next Super Bowl party, it will also increase the resale value of your home.Nothing says "Home Run" to a guy than a room with lots of electronic devices!!
https://youtube.googleapis.com/v/HIfa6880iQQ&source=uds
Top 25 Super Bowl Commercials

Do you enjoy the Super Bowl for the game or the commercials? I heard Tom Brady isn't going to be watching…..