I am a Halloween Decorator. There, I said it. I have lifted the burden off of these professional shoulders that has been my secret in the design world. There is no shame in what I profess, but
Traditional Home
will not be knocking on my door anytime soon. 
There are only two holidays where my home is dressed appropriately on the exterior and interior; Halloween and Christmas. The rest of the holidays are forgotten without so much of an after thought. 
I was never a big Valentine's day,St. Patrick's day lassie, (I'm English); Easter tree decorator, or a Fourth of July red, white, and blue gal. 
My children are adults, but I still decorate at full speed for Halloween and Christmas. I now decorate for myself and the memories that come with every piece of decoration. They are my traditional decorating events, even though my home is empty; the memories are captured in those decorations. 
I get my groove on in September when the nights get shorter. It is the need to add extra lighting outside and slap witches on broomsticks slammed onto the  trees in my yard. The tackier the exterior, the better I liked it. My decorating was for the little spooks and goblins who fell over their costumes while their moms and dads drank from plastic red cups while going house to house. 
Now I decorate for the mailman, if he even notices. We don't get trick or treaters and that is sad.
All those years of spending the evening at my next door neighbors, Eileen and Jim, having pizza and wine while the men folk took our little ones out trick or treating, leaving a basket of candy on the front door step come back to bite me in the butt here in Atlanta. This time I am staying home but no one stops by. I still buy a large bag of candy and save the receipt, knowing it will probably get returned the next day.
 Except I still decorate for Halloween, for my own enjoyment.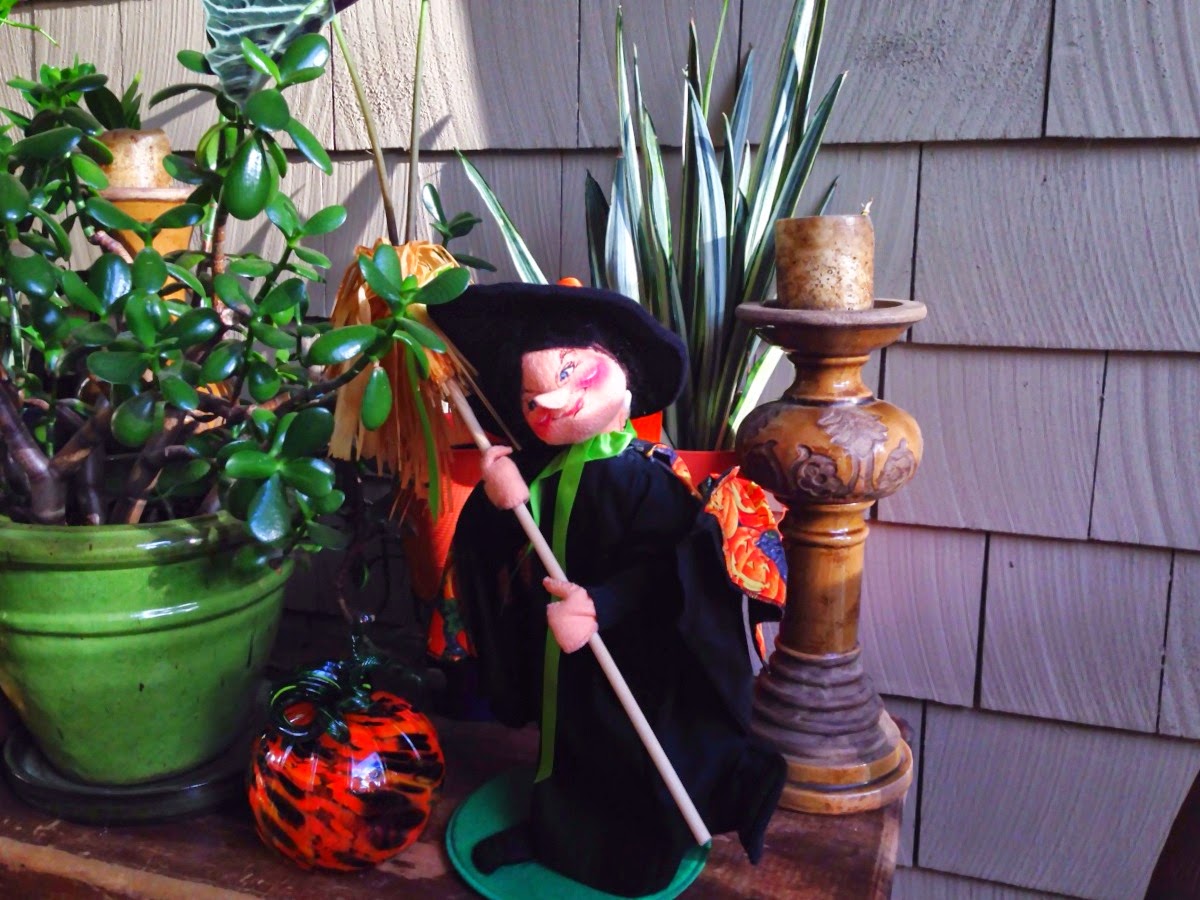 My little witch sitting among the plants with a hand blown glass pumpkin.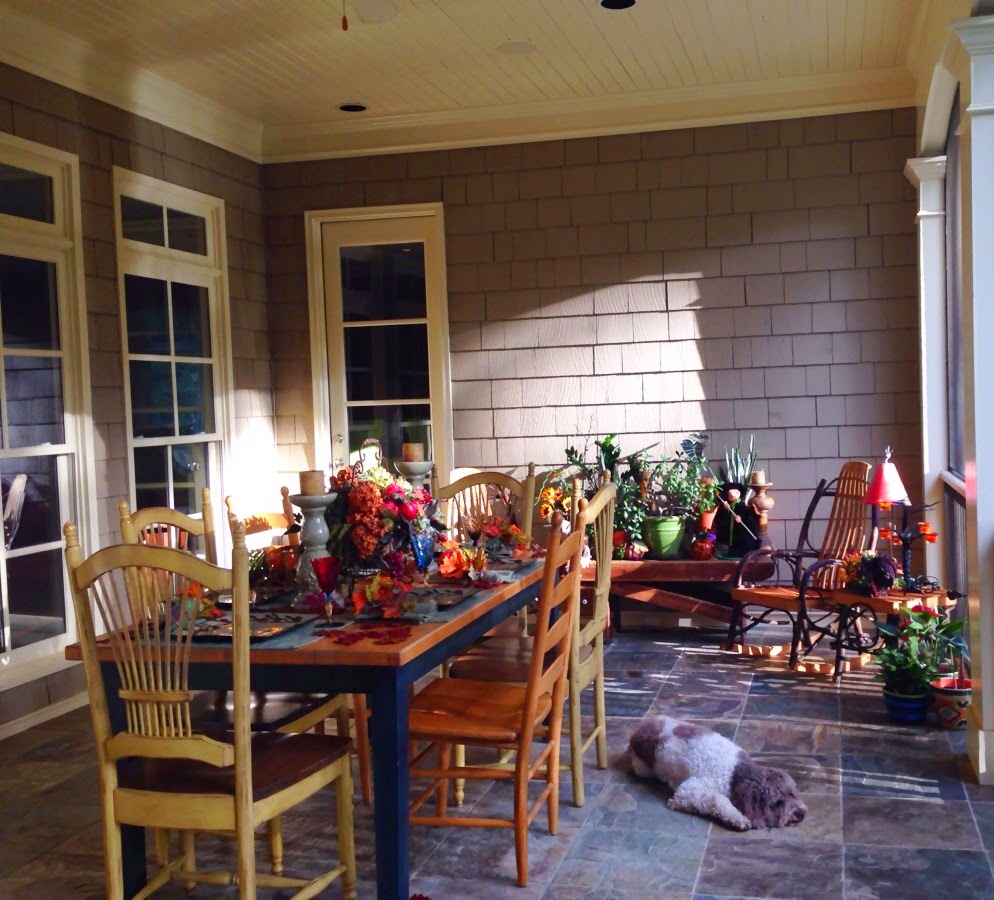 I love decorating for fall, Bruno isn't thrilled, but I am!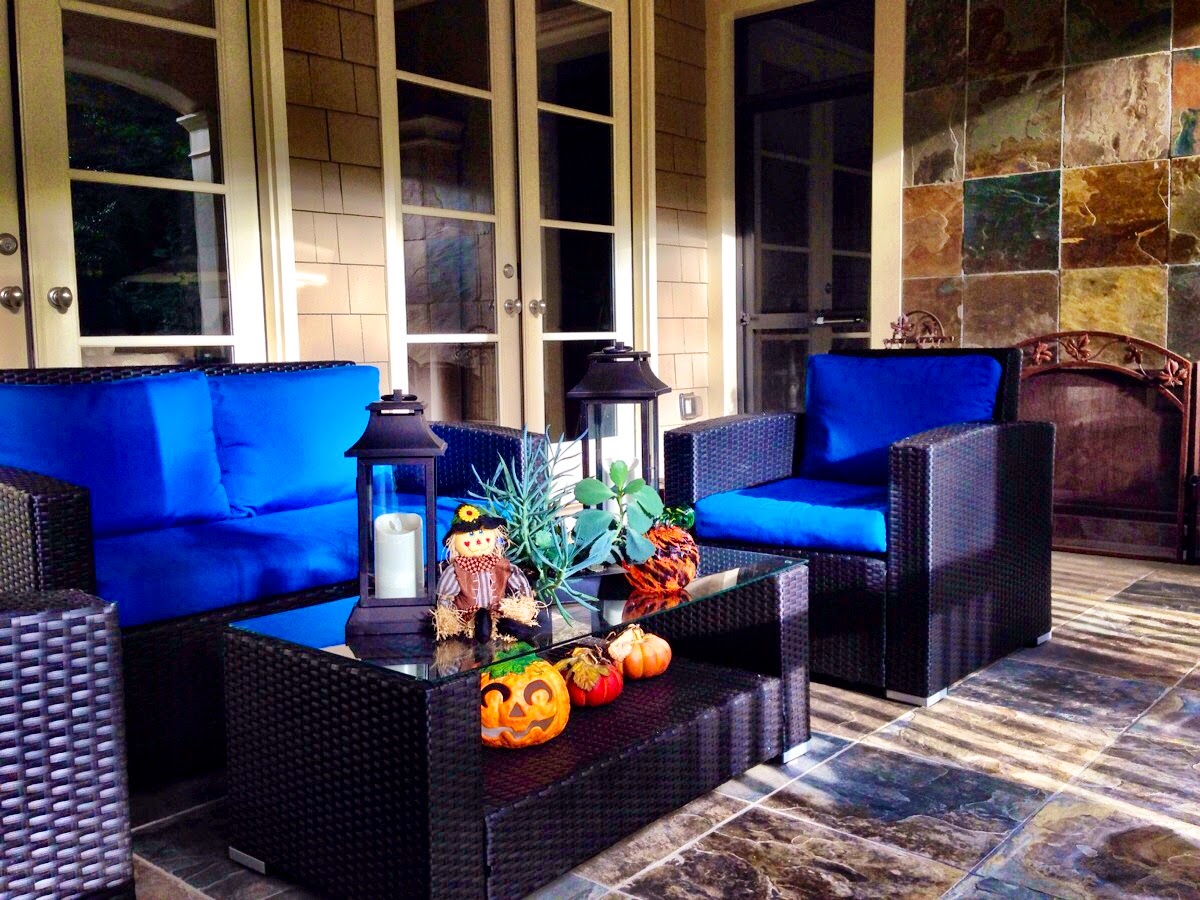 I sit out here every day reading and writing
 Halloween  is what I refer to as the DIY holiday. Everyone can decorate for Halloween, it's a kid/adult holiday where good decorating isn't expected from you, just decorate to the best of your ability and wallet.
Except I have noticed the lack of Halloween spirit in Atlanta.  Did I not get the email?
Very few homes are decorated at full tilt where I live. A pumpkin gracing the front porch is as much energy expanded as I have seen down here. What happened to fright, graveyards, and witches? Perhaps a monogrammed pumpkin or two?
But no over the top Halloween decor? Perhaps it interferes with beloved college football season? I love football as much as any rapid college fan, but I still stop to decorate my home for Halloween.
 I have asked this to many Atlanta people and they seem to agree, Halloween is just  not big down here. It interferes with the college football season where flags adorn houses, cars, and sweatshirts.
College Football pumpkins anyone?
It was big in Minnesota as I was growing up. People love to decorate their homes and scare the kids. We had neighbors that dressed up to answer the door and I was always impressed with their Halloween decor and costumes.
Did I say I was from Minnesota?
 I didn't spend a lot on full  Halloween costumes, just slapped on a mask to go along with my winter coat and mittens. Minnesota weather in October is unpredictable. Lately in New Jersey, Halloween has been cancelled the last two years because of Hurricane Sandy and the Nor'easter of 2011.
I enjoyed dressing up even as a flight attendant. First class passengers received trick or treat barf bags filled with their favorite liquor bottles as they deplaned.
Halloween decorating is a way of expressing your crafty talents. There are so many wonderful ideas on how you can decorate for Halloween.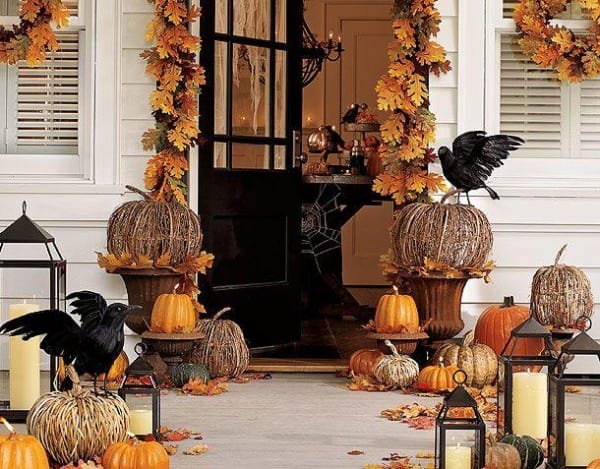 www.architectureart.com
  www.embracedisruption.com
My Favorite one yet!!
That's more like it!!
BOO!