All Christmas trees are perfectly decorated. 
No matter the size; small or enormous . If you use real or fake. 
or more like
You decorate the way you want your tree to look because the  decorated tree represents you, your memories, and your heart.
 The tree is the keeper of  the Christmas presents below, perhaps a centerpiece in your home, glowing out of your window to let others know you too celebrate the holiday season. 
They are  in your childhood memories whether you were delighted or disappointed when you raced to the tree on Christmas morning to  see what Santa brought you. 
Decorating our Christmas tree is a part of  my family holiday tradition. 
My earliest memory of Christmas trees took place in Iowa and I fondly remember my Grandparent's aluminum Christmas tree which sat in the window of their dining room. It was a small tree perhaps all of 4′ high, but I found it very unique because it wasn't a real tree like we had on the farm.
The tree below with the same ornaments that grace this tree. How uncanny that they got it right…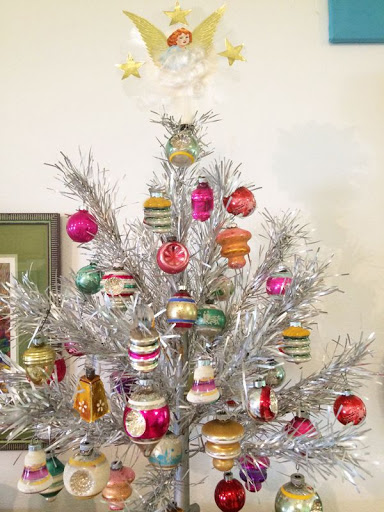 Vintage 60's
My mother decorated  our tree with bubble lights and silver tinsel. I did not help her decorate the tree, but I do remember it falling over a couple of times…
My husband and I  started a holiday tradition with our 4 children when they were little of going to a tree farm and cutting down that one special tree we would take home to stand front and center in our livingroom. It was the children's job of decorating the tree with me. 
We always cut down our tree on the first weekend after Thanksgiving. We would load up the children and head to a tree farm where hot apple cider and donuts awaited them as well as that special Christmas tree.
 Picking out that perfect tree was like picking out our Halloween pumpkin, a joint family decision. Don't ask me how Alex ended up with the saw in the photo below.
 Perhaps this was the last family roadtrip to the tree farm. (Dad must have given him the saw while he photographed us.)
Nothing says you bought a real tree louder than the sight of the tree strapped to the hood of your car, or in this case, dragged behind it…
Once home
Once home, we would decorate the tree as a family with the ornaments given to all 6 of us from my mother. 
Every year my mother would give ornaments as presents to us as part of her holiday tradition with our family.
The family roadtrip to a tree farm ended when one by one our children entered high school. Even my husband bailed on me eventually.
 I still carried out the family tradition minus 5 people, trekked to a local nursery (because I wasn't about to cut down my own tree) and picked out my own 11′ Christmas tree. 
I even moved up decorating the tree before Thanksgiving because as soon as I saw Christmas trees on the nursery lot, I moved swiftly. Hunting for the large perfect tree took timing. The earlier I purchased my tree, the better the selections. Since I was the only female at the nursery at 8:00 in the morning I had nice men load the tree to the top of my car, drove it back home, and decorated it with my daughter Sammy. She was the only one excited about keeping the holiday decorating tradition alive.
 I put a tree in our kitchen so that I could enjoy looking at it everyday. This was the kid tree that held all the children's ornaments.  Sammy and I loved to decorate this tree with the ornaments. It was also a fake tree that could hold the heavy ornaments.
Now we have 4 Christmas trees decorated in our home in Atlanta and it's become a 2 week project.
The reason I have 4 trees is because I have done holiday showhouses and those ornaments, ribbons, decorations, and elves come home with me. I paid for those ornaments and they are now on display in my home.
I put a formal tree in the hallway of my current home in Atlanta. The walls are curved and this is a perfect spot for one of my trees until I find the perfect piece of art to go in this space.
It is near my dining room so the colors compliment the colors used in my dining room.
 This tall skinny tree in our family room  is now the tree where all our children ornaments hang as well as the elf at the top of the tree and the one on the shelf who graced the 2014 Christmas at Callanwolde Holiday Showhouse.
                                           2014 Christmas at Callanwolde Elves
This tree and table graced our kitchen in New Jersey, but they look splendid on my dining porch. They are decorated every year for Christmas. We have been using this outdoor table a lot since we are experiencing a warm December.
This is our newest addition to our collection of trees because I needed to make a home for all the ornaments I purchased for the 2013 and 2014 Christmas at Callanwolde Holiday Showhouse. Peacocks and butterflies float on the branches.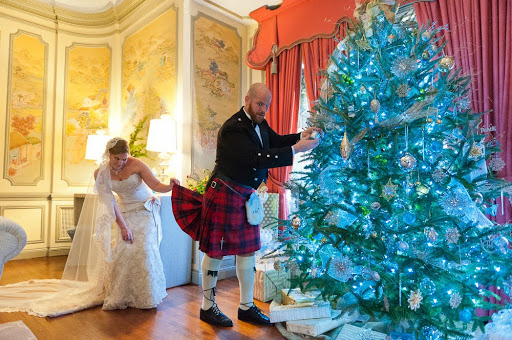 A Scottish wedding was also held at Callanwolde in 2013, hence the bride looking up the kilt.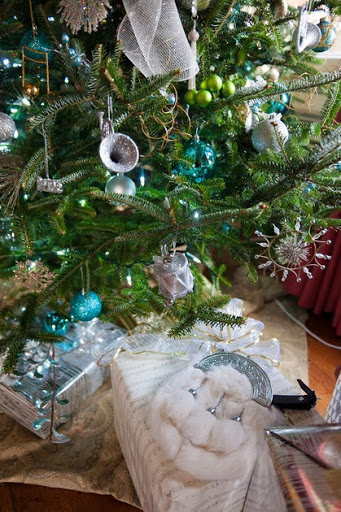 More than anything, decorating our Christmas trees will be a tradition I will carry out and hopefully be a fond memory for my children and their children to cherish.
I hope you have the most wonderful holiday filled with lots of family traditions!
Follow me on Instagram, Twitter, FaceBook, Houzz,LinkedIn, and Pinterest too!