This  design project in a highrise in downtown Buckhead, Atlanta, was my pride and joy. 
It took over a year to complete because we renovated the kitchen, 3 bathrooms, added a motorized cover for the outdoor terrace,and removed walls that were then replaced with magnificent custom designed blue barn door panels on tracks. 
I worked alongside Stephen Flanagan the architect for this project, the wonderful Blalock construction team led by Tom Blalock and Phillip Knight, and John Coulter of Poggenpohl Atlanta.
The Design Team-Left to right: Me, John Coulter, Stephen Flanagan, and Tom Blalock
Since this a multi dwelling design project, we could not move the plumbing and we had structural engineers working with Stephen, because we were adding steel beams to support the missing load bearing walls. 
Before shot of the kitchen
Totally gutted the kitchen, but didn't enlarge it .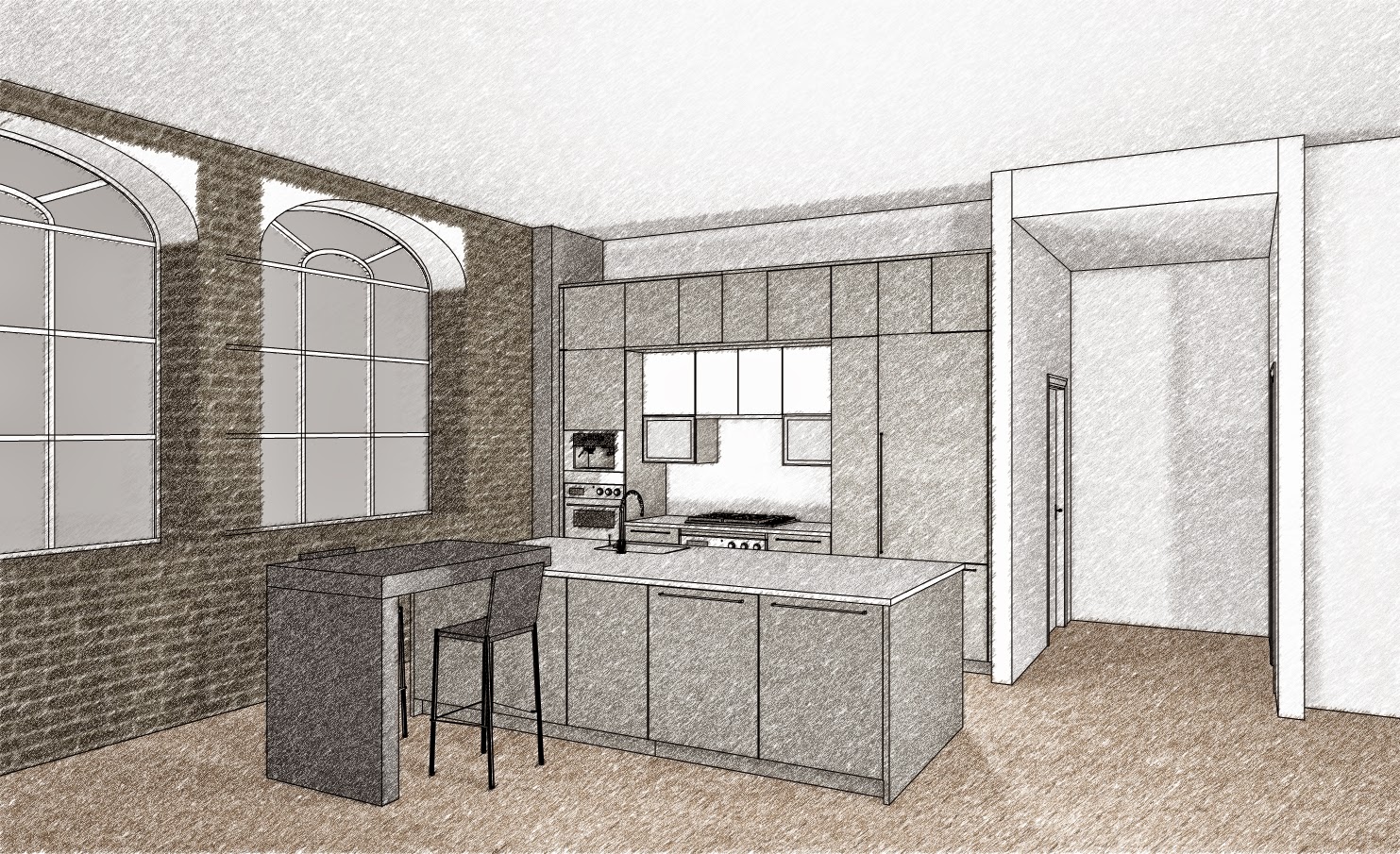 CAD drawing of the Poggenpohl kitchen by John Coulter
I  used a lot of modern lighting in this project. This chandelier is my favorite. 
See the modern glass pendant lighting over the kitchen island and the fun flush mount lights in the kitchen too?
This custom modern light is in the foyer.
As I said before, we removed walls and replaced them with massive custom designed blue barn doors.
The photo below was the before shot of the interior with the walls.
This photo shows the construction and the missing walls.
This photo shows the walls removed from the master bedroom and into the bathroom. They were replaced by the custom blue wall panels. We also kept all the brick exposed as it was originally.
In this photo you can see the massive blue panels. On the right side of the photo, you can see 3 panels stacked on top of each other. These moving doors closed for the office and for the master bedroom on the right
The before shot of the guest bathroom.
This is the after shot of the new modern bathroom. I love this wall tile because it reminds me of birch wood.
Shooting in a small bathroom caused the reflection of the mirror, vanity, and toilet. I am taking photography classes so that I can shoot better photos. Be patient with me.
I wanted to show you a close up of this LED light faucet with the twisted handles. 
Stupid me forgot to take before photos of the master bathroom. But it was a basic 90's bathroom and we gave it a modern look.
I wish I could show you more but I left after this photo was taken and started working on the Atlanta Symphony Decorator's Showhouse and Gardens. The loft was almost completed but my job was done. I  didn't get to photograph the exterior terrace which was a marvel to behold because it was still under construction.
But this is the rest of the design project featuring a Poggenpohl Kitchen……
Follow me on Instagram, Twitter, FaceBook, Houzz,LinkedIn, and Pinterest too!
Until next time!