Congratulations to those of you reading this blog and expecting!!
There is nothing more special than awaiting the arrival of your baby and planning the nursery. Or the space within your bedroom where your baby will reside.
I know, I did it four times. Each time I was expecting, the criteria changed, but the excitement and anticipation did not.

As with any project, planning is involved, selecting the space in which your baby will sleep,selecting furniture, creating a furniture layout, color/design scheme, and adding the finishing touches  can be done by you or you hire a professional designer, like me. Or me period.
As much as I hate to say this,  I had fun decorating, painting the rooms, shopping, sewing the nursery bedding and window treatments, and painting garage sale finds that I didn't hire a professional interior designer, or wait, did I?
Question- What should I do first?
If this is your first baby and you know you will be having a baby shower, register at your favorite Babies R Us store. (Shameless plug#1- I am speaking on June 29th from 12-3 at the Perimeter Center Babies R Us in Dunwoody, Georgia. If you are expecting or not, and live in Atlanta, come stop by. Bring me photos of the room and ask me questions!)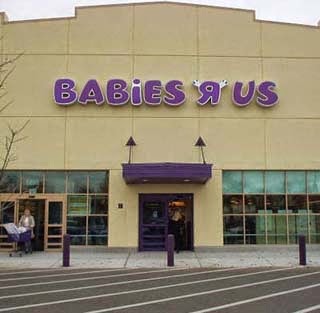 Question- What essentials should  I buy for the baby's room?
All the items below can be found at 
Babies R Us– shameless plug #2
Crib- inherited, passed down, or purchased. Real wood painted with non toxic paint gets my vote. (Once they can stand, your baby will be teething on the frame.) My husband's mother passed around the same baby bassinet to each expecting daughter/daughter-in-law which made it more special. 
Changing station- easily put a changing pad on a dresser. Make sure the dresser or table are sturdy to hold the baby. Use the safety straps and always keep one hand on the baby at all times when changing them. For boys, I recommend a diaper over the exposed fire hose! Once your baby starts to roll, drop to the floor to change your baby. 
Storage for diapers, clothes, baby toiletry, and lots of baby wipes.Hang cute baby clothes on the wall for wall decor. Open shelving is very popular in nursery's because everything is so cute and little to display!
Mobiles- to entertain the baby while you figure out if you want to get them now or in a few minutes.
Baby monitor- best invention after baby wipes! Gives you a peace of mind and you can buy a TV monitor to see what your baby is doing at all times.
Rocking chair or Glider- get padded or upholstered chairs. I fell asleep many a night holding my baby while I rocked us to sleep in a wooden rocker. Do as I say, not what I did.
Big fat fluffy pillow to put under your baby if you plan to breastfeed.  Mombo, Boppy, or My Brest Friend pillows are all sold at Babies R Us. If you do breastfeed, your baby will be perfectly positioned and you wont get sweaty by having the pillow between you and the baby.
Question -Where should my Baby sleep?
It is your preference where your baby will sleep. Many of you will not have an extra room and will need the baby to share it's space with either you or a sibling. My children all started out in a crib in my bedroom until one of us decided it was time to move the party. It was never voted on by the baby…..

                                               Option #1- Parent's Bedroom
Out of lack of rooms or personal preference your baby can sleep in your room or some people actually have the baby in bed with them. This is often referred to as the family bed or co-sleeping.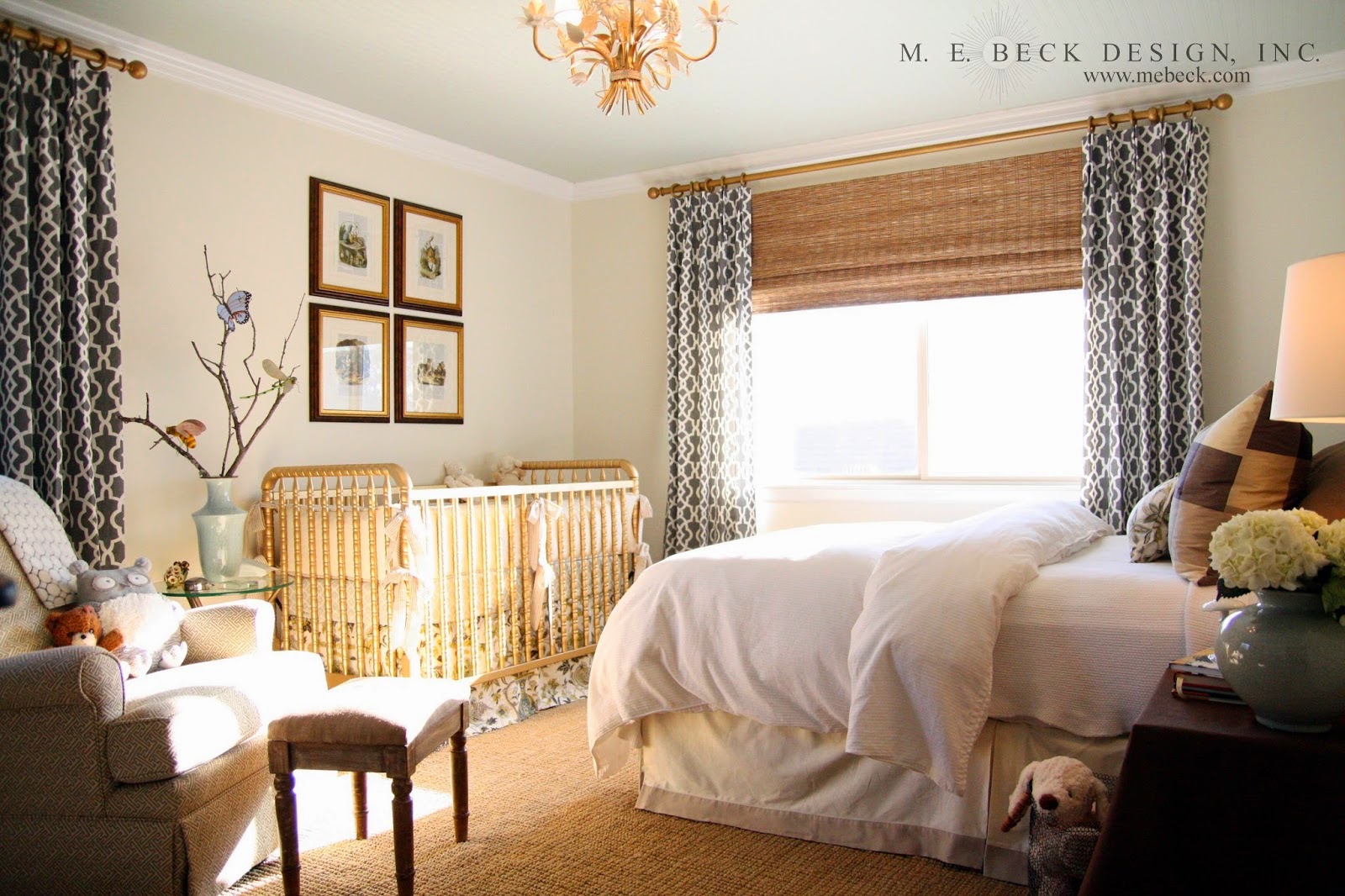 mebeck.com
                                        Option #2-Sharing the bedroom with a sibling
This is a popular option and the children usually don't mind sharing their bedroom. If the baby cries a lot, this can become an issue. Then parents can decide on option #1 or option #3.
                                                           Option #3- Baby's Room
If you have the space, this room will go through many transitions in your child's lifetime. First child gets the room decorated as a nursery, with a color/design scheme personalized for the baby or babies. Your room decor can be bright, cheerful, whimsical,over the top,sex specific, or you can create a transitional style that will carry your baby up until college. Again you can create it to your vision and budget. 
                                                    DIY
As I said before, I decorated all my children's rooms and in this photo taken in 2004, my sons room started out with a crib and bunk beds because they shared a room in 1992. The theme was nautical and I purchased everything from garage sales so that I could paint the furniture. I stenciled the walls with lighthouses and a checked border to go with the checked curtains I sewed in an afternoon. As the boys got older, sports came into play, and Michael eventually moved out into another bedroom vacated by his older sister Lisa,as she went off to college but I never touched the  nautical decor because my son Alex was sentimental.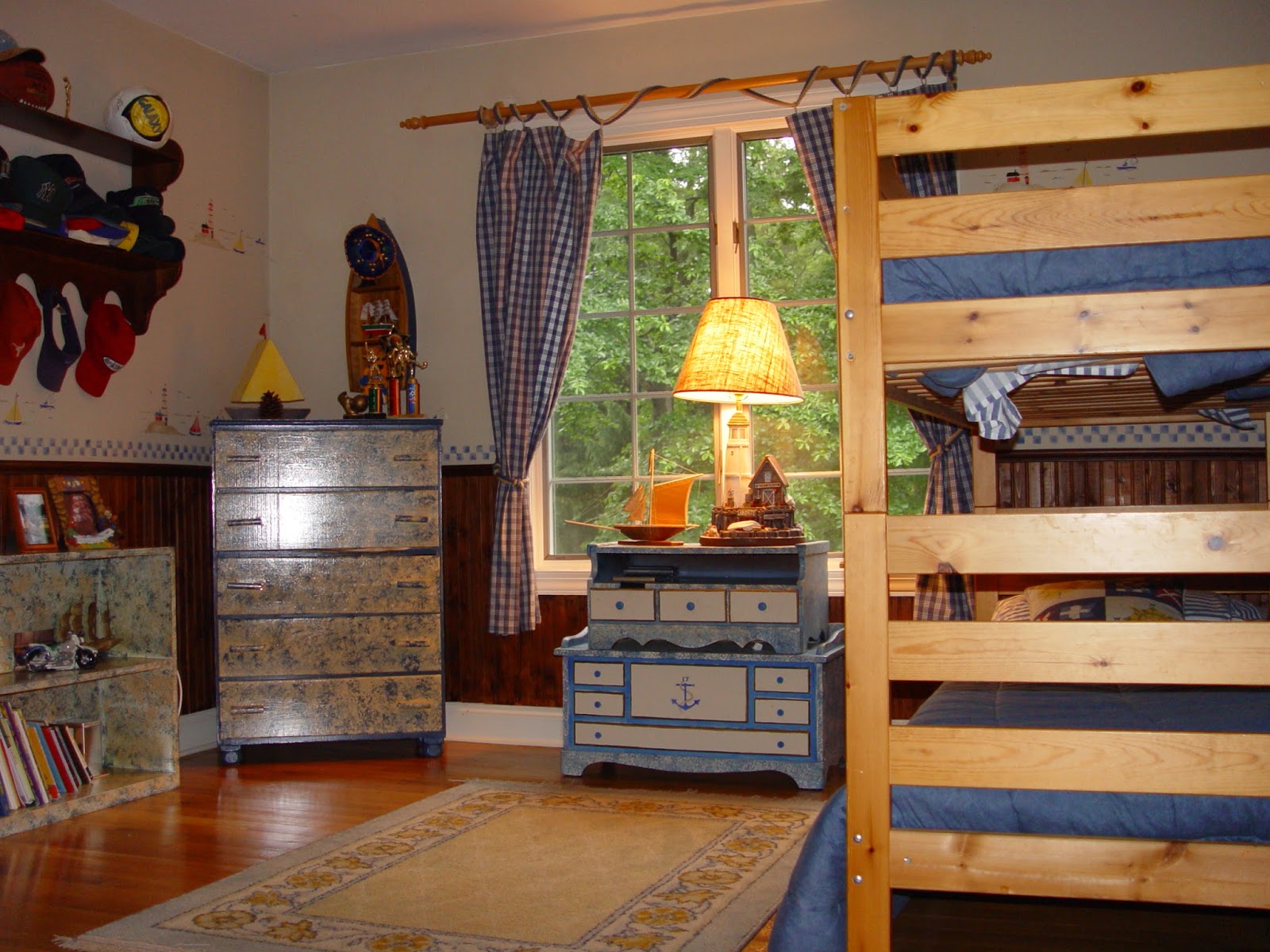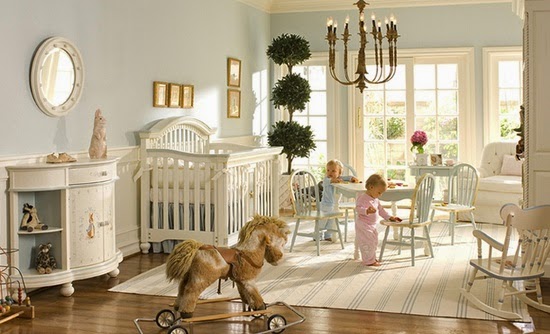 AFK FURNITURE
If you are wealthy like Mariah Carey, you can replicate her nursery.
Boys 


Girls
Word of Advice: Plan ahead and don't wait until the last trimester to get the baby's room ready. Otherwise you will be hormonally challenged and may need me to help you build your nest.