To Tub or not to Tub is the question I get constantly when people contact me for updating their master bathrooms. This summer alone, the large shower remodel has won 3 times over the luxurious spa designed bathroom. 
The Needs or wants determine my client's decision on eliminating the bathtub altogether.
It all depends on if you are a Soaker or a Car Wash kind of person.
 I begin my assessment of my client's needs by asking these questions:
How much time do you spend bathing?
Do you need a "Calgon moment" to unwind?
Do you want a bathtub in the master bath for reselling purposes?
Do you have the space for the large separate shower  and the freestanding tub?
Do you want to incorporate Universal design elements such as a curbless shower?
It is really a personal preference and each client decides whether or not to Tub it.
Space

determines if you can create a larger shower. Small bathrooms are 

perfectly

 suited for only showers. Most of the condos I have been renovating do not have the space for both and many of my clients opt out of the tub/shower combo.
Using frameless glass shower doors opens up small bathrooms.
Or no glass…..
Age

 

of my clients are also determining if the bathtub goes bye bye.
The older we are, the less desirable bathtubs become.
 I  incorporate universal design elements in master bathrooms for my elderly or disabled clients. Bathtubs are not a necessary design element for the aging population. Some people enjoy the jetted bathtub for sore muscles and to relieve the stiffness of arthritis. My older clients really want the bench with the handheld shower next to it. Adding grab bars and zero threshold showers are very popular as adaptive design elements.
 My younger clients still want a bathtub in one of the bathrooms in their home to bathe the little ones, but not necessarily in the master bathroom.

Zero Threshold Entrance
Universal Designed bathroom
Large Showers have become very popular and can have a variety of features included. The jury is still out on if not having a bathtub in the master bathroom will hurt your resale value. If you are worried, discuss this with your Realtor. I doubt any of the next bathrooms I have selected will deter a buyer from these beautiful bathrooms.
The Car Wash-multiple shower heads
The Opulent Shower- Chandeliers are popular features in master bathrooms. Just not in the shower.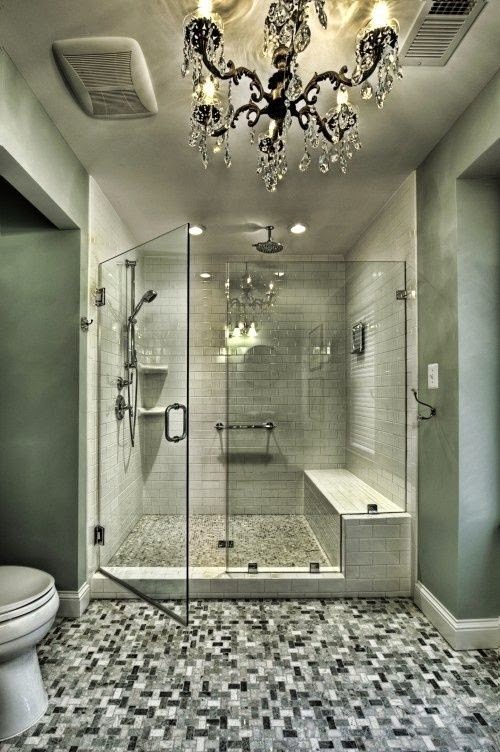 The Exotic shower-Onyxly…
Simple Sophisticated Shower
Soakers will always need a bathtub to unwind in after a hectic day.
What do you think? Tub or No tub? Would love to hear your opinion!