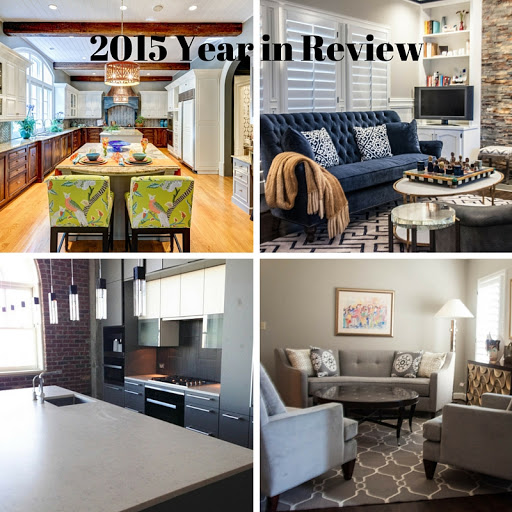 Happy New Year!!

Whew! 2015 flew by fast didn't it?
I had such a wonderful year filled with wonderful memories of clients who allowed me into their homes to create their visions. I was honored with being one of the designers for the 2015 Atlanta Symphony Decorator's Showhouse and Gardens and was published 4 times! So blessed!
In 2015 I  finally finished a year long renovation project for a luxury high rise apartment .
The apartment went from modern 1990 to sleek 2015 European modern.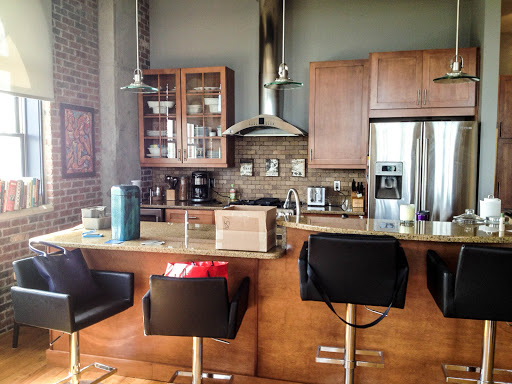 The beautiful result!
The most popular post of 2015 was the one I wrote about why I like Poggenpohl as a luxury brand for this Poggenpohl kitchen.
My favorite piece for this modern loft was the modern chandelier.
Modern bathrooms were also a part of this renovation design project.
My task was to transform the expansive high end 1990's kitchen into a 2015 kitchen without removing the cabinets and appliances.
You can  watch a video of the entire showhouse project here.
Before shot of the kitchen.
Because the homeowners were not paying for any of the construction costs for this showhouse, I had to fund this project on my own. 
 I had to come up with a cost effective way of updating this kitchen without draining my business's bank account. 
Happy colors came from the fabric found on the Thibaut chairs.The orange fretwork pendant lighting was from Taylor Burke.
 My kitchen opened up into the kitchen eating area and family room decorated by Vern Yip. Vern was the Honorary Chair for the showhouse.
tile that I used for the backsplash. Many guests had to touch the tile because of the 3D effect of using a natural stone.
 This window overlooked a courtyard decorated by Chip Wade.
 Group shot of many of the talented designers who decorated spaces for the showhouse.
 The showhouse ended in May and I was off to more design projects in Atlanta. Three of them are still not completed but will reveal them later this year.
This Baby Boomer bathroom appeared in the July issue of Design NJ. It was a project for my clients in New Jersey and was done all online while working with their contractors. Lots of emails and drawings went into this project. My client ordered everything I specified and the result was a smart stylish bathroom.
I was published in another 3  magazines this year for my design work.
I was blessed to decorate for a professional athlete but will only share this photo out of respect for this athlete's privacy. This is my first 4 ESPY Athlete. This home is filled with so many trophies, (NCAA Final Four, Olympic, Athlete of the Year, and National titles) that my work was to design around them and make the home feel like a home for this athlete. Such a delightful person and so very blessed with talent.
The completed design project  below involved updating a combined family room and living room.
In the family room, I removed the brick fireplace surround and installed slate. We painted all the oak paneling white, the walls were a soft gray with a navy band at the top. We also installed all new furniture and plantation shutters.
Before sketch of the family room as you see it from the living room.
The before sketch of the living room as you see it from the family room.
This is the design board for the combined rooms.
 Construction photo of the fireplace with the brick and mantel removed.
The finished family room. 
 The completed living room.
Well here is to a wonderful 2015, but 2016 looks to be a better one yet!!
Follow me on Instagram, Twitter, FaceBook, Houzz,LinkedIn, and Pinterest too!
Cheers!
Follow me on Instagram, Twitter, FaceBook, Houzz,LinkedIn, and Pinterest too!