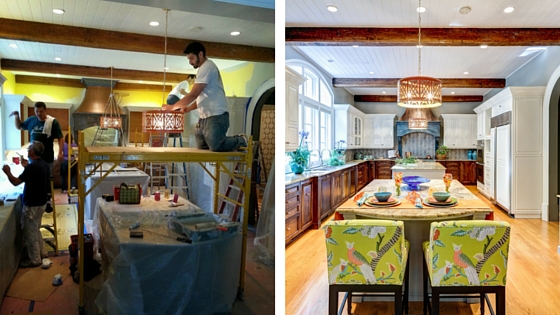 I am up to my elbows in interior design projects this fall and what makes my business run smoothly and efficiently is the team of professionals who work with me and those who work alongside me.

I am constantly meeting new clients who are happy that I drag my preferred contractors and tradespeople along on the pre-assessment phase of a renovation project. (No designing , just looking phase) 
I have collected (stole from my clients) professional tradespeople and contractors who represent the best in their field and meet my high expectations when working with me on design projects.
If I enjoy working with them, my new clients will too.

It's my own insurance policy against "No surprises."

I work with many clients who have their favorite contractor, builder, or architect for renovation projects and 80% of the time we work together beautifully but it's the 20% of the time, where things fall through the cracks because of the lack of communication, deadlines are not met, or being in the way of the other tradespeople when they should have been finished with their part of the installation, this becomes a problem.


I am often asked about the advantages of being an interior designer who has a preferred team of contractors and tradespeople over the conventional system of separate interior designer and general contractor hired by a client, but have never worked together before. 
It's a great question and with over a decade of design renovation experience under my belt, I feel like it's a good time to call out  why this design  system is so good for renovations.
1. Everybody is on the same team: We're all in this together and we all have the same goal –to arrive at a successful project that meets or exceeds the client's expectations for their project. When challenges are encountered on a project (and there are always challenges), pointing fingers is not an option, everyone rolls up their sleeves and works on solutions.
2. Total accountability: One entity is accountable for everything –including how the end result looks, how much it costs and the timeline of completion. When the same group that designs the project also renovates the project, there tends to be much more attention given to pricing and scheduling in the design phase. The cost of everything is taken into account early on in the process; all fees, construction costs, utilities, material allowances –everything.
Unfortunately, it's not unusual for me to hear from people that "their remodel cost twice as much as the architect said it would" –such a scenario is entirely unacceptable in design renovation.  My Design team focuses on results, not excuses.
3. Continuity: My Design team is involved from start to finish, which adds an inherent efficiency. The chance for things to fall through the cracks is greatly diminished. They call me with updates, they know when to start the project, because I schedule them.
4. Expertise: The Design team members have years of experience. I have only licensed contractors, architects, structural engineers, electricians, and plumbers on my team.
 I have vast years of professional experience in construction and understand pricing, sequencing and how a renovation timeline is scheduled to  flow seamlessly. I also consult with architects and professional structural engineers for more complex building renovations.
In the new economy we've raised our eyebrows at a few general contractors who claim to, all  of the sudden, be designers.
There is a tremendous advantage to working with an interior designer who will design your space, work side by side with a contractor selecting materials, colors, and finishes while the contractor implements the finished design plan.
5. Professional guides: We've all heard the stories that design and construction can get out of hand and messy. Design and construction shouldn't be chaotic or stressful. My Design team is a beacon to my clients throughout the process, guiding the way to the best possible outcome. The Design team refines a system from beginning to end and manages the chaos into orderly steps.
6. Involvement: My Design team operates under the assumption that the client actually wants to be an active participant in the design and renovation of their home. By taking an involvement they're guaranteeing that they get the outcome and satisfaction of their goals – what they want is going to be achieved. I've found that such an involvement is inspiring and gives people a lasting sense of pride about their home.
7. Collaboration: My Design team has a common goal of giving exceptional service and being a part of the collaboration between myself and our client.
8. The best kind of communication is open, honest and often: My Design  team is transparent because we want clients to understand the process and to know what's going on. The best partnerships work, not because people say what everyone wants to hear, but because they say what everyone needs to hear. Through clear communication the budget is defined early on and it becomes the agreement for the entire project.
9. Time is of the essence: Design and renovation involves managing hundreds of timelines that need to coordinate in lockstep. My Design team creates opportunities for clients to sit with big decisions, ask questions, and consider their options. Anything the team can do to avoid taking steps backwards is going to lead to better, faster and more cost-effective results. Our design renovation team is highly adaptive and responsive in the field. Big decisions can be revisited during construction without change orders or additional fees. 
10. No one gets surprised billing because someone didn't communicate the truth: I get so disappointed when clients tell me their contractor said it would cost X amount but they kept getting invoiced after the work started. 
That contractor did not write up an accurate proposal or never told the client that he based his proposal on ceramic, then ended up doing marble. If your contractor doesn't write up an accurate detailed proposal stating what he is doing and what he is using then….. 
Surprise!
I never change the cost of an item once selection has been made and my contractor has seen the work. We make our proposals  and budgets based on the design, labor, and selection of furnishings and finishes. If my client changes their minds and want other things, we stop,discuss, and create change orders.
No surprises……….