YouTube- Queen Elizabeth waving
I am from the Midwest, Hastings, Minnesota, to be exact. Minnesota is the Land  of 10,000 Lakes with twice as many wavers.  Could be the large mosquitoes that inhabit the 10,000 lakes that people are hitting or swatting away but from a distance it surely looks like a wave.Ya you betcha'.
I am proud to be a Midwesterner. We are wavers. We wave to complete strangers and I made my children wave to strangers in New Jersey, where waving to strangers is commonly seen with the middle finger doing all the work. Especially on the New Jersey Turnpike…….
Waving  to your neighbors or to strangers usually occurs while sitting on a porch, on the veranda, a stoop, or as in the English royalty, a balcony. But Queen Elizabeth needs a balcony to wave to her loyal subjects. She is very petite and I doubt we could really see her if she was standing on her porch waving. We would have to move closer to see her waving, then we would probably be arrested for trespassing………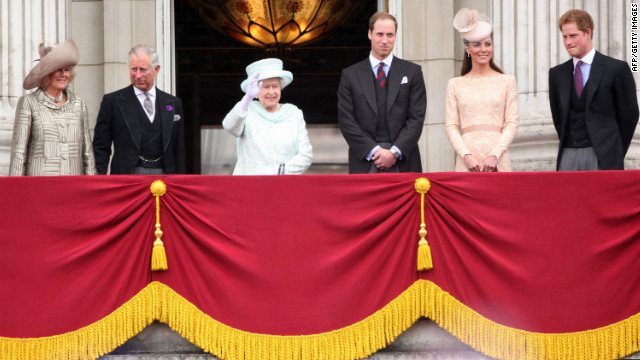 Waving is an act of greeting a person without a conversation, a sense of connection and of community. It is a  simple raising of the arm , a non verbal sign of saying hello, wishing you well on your journey, or saying you are a part of my community.
In the world of social media, texting, and the Internet, when we have no face time, we stare at the electronic devices and see "likes" or "comments" posted to our media accounts. Electronic waving at it's finest. I still can't figure out Twitter, who REALLY wants to know about my day?
The disconnect from the Internet has made me appreciate my front porch and I am in the midst of decorating it with 2 rocking chairs and a table so that I can enjoy my morning cup of coffee while playing ball with our dog, Bruno. We live on a dead end single lane road and rarely see cars drive by but many people walk by. I want to be prepared to wave at them and be neighborly.
Front porches can be decorated with lots of furniture for a group wave or just  2 chairs for a simple wave.
Some people decorate their front porches with just plants and floral arrangements. They prefer the standing wave.
Other people use this space to announce a holiday with added miniature lights,clever theme decor, and give you a festive wave. They also hope you slow down to admire their handiwork……..
The front porch is also where family photos are taken and if you pass by they give you a family wave.