Ah, the 
Fountain of Youth
,as we age we yearn to look young again.
YouTube Video-Just Go with It – the Botox Guy
We try to find ways of fighting off the aging of our faces and bodies with simple cosmetic solutions; dying our hair, wearing Spanx 24/7, going to the gym, eating a healthier diet, and for all the people who pretend to not have anything done (we know who you are) the ever popular Botox injections.
Plastic surgery is the ultimate facial and body renovation, but not too many people want to pay for it or go under the knife. Botox injections are more economical.


It is also the same with our kitchens and bathrooms. Many kitchens and bathrooms have become outdated or totally worn out from years of wear and tear. Many of my clients are looking for more cost effective ways to update their kitchens and bathrooms because they are either selling their home, moved into an older home,or they just don't have a budget for the big remodeling project. 
I am talking about Botox Renovations™
,
 simple updates for the kitchen and bathrooms using the same footprint of the existing space without moving walls, plumbing, and electrical fixtures but adding new f
eatures. Simple and quick renovations done in 4- 6 weeks.A little shot of newness, for a completely fresh new look.
Let's begin with the obvious: If you decide to do any type of renovation or Botox Renovations™, you may need to pull permits if you are adding electrical or moving the plumbing. Check with your town before you begin any renovation project.
Let me be a Debbie Downer for a minute….

I can't begin to tell you how many times I meet clients selling their homes and they are so proud of all the new DIY updates that they did by themselves or they hired a contractor who said he would do the work without a permit. The problem is you can do all types of renovation projects all by your lonesome,without permits,but the moment you try to sell your home you will be introduced to the Residential Property Disclosure form. If you do any additional electrical ,building(finish a basement,add an addition), or plumbing without asking your township if you needed a permit, and find out that you did need a permit, you will be fined a lot more money than what it would cost you to obtain a permit. If you know you are going to be selling your home down the road, do your homework before you renovate! Sometimes nasty Mr. Home Inspector will have you take it down or pay the penalty.…
                       Let's move on to Botox Renovations™

Simple Solutions:             
Fresh coat of paint or new wallpaper. Paint with a noVOC paint to go green. 
Did she just say wallpaper? Yes, wallpaper is still a new "old idea". Wallpaper is very popular now. It also hides all the bad sponge painting we did in the 90's. Just remember to prime your walls and match the sizing color to your wallpaper, so you can hide the seams.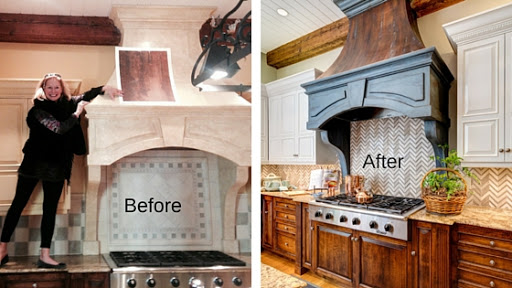 The finished result of repainting the original hood with a fantastic copper faux finish!
More elaborate solutions:    
Replace cabinets,lighting,appliances,bathroom fixtures,flooring,and add more molding all in the same footprint without moving the plumbing and electrical. Please check with your township to see if you need permits. Some towns are fine with updating in the same footprint, others want your first born child.
Examples of Botox Renovations
™
(Permits were pulled because the town we were working in required them.)
We increased or moved the lights and added GFIs. However, all were done in half the time(less than 6 weeks) and we saved money by not moving the plumbing and existing electrical..
 Bathroom Project
Issue:The client moved into a townhouse with a Peach colored master bathroom. One large mirrored medicine cabinet, corian countertops, and one track of lights in the middle. 
Solution:We used the cabinet base, but installed new granite, undermount sinks, new faucets, 2 separate mirrors, 2 vanity lights, and repainted with a cream striped effect. (Just polyurethane every other stripe)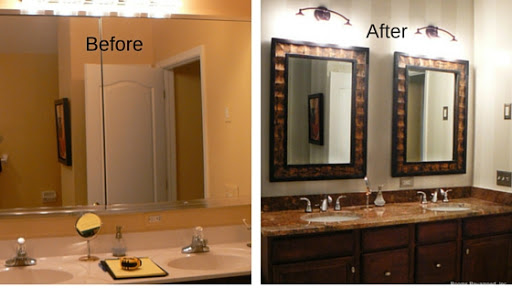 Kitchen 1:
Issue: Client loved the neighborhood but hated this kitchen. We completely renovated it in the same footprint.
Solution:Pickled maple cabinets and white appliances were all in good shape but donated for charity projects. Cabinets were placed in the garage and in the basement workshop.
Removed the half wall separating the kitchen and the eating area. Added all new stainless steel appliances,new natural cherry cabinets, granite, new tile, paint, and new recirculating hood over the gas range. The cabinets with the sink all opened to the eating area for access from both sides. We also added more recessed lighting, under cabinet lighting, and completely opened up the kitchen.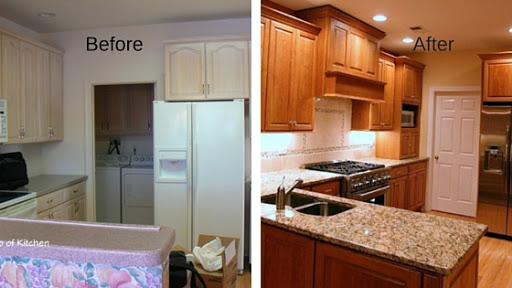 Kitchen 2:                 
Issue: My client wanted to be rid of the pickled maple cabinets and white appliances and create their dream kitchen filled with high end appliances. 
Solution: We removed and the appliances and cabinets and donated them to a charity. Removed the knee wall that separated the kitchen and eating area to open it up and create a visually larger kitchen.Installed cherry cabinets, high end appliances, new granite counter top and added extra storage to the kitchen by having base cabinets that opened into the eating area of the kitchen. Increased the lighting by adding more recessed lights, under cabinet lighting, and pendant lighting over the sink.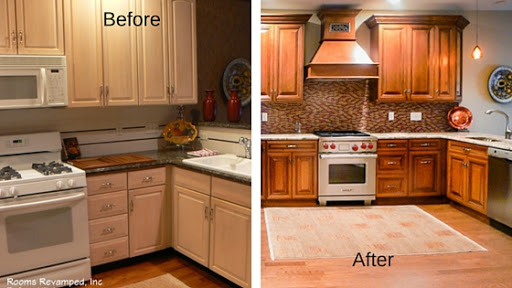 Updating kitchens and bathrooms may look like a fullsize renovation project, but they are faster, and many times more economical if you use many existing items  already in the room.
Repurpose the old cabinets and donate your appliances to charities in your area if they are in good shape. It is great to recycle!